One of my favorite days of 2015 also included one of my favorite meals.  It was at the end of May when Mr. Fuji, my sister-in-law Ms. K, and I were in Bali, Indonesia.  We spent the day exploring temples,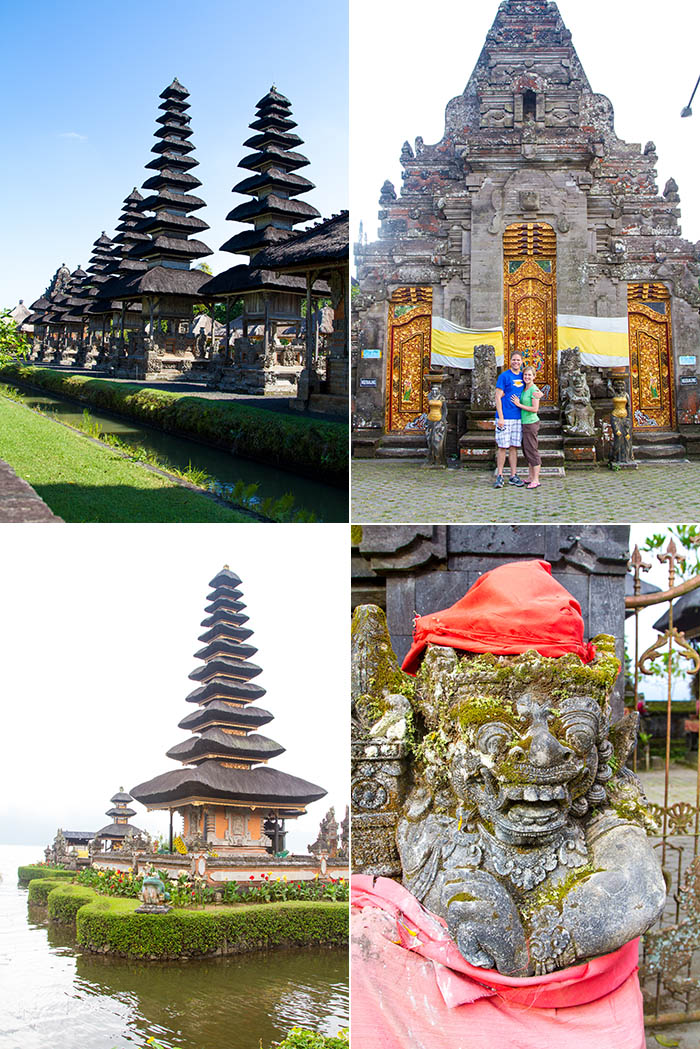 visiting a local market, hiking up rice terraces, and watching the sun set over rice paddies.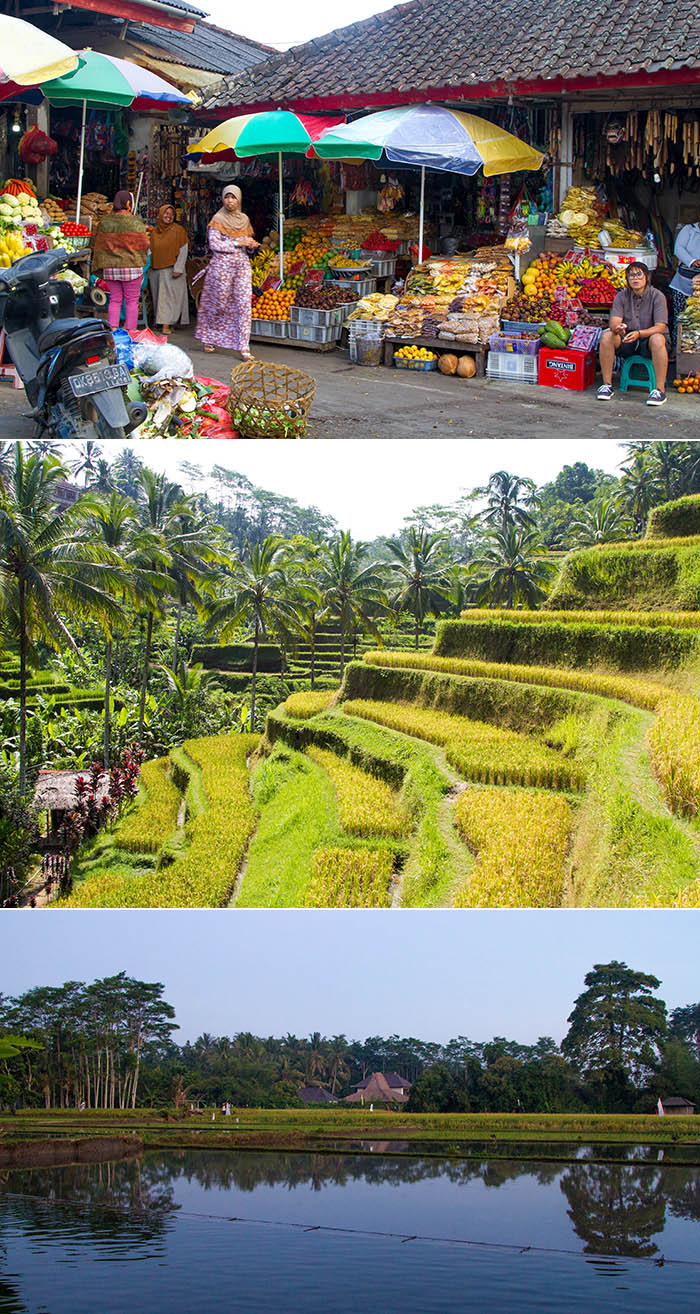 But the day started out with a bang.  We went for an early lunch to a restaurant called Ibu Oka, which is arguably the most famous place to order babi guling, Balinese style roast suckling pig.  Babi guling might sound like an unusual dish to find in Indonesia, which has the largest Muslim majority population in the world (and pork is usually forbidden in Muslim countries), but the predominant religion on the island of Bali is Hinduism.  In Bali, babi guling is a celebration meal, served at rites-of-passage ceremonies like, weddings.  But it is also available in warungs (traditional roadside eateries) all over Bali.  Babi guling is prepared by stuffing suckling pigs with basa gede (a fresh spice paste made of things like shallots, garlic, ginger, galangal, fresh turmeric, bird's eye chilli, black peppercorn, salt, and shrimp paste), rubbing the skin with turmeric, then hand turning them on a spit over an open fire, basting them with coconut water throughout the 6 hour roasting process.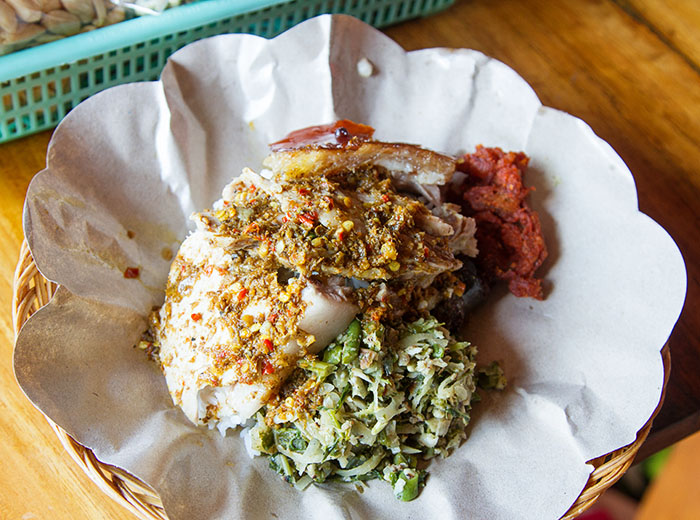 Over the years Ibu Oka has become more and more well-known as local chefs have named it the best and then received international attention when Anthony Bourdain visited for an episode of No Reservations about Indonesia back in 2006 and said, "Ok, no question about it, this is the best pig I've ever had. Absolutely the best."

There are many opinions out there about whether or not it's the best, and if I had a few months to spare and deep pockets to dip into, I would love nothing more than to travel around Bali comparing babi guling establishments.  But alas, neither of these things are currently in my arsenal, so we decided to go with Ibu Oka.  Ibu Oka opened in 2000, but the family business began long before, by preparing babi guling for the Ubud royal family.  There are now 3 locations in Ubud.  Ibu Oka is only open for lunch, about 4 hours each day, or until they run out of pork, so we arrived just after they opened for a late breakfast/early lunch to make sure we didn't miss out.
The restaurant was still relatively quiet, so we got to pick where we wanted to sit.  We had done our research ahead of time and knew that the best thing to order was the Special plate, because it provided a taste of a bit of everything.  Not that there are many choices!  Ibu Oka is all about babi guling so you are really just deciding what cuts you want (although they did have a nice varied selection of fresh fruit juices to choose from).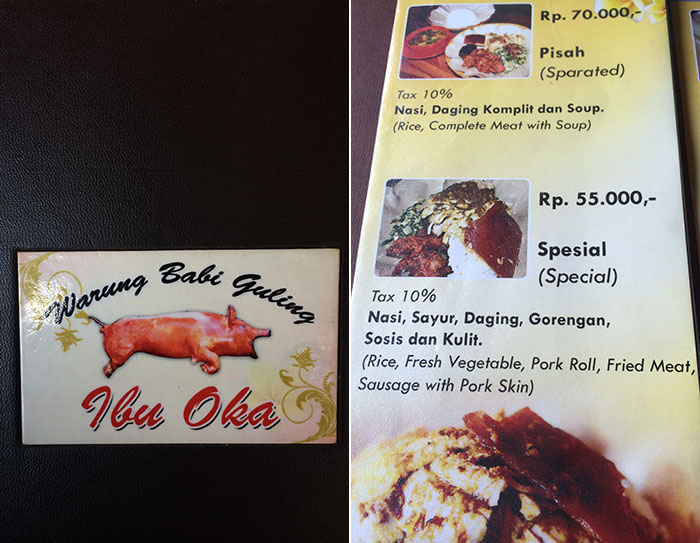 The Special came with rice, mixed vegetables, roast pork, fried pork, blood sausage, and pork skin.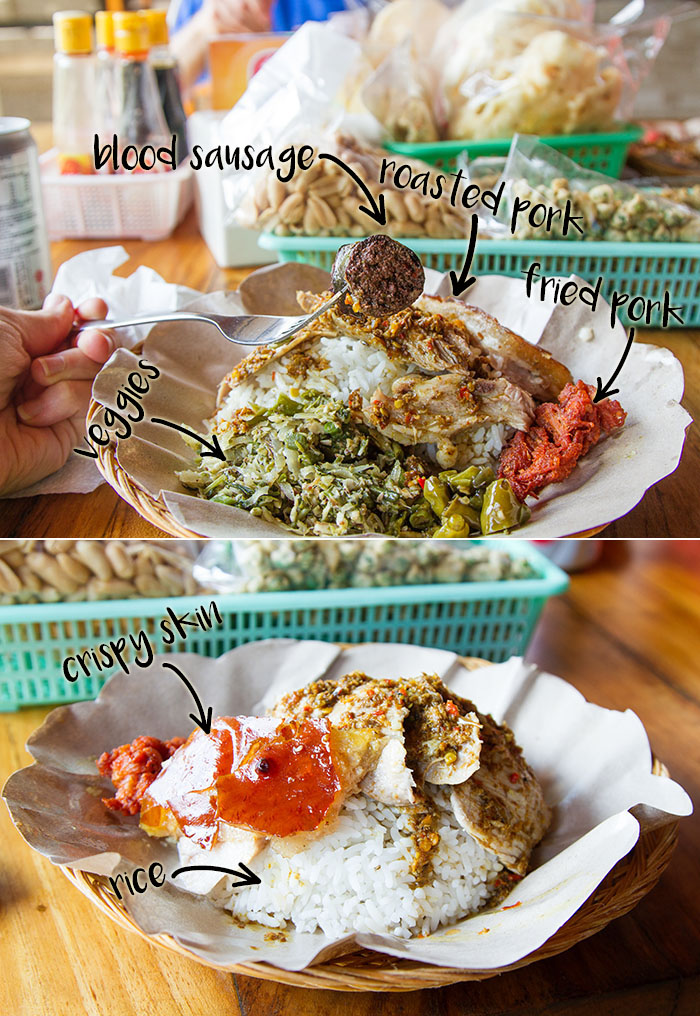 The smell alone had me swooning.  Think of the best barbecue pork smell you can think of and multiply it by 20, then add the aroma of roasted spices and herbs.  The meat was tender, juicy, and bursting with flavor, thanks to the spice paste it had been roasted with.  The fried pork was chewy, but delicious, like a piece of very tender pork jerky.  The blood sausage was rich and juicy as well.  And then there was the roasted skin.  It almost looked like it had been lacquered because it was so stiff and shiny.  When I bit into it, it shattered like glass in my mouth.  It is going on my list of what I would choose for my last meal on Earth.  The rice and mixed vegetables were wonderful counterpoints to the meat and the spicy sambal was like icing on the cake.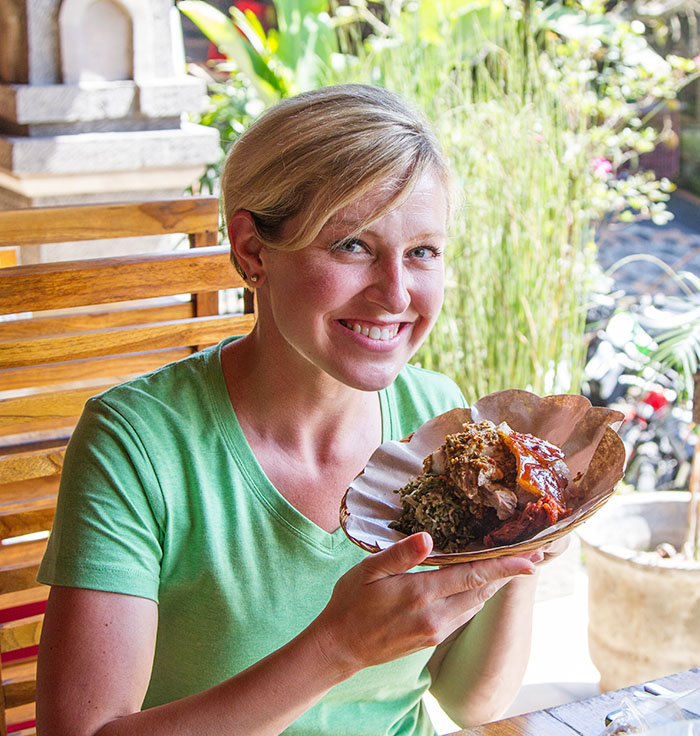 I may not know if Ibu Oka's babi guling is the best in Bali, but I do know that it was out-of-this-world delicious and one of my favorite meals of last year.  Now to figure out a way to get back to Bali for a babi guling tour…
—————————————
Ibu Oka
Jalan Tegal
Ubud, Bali, Indonesia
Telephone: +62 (0)361 976435