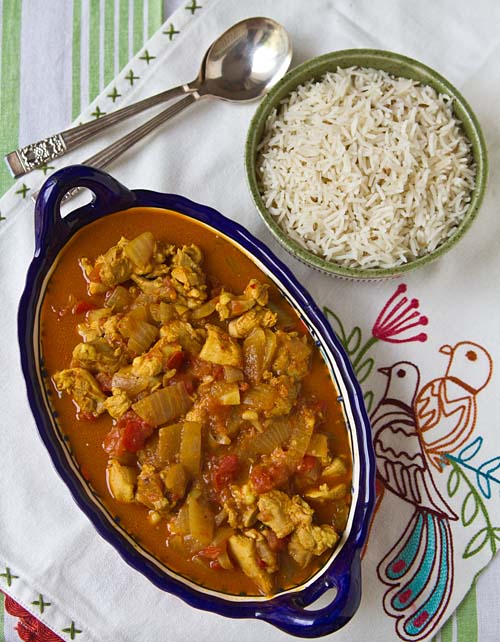 Cancun Chicken Curry
Makes approximately 4 servings
1/4 cup vegetable oil
1 tablespoon ground cumin
1 large yellow onion, chopped
2 teaspoons salt, plus more as needed
1 teaspoon ground coriander
1 teaspoon sweet paprika
1/2 teaspoon turmeric
1/2 teaspoon garam masala
1/4 teaspoon freshly ground black pepper, plus more as needed
2 tablespoons minced fresh garlic (or 2 tablespoons of Gourmet Garden Chunky Garlic)
2 tablespoons grated fresh ginger (or 2 tablespoons of Gourmet Garden Ginger)
3 large roma tomatoes, chopped
1 red jalapeno, minced (or 1 tablespoon of Gourmet Garden Chili Pepper)
1 1/4 pounds boneless, skinless chicken thighs, cut into pieces
1 1/4 cup chicken stock, plus more as needed
Basmati rice, to serve
1. Heat the oil over medium heat in a large saute pan or wok. Sprinkle the cumin over the hot oil, and stir-fry until it blooms and becomes aromatic. Add the onion and continue to stir-fry until the onion begins to soften, about 2 minutes, then raise the heat to medium-high and continue cooking until the onions have slightly browned.
2. Add the salt, coriander, paprika, turmeric, garam masala, and black pepper. Stir-fry for 1 to 2 minutes until the spices bloom and become aromatic. Then add garlic and ginger, and stir-fry for 30 seconds, then add the tomatoes and red jalapeno. Reduce the heat to medium-low and continue cooking until the mixture thickens and becomes pasty, about 2 minutes, stirring occasionally to prevent the mixture from burning.
3. Add the chicken and chicken stock, then raise the heat to medium to slowly bring the liquid to a boil, stirring occasionally. When it boils, reduce the heat to a simmer and cook until the chicken pieces are cooked through, about 20 minutes. Add more chicken stock as necessary. Taste and adjust the seasoning with additional salt and pepper as desired. Serve with basmati rice.
Recipe Notes: It is helpful to pre-cut and measure all of the ingredients for this curry, because a lot of the cooking in the beginning happens quickly, not leaving a lot of time to prep ingredients between steps.  I find that when I do this prep (aka, mise en place), things go smoothly and I'm less likely to burn any ingredients!  One of my favorite tricks for "cooking smart" is to use Gourmet Garden fresh herbs*—organic herbs that have been specially packaged (without any artificial flavors or colors) so that they can be kept in the fridge for up to three months and are ready to be grabbed and used in a recipe, cutting down on prep-time because your herbs are already chopped up for you!  In this recipe, I like to use their fresh ginger, chunky garlic, and chili pepper.