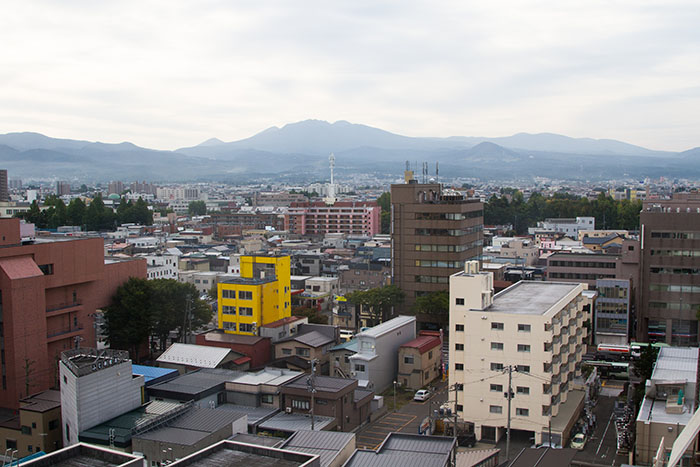 I returned a couple of weeks ago from a dream trip to Japan, sponsored by the JNTO (Japan National Tourism Organization).  You all know that Japan is my happy place, so to be asked to go and explore a new (to me) part of Japan so that I could share it with you? Yes please, a thousand times over.  Each part of Japan is unique, with so much to experience, that I think I could spend a lifetime exploring it!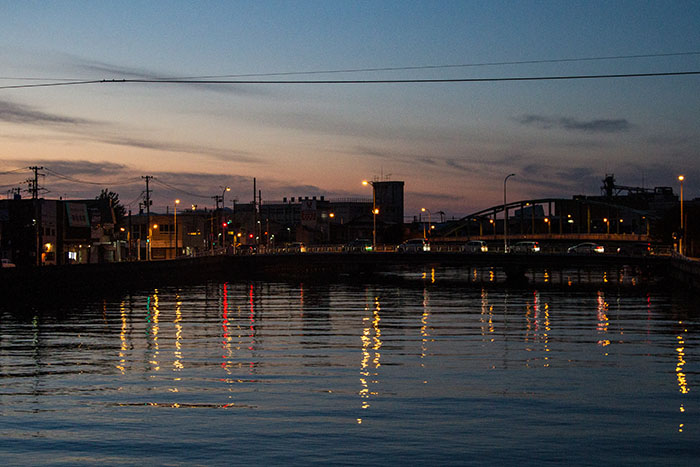 Aomori City, Japan
We started out our adventure in Aomori City.  Aomori City is the capital of Aomori Prefecture, which is in the northern Tohoku region of northern Japan, on the main island of Honshu.  Aomori City is bordered on the north by Matsu Bay and on the south by the Hakkoda Mountains and is easily accessible by air or train.  Watching the landscape below as we flew from Tokyo to Aomori was like watching a patchwork quilt slowly move by.  We started with squares of concrete, glass, and metal with a bit of green thrown in and slowly the squares of green overtook overthing else, mixing in shades of golden yellow from the rice fields waiting to be harvested.  Upon exiting the airport it was clear that we weren't in Tokyo anymore.  Don't get me wrong, I love Tokyo (one of the two times I've lived in Japan was in Tokyo), but Aomori offers more wide open space, less people, and more visible nature.
======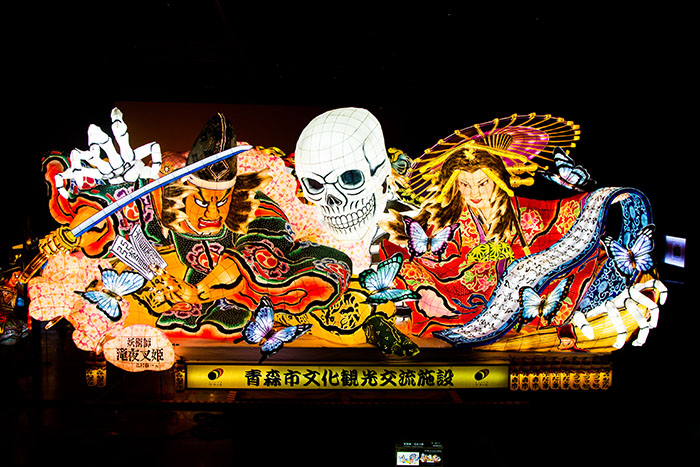 Nebuta Festival and Museum
We began in the Aomori bay area at the Nebuta Festival WA-RASSE Museum, which is conveniently located several minutes walk from the Japan Railways Aomori train station.  There are three large summer festivals in the Aomori region, but the largest, the Aomori Nebuta Matsuri,  is held in Aomori City during the first week of August.  "Nebuta" is the name of the type of float, which carries a brave warrior-figure, that is carried through the center of the city during the daily parade.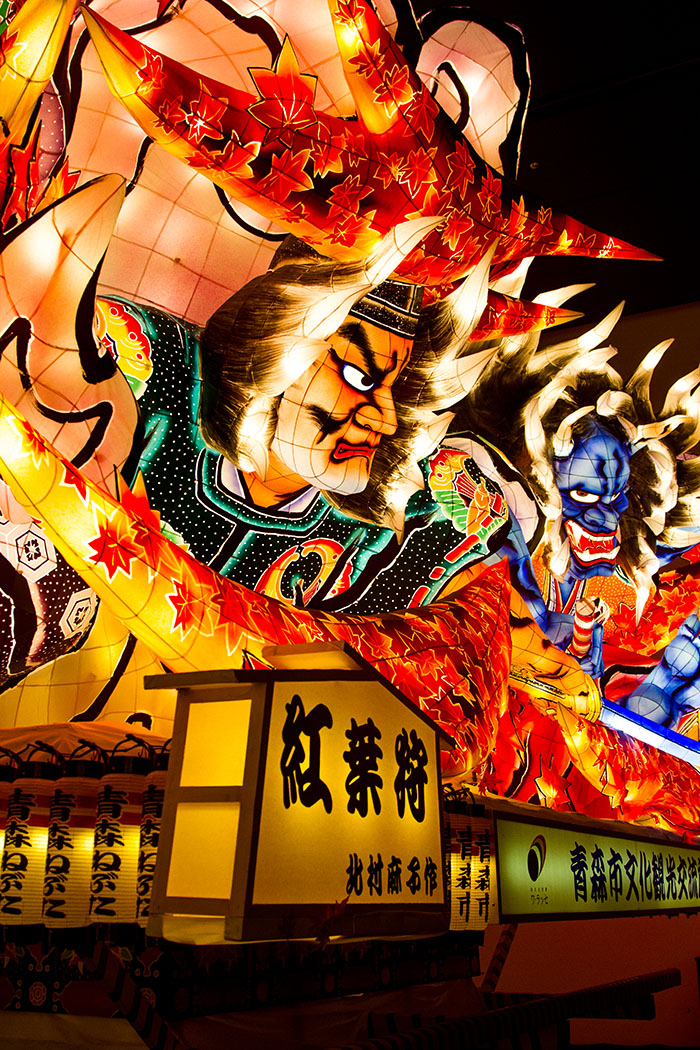 The Aomori Nebuta Matsuri (festival) is the most popular Nebuta festival for tourists in Japan and its history spans back over several hundred years.  If you are lucky enough to be Aomori during the festival, you can participate in the parade, as long as you are wearing a special type of parade costume called a haneto, which you can rent!  But don't worry, if you can't make it to Aomori during festival time, you can still experience a bit of the festival by going to the Nebuta Festival WA-RASSE Museum.  The Museum houses five floats from past festivals, which are rotated out periodically.  As you walk into the main part of the museum the lights dim so that you can fully appreciate the floats.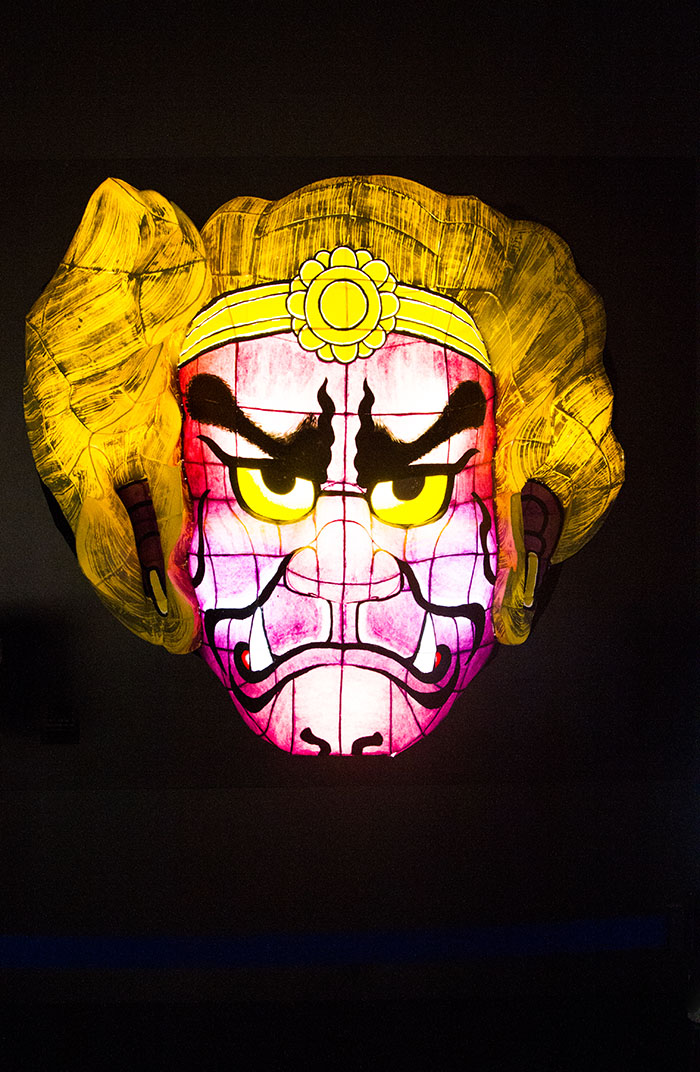 The floats are made by gluing pieces of washi paper (Japanese rice paper) to a wire frame and then painting them.  Come parade time, they are lit from within, producing a lantern-like float that is beautiful.  The museum has exhibits sharing the history of the festival, giving explanations about various parts of the festival such as the floats and festival dress, and also providing some hands-on opportunities to really give you a sense of what the festival is like, including live music and the chance to try beating one of the large taiko drums and the chance to cut and attach a piece of unpainted washi paper to an unfinished float frame.  If you are hungry, the museum also has a restaurant where you can enjoy seafood and a salad bar.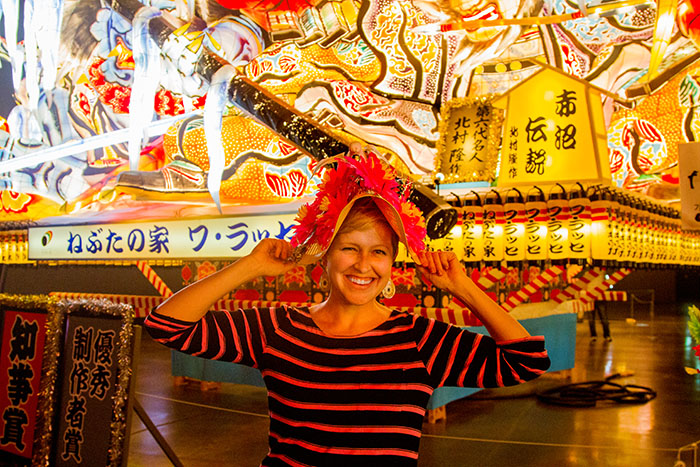 ======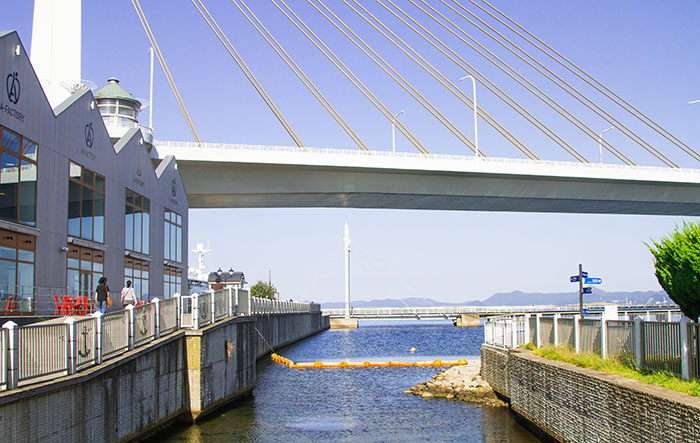 A-Factory
Just across the parking lot from the WA-RASSE museum is A-Factory, a duty-free shopping center that sells locally made products and fresh produce, including Aomori's famous apples.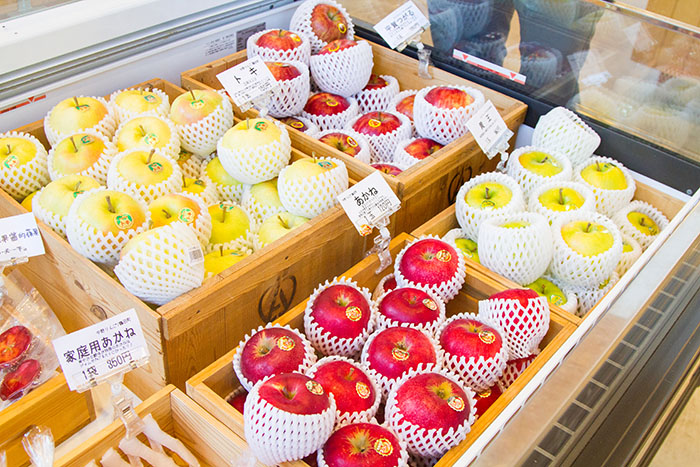 The facility houses several food vendors, a restaurant, and a brewery that uses the local apples to make European-style alcoholic cider and juices, which are available for tasting for a small fee.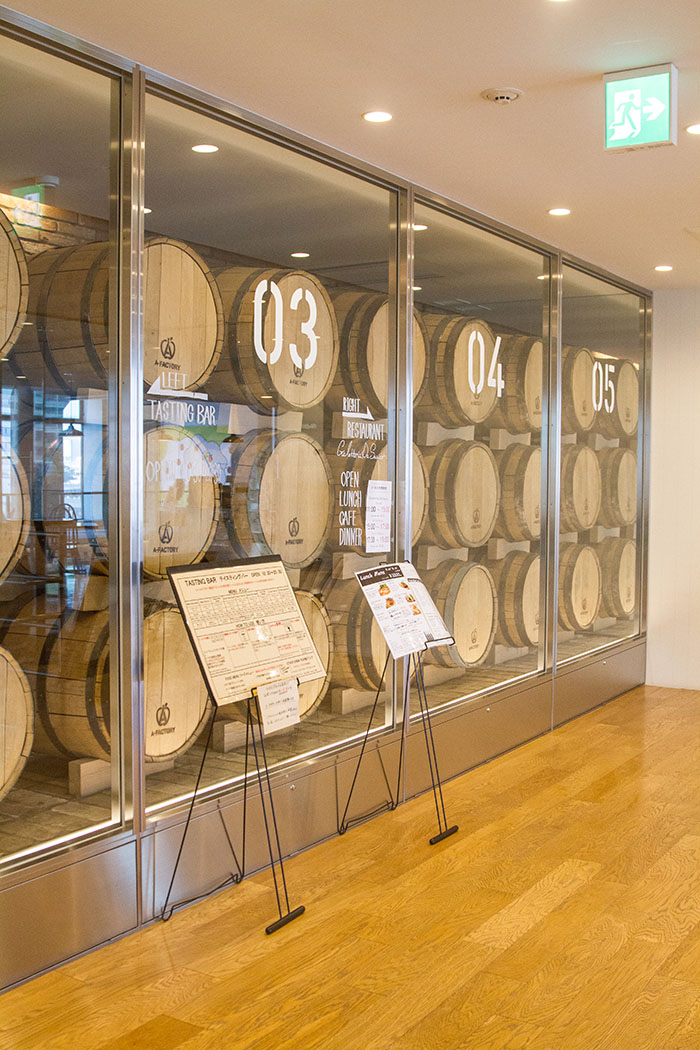 Although lots of items are available, apples are king, which is no surprise considering Aomori is the number one apple producer in Japan, growing more than 50% of the apples on the market!  The Fuji apple was actually developed in Aomori prefecture!  I enjoyed some apple sorbet, trying both the Fuji apple and Orin apple flavors.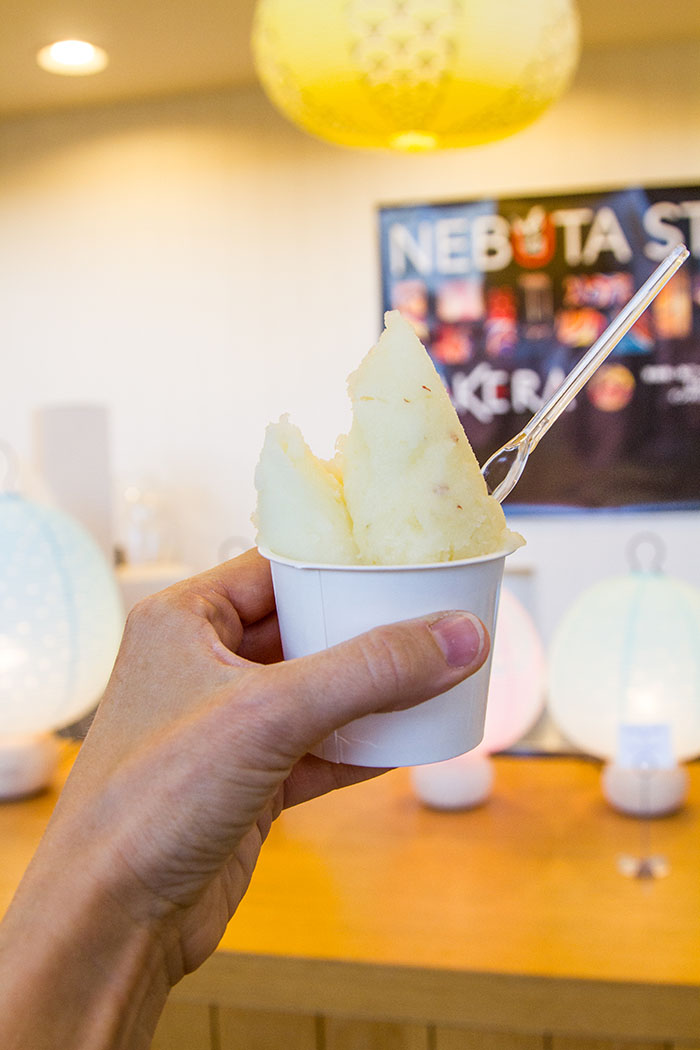 ======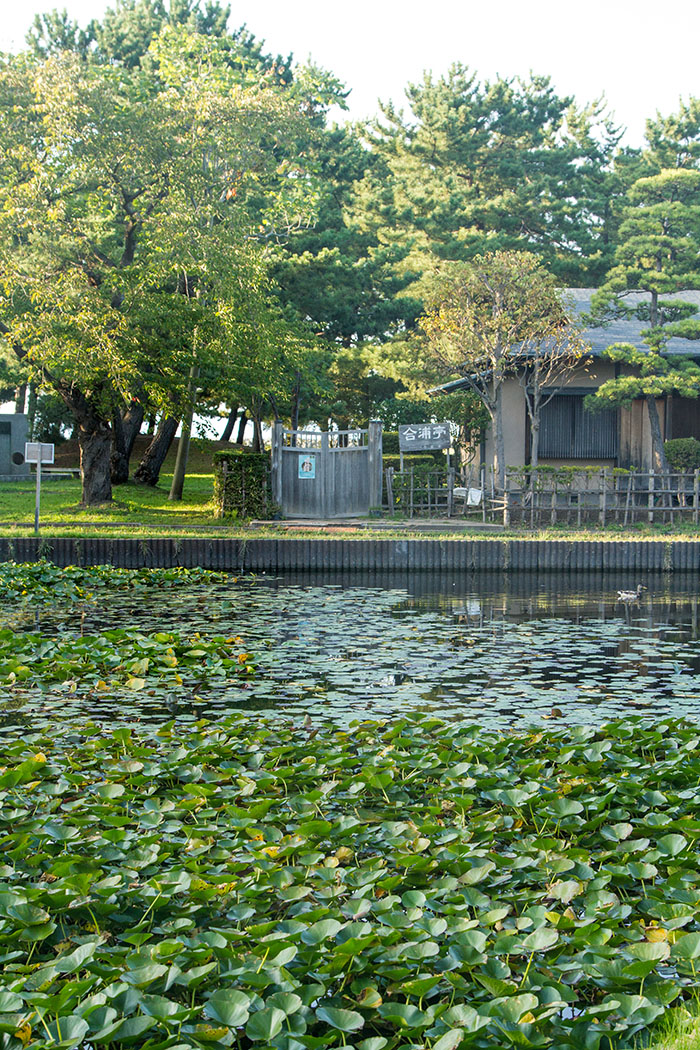 Gappo Park
If you eat too much for lunch, or are trying to work through some jet-lag, I suggest finding a park and taking a good walk.  There are lots of parks to choose from, but one good one is Gappo Park.  The park is beautiful and has good walking paths, making it perfect for a leisurely stroll, a good jog, or a game of tag if you've got kids.  The park also has a beach which sits on Aomori Bay, so you might want to stop here to dip tired feet in the water or to just watch the soothing rhythm of the waves washing onto the shore.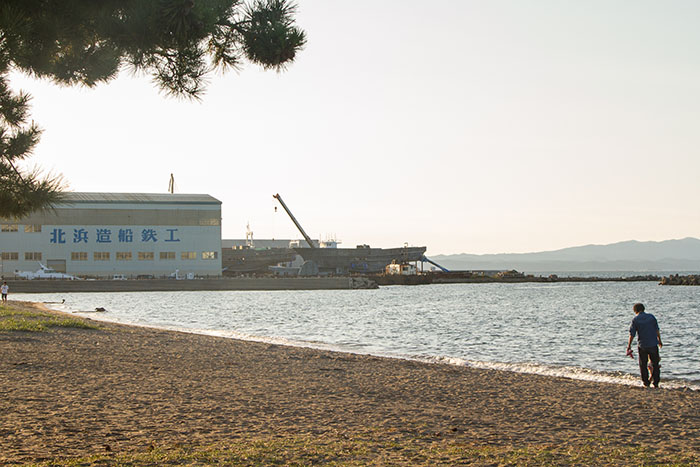 The park is also listed as one of the cities 100 Best Parks, due to it having 670 cherry trees, so if you visit during cherry blossom season, make sure that Gappo Park is on your itinerary!
======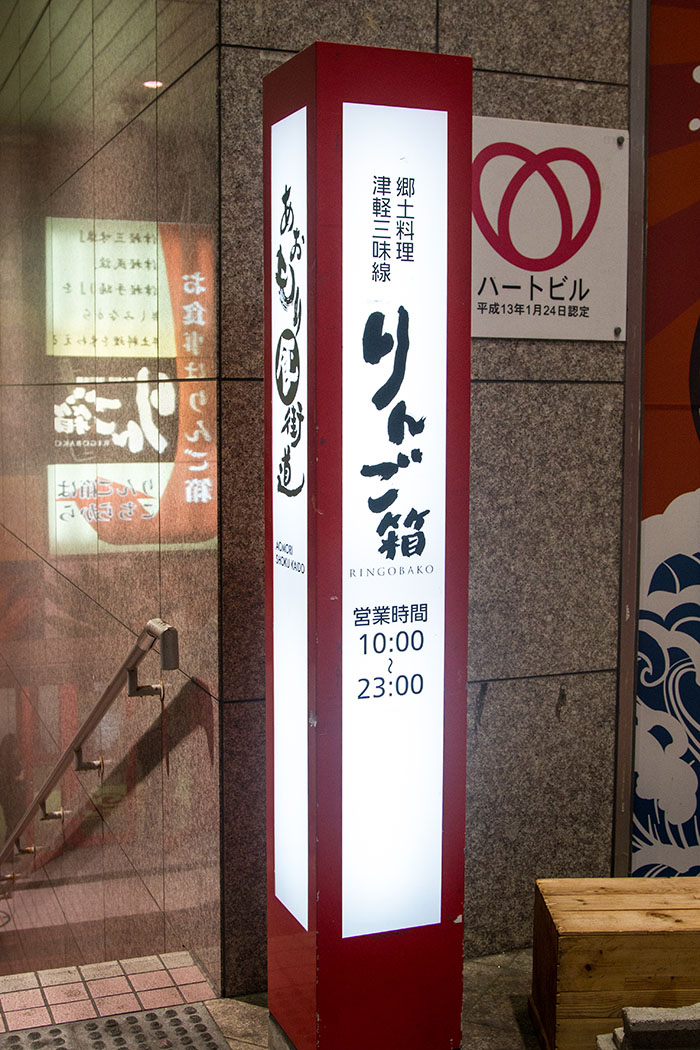 Ringo Bako Restaurant
If you want a fun experience for dinner, eating at Ringo Bako is a must.  Ringo Bako translates to mean "apple box" which is a very appropriate name.  Tables are crafted from wooden apple crates (or boxes) stacked on one another to make a very fun, and surprisingly comfortable, dining experience.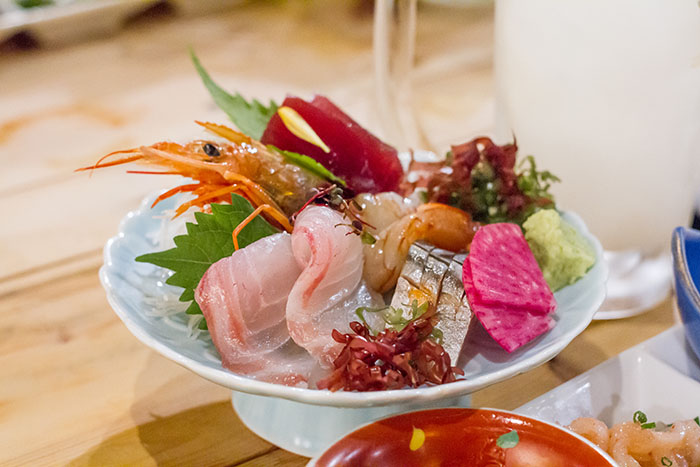 The restaurant specializes in local dishes, including sushi and senbei jiru, a Japanese-style soup that includes senbei (Japanese crackers), which I loved!
The restaurant also features live shamisen music at 7pm, which is another reason to go for dinner.  These musicians perform Tsuguru shamisen, which is a much more passionate genre of shamisen music, unlike it's buttoned-up relative that accompanies kabuki theater performances.
======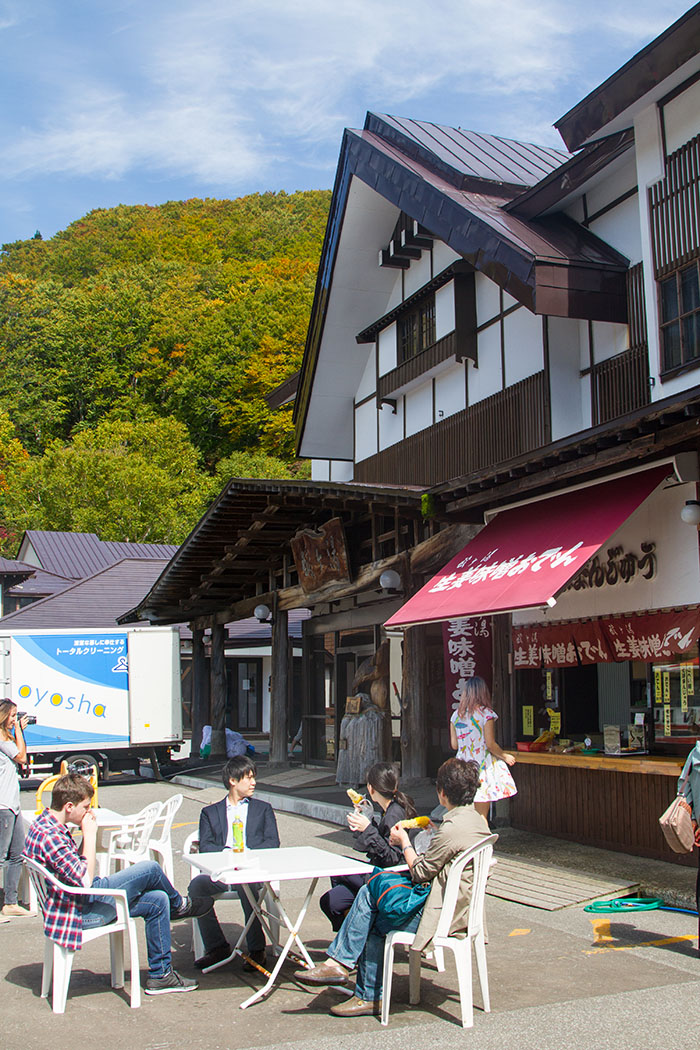 Sukayu Onsen
If you want to relax and really have a wonderful, unique Japanese experience then get out of downtown and head into the mountains to Sukayu Onsen.  Sukayu Onsen is about a 40-minute drive south from Aomori Airport, yet arriving there feels like stepping into a different world completely, even though you are still withing Aomori's city limits.  An onsen is a natural hot spring, and the Sukayu onsen was found more than 300 years ago by a hunter chasing a deer.  The onsen has three different baths, a co-ed, a female-only, and a male-only bath, which are all filled with water flowing directly from the hot-spring.
The onsen is most famous for it's sennin-buro, "1,000-person bath"—a large indoor co-ed bath.  It is called a 1,000 person bath because of its large size, not because this is a regular occurrence, though they have achieved this feat, providing photographic evidence, before.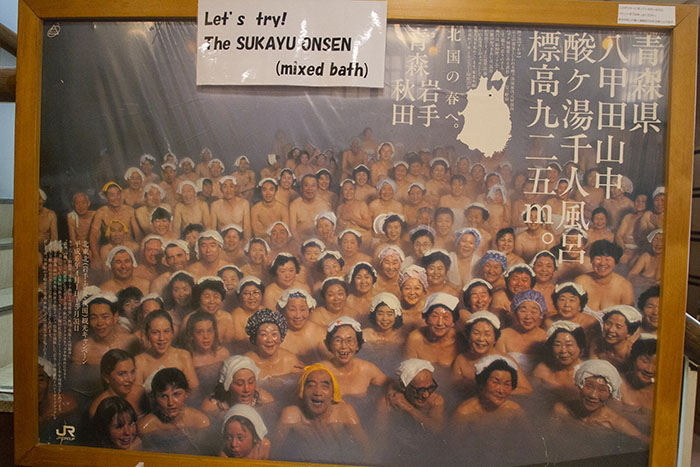 The large wooden building which the bath is housed in is made with beech wood in a traditional Japanese style, which is part of the experience.  If you are a female and wanting your privacy, there are designated hours during the day where the bath is closed to male visitors.  There are outfits available for purchase that can be worn by women in the bath for additional privacy as well.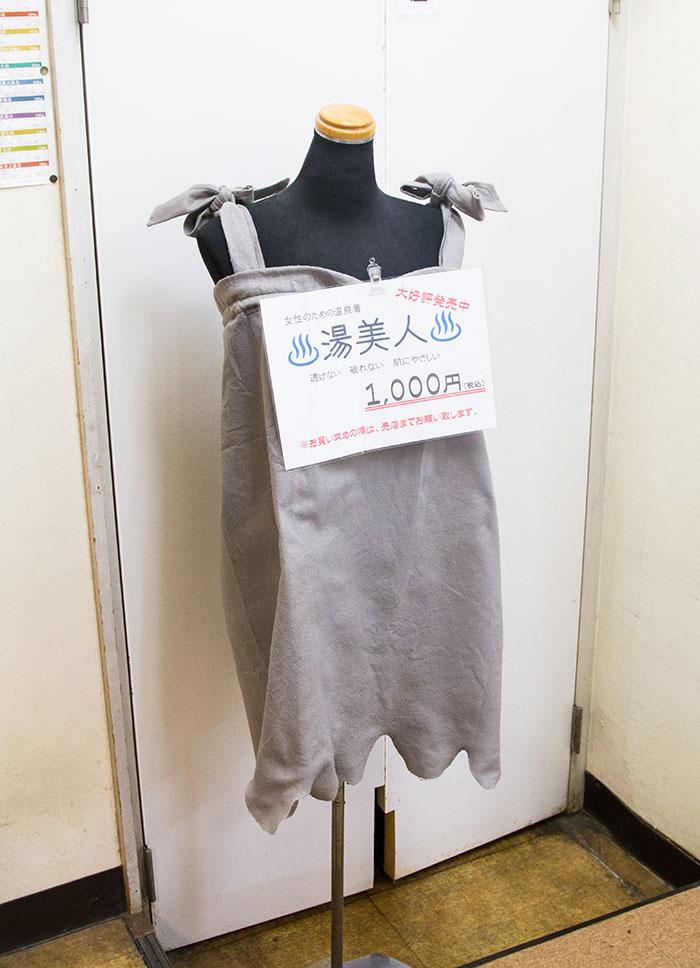 The world record for the highest annual average snowfall was measured in Sukayu Onsen, but don't let that deter you.  The onsen is accessible year-round by well-maintained roads and an onsen is one of the best places to visit during the cold of winter!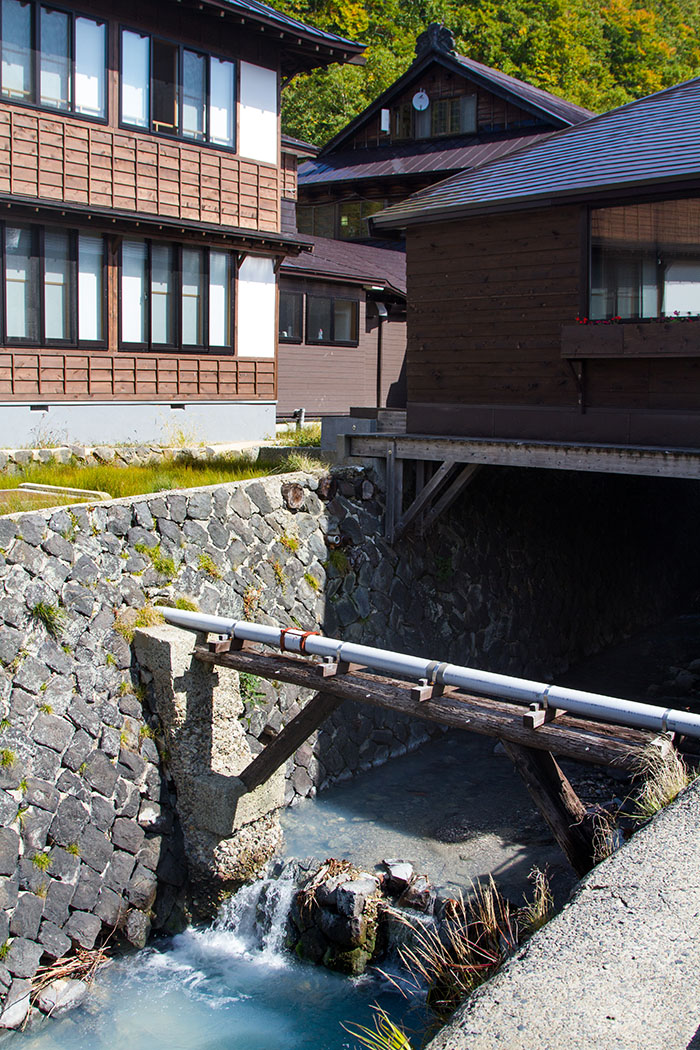 You can go skiing and snowboarding during winter and hiking during the warmer months of the year, as well as enjoying bathing in the hot spring.  If you want to stay in the area there is Sukayu Onsen Ryokan, which houses the onsen and is a traditional Japanese ryokan (Japanese-style inn) or the nearby Hakkoda Hotel, a resort hotel.  The Sukayu Onsen Ryokan has a fantastic gift shop with local products for purchase and a food stall where I purchased one of the best ears of corn I've ever eaten.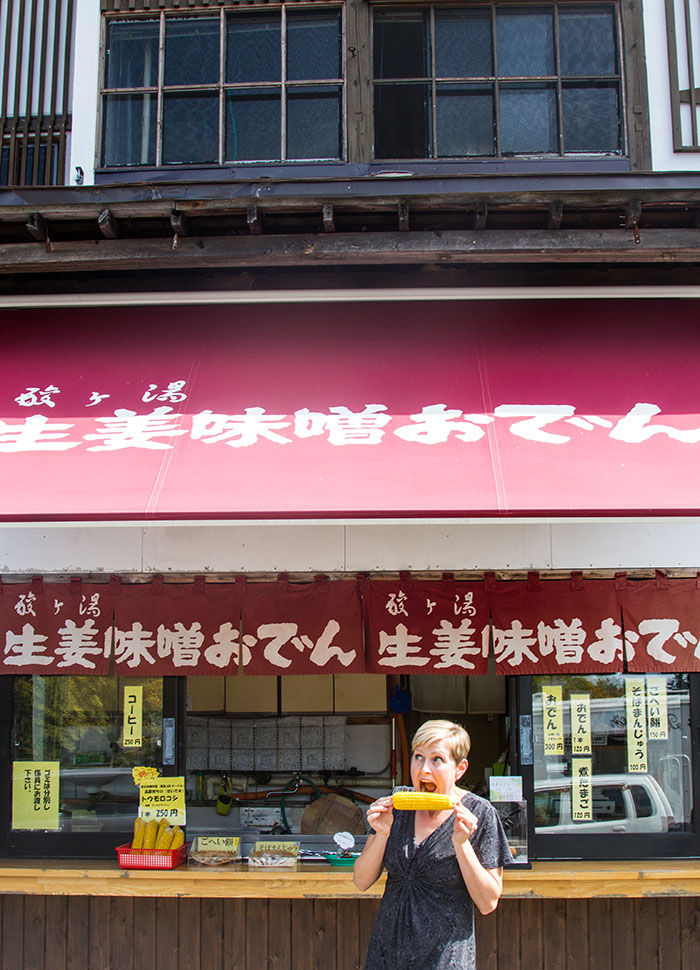 This is just a taste of what Aomori City has to offer!  If you want to see a bit more, I've put together a video for you!
COMING NEXT: Oirase Gorge and Lake Towada
=========
*Disclosure: The Japan National Tourism Organization sponsored my trip and is also compensating me for my time in writing this blog post.  All experiences and opinions are my own!