Green Valley Organics
.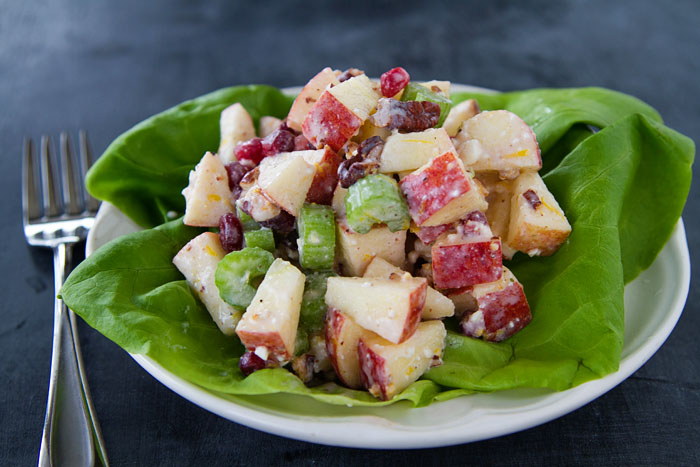 With all the rich desserts and heavy meals that seem to accompany the holidays, I always like to make sure that I have something light and fresh up my sleeve to serve when the occasion arises.   I love making a Waldorf salad to serve as a light meal, because it's quick and easy to make, yet still delicious.  The traditional Waldorf salad, created at the Waldorf Hotel in New York City in the late 1800s by  maître d'hôtel, Oscar Tschirky, is made with apples, celery, and walnuts dressed in mayonnaise and served on top of a bed of lettuce.  (The first Waldorf salad did not include walnuts, which were added later.)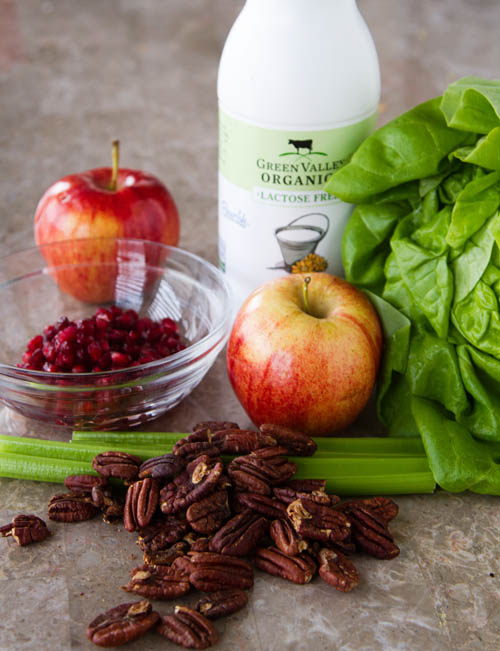 I recently whipped up a Waldorf salad, adding a festive holiday twist.  I traded the walnuts in for toasted pecans, and whipped up a lighter feta kefir dressing to replace the mayonnaise.  I also added pomegranate arils for an extra bit of color and tart juiciness.  The creamy tang of the kefir mixed with the tangy feta is delightful change to the usual heavier mayonnaise.  (I use Green Valley Lactose Free Plain Kefir which is made with pasteurized organic milk from cows that have 1,700 acres of green pasture to roam and graze in Sonoma County, California.  Makes me want to be a cow…)  An added bonus is that by using kefir, you are also adding probiotics to your salad, which help your digestive system to break down food, and absorb nutrients.  After eating one too many sugar cookies, we could all probably used some additional probiotics in our diet!  How do you like to lighten things up during the holidays?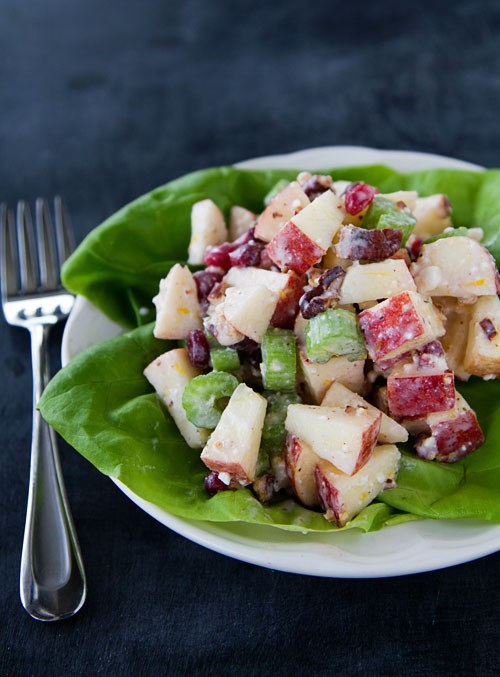 Print This Recipe
Holiday Waldorf Salad
Makes 4 servings

1/2 cup pecans
2 ounces feta cheese, crumbled
1/2 cup plain kefir (I used Green Valley Organics Lactose Free Plain Kefir)
1 tablespoon honey
1 tablespoon freshly squeezed Meyer lemon juice
1 teaspoon fine grain sea salt
1/2 teaspoon freshly ground black pepper
2 large crisp apples (I used Gala apples)
2 ribs celery, cut into 1/2-inch thick pieces.
1/2 cup pomegranate arils
1 head butter lettuce, trimmed, washed, and dried

1. Preheat the oven to 350 degrees Fahrenheit.

2. Spread the pecans in a single layer on a baking sheet and toast in the preheated oven for 8 to 10 minutes, watching them closely to make sure they do not burn. When toasted, remove the baking sheet from the oven, and move the nuts to a bowl to cool. When they have cooled, break them into small pieces and set aside.

3. Mash the feta cheese, kefir, and honey together with a fork in a large bowl. Add the lemon juice, sea salt, and black pepper and whisk to combine.

4. Add the apples, celery, and pomegranate arils to the bowl, then toss with the dressing. Cover and refrigerate if not serving immediately.

5. When ready to serve, toss the pecans into the salad. Arrange the lettuce leaves on 4 salad plates, then place the salad on top of the lettuce and serve.

==================================================

* Disclosure: I was compensated for recipe development and writing this post as part of my participation in a campaign with Green Valley Organics and Redwood Hill Farm.  All opinions are my own.

This post is brought to you by