Kakigori (Japanese shaved ice) is a popular summer treat that
we looked forward to eating when we lived in Japan
.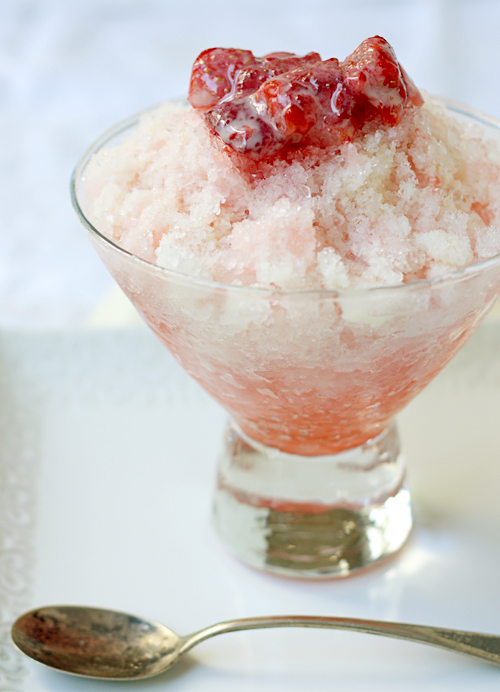 When we were in Tokyo last month we spent a day in the Azabu Juban area visiting some of our favorite spots.  After we had been out for several hours, the hot humidity of the Tokyo summer afternoon started to take its toll.  We were both hot and tired and ready for a break.  So we stopped by a little cafe above Naniwaya Sohonten, a famous 101-year old taiyaki shop, and ordered some dessert to help us cool off.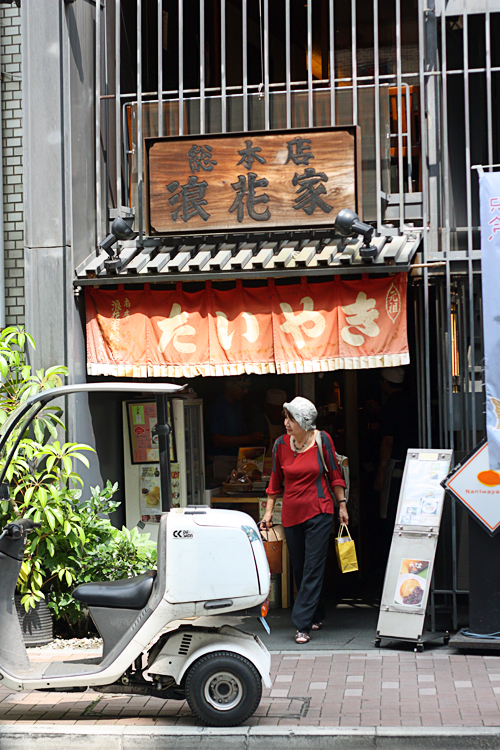 One of the things we ordered was an Ichigo Milk Kakigori, Japanese shaved ice served drizzled with strawberry syrup and milk.  The cold icy treat instantly improved our heat-induced sour expressions.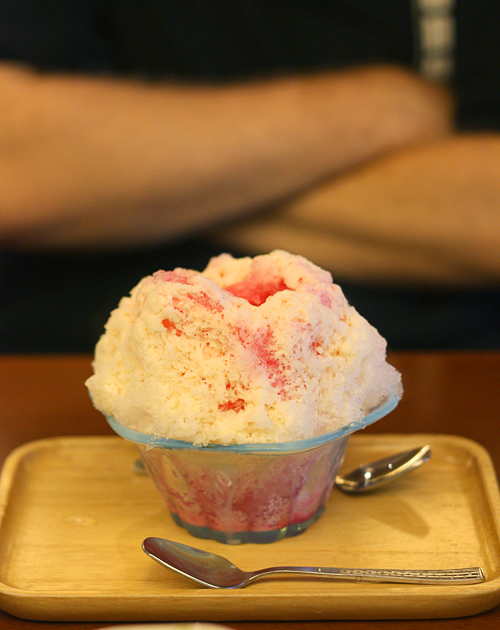 I've been wishing for more kakigori every since.  This past Sunday we went to my parents' house to visit with family that was in town.  My mom told me that she was planning on continuing the sweetened condensed milk theme with a variety of treats all made with sweetened condensed milk for dessert.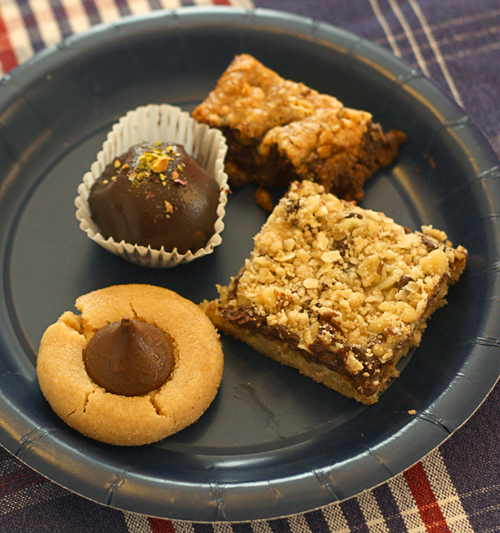 I decided to contribute to the lineup with a treat of my own.  I brought all of the ingredients to make ichigo condensed milk kakigori, Japanese shaved ice with strawberry syrup and sweetened condensed milk.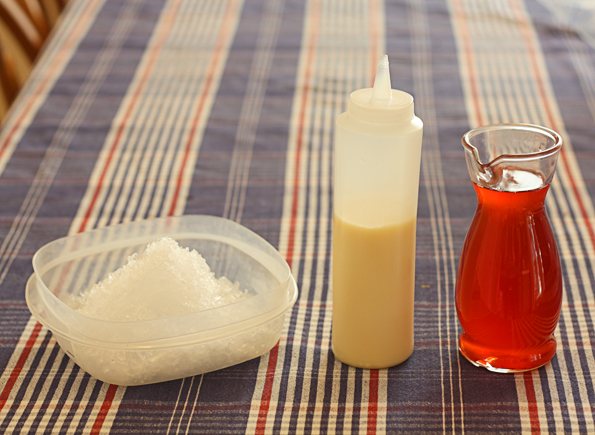 This kakigori was inspired by the kakigori we ate last month in Tokyo, and also by the combination of strawberries and sweetened condensed milk.  During strawberry season in Japan, squeeze tubes of sweetened condensed milk are displayed alongside cartons of strawberries in the produce section.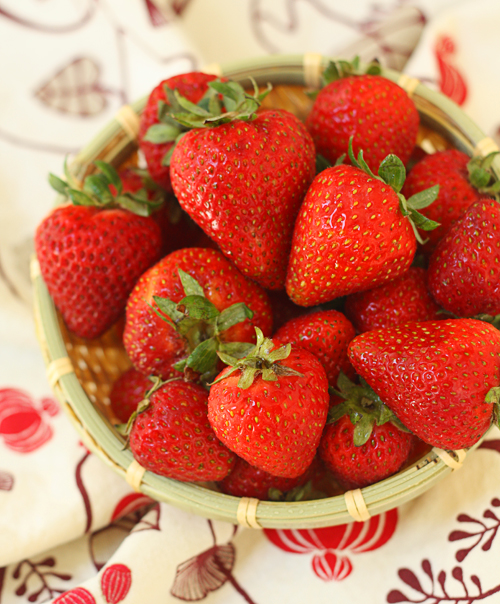 It wasn't hard to convince me that squeezing a dollop of sweetened condensed milk onto a juicy ripe red strawberry was a genius idea, and now I miss seeing those convenient squeeze tubes every summer here in the US.  Sweetened condensed milk is also actually a popular topping for kakigori, so this wasn't a big jump to make.  The strawberry syrup is super easy to make, with delicious results.  All you have to do is stew some cut up strawberries in simple syrup.  The natural red dye in the strawberries bleeds out into the syrup, making it a beautiful red color, while giving it a fabulous fresh strawberry flavor.
To increase the strawberry flavor, I also ladled some of the stewed strawberries, leftover from making the strawberry syrup, on top of the kakigori.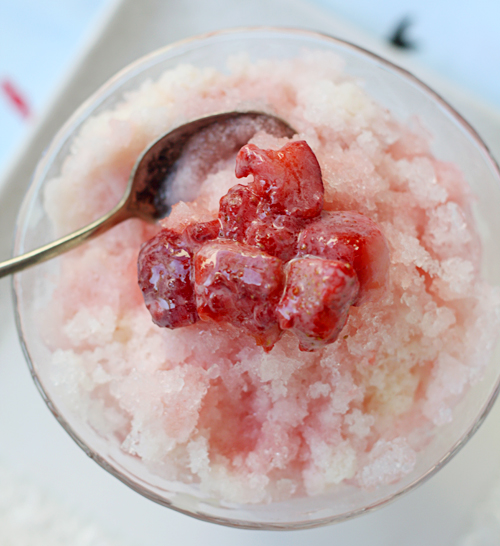 For the ice, I used a Japanese hand-crank ice shaver (you can buy them online, or at many Asian markets during the summer).
The kakigori was delicious and a nice light addition to the heavier sweetened condensed milk treat lineup.  It also took care of my craving for kakigori.  The combination of the fresh homemade strawberry syrup, stewed strawberries, and sweetened condensed milk was even better than the strawberry milk combo that we enjoyed in Tokyo.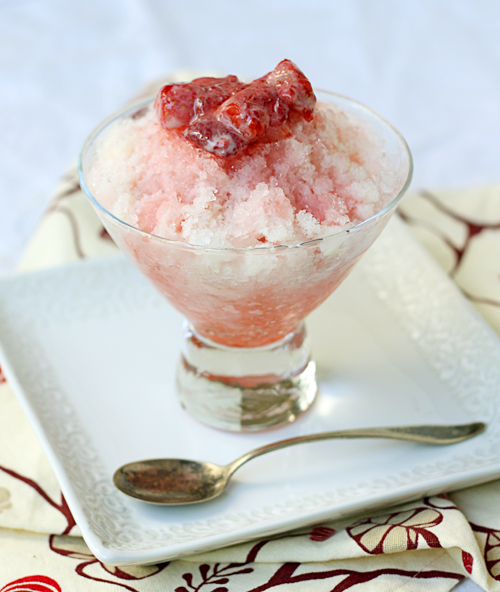 Print This Recipe
Ichigo Condensed Milk Kakigori—Strawberry Condensed Milk Japanese Shaved Ice
For the Stewed Strawberries and Strawberry Syrup (Makes about 3 1/2 cups syrup and 3/4 cup stewed strawberries)
2 cups water
2 1/3 cups granulated sugar
1 pound strawberries, chopped into large pieces
shaved ice
sweetened condensed milk
1. Make the strawberry syrup:In a large, nonreactive saucepan* combine the water and the sugar and heat over medium-high heat until the sugar has dissolved completely.
2. Add the strawberries and reduce the heat to medium-low heat and simmer for 10 minutes.  Taste the syrup.  If you desire a stronger strawberry flavor, continue simmering the syrup for an additional 5 to 10 minutes.
3. Strain the stewed strawberries out of the syrup and then put the strawberries and syrup in separate containers in the refrigerator to cool.
4. Assemble the kakigori: Shave the desired amount of ice.  Drizzle strawberry syrup over the shaved ice.  Add a spoonful of stewed strawberries, then drizzle some sweetened condensed milk over the top of the strawberries and shaved ice, and serve.  The stewed strawberries should be frozen if not used within 24 hours of making them.  The syrup will keep for several weeks in the refrigerator.
* Nonreactive saucepan: stainless steel, glass, or ceramic materials.  They are called nonreactive because these materials do not react with acidic ingredients the way copper and aluminum do.