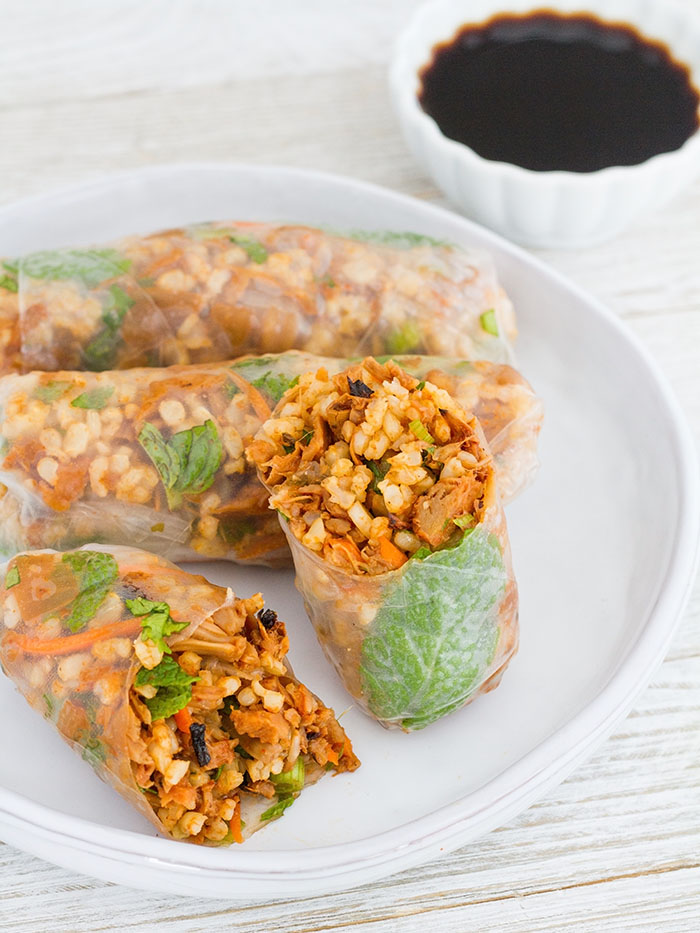 Hello friends!  Ok, so remember that recipe for Instant Pot Jackfruit Carnitas I posted a few days ago?  In the post I told you about a few ways to use the carnitas, but I thought I would pop in and show you one of the things we made last week with ours—jackfruit carnitas fresh spring rolls.  Squirrel has been requesting fresh spring rolls for a few weeks and so I finally got my rear in gear and bought rice wrappers so we could make some.  While I was at the store in the checkout lane I was flipping through one of those Better Homes & Gardens special interest magazines and saw a recipe for Pork, Brown Rice, and Mint Spring Rolls.  The lightbulb went on in my head because I knew that we had leftover jackfruit carnitas sitting in the refrigerator at home, so I decided to make a version of the magazine recipe.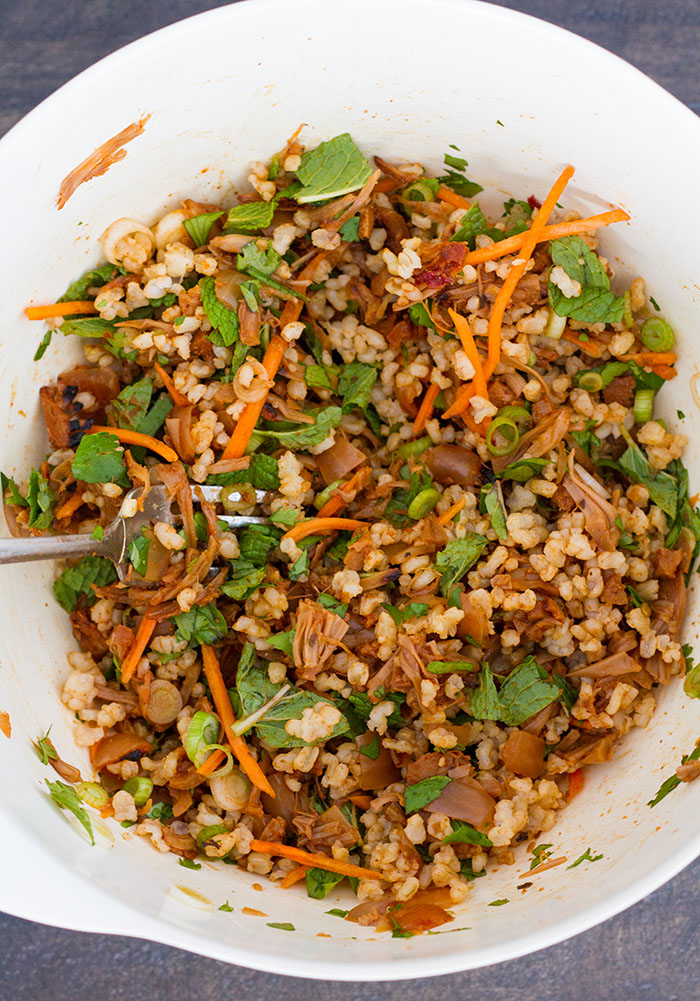 I whipped up a mixture of leftover jackfruit carnitas, brown rice, fresh mint and cilantro, shredded carrot, scallions, lime juice, and Worcestershire sauce. Then I turned that filling into fresh spring rolls: briefly soaking each rice wrapper, putting some of the filling on it, then rolling it up.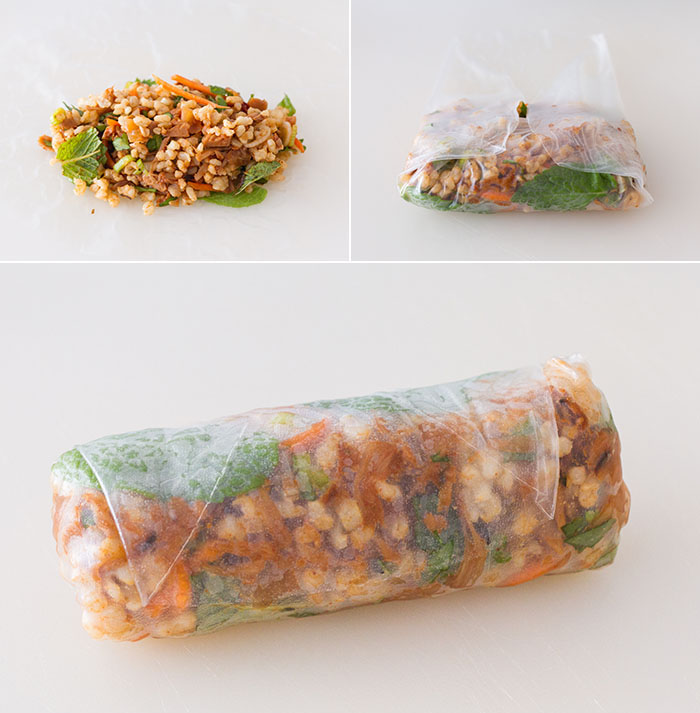 For a dipping sauce I made a simple mixture of soy sauce, rice vinegar, and gochujang (just to taste…I didn't measure).  Peanut sauce would be awesome as well!  Super quick and easy and a great way to use up the rest of the jackfruit carnitas!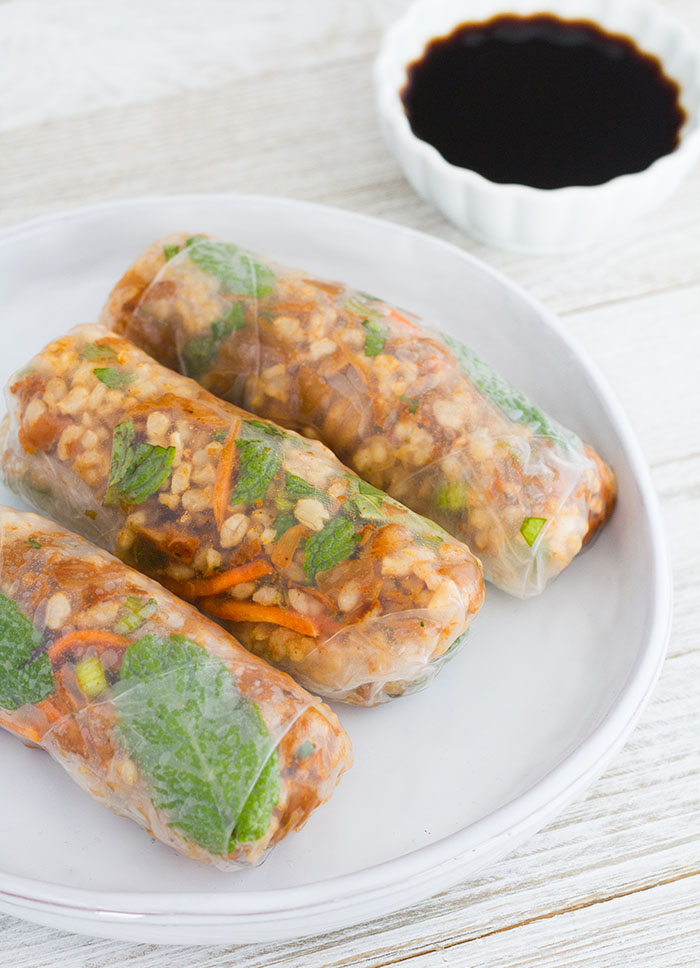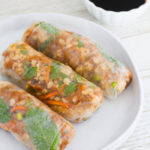 Jackfruit Carnitas Fresh Spring Rolls
Fresh spring rolls filled with a mixture of jackfruit carnitas, rice, scallions, fresh mint, carrot, and cilantro. A great way to use up leftovers!
Ingredients
2

cups

steamed Japanese rice (I used brown)

12

ounces

Instant Pot Jackfruit Carnitas

3/4

cup

loosely packed fresh mint leaves, hand torn

1/3

cup

thinly sliced scallions, white and light green parts only

1/4

cup

shredded carrot

1/4

cup

chopped cilantro

2

tablespoons

Worcestershire sauce

1

tablespoon

fresh lime juice

12

spring roll wrappers
Instructions
Combine all of the ingredients, except for the spring roll wrappers, in a large bowl.

Fill a large bowl with warm water.

Working with one wrapper at a time, note which side is the smooth side (this is supposed to be the outside of the spring roll), then submerge the wrapper into the water for about 5 seconds. Remove the wrapper from the water and place it on a clean cutting board or other smooth work surface with the smooth side down. Don't worry if the wrapper isn't completely soft as it will continue to soften as you work.

Place about 1/2 cup of the jackfruit carnitas filling about 1-inch from the lower edge of the wrapper. Fold the bottom edge up and over the filling, then fold in both sides, and then finally roll it up. Repeat with the remaining ingredients! Serve with your favorite dipping sauce.