Post written in partnership with Copper Chef.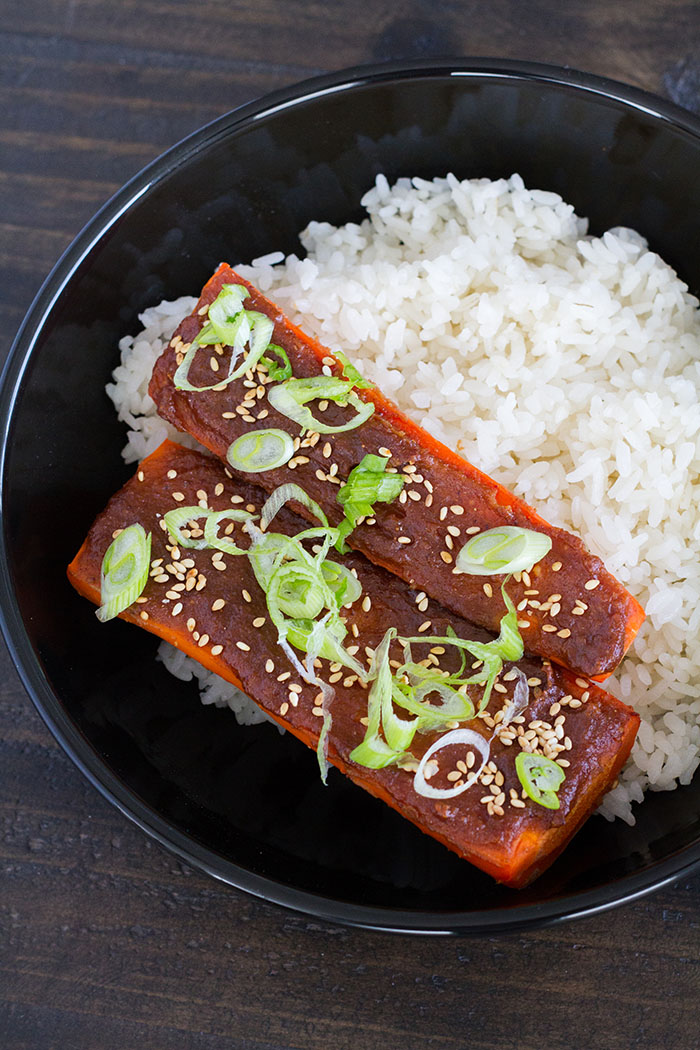 Seven days left until Christmas Day! Can you believe it?  This Christmas season has seemed to fly by even quicker than normal.  I'm guessing that part of that is due to the fact that we have been trying to unpack our house in addition to all the things that go with normal life, leaving very little down time!  Are all of your presents purchased?  If not, I've got a quick and awesome option for you to consider.  A while ago I was sent some cookware from Copper Chef to try out.  I was very curious about these pans because they were very unique looking—a beautiful copper color, and many of the pots and pans were square in shape.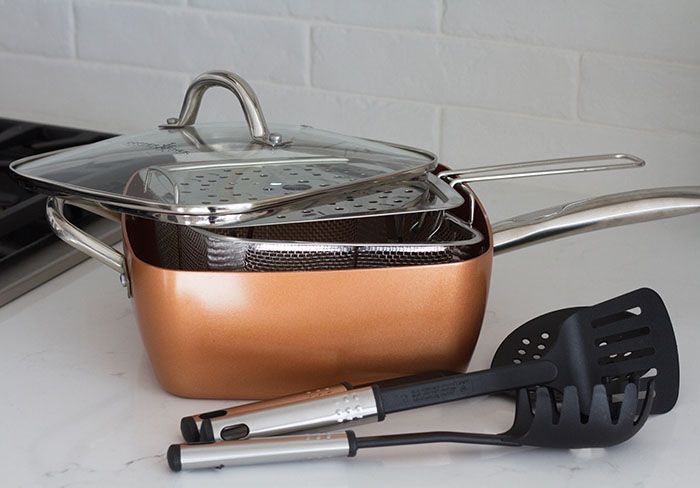 Copper Chef cookware is coated in a ceramic coating infused with copper, is heat resistant up to 850 degrees Fahrenheit, can be used on the stove or in the oven, and can be used on electric, gas, ceramic, and induction cooktops.  The ceramic coating makes it nonstick and easy to clean.  So here is what I love—my square pan can be used as a saucepan, roasting pot, skillet, steamer, baking dish, etc.  The nonstick surface works so well that you can reduce your need for oil significantly, if not completely eliminate the need, when cooking.  Cleanup is also a breeze.  Things that become caked onto other pots and pans, even ones that are labeled as nonstick, slide right off the Copper Chef surfaces.  There are a few things I don't love.  The square pan is smaller than I would like, but most of the time this isn't a problem.  Sometimes the square shape doesn't work as well, like when I'm trying to stir along the edge of the pot.  But Copper Chef does make some circular fry pans if that's what you're in the market for.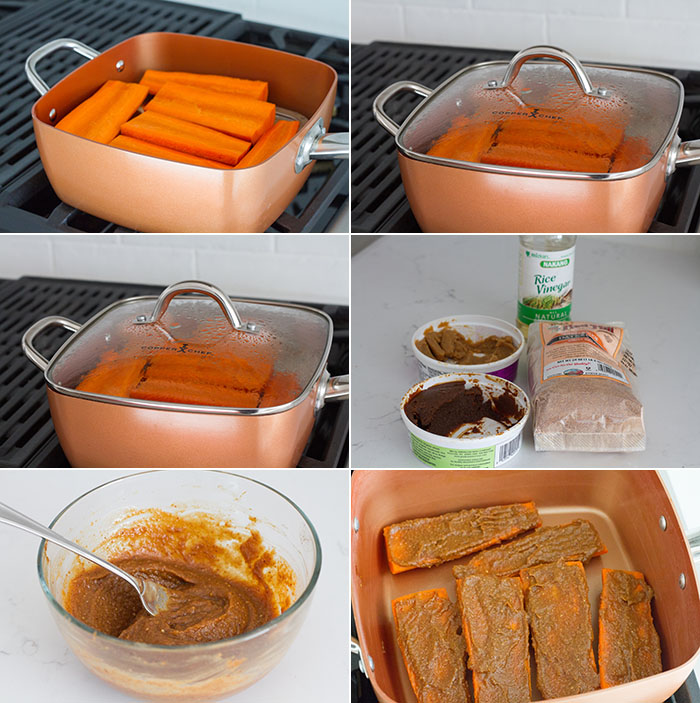 To illustrate the multi-use capabilities of this cookware, I am sharing a delicious dish that is perfect for these cold winter months—miso glazed carrots.  These carrots were inspired by a Japanese dish that I loved called nasu dengaku, miso glazed eggplant.  First you steam the carrots, then you brush them with a miso glaze and put them under the broiler.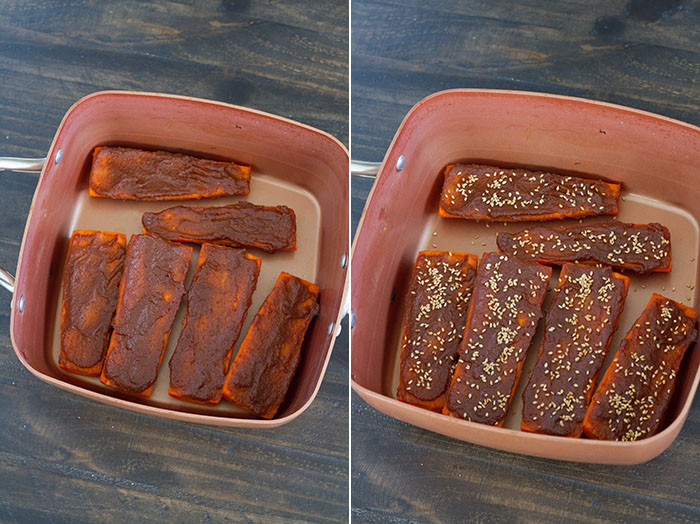 This was a one pot recipe with my Copper Chef pan and cleanup was a breeze!  If you still need a gift for a cook in your life, grab a Copper Chef pan for them!  I have seen them at Walmart, as well as a local chain grocery store, but they can be ordered online as well.
If you see any giant carrots, like I did the other day at the store, you should grab them and make some miso glazed carrots!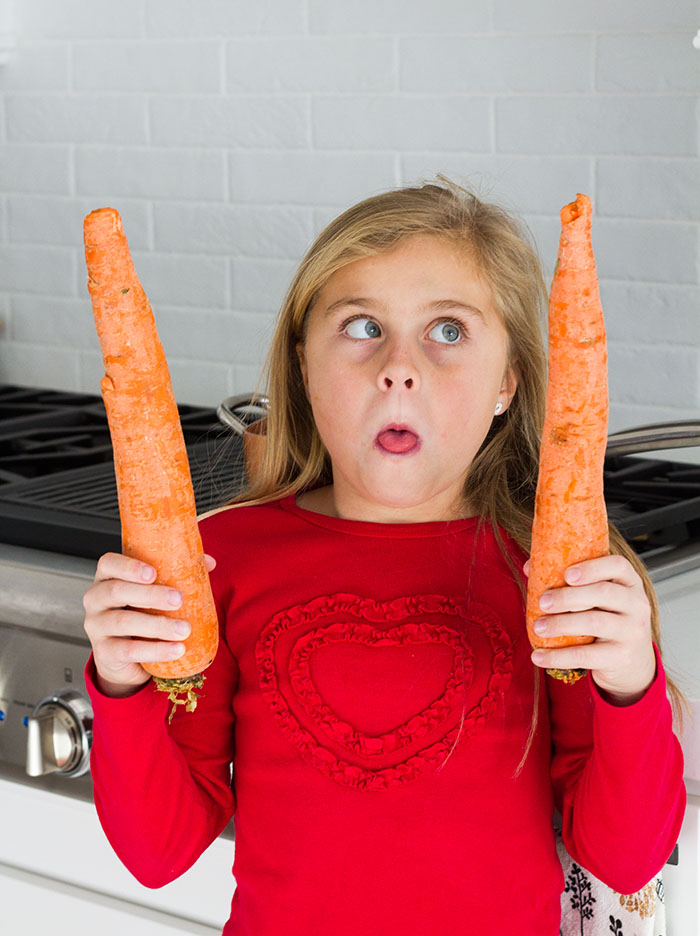 You can serve the carrots as a side dish or with rice as part of a main dish. They are hearty and full of flavor from the miso glaze!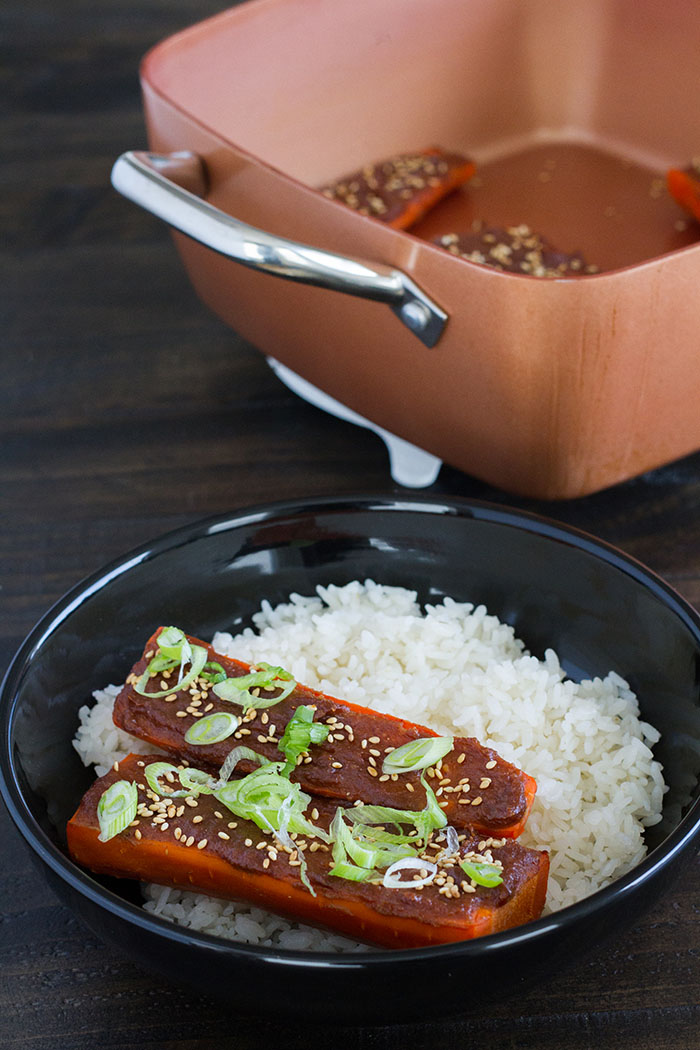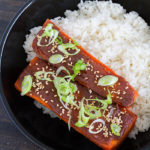 Miso Glazed Carrots
Miso glazed carrots make for part of a hearty main dish or side dish. The miso glaze provides all the seasoning they need!
Ingredients
3

large

carrots

3

tablespoons

water

2

tablespoons

red miso paste

2

tablespoons

white miso paste

2

tablespoons

date sugar (or sweetener of choice)

2

teaspoons

rice wine vinegar

sesame seeds and thinly sliced green onions, to garnish
Instructions
Peel the carrots and cut them in half lengthwise. Cut them into shorter pieces if necessary to fit them in your pan.

Put a steamer insert or basket in a pot with about 1 inch of water. Place the carrots inside and bring the water to a boil. Steam the carrots until they are tender, but not mushy.

While the carrots are cooking, mix the water, red and white miso pastes, date sugar, and rice wine vinegar together in a bowl.

Once the carrots are ready, remove them from the pot and spread the miso mixture on the flat, cut sides of the steamed carrots in a thin layer, until all the surface is coated.

If your pot is oven-safe, place the carrots, miso-side up, in the bottom of the drained pot. Otherwise, place them miso-side up on a parchment-lined baking sheet.

Put the carrots in the oven under the broiler on high and broil for 4 to 5 minutes. The carrots are ready when the miso mixture starts to bubble. Remove them from the oven and sprinkled them with sesame seeds and thinly sliced green onions.
=====================
*Disclosure: Copper Chef sent me some of their cookware to try out.  I received no other compensation.  All opinions and experiences are my own!