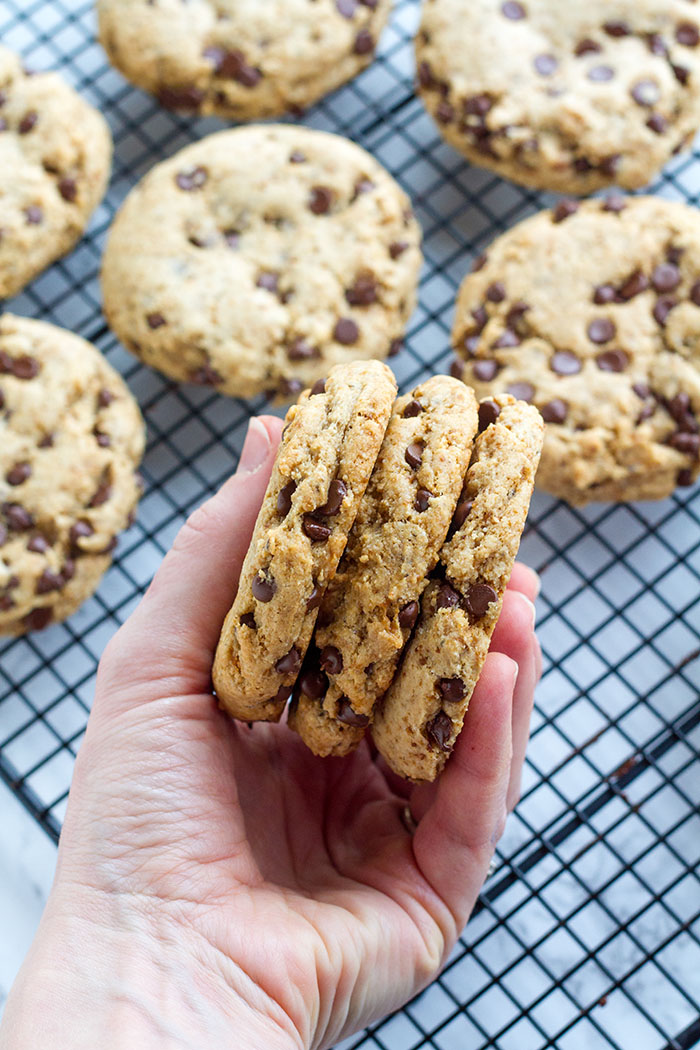 Last year I worked on a recipe for chocolate chip cookies that were gluten-free and Paleo.  After many rounds of cooking and tweaking, I finally had a cookie that I loved and so did my family.  I said that it was probably my favorite chocolate chip cookie recipe.  Earlier this year I decided to take the recipe one step further and come up with a version that was completely plant-based.  The result was a chocolate chip cookie that I can say, without hesitation, is my absolute favorite chocolate chip cookie.  It also happens to be my husband's as well and he requested them for dessert as part of his Father's Day meal.  We celebrated with my in-laws and my husbands siblings and family and they all loved them too.  So I'm feeling pretty darn good about these babies.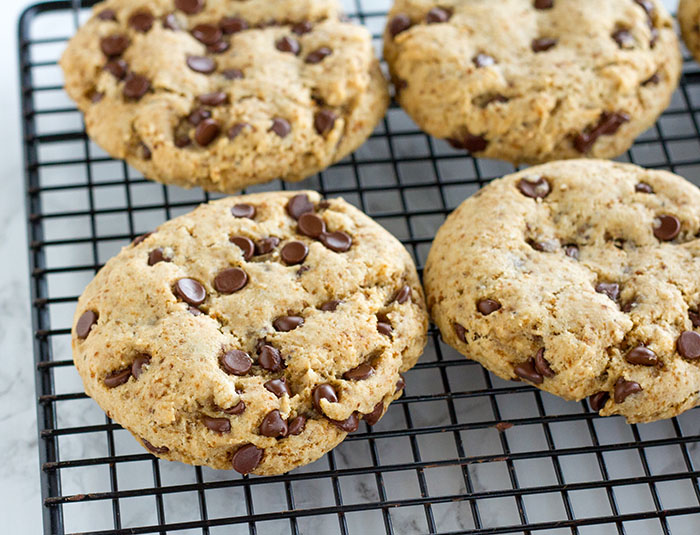 I substituted maple syrup for the honey I used in the original recipe, which resulted in a flavor that I like even more.  In place of the egg I used a "flax egg" (1 tablespoon of ground flaxseed and 3 tablespoons of warm water).  This particular change brought one of the best surprises.  The cookies actually don't go stale as quickly as the ones made with egg!  So even if you are an egg eater, it's still worth skipping them for this recipe!  Though chances of cookies being left long enough to go stale is debatable… These cookies are soft with a bit of chew and full of chocolate chips without being too sweet and no one would ever guess that they are gluten-free or made without things like eggs!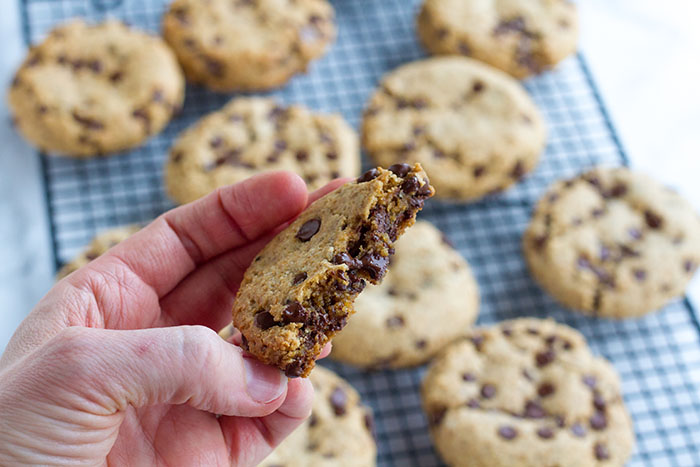 Print This Recipe
Chewy Chocolate Chip Cookies
Makes 23 cookies (3.25-inches in diameter)
Ingredients:
3 1/2 cups blanched almond flour
1 1/2 cups tapioca flour
1 cup coconut palm sugar (or granulated sugar)
1 tablespoon ground flaxseed
1 teaspoon baking soda
1 teaspoon cream of tartar
1 teaspoon fine grain sea salt
1/3 cup palm shortening
1/3 cup maple syrup
3 tablespoons warm water
2 teaspoons vanilla extract (for Paleo: add the seeds from one vanilla bean instead)
1 (10 ounce) bag allergen-free mini chocolate chips (I like Enjoy Life mini chocolate chips)
Directions:
1. Preheat the oven to 350 degrees Fahrenheit. Line a baking sheet with a silicone baking mat or a sheet of parchment paper. Set aside.
2. Place the dry ingredients (except for the chocolate chips) in a food processor and pulse to combine. Add the wet ingredients and mix until everything is well incorporated and a thick dough forms.
3. Scrape the dough into a large bowl then add the chocolate chips and mix them into the dough.  I find that the easiest way to do this is with my hands, as the dough is very stiff.  Cover the bowl and chill in the refrigerator for 15 minutes before using.
4. Scoop the dough onto the prepared baking sheet (I use a 3 tablespoon (2-inch diameter) scoop, but you can roll the dough into golf ball-sized balls of dough by hand as well). Using the palm of your hand, gently flatten the cookies slightly until they are slightly more than 1/2-inch thick.  Leave 2 inches between each cookie.
5. Bake the cookies in the oven for 9 minutes. Remove the cookies from the oven and let them cool for 5 minutes, then move them from the baking sheet to a cooling rack to finish cooling.
*Recipe Notes: Store the finished cookies in an airtight container.  They stay moist and chewy for a good 48 hours, though they start to lose some of their crispiness after a day or so.  They start to get a bit stale after 2 days.  If you would rather use a chia egg, or you don't like to use palm shortening, use 1 tablespoon of ground chia seed in place of the ground flaxseed and 1/3 cup coconut oil in place of the palm shortening.  These turn out just as well, though I have found that they go stale a bit quicker!