I love cookbooks and I own an embarrassing number of them.  For the most part though, I don't actually cook from cookbooks.  I use them as inspiration and resources for research.  There are a few, however, that stay on a special shelf, because not only are they wonderful sources of information, but because they are the few cookbooks that I actually consistently use recipes from.  Up until recently there were just five of them:
Washoku: Recipes from the Japanese Home Kitchen, by Elizabeth Andoh
,
Mastering the Art of French Cooking, by Julia Child
,
The Steamy Kitchen Cookbook, by Jaden Hair
, Mr. Fuji's grandmother's cookbook that she gave to each granddaughter (or granddaughter-in-law in my case!) when she got married, and a cookbook put together my mom's extended family a few years ago of all the family favorites.  There are now six cookbooks on that shelf.  The newest addition is
Jamie's Food Revolution, by Jamie Oliver
.  I recently received a copy of the book to review.  I'm always excited to look at a new cookbook, and started to flip through this one with the same excitement I would any other cookbook.  But I found myself slowing down and being drawn in by the pictures and then the recipes that went with those pictures.  All I could think was, "Wow. I cannot wait to go cook something out of this book!"  The thought struck me that if I handed this cookbook to Mr. Fuji, he might actually be just as excited by those pictures and recipes as I was.  Mr. Fuji is no cookbook fanatic, but he loves a good meal, and I predicted that in those pages he would see the promise of some great meals.  I was right.  When he got home from work that evening, I casually handed him the book and asked him to flip through it and tell me what he thought.  I'm sure he was mentally rolling his eyes, but he opened up the book and started to turn some of the pages.  I saw his attitude go from humoring me to looking really hungry.  The same thing has happened with every person I've handed the book to.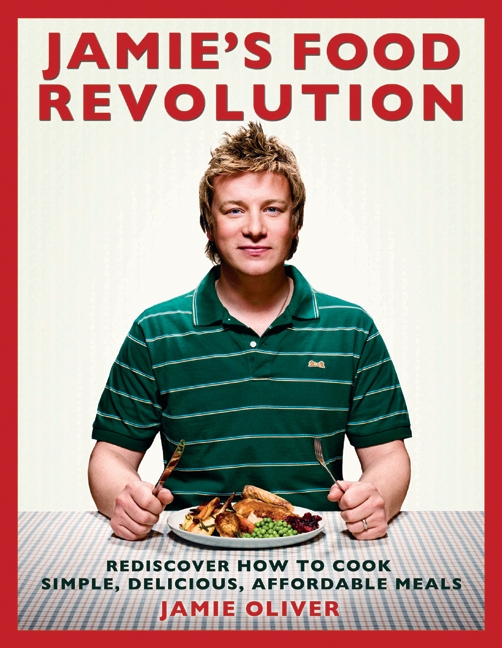 Since that moment, I've made several of the recipes and they have not been a disappointment.  They have been delicious and comforting meals that our whole family has enjoyed.  This excites me, because this cookbook isn't just a cookbook, it's a call to action.  Jamie Oliver wrote the book after being inspired by all the people he's met "who thought they could never and would never learn how to cook."  This cookbook is part of his declaration that it's time for a revolution.  He writes,
"[W]e have a modern-day war on our hands now, and it's over the epidemic of bad health and rise of obesity.  The question is, do we wait until it's too late, or do we do something about it now?  I say we do something about it now.  I've been told that fewer than a third of Americans cook their dinners from scratch these days.  And although 75 percent of people in the United States eat most of their meals at home, much like us Brits, over half of those dinners are fast food, delivery, or takeout! Regardless of recessions and credit crunches, we all need to know how to cook simple, nutritious, economical,  tasty, and hearty food.  And once we've got this knowledge, we should pass it on through friends, family, and the workplace to keep that cycle of knowledge alive." (p.9)
He goes on to ask that we get personally involved in passing it on by teaching at least 2 people how to cook some of the recipes you know (or learn from his book), and then get those people to promise to pass it on.  The book has a bit of everything in it—20-minute meals, pastas, salads, stews, vegetable side dishes, breakfasts, and sweet things too.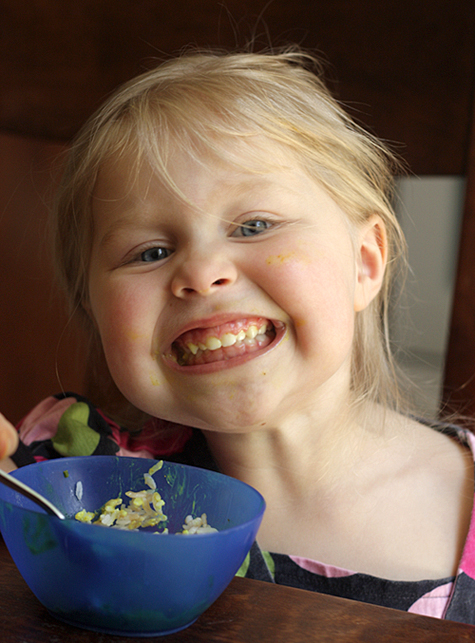 But this is not just a cookbook—it is part of a bigger picture.  After a recent report put out by the US government that was filled with statistics on the obesity epidemic in the US, Jamie decided that there was something he could do.  He was especially struck by the statement that today's generation of children are predicted to be the first which will die at a younger age than their parents due to obesity-related bad health.  Jamie's response?  He has started a campaign here in the US to get people "back in touch with food and keep cooking skills alive before it's too late."  He is focusing his efforts on helping our children.  Part of his campaign is going towards changing the school lunch program.  He states, "We want to make sure every kid gets good, fresh food at school.  It's proven that real food promotes more effective learning."  His words remind me of a quote by Frederick Douglass, "It is easier to build strong children than to repair broken men."  No matter how cliché the statement is, it is true that we are the present, but our children are the future.  What kind of future have we given them if we are dooming so many of them to health problems.  We have the tools to change that—we have the tools to build strong children so that they may have a strong and healthy future.  I encourage you to get involved.
Jamie's website contains a wealth of information on what is being done and what you can do to get involved.  I would encourage you to go and sign his petition that will be going to President Obama on these issues.  You can also watch his show, Jamie Oliver's Food Revolution, to see him in action (the show starts tonight, but the sneak peak episode can be watched online).

I know that for the most part, I'm preaching to the choir here.  If you weren't already cooking meals for your family you probably wouldn't be reading my blog.  But that means that we have a greater responsibility to get involved by passing it on, because we are part of the group with the tools and knowledge.  I'm inspired daily by many of the moms I know who are doing things like baking bread for the families or making sure that there is a homemade meal on the table, no matter how simple.  I am inspired by fellow food bloggers who are making efforts to pass on their knowledge to our children, like my friend Mardi, who teaches at a school in Canada, and has started a special program at her school to teach kids basic cooking skills.  These are people who recognize the importance of healthy eating and cooking skills and are actively involved in fighting the same depressing statistics that spurred Jamie Oliver to action.  What are you going to do about it?
To do my small part, I am passing on one of Jamie's recipes to you.  This is a wonderful easy recipe for curry sauce that can be served with whatever protein you'd like.  I chose to serve it with tofu, but it would be just as delicious with chicken, fish, or whatever other meat you've got on hand.  Pass it on!

Print This Recipe
Revolution Tofu Curry
Adapted from Very Simple Curry, p. 271, Jamie's Food Revolution
Serves 4
6 scallions
large bunch of fresh cilantro
2 tablespoons olive oil
5 heaped teaspoons curry powder
1 tablespoon butter
2 cans (14-ounces each) coconut milk
sea salt
juice of 1 lemon
1 1/2 teaspoons sesame oil
15 ounces extra firm tofu, patted dry and cut into 1-inch cubes
1. Finely slice the scallions and finely chop the cilantro.
2. Put a pan over low heat and add the olive oil.  Sprinkle the curry powder over the oil and the scallions.  Stir everything together and then add the butter.  Continue to stir and cook for 20 to 30 seconds more.  When it's all bubbling, add the coconut milk.  Bring everything to a boil, then turn the heat down and simmer for 2 minutes.  Finish the sauce by seasoning it to taste with salt and then stir in the cilantro and lemon juice.
3. In a skillet over medium-high heat, heat the sesame oil.  When it is hot (it is ready if a drop of cool water sizzles when it is dropped into the pan), add the tofu.  Let the tofu brown, and then toss and continue to brown the tofu on all sides.  When it is browned, turn off the heat and serve the tofu with the curry sauce over rice.