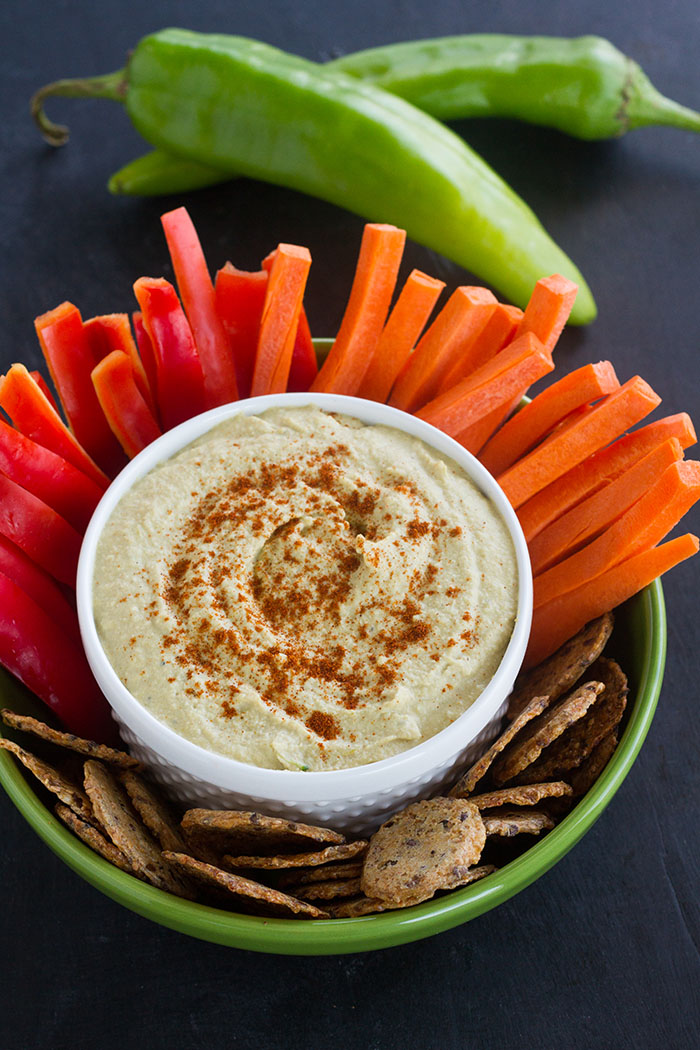 August is one of my favorite months because it means the return of Hatch chili season!  Every August I go to Harmons Grocery for the first day of their Chili Roast.  The best part about this year is that we just had a brand new Harmons Grocery store open up two weeks ago only 5 minutes away from my house!  Saying that I'm excited is an understatement.  Last Friday was the kick-off day to this year's Chile Roast so I went down and picked up a bunch of roasted chilies, some mild, some medium, and some hot, then headed home to cook with them.
As you might remember, I'm a bit of a hummus addict, so I decided to use some of the mild chilies to make hummus.  The night before Mr. Fuji had been looking for something in the fridge and made note that we had four different kinds of hummus currently stored there.  When he walked into the kitchen Friday afternoon to see what I was up to and saw what I was making, he paused, his eyebrows going up, and said, "You're making more hummus?!?"  It was pretty funny.  I felt vindicated after I caught him snacking on it later on.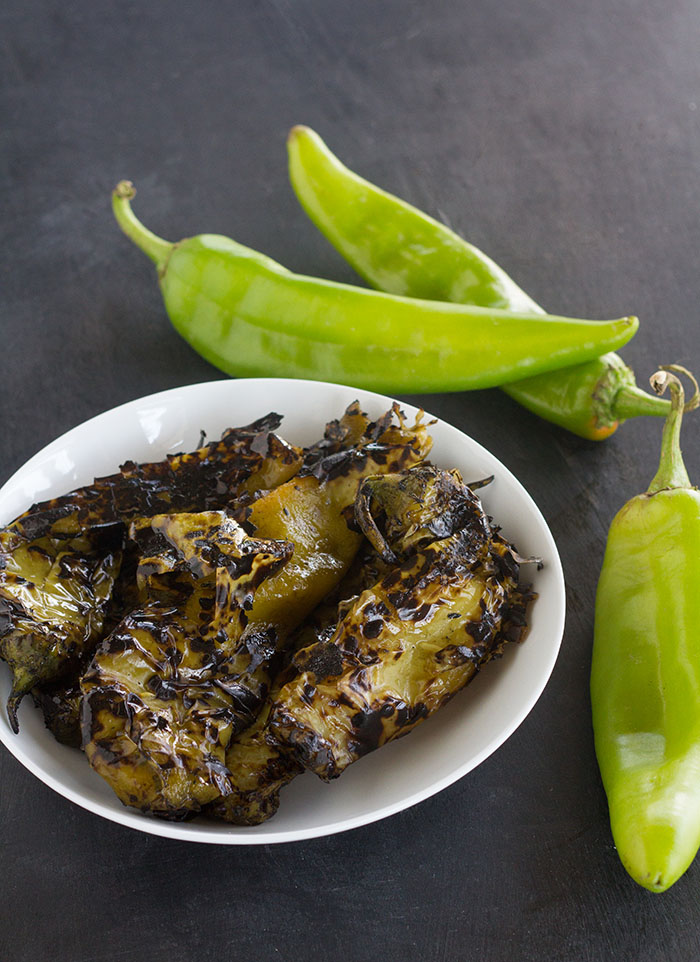 Hummus is so easy to make and customize that if you aren't already making your own, you should start.  You basically just need to throw everything into a food processor and puree it all together.  Okay, so you do need to peel and de-seed the chilies beforehand, and you will want to scrape down the sides of the food processor to make sure everything blends up evenly, but other than those slight inconveniences, it's easy peasy.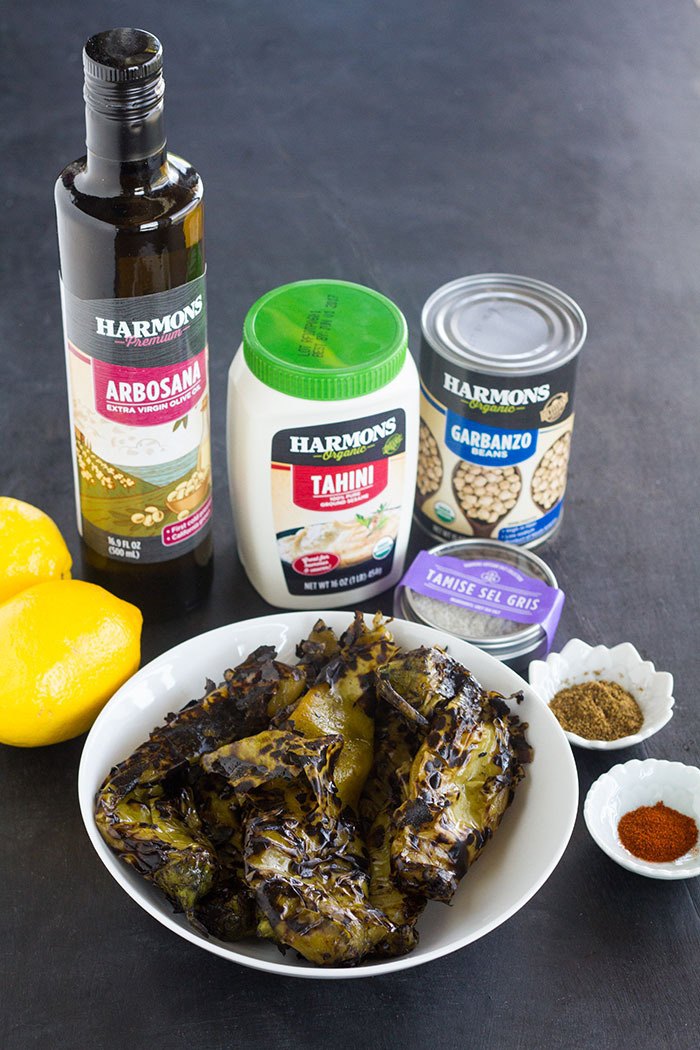 One word of caution: even mild Hatch chilies have some kick, so I like to start with 6 chilies in my hummus, then taste it and decide if I want to add more.  Some mild chilies are spicier than others and you won't know what you've got until you've tasted your hummus!  If you're in Utah, head on over to your Harmons Grocery and grab some freshly roasted Hatch chilies so you can head home and make a batch of hummus. (You can find the roasting dates and times here.)  If you're not in Utah, you may have to add the step of roasting your own.  Please don't hate me.  Not everyone can be so lucky to be spoiled like I am.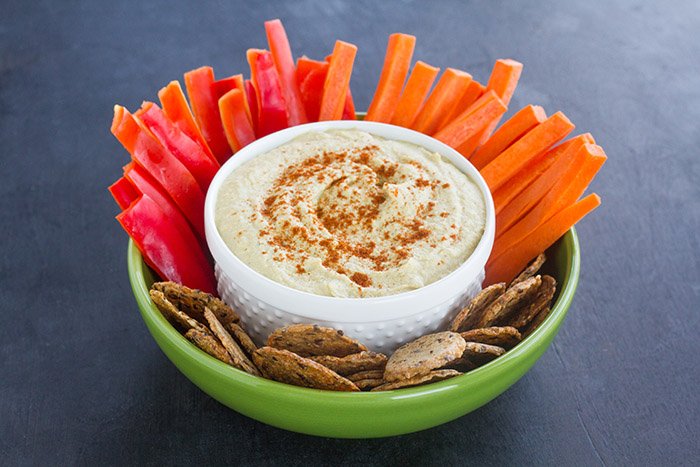 Print This Recipe
Roasted Hatch Chili Hummus
Makes 2 1/4 cups
Ingredients:
1 (15-ounce) can chickpeas, rinsed and drained
6 to 8 roasted mild Hatch green chilies, peeled and seeds and membranes removed
1/4 cup tahini
1 teaspoon ground cumin
1/2 teaspoon French gray sea salt (or sea salt of your choice)
3 tablespoons fresh squeezed lemon juice
2 tablespoons olive oil
1/4 teaspoon paprika
Directions:
1. Puree the chickpeas, 6 of the chilies, the tahini, sea salt, lemon juice, and olive oil together in a food processor until relatively smooth, scraping down the sides of the food processor as needed. Taste the hummus to decide whether or not you want to add any additional chilies.
2. Continue processing until the hummus is smooth and creamy. If it is too thick, add 1 to 2 tablespoons of water until it reaches the desired consistency.
3. Transfer the hummus to a bowl and sprinkle with the paprika before serving.
—————————————-
*Disclosure: I was compensated for my time and for recipe development by Harmons Grocery for this post. All experiences and opinions are my own!