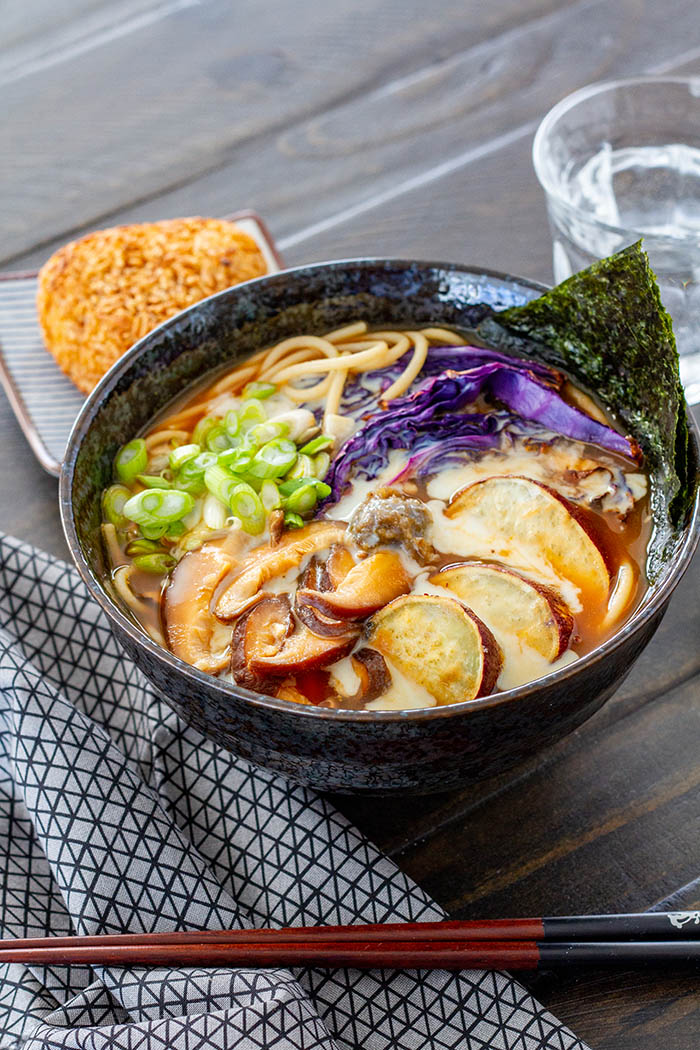 January is a cold month in northern Utah.  Looking out my office window right now, seeing the blanket of white on our front lawn, and the icy patches on the road, I am perfectly happy to stay inside where it's warm and dry.  Can you tell that I don't love the cold?  One thing I do love about cold weather is just how satisfying a good soup or stew is, warming you from your head to your toes.  One of my favorite soups on the planet is Japanese ramen.  There are endless ways to make ramen—some that take days to prepare, some that are quick that you can make on the fly, and everything in between.  I recently made ramen that falls on the quicker end of the ramen continuum.  This ramen capitalizes on winter vegetables by making them the stars.  Roasted carrots become part of the broth, and roasted purple cabbage and sweet potato medallions become the jewels on top.  Hearty, without being heavy.  Perfect for a cold winter's day!  It was inspired by a bowl of ramen I had at a ramen shop in Tokyo called Soranoiro NIPPON.  Soranoiro NIPPON turns away from the fattier ramen, which is more of the norm, with playful, healthier interpretations of ramen.  When we visited I ordered the Veggie Ramen, described as "Red ramen noodle with paprika, coming with the soup made of vegetables, mainly carrot with porcini, Japanese mushroom and sea tangle (kombu—dried kelp), and the salt from French Guerande.  4 to 5 vegetables of the season on top, with basil paste and chili citron paste (yuzu koshou) to enjoy different taste as you eat.  Soy milk sauce to visually express the Hinomaru, the Japanese flag."  My seasonal vegetables were onions, tomatoes, shredded carrots, Japanese sweet potatoes, and fried slices of lotus root.  I loved how unique it was and have thought about it a lot since.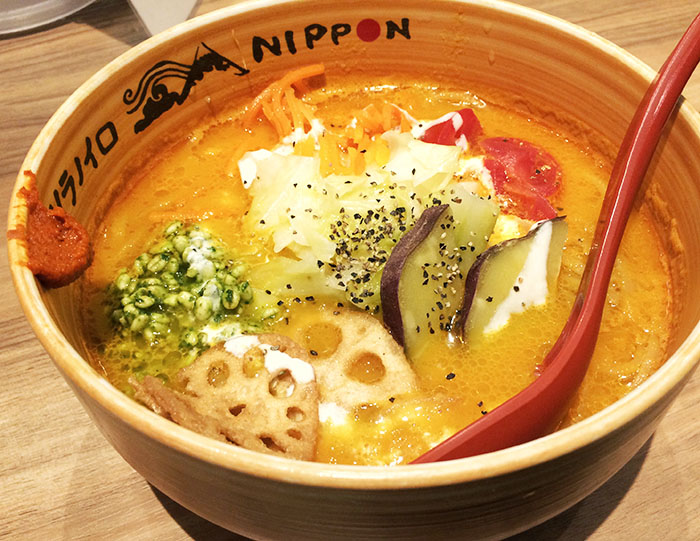 I was in the mood for some roasted vegetables recently and the thought of that bowl of ramen from Japan popped into my head for no apparent reason, so I decided to roast the vegetables and use them to make my own bowl of ramen, inspired by that unique bowl.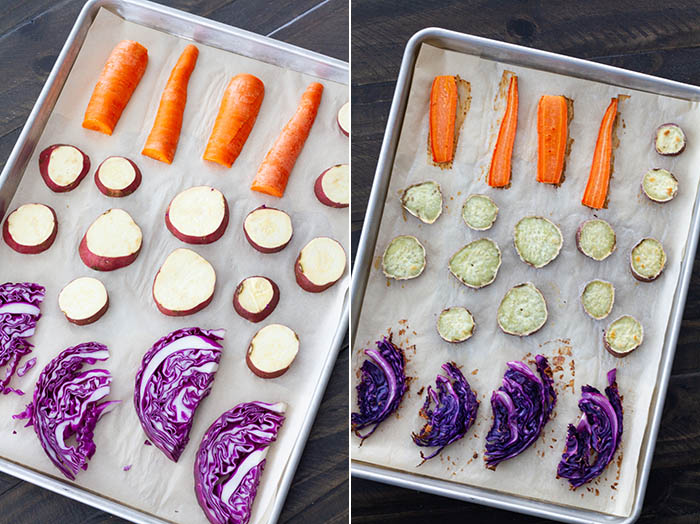 I pureed the roasted carrots with some kombu shiitake dashi that I had made ahead of time, to make the base of the ramen broth.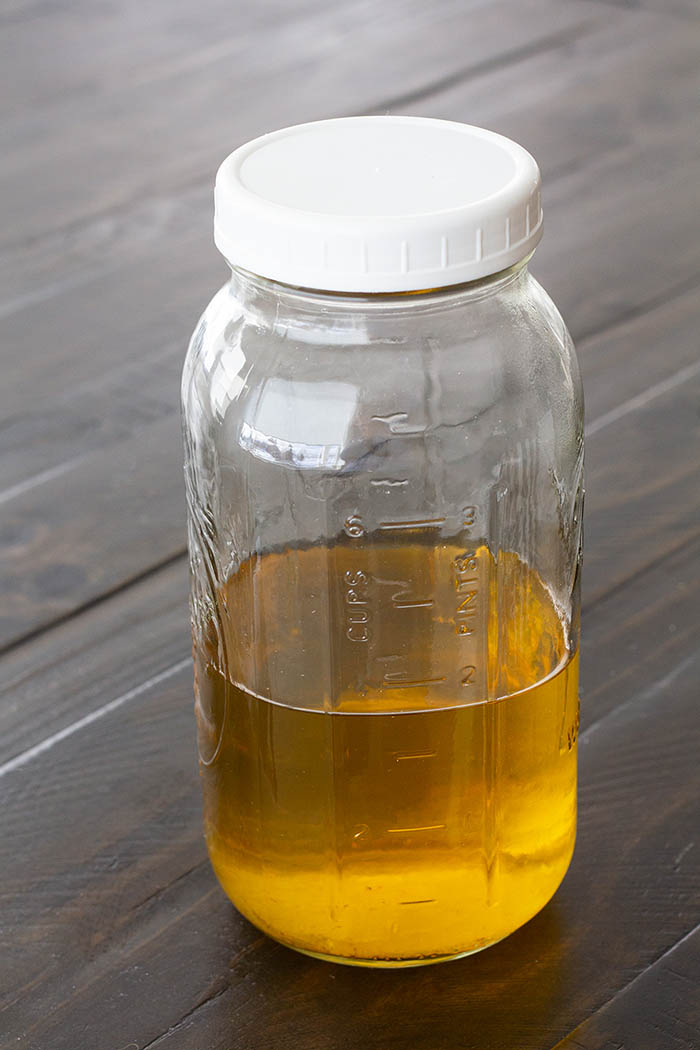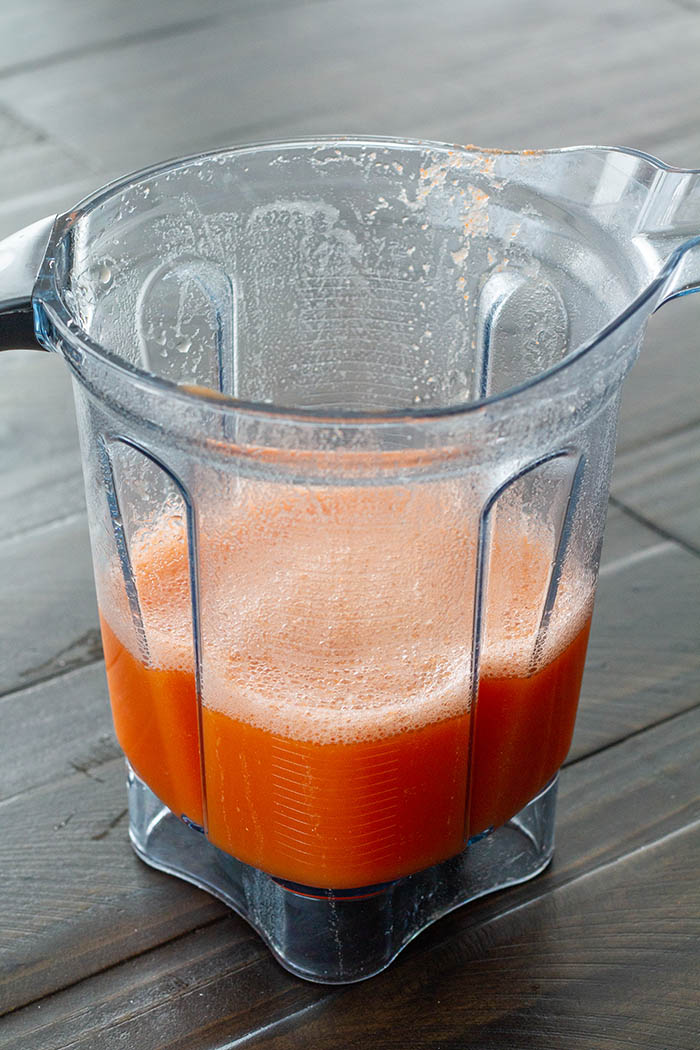 I kept the shiitake mushrooms from making the dashi and thinly sliced the caps, to include as a meatier element for the ramen.  For noodles I used Jovial brown rice spaghetti noodles for me, and ramen (chuka soba) noodles for the rest of my family.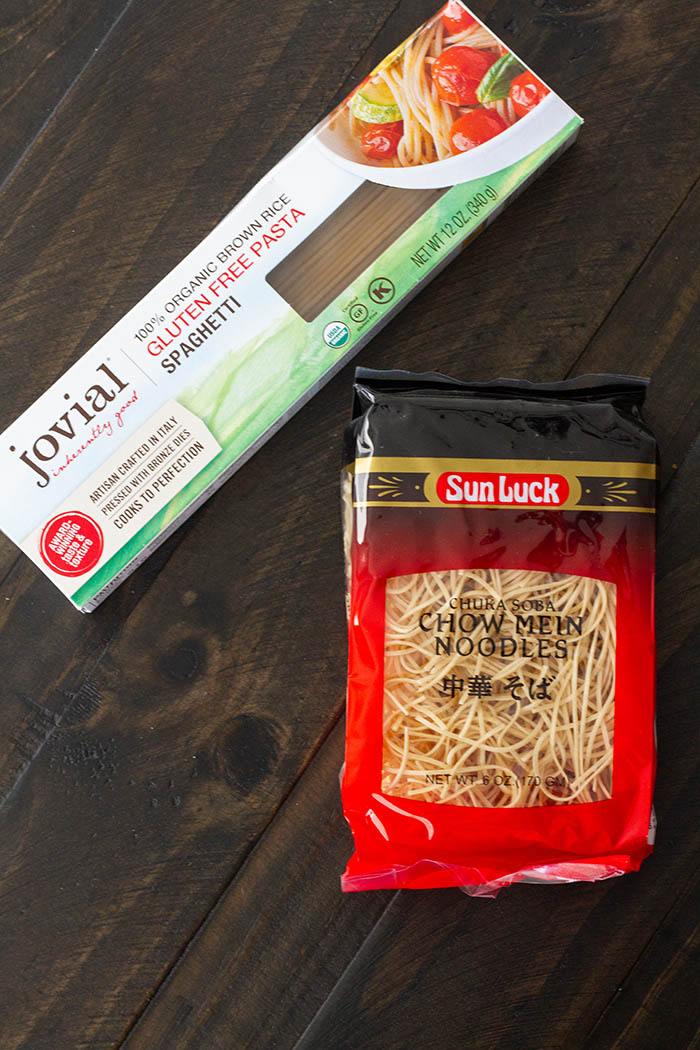 The roasted purple cabbage and Japanese sweet potato coins became toppings for the ramen, along with the thinly sliced shiitake mushrooms, some squares of nori, and a dollop of yuzu koshou (citrus pepper paste).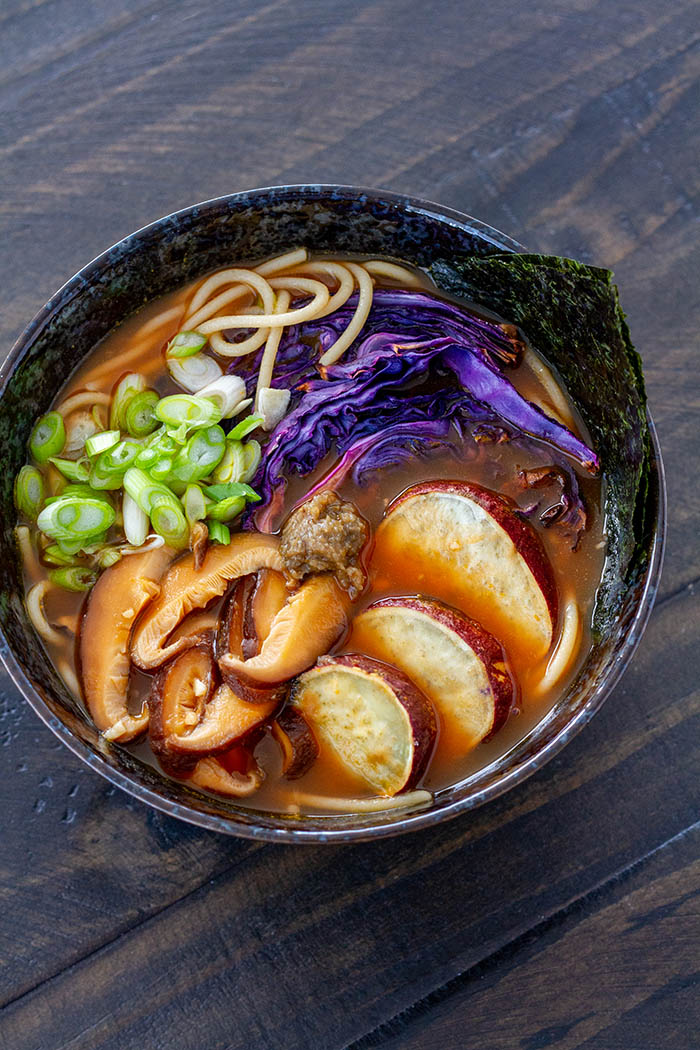 I ended up adding a splash of unsweetened soy milk, just like the bowl of ramen that inspired it, and it added a wonderful creamy element to the whole bowl and served it with some yaki onigiri (grilled rice balls).  There are so many different variations you could try with this by using different vegetables, toppings, etc.  I hope you will give it a go!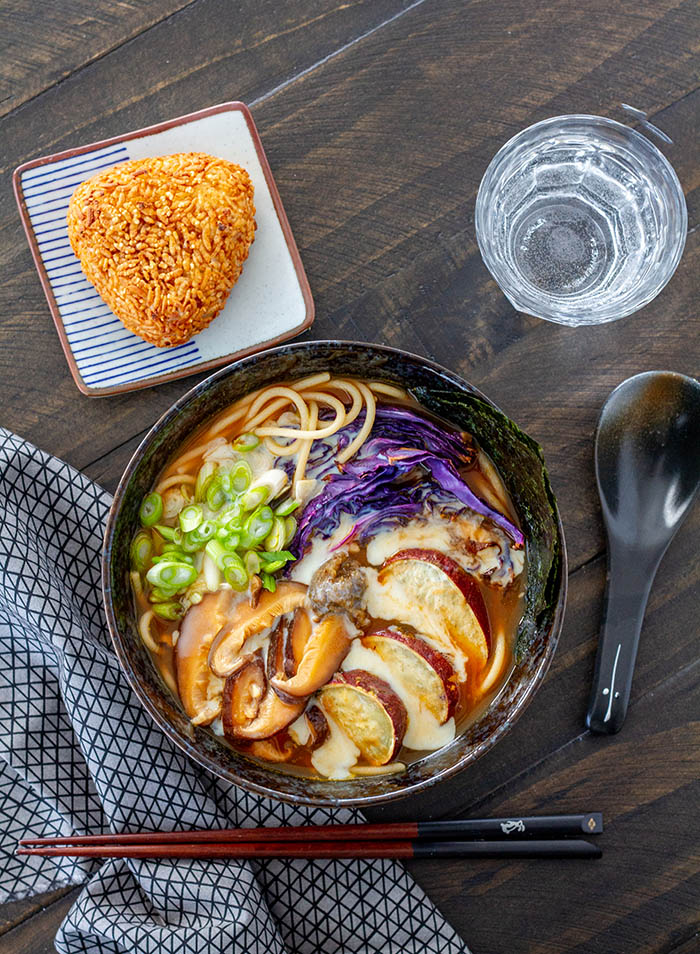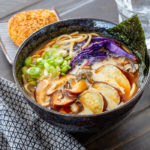 Roasted Root Vegetable Ramen
This ramen capitalizes on winter vegetables by making them the stars. Roasted carrots become part of the broth, and roasted purple cabbage and sweet potato medallions become the jewels on top. Hearty, without being heavy. Perfect for a cold winter's day!
Ingredients
1

large carrot, cut in half lengthwise

1/4

small purple cabbage, cut into thin slices

2

small Japanese sweet potatoes (or sweet potatoes of your choice), cut into 1/2-inch thick coins

4

cups

kombu shiitake dashi (kombu discarded after making, shiitake caps thinly sliced)

1

teaspoon

sesame oil

1

tablespoon

freshly grated ginger

2

cloves

garlic, minced

3

tablespoons

soy sauce (or gluten-free tamari)

1

tablespoon

mirin

1

teaspoon

fine grain sea salt

1/2

teaspoon

turbinado sugar (or sweetneer of choice)

6

ounces

dried ramen noodles (or Jovial brown rice spaghetti noodles)

Toppings: nori squares, yuzu koshou, rayu, thinly sliced scallions, toasted sesame seeds, unsweetened soy milk
Instructions
Preheat the oven to 400 degrees Fahrenheit as you prep your vegetables (carrot, purple cabbage, sweet potatoes). Lay them out in a single layer on a baking sheet. You can brush them with a bit of neutral oil (like walnut oil), if you want, but I don't use oil when roasting mine.

Roast the vegetables in the preheated oven for approximately 40 minutes, flipping them over after 20 minutes, until they are tender. The carrots may take longer. If that is the case, simple move the finished vegetables to a plate and return the carrots to the oven to continue roasting. Set aside.

Put the roasted carrots in a blender, along with the kombu shiitake dashi, and puree until completely smooth. Set aside.

In a medium size pot, over medium heat, add the sesame oil, ginger, and garlic and saute for 2 minutes, or until the ginger and garlic are fragrant.

Add the soy sauce, mirin, salt, sugar, and carrot dashi, and stir to combine, then add the sliced shiitake mushroom caps, reserved from making the dashi. Let the broth simmer for a few minutes, then keep the broth at a low simmer until you are ready to serve the ramen.

Cook the noodles according to the package directions, to al dente. (The noodles will get a bit softer once they are added to the soup.) Drain the noodles completely and divide them between 4 bowls.

Pour the broth (with the sliced shiitake mushrooms) over the noodles in the bowls. Top with slices of roasted cabbage and sweet potato, as well as any other toppings you want to add. Serve immediately.