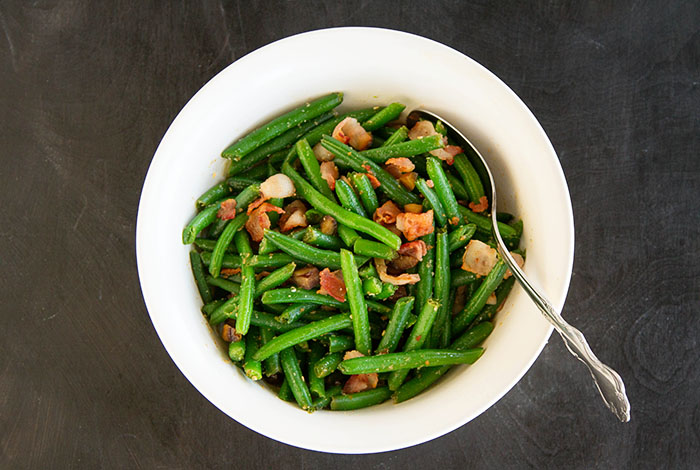 15 more days until Thanksgiving Day here in the US!  Are you ready?  If you're not, never fear!  Between now and the time you sit down to begin your Thanksgiving meal I plan on sharing some ideas and recipes that will help you nail down a meal plan.  It was three years ago (although it feels like yesterday) that a group of Southern California bloggers gathered at the home of my friend Patti Londre to have an early Thanksgiving feast, not only so that we could set aside some time to give thanks for our friendships, but also so that we could bring our readers a spread of new recipes for their own Thanksgiving meal repertoires (and oh the fun that we had when the LA Times showed up to cover it!).  I've been feeling a bit homesick for my California blogger family, and have been so grateful for the new friends I've been making here.  This year the Harmons bloggers got together to do something similar!
The spread was beautiful, and today we're sharing all of those recipes with you.  On top of all of the recipes, we're giving away FIVE (yep 5!) $100 Harmons gift cards to help 5 lucky winners out with holiday grocery shopping.  So after you've drooled over this amazing spread, enter the giveaway (details after my recipe)!
And last, but not least, Sesame Green Beans with Bacon and Chestnuts, from yours truly. I wasn't actually able to attend the Thanksgiving gathering, due to some scheduling conflicts, but luckily get to contribute virtually. While I was trying to decide what to make, I made some ingen no goma-ae (green beans with sesame sauce) for Squirrel's school lunch bento, and I thought, wait! Something like this would actually be perfect for a Thanksgiving lineup!  It is such a beautifully simple way to dress up the amazing green beans from Harmons' produce section, but of course, I can't leave well-enough alone, so I added two more of my favorite things to the mix: bacon and roasted chestnuts.  The result is a dish that is a bit savory and a bit sweet, all while celebrating the flavors of the season.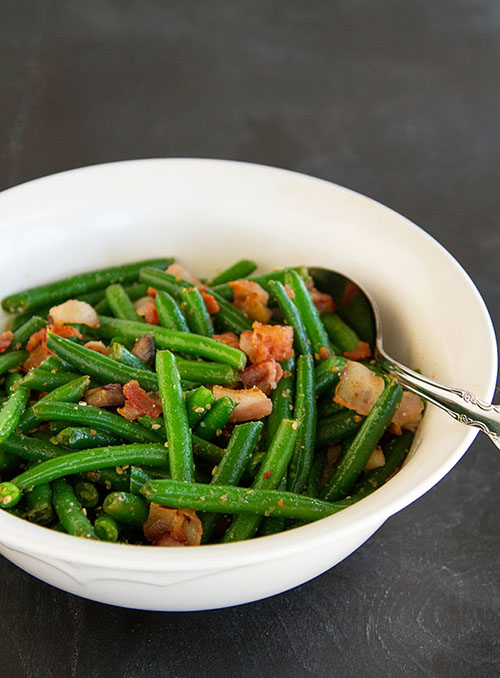 Print This Recipe
Sesame Green Beans with Bacon and Chestnuts
Makes 8 servings
24 ounces green beans, cut in half crosswise
1 tablespoon toasted sesame seeds
4 teaspoons honey
2 tablespoon soy sauce
8 ounces bacon, cut into 1-inch pieces
6 ounces roasted and peeled chestnuts, roughly chopped*
1. Grind the sesame seeds using a mortar and pestle, then mix the ground seeds with the honey and soy sauce to form a thick sauce, then set the sauce aside.
2. Bring a pot of lightly salted water to a boil. Add the green beans to the pot and cook them until they are tender, but still firm, about 3 to 5 minutes. Drain the beans and allow them to cool in a colander.
3. Heat a frying pan over medium-high heat. Add the bacon pieces to the pan and cook until the bacon fat is starting to melt and sizzle. Add the chopped chestnuts and continue cooking until the bacon is cooked through and crispy, then remove the pan from the heat and let the bacon and chestnuts cool slightly, then drain off the excess fat.
4. Toss the green beans with the toasted sesame sauce then add the bacon and chestnuts and toss again. Serve.
*Recipe Notes: You can roast your own chestnuts, or save oodles of time by buying them pre-roasted and peeled.
=================================================
Harmons Holiday Gift Card Giveaway
—————————————————