One of the simplest ways to prepare tofu is to make tofu steak.  And let me tell you, it is
delicious
.  It is lightly crispy on the outside and creamy on the inside.  This dish shows that tofu doesn't have to be disguised as something else, or covered up with a bunch of heavy flavors to be delicious.  This dish is a great way to introduce tofu to children.  Simple is good when you are dealing with kids in my book!  One of the most important steps in preparing tofu this way is the first step: making sure that you drain and dry the tofu well so that it fries easily—otherwise you won't get the light crisping on the outside and the flour coating and tofu will just soak up oil.  An oily block of tofu is NOT the goal here.  Yuck.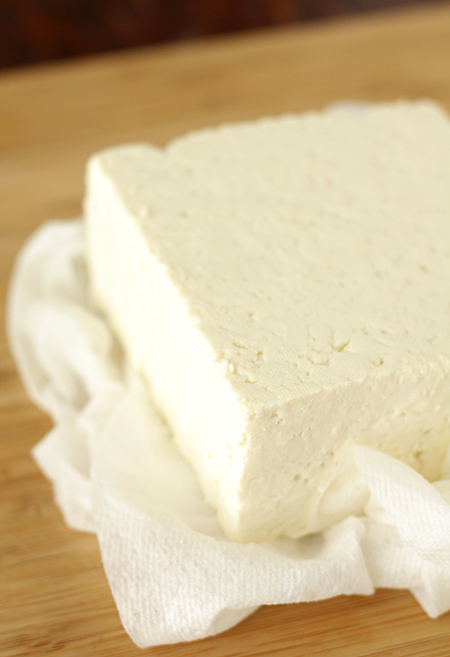 You cut a drained block of tofu into slices, lightly salt and pepper each slice,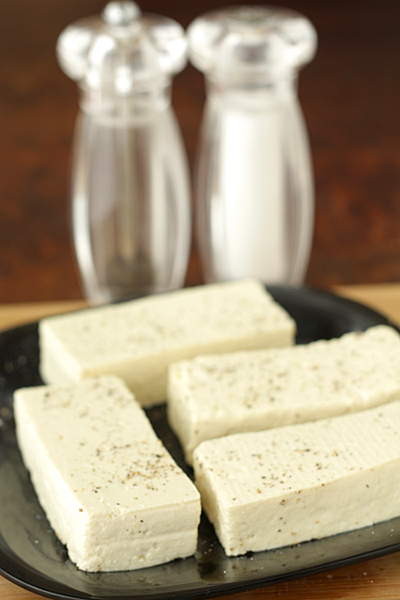 spread the slices with grated (or finely minced) garlic,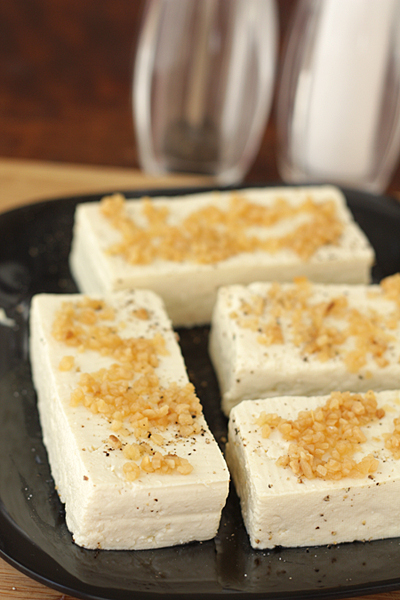 and then lightly coat each slice with flour.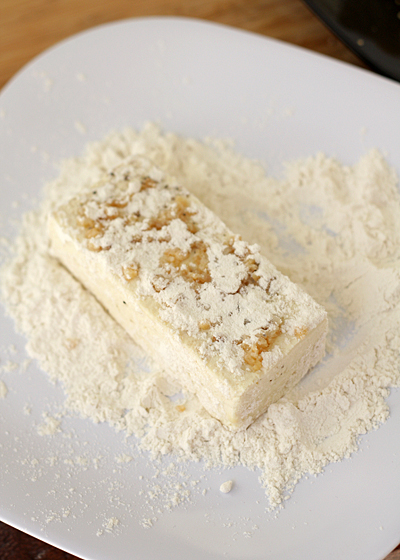 Then you fry the tofu in a skillet until each side is crispy and brown, and then set the slices on some paper towels to cool slightly and soak up any extra oil.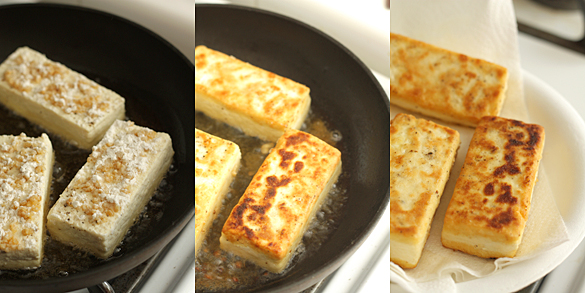 Then all you do is serve the slices topped with your toppings and garnishes of choice!  For the girls, I drizzled the slices with a tiny bit of ponzu and served it with some kyuri asa-zuke.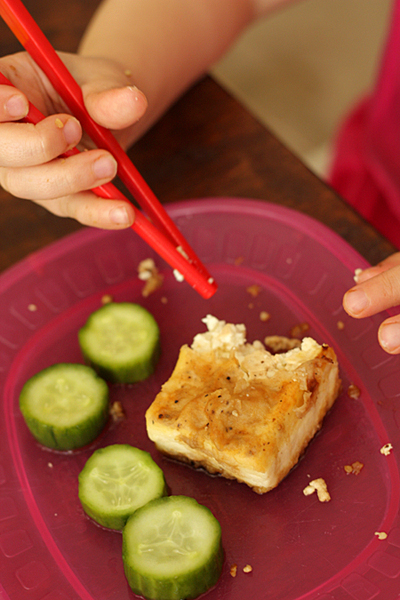 Squirrel made quick work of it with her chopsticks and then told me, "Mama, I like tofu!"  I think I'll keep her.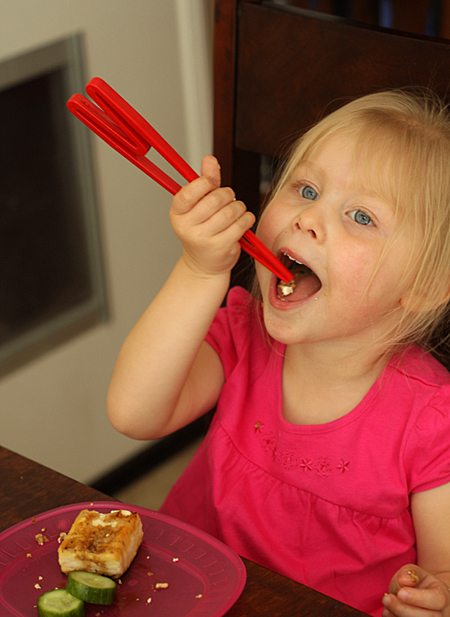 I topped mine with ponzu, sambal oelek, and sliced scallions.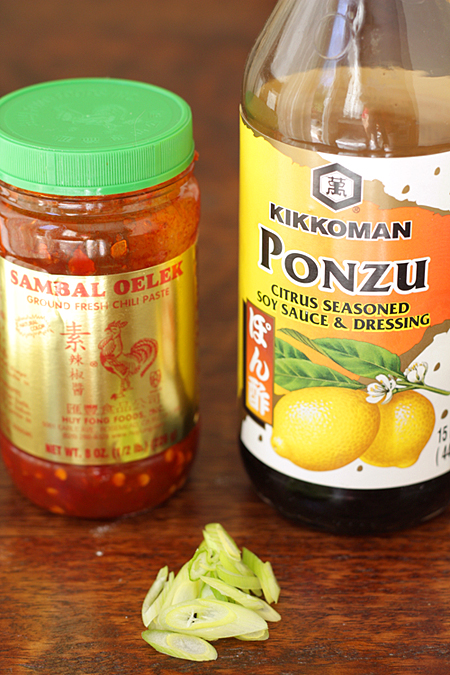 Two tricks to keep your garlic from burning: make sure your garlic is grated or VERY finely minced (larger pieces are more likely to burn), and if you notice it is burning, turn down your heat slightly!  Some bits will occasionally get a bit dark, but this just gives your tofu a bit of a chargrilled flavor. I recommend using a good organic tofu or making your own, because the flavor and texture will be so much better.  Although you may pay more for a good block of tofu, it is still very affordable when you compare it to other proteins like beef or chicken.  You'll be rewarded with a light, creamy, and delicious tofu steak!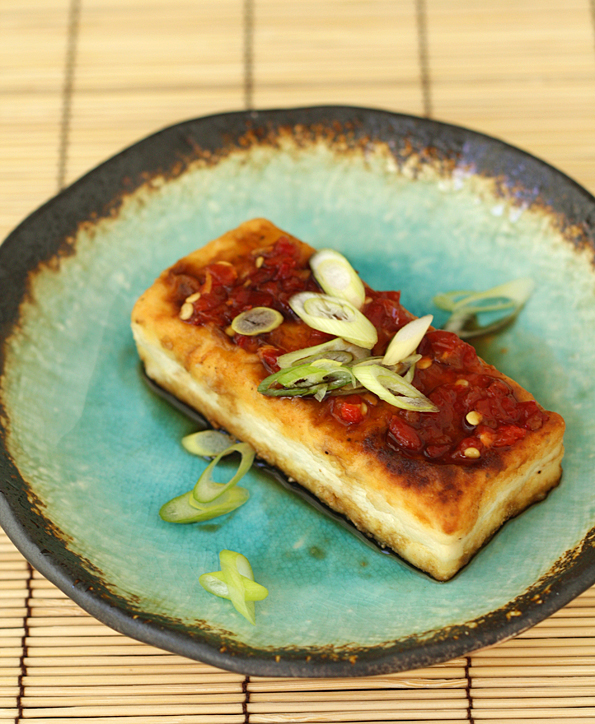 Print This Recipe
Tofu Steak
Makes 4 servings (3.75 ounces each)
15 ounce block extra firm tofu (it is fine if your tofu block is slightly smaller or larger)
salt and pepper
2 tablespoons grated or finely minced garlic
3 tablespoons all-purpose flour
3 – 4 tablespoons sesame oil
Toppings/garnishes of choice: soy sauce, ponzu, sambal oelek, grated daikon radish, sliced scallions, sliced leeks, shichimi togarashi, lemon zest, etc.
1. Drain the tofu and pat it dry with a paper towel  Cut the tofu into four pieces, pat the pieces dry, and let them sit on a paper towel to absorb any excess moisture that remains.  Season the tofu on both sides with salt and pepper and then spread each side with the garlic.  Lightly coat the slices with the flour.
2. Heat the sesame oil in a skillet over high heat.  When the oil is hot, carefully add the tofu, protecting yourself from the hot oil.  Cook the tofu until it is crispy and browned, and then flip the pieces over and cook the other side.  Set the slices on some paper towels to cool slightly and soak up any extra oil.
3. Serve the tofu topped with your toppings and garnishes of choice.