Since we are in the throes of summer, the Washoku Warriors chilled out and took on a couple of the chilled noodle dishes out of Washoku that are popular in Japan during the hot summer months.  The Warriors had the choice of making one or both of these dishes:
Chilled Chinese Noodle Salad (Hiyashi Chuka), p.178
Thin Noodles on Ice (Somen), p.180
====================================================================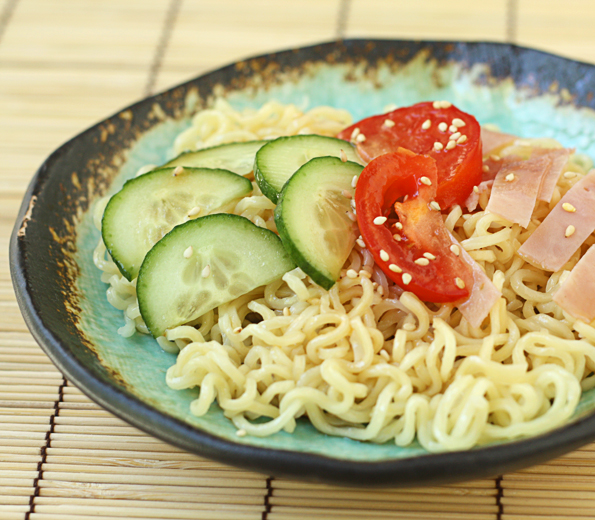 I made the Hiyashi Chuka (chilled Chinese noodle salad) the day before I left to make the 11-hour drive up to my MIL's house in Utah at the end of last month with my girls.  Normally I try not to do a lot of cooking the day before I leave on vacation, but this salad was the perfect way to "clean out" the fridge by using up some things that would otherwise go bad before we returned home.  I made the noodles and dressing and then topped them with thin sliced of cucumber, wedges of tomato, strips of ham, and a sprinkling of toasted sesame seeds.  The salad was such a hit that there were no leftovers for me throw out.  The salad was so easy to prepare and very refreshing.  I really enjoyed the dressing.  It had very good balance, compared to some other dressing recipes I've tried in the past.  The proportions of rice vinegar, soy sauce, sugar, and toasted sesame oil were perfect—you could taste each element without any one of them overpowering any of the others.  I think this will now be my "go-to" recipe before leaving on vacation from now on!
====================================================================

Having already made hiyashi chuka last year as part of the miso challenge (and knowing it'd be hard to top the DELICIOUS version I discovered at a Chinese restaurant near where I work), I made somen.  I've made somen before but have always used the bottled tsuyu (dipping sauce) so I was delighted to discover that the homemade version can be both simple and really yummy.  I ended up making it twice – once as Andoh describes (I added green onion and seaweed to Andoh's toppings of grated fresh ginger and shiso) and a second time as a base for a super simple creamy/spicy tantan-men version.  I LOVED both and don't think I'll be able to go back to the store bought version!
Read Sarah's post about the challenge: Noodle Chill'n
====================================================================

In the sweltering summer heat, the Washoku Warriors are trying to keep cool with some chilled noodle dishes. I went for a Chinese noodle salad, made with somen noodles and a clear dressing of rice vinegar, soy sauce sesame oil and a dash of sugar. I kept the toppings simple with just some finely sliced cucumber and a thin omelet. The omelet is flavoured with some sake and turned out rather nice (but not pretty). Definitely better than some omelets I've had in Asian restaurants.
Read Andreas's post about the challenge: Washoku Warriors – Chilled Noodles
====================================================================

For Washoku Warriors Challenge #11 we had two options and I decided to try the Hiyaski Chuka. First, I want to say I love chuka soba and use it for our stir fry all the time (the dried variety). The original recipe call for ramen, which I am sure is equally yummy, but I was eager to have another opportunity to use chuka (besides, my life is made easier because my son LOVES chuka soba).
Read Kim's post about the challenge: Hiyashi Chuka – Chilled Chinese Noodle Salad
====================================================================

Every now and again I have a food and beverage pairing that unexpectedly blows my mind.  It happened this very week when I made the Hiyashi Chuka (Chilled Chinese Noodle Salad) I loved the pungency of the individual ingredients and the sesame miso sauce was subtle enough to be a bridge between flavors.  It was the Sesame miso sauce that made this dish for me.   It's subtle; a little nutty, a little salty from the miso and a little sweet too.   It would be a fantastic dip for steamed vegetables—especially steamed asparagus or Bok Choy—or even fresh spring rolls.  This sauce would be a great addition to a non-traditional 4th of July Barbecue buffet.  But with this kind of dish you just hope to find a beverage that can hang in there with the various flavors and textures. You wouldn't expect to find something that really enhances the experience in "the sum is greater than the sum of its parts" kind of way. We opened a bottle of beer named La Fin Du Monde (yes, that's 'the end of the world') made by the Canadian brewery Unibroue. It's a full-bodied Tripel with notes of lemon and coriander and it played off the sesame miso sauce like they were long lost lovers.  It gave richness, weight and texture to the sauce.  I thought the dish was pretty good on its own, but after one sip of beer it immediately became exceptional.  Even the stronger flavors of soy braised mushrooms; ham and pickled ginger were enhanced.  It was two thumbs up all the way around.
Read Phoebe's post about the challenge: Washoku Warrior Challenge and Fin du Monde Belgian-style Ale
====================================================================

This months challenge was a real hit at our house, everyone loved it! I had no problem finding the ingredients I needed for the Hiyashi Chuka, or chilled chinese noodle salad, which is always a bonus when I'm carting 3 kids around the Asian market. It's been so hot here that I jumped at the chance to make a chilled noodle salad. I think the heat index topped 100 today, with 95 percent humidity, everyone welcomed a chilled noodle salad for dinner. I did have to heat up the kitchen for the soy simmered shiitake mushrooms, and the thin egg omelet, but I found learning the skills so useful, I could overlook the temporary discomfort of a hot kitchen! I loved the soy simmered shiitake mushrooms (good thing, since I have a big bag of them now!) I decided to make this a vegetarian meal and forego the ham, I found with an extra serving of the delicious shiitake mushrooms, I didn't miss the meat at all. The thin egg omelets were easier to prepare than I anticipated, I couldn't bare to unroll them after I sliced them and ended up making little rosettes, they were delicious! Overall it was a fresh and satisfying dish, I will be making it again, and soon if this weather keep up.
====================================================================

I chose to make the hiyashi chuka with clear dressing because it was very flexible and came together in just a few minutes. I wanted to keep with the original garnish color scheme, so replaced the tomato with red pepper, omitted the 'shrooms, and replaced beni shoga with regular pickled ginger. I don't really like sesame oil, so I was very worried about adding it into the dressing. In the end, I was surprised that the smell of sesame was so strong, but the taste was just right! An added bonus is that this is a great dish for bento because it's meant to be eaten cold–straight from the fridge.
Read Nicole's post about the challenge: Chilled Chinese Noodle Salad