What a crazy few months my family has had!  With all of the craziness at my house I kind of dropped the ball with the Washoku Warriors, but we're back!  Luckily a few awesome Warriors were willing to get back into the swing of things with me.  With fall weather going strong (and moving into winter!) I have been craving soup, so I thought we could tackle some of the recipes in the soup section!  For this challenge the Warriors were challenged to choose one or more of the following soups to make:
Ton-Jiru (Miso-Thickened Pork and Vegetable Soup), p.119
Satsumaimo no Aka Dashi (Dark Miso Soup with Sweet Potato), p. 122
Edamame no Surinagashi (Green Soybean Soup), p.132
Before I share with you what everyone made, I want to throw a giveaway out there!  Elizabeth Andoh, the author of Washoku, has a new book out!  The book is called KANSHA
and is probably Andoh-san's most gorgeous book yet.  The book demystifies Japanese vegetarian and vegan dishes.  But you don't have to be a vegetarian or a vegan to love this book—the recipes are delicious and easy to follow and provide a fantastic way to add healthier dishes to the dinner table.  With Christmas just around the corner I'm excited to give away a copy of this gorgeous book!  Whether it's for you or someone you know who has an interest in Japanese cuisine, this book would make a fantastic Christmas gift!  Giveaway details are at the end of the post!
====================================================================
Fuji Mama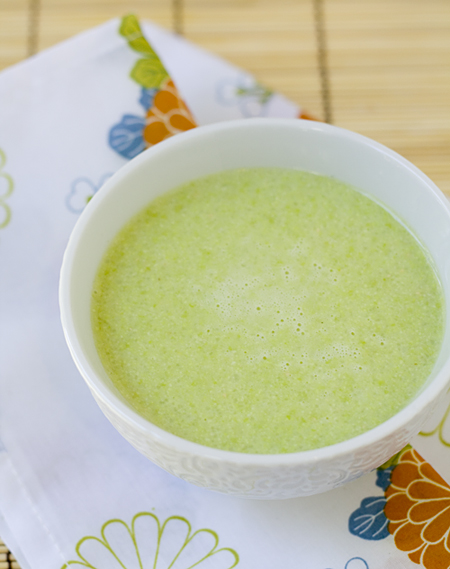 My girls LOVE edamame, so I thought that they might like the edamame no surinagashi—a soup made from pureed green soybeans.  The soup was very easy to make and only took about 15 minutes from start to finish.  Part of the process includes simmering cooked white rice in water until the grains of rice start to lose their shape and the mixture turns into a thing porridge-like mixture.  This was pureed with the edamame and some dashi to make a beautiful green soup.  A tiny bit of miso paste helped give the soup more depth of flavor.  Although the girls didn't like the soup as much as they like just eating edamame out of the pods, they still thought it was good!
====================================================================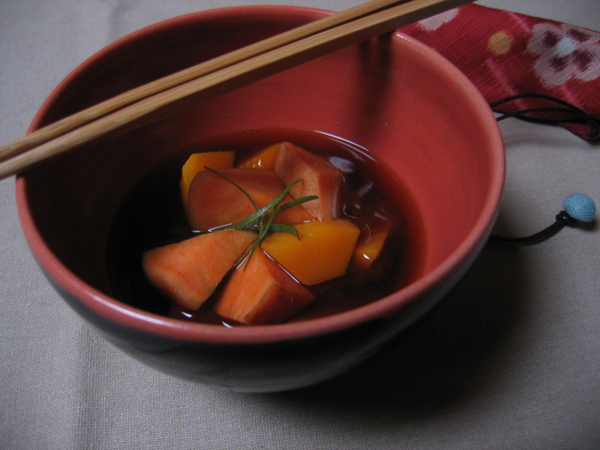 Potatoes, especially sweet potatoes, are great in miso broth. Moreover Satsumaimo no Aka Dashi is quick and simple, without any rare ingredients. Exactly what I currently need! My challenge was the hatcho miso. I don't have problems with miso in general. I can even enjoy it, when it is offered to me in the early morning. But I'm mainly used to medium colored types. White miso is nice, too—it's mild and a bit sweet. Hatcho miso though, is dark. Very dark.  The opposite of mild and sweet. I bought it once and it tasted like… well, anyway not good. The recipe says that any darker, so-called "red", variety would work. But I decided to use the suggested one. So in a truly food ninja-ish manner I headed out to get hatcho miso a second time. And, whew, this brand wasn't as acrid.
Japanese sweet potatoes have a pink skin and yellow flesh.  Unfortunately I had to replace them with another variety. The result was quite pleasant. I especially liked the color of the broth, a deep brown, like dark amber. With the smokey aroma of the bonito flakes the soup has become kind of… should I say "manly"? Equally earthy and elegant. Fine!
Read Tamara's post about the challenge: fall in soups
====================================================================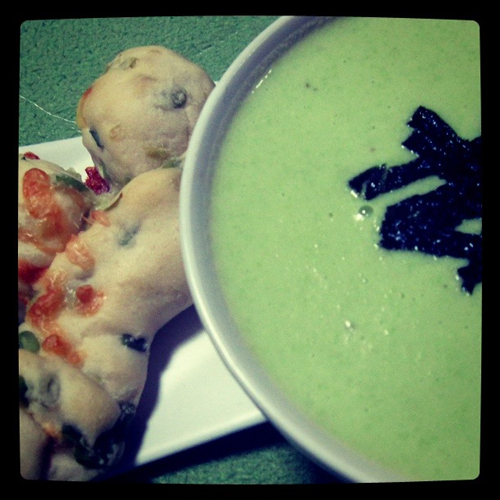 Soup is a real comfort meal for me, particularly
a bowl of thick and creamy soup – preferably with a hunk of some sort of yummy bread.  Reading through the challenge recipes I was struck by the edamame soup, it sounded like the perfect cold weather meal. I even found a cheese and edamame bun at the bakery to go along with it! I loved how easy the soup was to make and how rich and creamy it came out (I particularly liked the use of rice gruel to give body to the soup, something I will definitely be repeating in other soups!) Unfortunately as much as I love edamame I felt the flavour of the soup just too overpowering. I found myself wishing I had added carrots or some other veggie to tone it down a bit. The only problem would be other veggies would ruin the gorgeous bright green colour of the soup!
====================================================================

I love pork, tofu and miso soup and the recipe for Ton-jiru was calling my name!  The recipe combined many of my favorite flavors and ingredients that reminded me of dishes that my grandmother made for us growing up.  I couldn't for the life of me find mitsuba, I don't think I've ever had it so don't even really know what to use in it's place…
====================================================================

KANSHA Cookbook Giveaway Details:
The winner has been announced!  Thank you to all who entered!
To receive an entry in the giveaway, leave a comment telling me your favorite Japanese dish, or one that you've been dying to try!  I will keep the comments open until Monday, December 6th, 10 PM PST, and announce the winner (using a random number generator) on Tuesday, December 7th.
Bonus Entries: (*Each bonus entry requires a separate comment to be counted!*)
2. Follow @fujimama on Twitter. RT this post and then come back and leave a separate comment telling me you've done so. NOTE: You must be following @fujimama for this entry to count.  You can even just copy and paste this tweet to make it easy: Giveaway: Elizabeth Andoh's KANSHA Cook Book @fujimama http://su.pr/5bqk2Q
3. Like La Fuji Mama on Facebook. Come back and leave a separate comment telling me you've done so (or if you already "like" me on Facebook).
4. Sign up for our RSS Feed or Email Subscription.  Come back and leave a separate comment telling me you've done so (or if you're already a subscriber).