It has been an exhausting few weeks.  I spent the first week of June cooking up in the mountains for our church's Girls Camp.  The day after I got home, our air conditioner died, and so we spent the second week of June without air conditioning as temperatures here in Utah climbed into the 90s.  Mr. Fuji was lucky to escape the heat by having to be out of town on a business trip—lucky duck!  I am just starting to recover!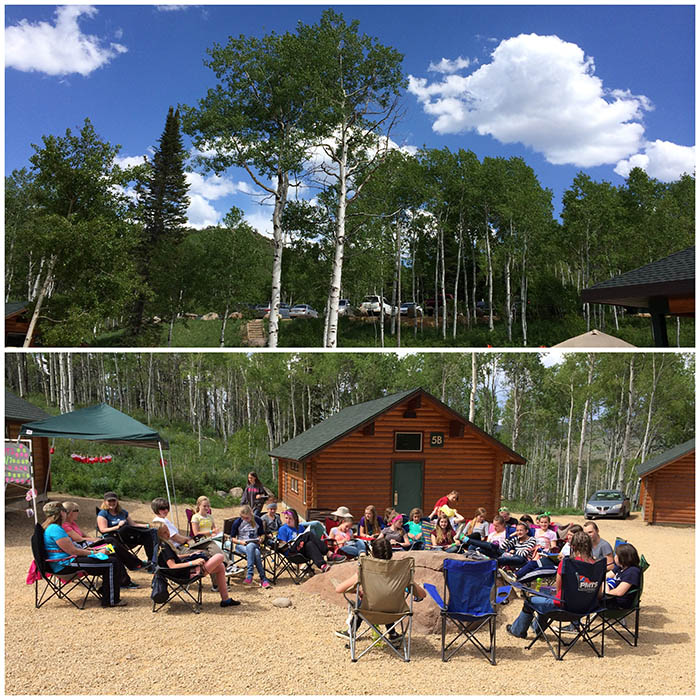 Girls Camp is an annual event for the girls, ages 12 through 17, at our church.  Girls Camp can be different each year—some years the girls are really roughing it, sleeping in tents with no access to running water.  Other years, like this year, the girls get to sleep in cabins and take hot showers.  This year we held Girls Camp at Heber Valley Camp, a gorgeous facility in the mountains southeast of Heber, Utah.  We left early Monday morning and returned Friday afternoon.  The girls spent the week hiking, canoing, completing a challenge course, learning things like how to tie knots and use a compass to navigate, crafts, singing, and generally having a whole lot of fun.  I went to camp as the camp cook in charge of the food for the girls and leaders from our congregation.  We had 30 girls and 11 adult leaders, plus additional visitors for most of our dinners.  The week added up to 11 meals and 7 snacktimes . . . when you're talking feeding 41 to 50 people, that adds up to a lot of food!  My assistant, Erin, and I spent months getting ready—planning menus, doing price comparisons on things like apples and chicken thighs, purchasing all of our ingredients, precooking some of the food, and then organizing and packing everything to be driven up into the mountains.  We pulled it off and only suffered minor hiccups along the way.  This is a rundown of what we did!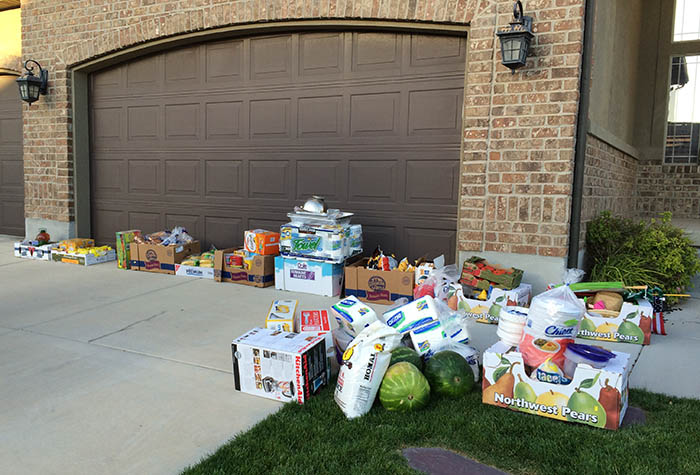 I love to have themes.  I find that having a theme helps me better brainstorm menus.  So for Girls Camp we decided that each dinner would have a different country or region as a theme.  The menu would be loosely tied to that country and we had decorations that went along with the theme.  We also had a trivia quiz—10 multiple choice and true or false questions each evening.  The girls were already broken down into 4 groups, so each group completed a quiz, competing to be the winners for that evening.  Each person in the winning group got a treat that was somehow related to the theme.
Monday
Each of the girls ate breakfast before leaving and packed a sack lunch, buying us some time to get our kitchen set up and dinner going once we arrived at camp.
Dinner: Our theme for dinner was Ireland.  We set up a baked potato bar and had a variety of toppings: chili, sour cream, shredded cheese, chopped tomatoes, sliced scallions, and pickled jalapenos.  Erin and I made the chili the day before, so all that needed to be done was reheat it Monday evening.  We also pre-wrapped all of the potatoes in aluminum foil.  That evening we also had access to the commercial kitchen at the camp, which made baking all of the potatoes for the meal very easy.  Dessert was a hot chocolate bar (provided by someone else).  The prize for the winning team in our trivia quiz was little bags of Rolos ("Leprechaun gold").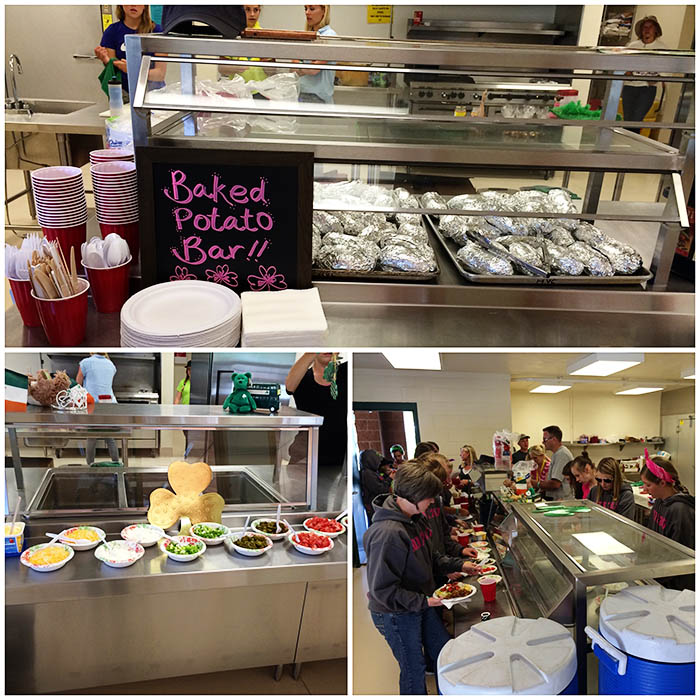 Tuesday
Breakfast: Breakfast was simple.  We set out mini bagels, cream cheese, tubs of vanilla and strawberry yogurt, homemade chocolate cranberry pecan granola that we made in advance, and a berry sauce (made from throwing a bag of frozen mixed berries in a saucepan with a bit of honey and simmering it down into a sauce).
Lunch: Lunch was scones and a big chef's salad.  I'm not talking about British scones.  These were the scones of my childhood, sometimes called "Utah scones" or "Mormon scones"—deep fried pieces of bread dough served with things like powdered sugar or honey butter.  They're kind of like what I imagine would be the result of Navajo fry bread and doughnuts having a baby.  We made things easy on ourselves by using frozen roll dough, which we defrosted in large disposable aluminum pans sprayed with cooking spray (to keep the dough from sticking to the pans).  Then we heated canola oil in several heavy saute pans on our camping stoves to 375 degrees Fahrenheit.  We stretched each piece of dough into thinner slightly circular shapes and deep fried them, cooking them on each side until golden brown, then carefully pulling them out of the hot oil and laying them on layers of folded paper towels to drain away any excess grease.  We set out powdered sugar and honey along with the hot scones.  Our chef's salad was a mix of chopped lettuce, shredded carrots, shredded cabbage, and cherry tomatoes.  We set out bowls of chopped ham, avocados, olives, and shredded cheese so the girls could add their own toppings, along with bottles of ranch dressing.  Lunch was a huge hit.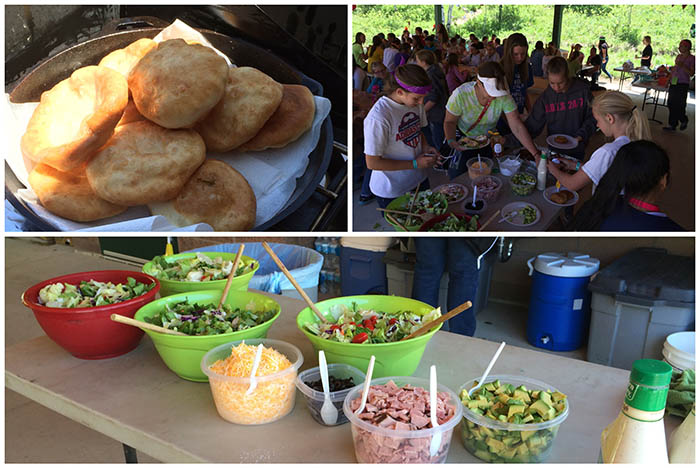 Dinner: Our theme for dinner was Japan.  We hid all of the silverware, providing a pair of chopsticks for each person to eat their dinner with.  Dinner was grilled teriyaki chicken thighs and a Thai peanut noodle salad.  Watching some of the strategies employed by the girls to get their food from their plates to their mouths was priceless.  After dinner we moved to the fire pit and roasted s'mores for dessert.  The prize for the winning team in our trivia quiz was packs of Hi-Chews.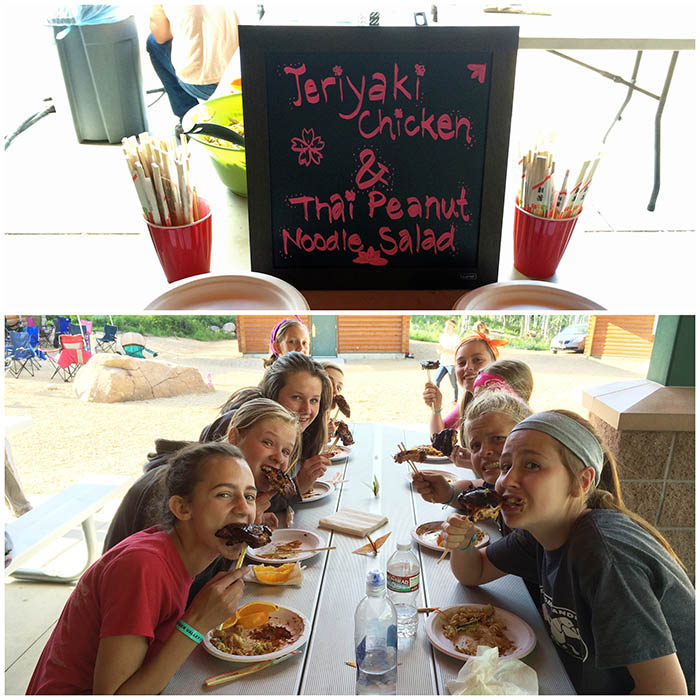 Wednesday:
Breakfast: We served breakfast sandwiches—English muffins split in half and topped with a slice of Canadian bacon, a scoop of scrambled eggs, and a slice of cheese (they could choose between cheddar or provolone), along with fresh fruit, and apple juice.
Lunch: Lunch was Frito pie, like a cross between a taco salad and nachos.  We had all the ingredients in bowls set out buffet style.  First you start with a bed of Fritos and then add shredded lettuce, ground beef, tomatoes, olives, jalapenos, shredded cheese, salsa, and sour cream according to your liking.
Dinner: Our theme for dinner was the USA.  We served up BBQ pulled pork sandwiches, potato salad, corn (seasoned with butter, salt, and pepper), and watermelon.  For dessert we served chocolate chip cookies.  The prize for the winning team in our trivia quiz was 5th Avenue candy bars.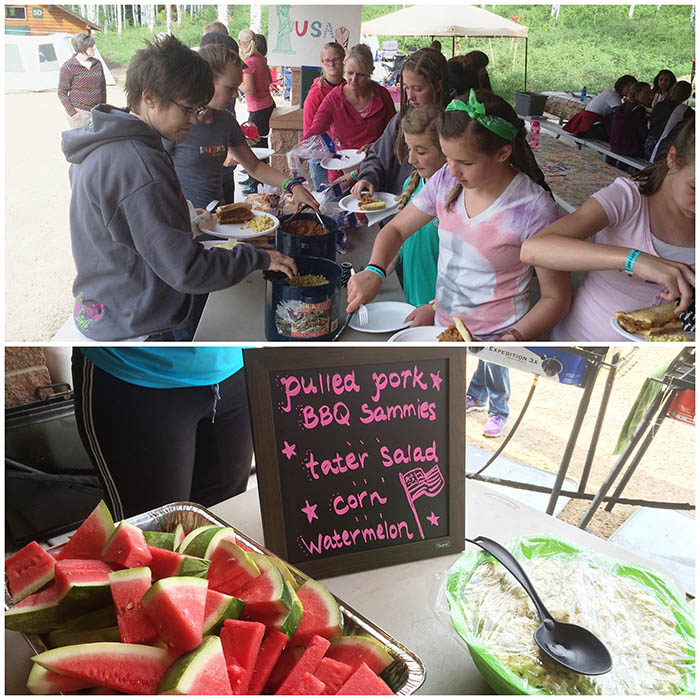 Thursday:
Breakfast: We served French toast with a choice of toppings: maple syrup, powdered sugar, honey, and fruit sauce (we made enough on Tuesday morning to last us for both breakfasts).  We also served fresh fruit.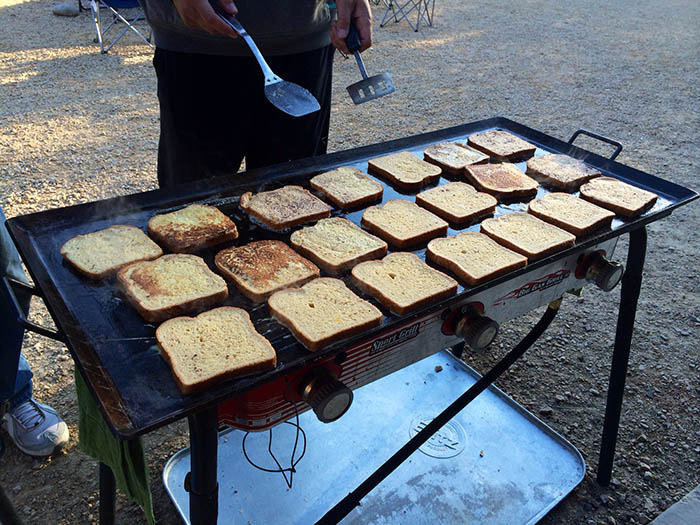 Lunch: Originally the girls were going to be taking packed lunches on a hike.  Plans changed at the last minute so that the girls were finishing their hike right before lunch time.  So we set out sandwich fixings (bread, lunch meat, cheese, mayonnaise, mustard, peanut butter, honey), fresh fruit, bags of chips, and juice pouches and they made their own lunches.
Dinner: Our theme for dinner was The Islands (Tonga, Samoa, Hawaii, Fiji, etc.).  We served Hawaiian haystacks along with a simple coleslaw, grapes and watermelon.  The Hawaiian haystacks were build-your-own.  We set out steamed Japanese rice, a creamy chicken sauce, chopped tomatoes, scallions, crunchy chow mein noodles, pineapple, shredded coconut, sliced almonds, and shredded cheese.  The coleslaw was made from a mix of shredded cabbage and carrots dressed and a dressing made from mayonnaise, rice wine vinegar, and honey.  Dessert was hot fudge sundaes (complete with homemade hot fudge!).  The prize for the winning team in our trivia quiz was Tropical Starbursts.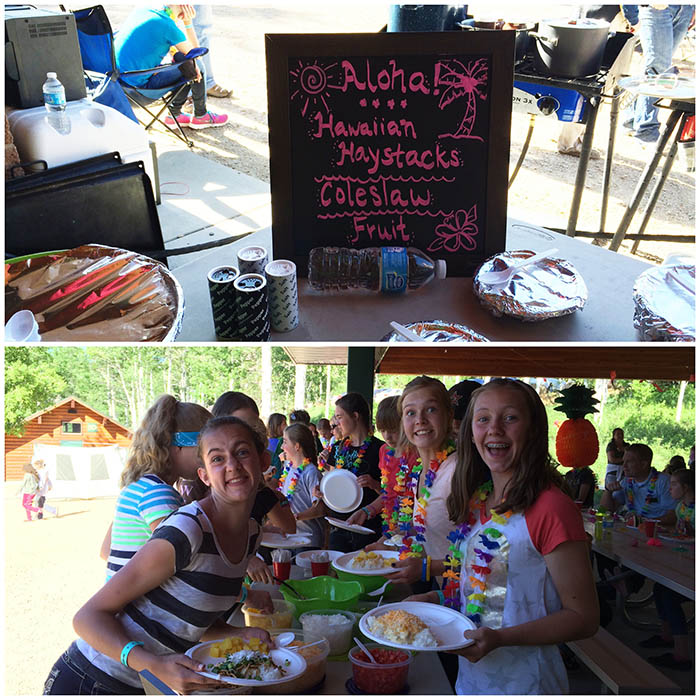 Friday:
Breakfast: We set out all of the leftover yogurt, granola, and bagels from the week, along with some of those giant muffins they sell at Costco, which we had cut into quarters.  After breakfast we packed up and drove home!
For each meal we set out some kind of fresh fruit, usually bananas, apples, and orange wedges.  For snacks we set out bowls of fresh fruit, granola bars, and fruit snacks, along with a mixture of Swedish Fish, Mike & Ikes, and Skittles (a camp tradition I've been told).
The trivia quiz was one of my favorite parts.  It made dinnertime special and everyone seemed to look forward to getting their quiz for that night.  Our biggest disaster was that we lost an entire pot of rice when getting ready for dinner Thursday night.  Two of the burners on one of our camp stoves kept going out, and we didn't catch it until the pot of rice on one of the burners was supposed to be done.  We tried salvaging it by adjusting cooking time, but it had cooled off too much in the interim and just turned into gluey mush.  Luckily we had almost exactly the perfect amount of rice for the 50 people we had to feed that evening.  Phew!
Since camp I've been trying to catch up on my sleep.  Teenage girls love to talk until late when they're all together in a cabin in the mountains, surprising I know, and my assistant and I were usually the first people up in the mornings so that we could have breakfast ready to be served at 7 am every morning.  So, by the end of the week, we were a bit sleep deprived.  But, as is always the case, Girls Camp is more than worth it, and I survived to tell the tale!  Spending a week around 30 energetic girls in crisp mountain air, and dining with chipmunks and deer is nothing short of awesome.