*I teamed up with doTERRA to bring you this post.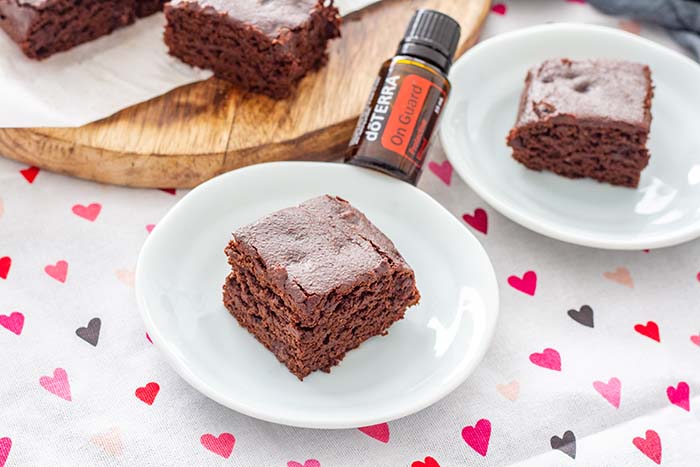 Valentine's Day is almost here and I've got a brownie recipe that is perfect to help you celebrate. "A brownie recipe?" you might say. "Aren't there already 30 bazillion brownie recipes out there? Why do we need another one?" Well, you don't have this one! Several things make it special:
It's free of gluten, eggs, and dairy, and can be easily made soy-free as well. But wait! These brownies are still rich and decadent and do not taste gluten-free. No weird textures here! Oat flour has become one of my favorite substitutes in baking because it helps produce a moist-tender crumb in things like cakes and muffins.
It's lower in fat because it doesn't use any oil or other added fat. Instead, it uses pumpkin puree. And no, it doesn't taste like pumpkin!
It uses a couple drops of doTERRA's On Guard essential oil blend, giving it a hint of spice (wild orange peel, clove bud, cinnamon leaf, cinnamon bark, eucalyptus leaf, and rosemary leaf/flower)–the perfect way to amp up the flavor for Valentine's Day.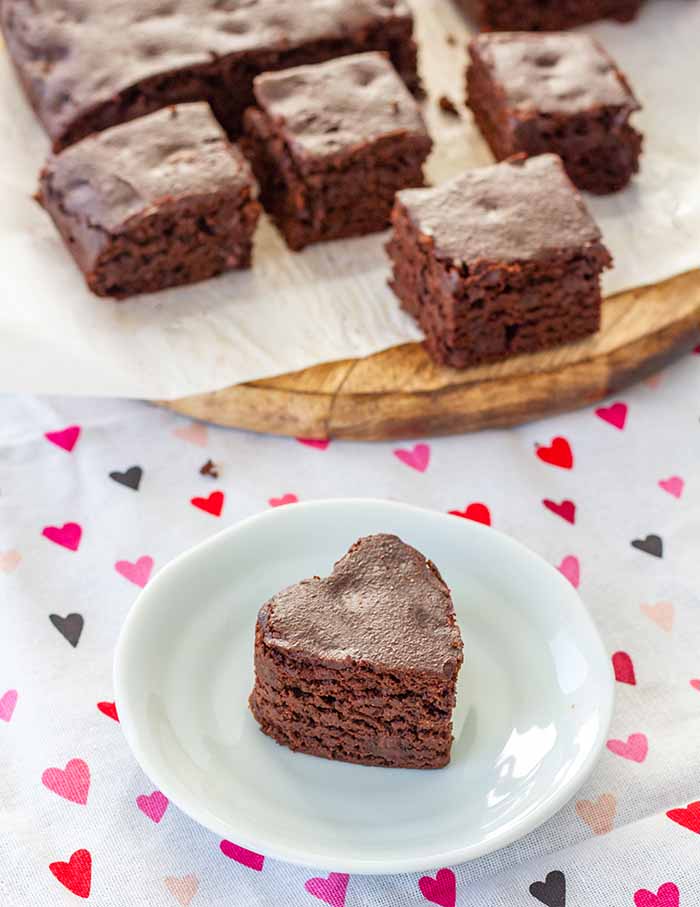 *A note on why you should add doTERRA's OnGuard essential oil blend (besides the fact that it adds delicious flavor): It helps with immune support and protects against environmental and seasonal threats. It can be taken internally, daily, to help maintain healthy immune function, and it can also be used on surfaces throughout the home as a non-toxic cleaner. When it's diffused, doTERRA On Guard essential oil blend helps purify the air and can be very energizing and uplifting.
Happy Valentine's Day from my kitchen to yours! May it be a good one!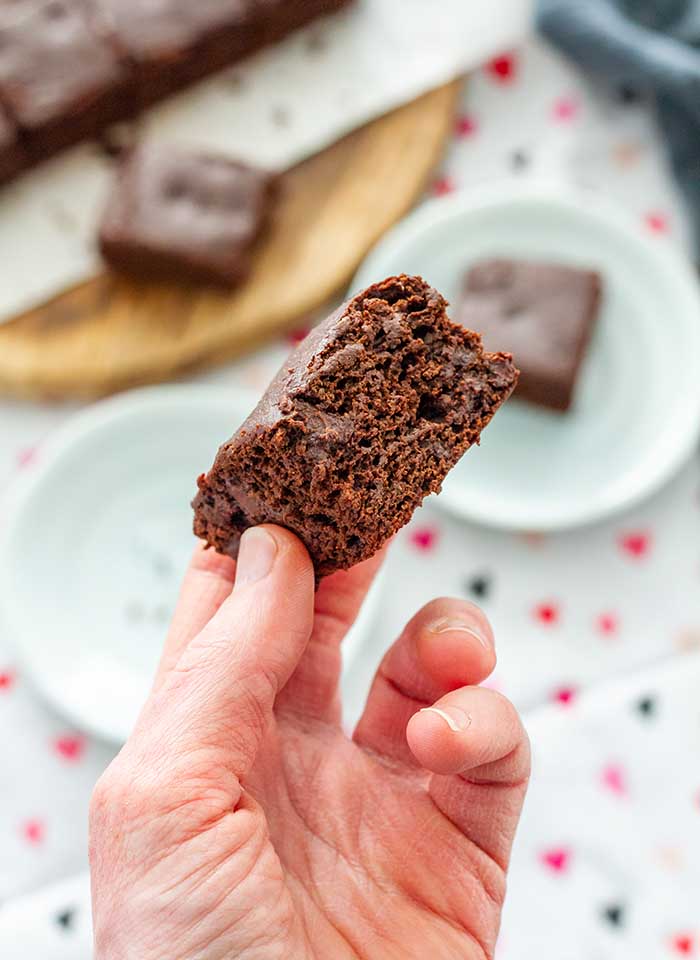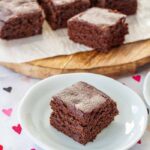 Fudgy Spiced Brownies
Rich, fudgy brownies made with oat flour (instead of wheat flour) and a hint of spice.
Ingredients
3/4

cup

oat flour

2/3

cup

cocoa powder

1 1/4

teaspoons

baking powder

1/2

teaspoon

fine grain sea salt

3/4

cup

granulated sugar

1/2

cup

pumpkin puree

1/2

cup

plain (or vanilla), unsweetened yogurt

1 1/2

teaspoons

pure vanilla extract

2 -- 3

drops

doTERRA On Guard essential oil blend

1/2

cup

semi-sweet chocolate chips
Instructions
Preheat the oven to 350 degrees Fahrenheit. Line an 8x8-inch baking pan with parchment paper and grease with avocado oil or spray generously with nonstick spray. Set aside.

Sift together the oat flour, cocoa powder, baking powder, and salt into a bowl.

In a different bowl, whisk together the sugar, pumpkin puree, yogurt, vanilla extract, and doTERRA On Guard essential oil blend until well combined and smooth.

Add the oat flour-cocoa mix to the bowl. Combine using a spatula, making sure to get rid of any oat flour lumps, but stop mixing once smooth and combined.

Fold in the chocolate chips.

Transfer the batter to the prepared baking pan. Use an offset spatula to spread the batter evenly (the batter will be thick).

Bake the brownies in the preheated 350 degree Fahrenheit oven for 30 -- 35 minutes, until a toothpick inserted in the center comes out relatively clean. (A bit of chocolatey goo is ok.)

Remove the brownies from the oven and let them cool completely, then transfer them to the refrigerator for 1 to 2 hours to let them finish setting up.

Cut into 16 squares and serve!
Recipe Notes
*I've tried both an unsweetened vanilla coconut yogurt and an unsweetened cashew yogurt in these and both are delicious!
*If you want to make these soy-free, just be sure to use a yogurt and chocolate chips that are free of soy.
*Discloure: This post was written in partnership with doTERRA. They supplied product for this post, but I received no further compensation. All opinions and experiences are my own.