*I teamed up with doTERRA to bring you this post.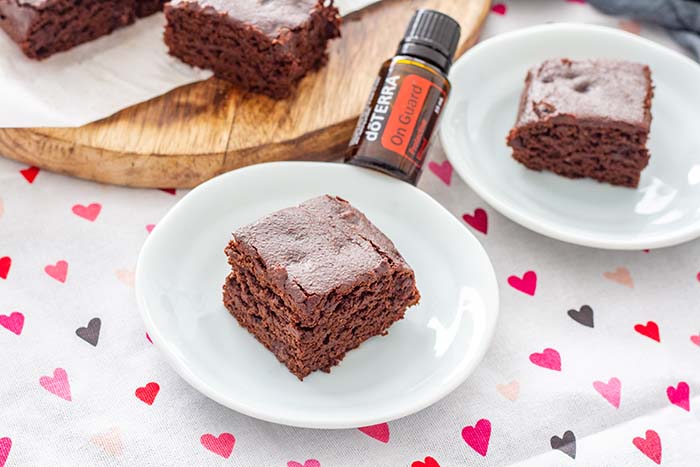 Valentine's Day is almost here and I've got a brownie recipe that is perfect to help you celebrate. "A brownie recipe?" you might say. "Aren't there already 30 bazillion brownie recipes out there? Why do we need another one?" Well, you don't have this one! Several things make it special:
It's free of gluten, eggs, and dairy, and can be easily made soy-free as well. But wait! These brownies are still rich and decadent and do not taste gluten-free. No weird textures here! Oat flour has become one of my favorite substitutes in baking because it helps produce a moist-tender crumb in things like cakes and muffins.
It's lower in fat because it doesn't use any oil or other added fat. Instead, it uses pumpkin puree. And no, it doesn't taste like pumpkin!
It uses a couple drops of doTERRA's On Guard essential oil blend, giving it a hint of spice (wild orange peel, clove bud, cinnamon leaf, cinnamon bark, eucalyptus leaf, and rosemary leaf/flower)–the perfect way to amp up the flavor for Valentine's Day.
{ 1 comment }