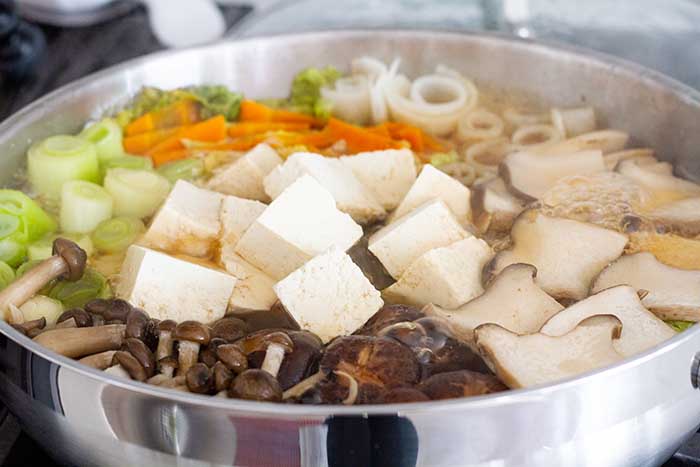 Spring is here, but it's still chilly in northern Utah, which means I'm still in the mood for more wintery comfort foods. One of my favorite genres of food is nabemono/nabe–Japanese hot pot dishes. I recently whipped up one of my favorites–kinoko nabe, or mushroom hot pot–and thought I would share it with you.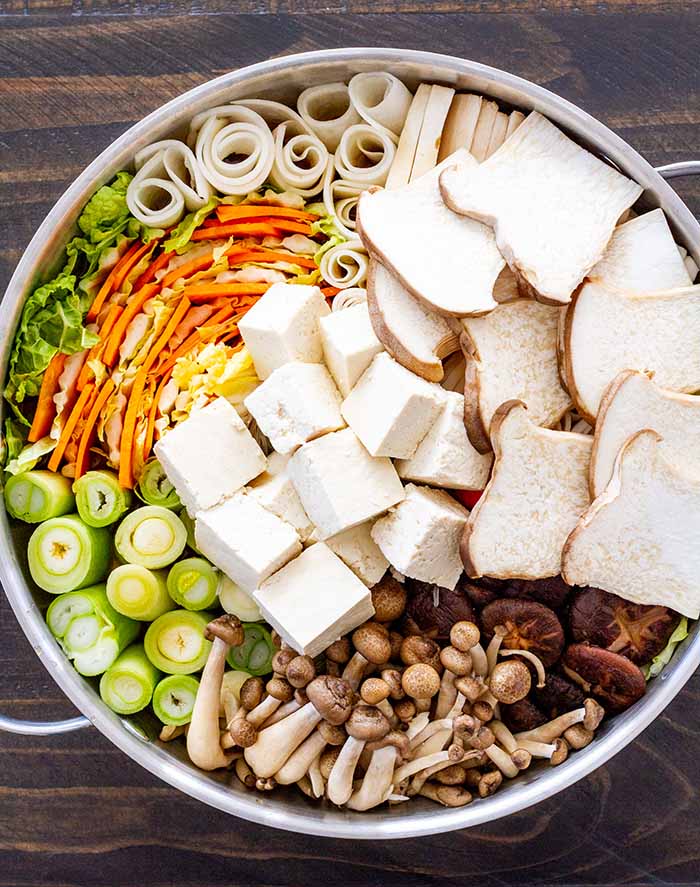 It's really quite simple to make and so delicious. You can make it in a donabe, or Japanese clay pot, or in a large saute pan. I used 3 different types of mushrooms to make this particular nabe–dried shiitake mushrooms (both to make the stock, and then as an ingredient in the nabe, eryngii (King Trumpet mushrooms), and buna shimeji (beech mushrooms), but you can substitute your favorite mushrooms if you like.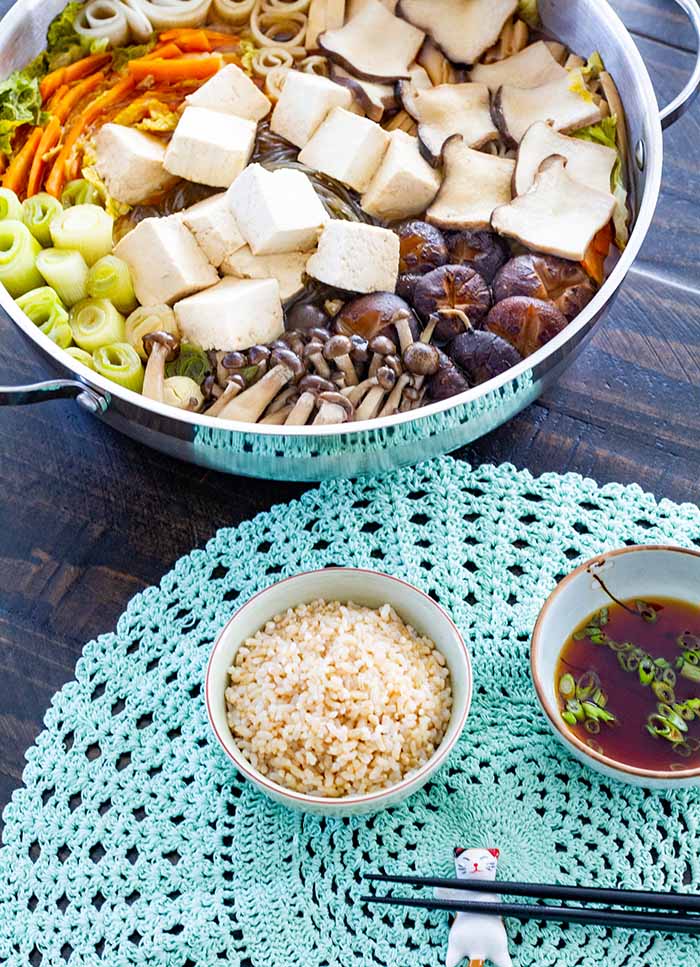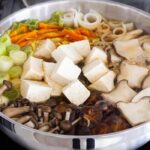 Kinoko Nabe (Japanese Mushroom Hot Pot)
This Japanese hot pot is delicious, comforting, and good for what ails you. You can switch out the mushrooms and vegetables for other things you have on hand!
Ingredients
For the dashi (stock):
1

piece

kombu (dried kelp), approximately 3 x 6-inches in size

1/2

ounce

dried shiitake mushrooms

4 1/2

cups

water
For the kinoko nabe:
5

tablespoons

sake

3

tablespoons

mirin

3

tablespoons

soy sauce (or gluten-free tamari)

1/2

small

napa cabbage (about 10 ounces), cut into bite-size strips (separate the bottom and leafy parts into 2 separate piles)

1

large

carrot (about 4 ounces), peeled, cut into 2-inch lengths, then thinly sliced lengthwise into planks (or cut into thin ribbons and rolled)

1/4

medium

daikon radish (about 4 ounces), peeled, cut into 2-inch lengths, then thinly sliced lengthwise into planks (or cut into thin ribbons and rolled)

1

14-16 ounce package

firm tofu, cut into 8 cubes

2 - 3

leeks, cleaned thoroughly and cut into 2-inch lengths

8

ounces

eryngii (King trumpet mushrooms), cut into 2-inch lengths, then cut into 1/4-inch thick planks

4

ounces

buna shimeji (beech mushrooms), trimmed

3

ounces

harusame noodles (Japanese cellophane noodles made from sweet potato and potato starch), soaked in water for 15 minutes
To serve:
Ponzu

Grated daikon

Thinly sliced green onions

Shichimi togarashi

Yuzu koshou
Instructions
Make the dashi (stock):
Combine the kombu, shiitake mushrooms, and water in a pot and let them soak for 30 minutes.

Cover the pot and set it over medium heat. Just before the stock comes to a simmer, remove the kombu.

Once the water comes to a boil, let the stock simmer for 5 minutes. Then remove the pot from the heat and let the stock steep for 3 minutes. Then strain it through a fine-mesh sieve lined with 2 layers of cheesecloth. Do not discard the shiitake mushrooms!
Make the kinoko nabe broth:
Combine the dashi sake, mirin, and soy sauce in a bowl. Set it aside.
Assemble the kinoko nabe:
Cut off and discard the shiitake stems. Set the caps aside.

Put the bottom pieces of the napa cabbage on the bottom of the donabe (claypot) or sauté pan. Arrange the other ingredients on top of the cabbage, in separate neat bundles.

Gently pour in the reserved broth.
Cook the kinoko nabe:
Cover the donabe and bring the broth to a boil over high heat. Decrease the heat to medium and let simmer for several minutes until things start to soften, then uncover the pot, and simmer until the ingredients are tender.

Transfer the donabe to the table. Serve the donabe ingredients and broth in small bowls. Garnish with ponzu, grated daikon, thinly sliced scallions, shichimi togarashi, and/or yuzu koshou, as desired.