*I teamed up with doTERRA to bring you this post.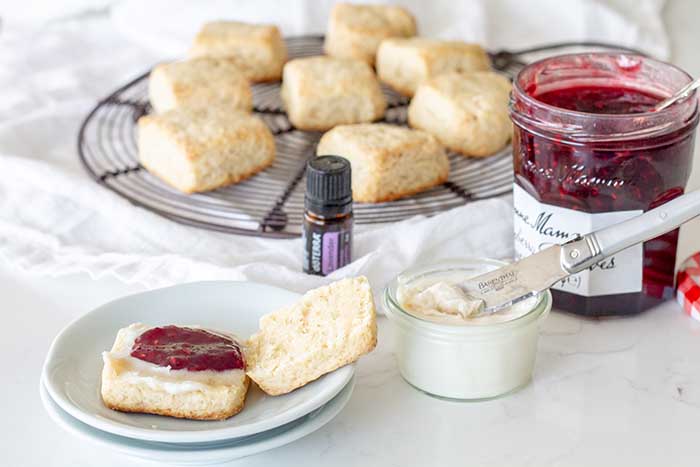 I'm a huge scone fan, but all too often scones are dense and dry. I like my scones to be rich, and a tiny bit flaky, like a good biscuit–not cakey. These lavender biscuits fit the bill and make a delicious addition to a picnic or an afternoon tea party. I love the flavor of lavender, but if you use dried lavender flowers, it's all too easy to get an unpleasant soapy flavor. My favorite way to get the flavor I love, without the soapy addition, is to use doTERRA Lavender Essential Oil. A little bit goes a long way! For this recipe, I use one single drop! Not only is lavender delicious, but it has a wonderful soothing effect when ingested. I'll take all the soothing I can get!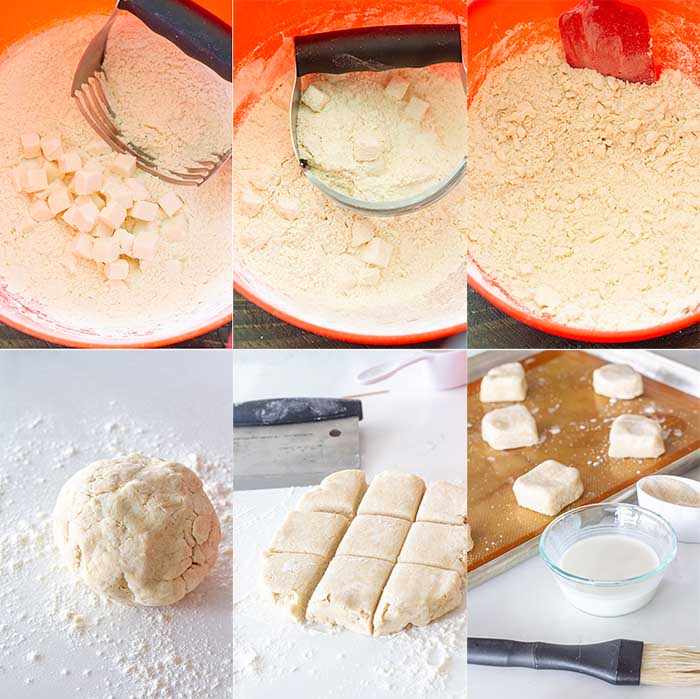 The dough whips up really quickly using a pastry cutter (or two forks) and a spatula. Then you form the dough into a square, cut it into 9 squares, brush the tops with a bit of milk then sprinkle them with sugar, transfer them to a baking sheet, and bake them in a preheated oven until the edges are beginning to turn golden brown. That's it.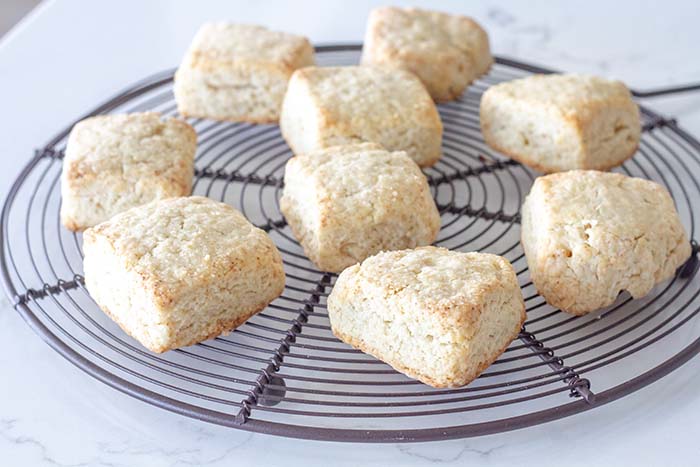 The hard part is waiting for them to cool before you eat one.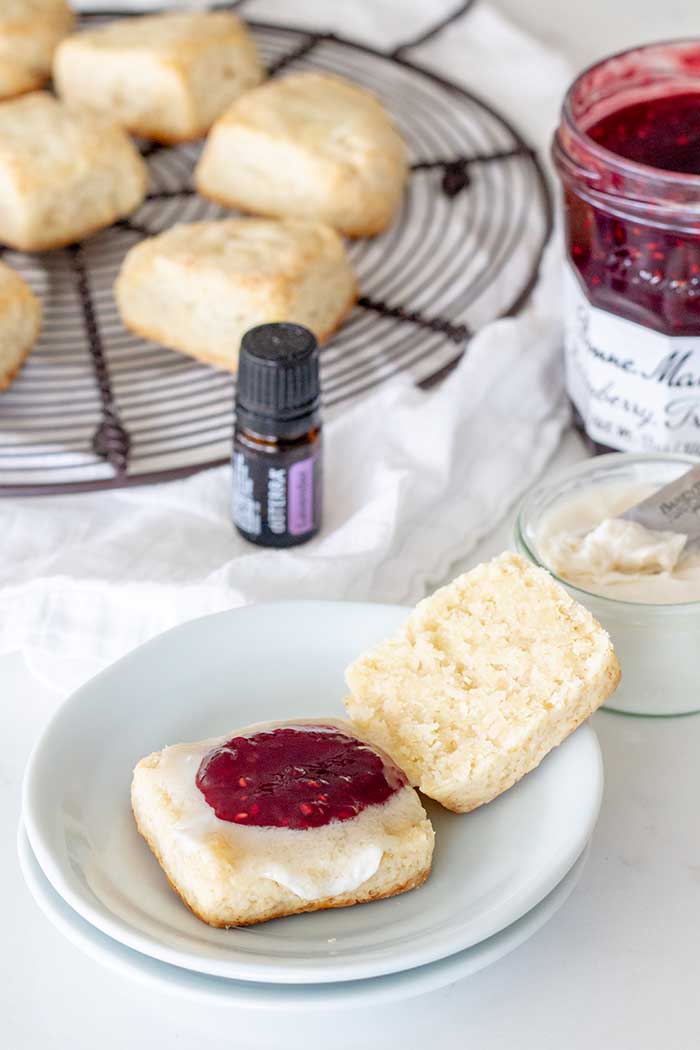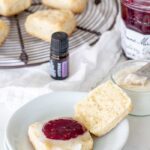 Lavender Scones
Ingredients
1 1/2

cups

all-purpose flour, plus extra for rolling scones out

1/4

cup

granulated sugar, plus extra for sprinkling on top of scones

2 1/4

teaspoons

instant yeast

1 large

pinch

fine grain sea salt

1/2

cup

butter (I use vegan butter), cut into small cubes and chilled

6

tablespoons

milk (I use soy or oat milk), plus extra for brushing on the tops of the scones

doTERRA Lavender Essential Oil*
Instructions
Preheat the oven to 425° Fahrenheit. Line a baking sheet with parchment paper or a silicone baking mat.

Whisk the all-purpose flour, granulated sugar, instant yeast, and salt together in a mixing bowl.

Add the butter to the bowl. Using a pastry cutter or two forks, cut the butter into the mixture until it resembles a coarse meal (pea-sized bits with a few larger bits of fat is okay). A pastry cutter makes this step quick and easy.

Pour the milk into a small cup or bowl. Dip the end of a toothpick 1/2-inch (3/4-inch for a bit stronger flavor) into the bottle of lavender essential oil. Stir the toothpick in the milk.

Make a well in the middle of the flour mixture and slowly pour in the milk. Mix with a spatula to form a dough.

Sprinkle some flour over a smooth work surface. Turn the dough out onto the work surface.

Work the dough quickly so it comes together into a cohesive ball. (It will be a bit shaggy, not smooth.) Flatten the dough into a square that is about 1-inch thick. Cut the dough into 9 squares, then move them to the prepared baking sheet.

Brush the tops of the scones with a bit of milk and sprinkle them with granulated sugar.

Bake them in the preheated oven for 16 -- 17 minutes, or until the edges have turned golden brown in color.
Recipe Notes
doTERRA's Lavender Essential Oil can be ordered online here.
*Discloure: This post was written in partnership with doTERRA. They supplied product for this post, but I received no further compensation. All opinions and experiences are my own.