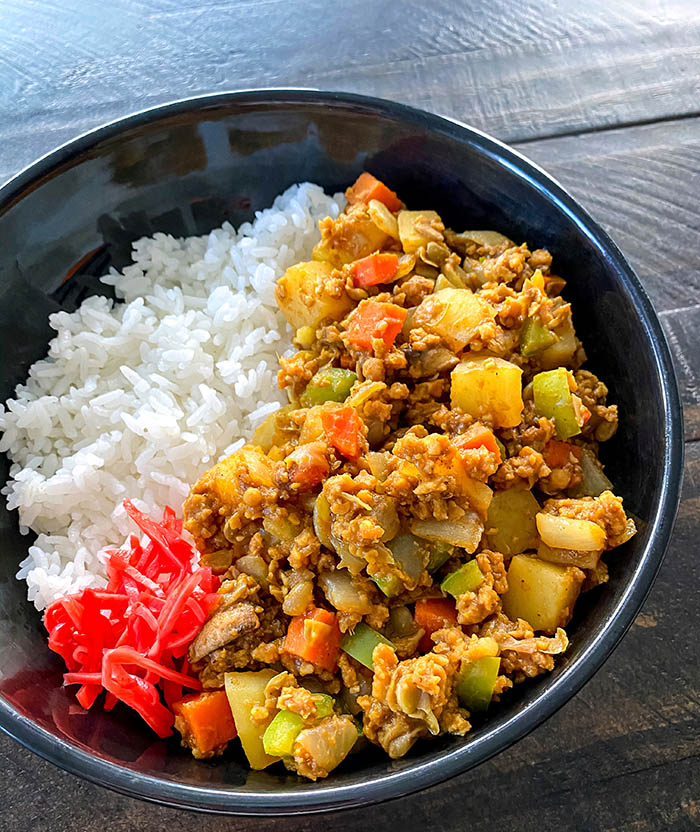 As part of my new podcast, The Onigiri Chronicles, with my friend Noriko, she has been sharing pictures of the lunches that she helps to prepare at the elementary school she works at in Funabashi, Japan. They are so inspiring. Though I should warn you, they will make you very jealous because they are so amazing. The recipes/menu are developed by the school's nutritionist, Akemi Tsuchiya, who is a genius at finding ways to include lots of vegetables in the dishes, without them seeming like they are out of balance. Noriko says that her son used to be very picky, but because of the school's lunch program, has changed to eating and loving just about everything. That tells you something about the quality of the food they are getting at school! Everything is made from scratch and ingredients are sourced locally, whenever possible. I wish my kids could attend this school, just to eat this way every day!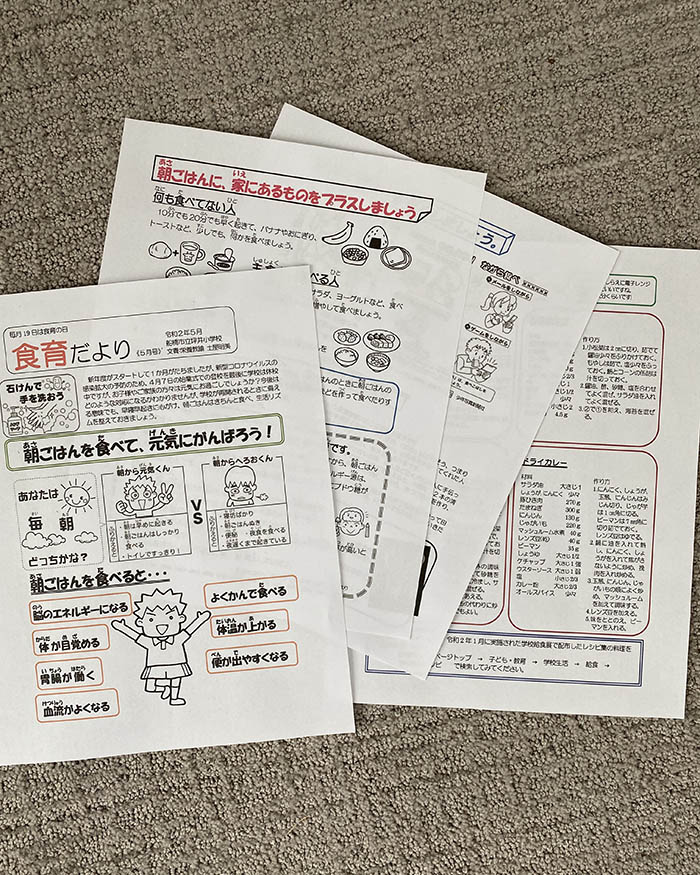 During the time when school wasn't in session, due to Covid-19, the nutritionist included some of recipes for the kids' favorite dishes in her monthly newsletter, so parents could make them at home. One of the recipes in the April newsletter was for dry curry (ドライカレー), which is different from regular Japanese curry because it doesn't have a gravy. I couldn't wait to try the recipe, especially since Noriko said it was really, really good. I modified it to be plant-based, which wasn't difficult, as the only non-plant-based item on the ingredient list is ground meat. I substituted some meatless ground, but you could just as easily increase the amount of mushrooms and/or lentils in the recipe instead. This curry is absolutely delicious and is just as good, if not even better, as leftovers the next day. It would be fantastic packed in a bento as well!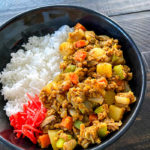 Japanese Dry Curry (ドライカレー)
A flavorful Japanese curry that is made without a gravy. This version was developed by Akemi Tsuchiya, the amazing nutritionist at Tsuboi Elementary School in Funabashi, Japan. I modified it slightly to be plant-based.
Ingredients
3

ounces

brown lentils

2

cups

water

2

tablespoons

oil (I use avocado oil)

1

large onion, chopped small

2

carrots, peeled and chopped small

3

medium yellow potatoes, peeled and chopped small

1

cup

water

12-14

ounces

meatless ground

5-6

cremini mushrooms, chopped small

3

cloves

garlic, minced

1

tablespoon

freshly grated ginger

1

small green bell pepper, seeds and membranes removed, chopped small

3

tablespoons

ketchup

3

tablespoons

Worcestershire (make sure it is vegan if you are vegan/plant-based)

1 1/2

tablespoons

soy sauce (or gluten-free tamari)

2

tablespoons

curry powder

1 1/4

teaspoons

fine grain sea salt

1/4

teaspoon

ground allspice
Instructions
Put the lentil and 2 cups of water in a small saucepan. Bring the water to a rapid simmer, then reduce the heat and simmer for about 20 to 25 minutes, until the lentils are tender but still hold their shape. Remove the saucepan from the heat and set it aside while you start cooking the curry.

Heat the oil in a wok or large saute pan over medium-high heat. Add the onions and saute until they are translucent.

Add the carrots, potatoes, and 1 cup of water. Bring the water to a boil, then reduce the heat to medium/medium-low (high enough to maintain a simmer). Simmer for 10 minutes.

Then add the garlic, ginger, mushrooms, meatless ground, and bell pepper. Cook for 1 minute.

Pour off any excess water from the lentils, then add them to the wok/saucepan.

Now add the ketchup, Worcestershire, soy sauce, curry powder, salt, and allspice. Mix everything together.

Simmer until most of the liquid has cooked off, about 5 minutes. Season with additional salt, if needed.