*I teamed up with On The Umami to bring you this post and recipe for Tomato Shio Ramen.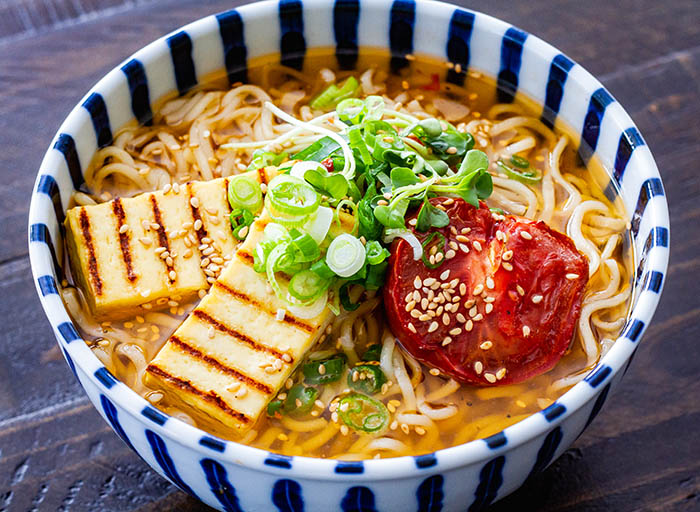 The past few months have been, well, insane. Between the normal life stuff like being mom and trying to keep up with laundry, I was finishing up my first semester of teaching at Utah Valley University, recovering from gall bladder surgery and the accompanying allergic reaction to antibiotics, then following that up with the knee surgery that my gall bladder postponed, starting a new job at the university as the deputy director of a center, and then topping it all off with website and email problems. A perfect storm of normal, awful, weird, and awesome! I wasn't sure this post was going to happen, but good food prevails. Bring on the ramen!
On to more delicious topics . . .
Dashi is one of the foundational pieces of Japanese cuisine. Dashi is the name for a family of Japanese stocks used throughout Japanese cuisine for soups and stews, the base of flavored broths to make simmered dishes, and as an ingredient in dishes in place of water to add more flavor. If someone is familiar with Japanese cooking, they are usually familiar with of one of the most common types of dashi, made with kombu and katsuobushi (preserved, fermented skipjack tuna). But there are many types of dashi made with a wide variety of ingredients. Over the years companies have developed instant dashi granules to make cooking quick and easy (kind of like using bouillon), but my favorite method of making dashi, other than making it from scratch is with a dashi pack. They are like giant tea bags, filled with dried dashi ingredients. You add them to water and simmer them to make dashi.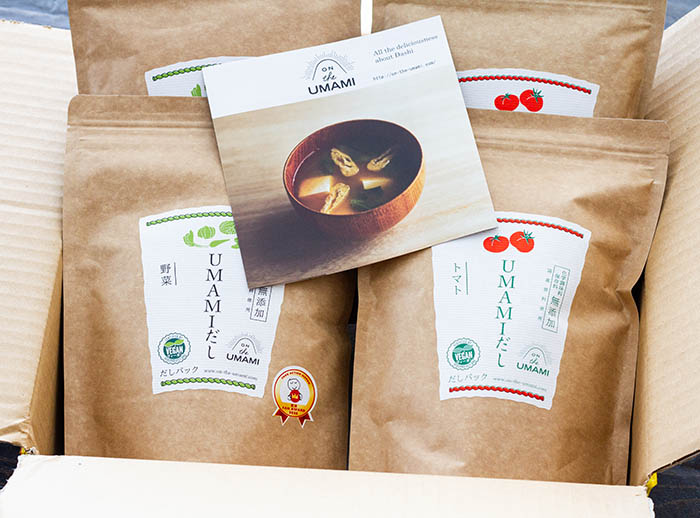 On The Umami is a Japanese company that has created a dashi pack line to make it easy for anyone to make and enjoy authentic Japanese broth. Their dashi packs are all made from domestic ingredients with no chemical seasonings or preservatives. They reached out to me to let me know that they had 2 new dashi packs that are vegan and have received the first vegan certification in Japan for dashi packs. (Pretty cool!) One is a vegetable dashi pack and one is a tomato dashi pack. They sent me some of both to try and we love them both. Super easy to use and delicious. As a mom, and now as a mom with a new job, that is a winning combo.
I have always loved tomatoes, though I took that love into obsession territory when I was pregnant with Squirrel, eating them by the dozen like apples. After trying both the vegetable and tomato dashi, it was a pretty easy choice for me to go with the tomato dashi. I decided to create a tomato ramen, with a shio (salt) tare base. Tare is the primary seasoning of ramen, and shio tare, or salt tare, is one of the classic tares. It's a good choice for lighter, more subtle flavors like tomato.
Ramen is made up of 5 key components: noodles (it wouldn't ramen without them!), tare, broth, oil/fat, and toppings.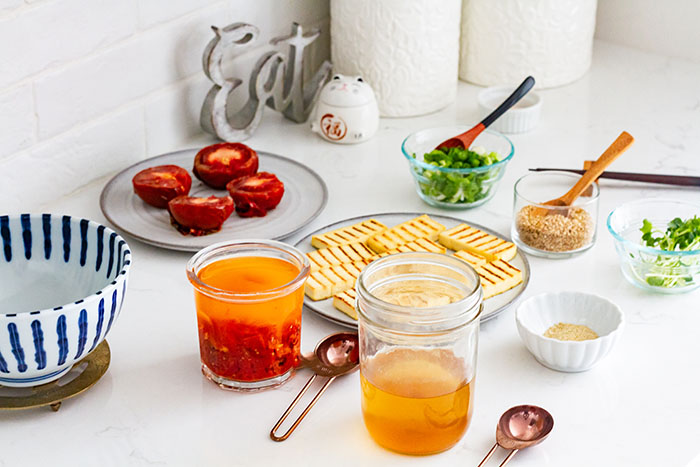 For this tomato ramen, I really wanted to incorporate as much tomato into the soup as possible, so I incorporated them into 4 of the 5 elements (I saved making tomato noodles for another day):
Tomato broth: I made tomato broth using the On The Umami tomato dashi pack.
Tomato shio tare: I used some of the tomato broth to make the shio tare.
Roasted plum tomato oil for the oil/fat component.
Roasted kumamoto tomato halves for one of the toppings.
I was very happy with how it turned out. Most of the components can be made ahead of time, which makes this doable for someone who has a busy schedule! If you want to see this being made, I put together a short video for just that purpose.
Both the vegetable and tomato On The Umami dashi packs are a new staple in our pantry. They are great for Japanese cuisine and non-Japanese cuisine alike. (Also, in case you are interested in trying some, they offer free worldwide shipping on all orders.)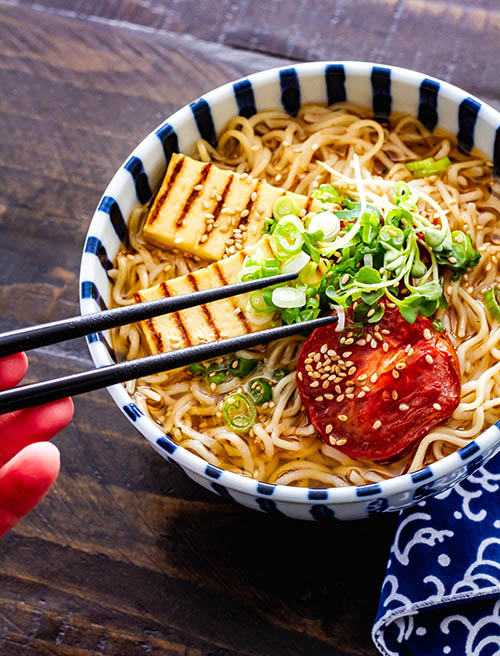 Tomato Shio Ramen
A light, flavorful ramen made with a tomato broth, tomato oil, and shio tare (Japanese seasoning sauce), then topped with pan-fried tofu, roasted tomato halves, green onions, daikon radish sprouts, and toasted sesame seeds.
Ingredients
Tomato Oil Ingredients (make the day before)
1

cup

plum tomatoes (cherry or grape tomatoes are fabulous as well)

2

cloves

garlic, cut in half lengthwise

1

cup

avocado oil

1

pinch

crushed red pepper flakes (or more, if you like heat!)

fine grain sea salt, to taste
Shio Tare Ingredients (start the day before)
1

piece

(1"x3") kombu

1

dried shiitake mushroom

1/2

cup

water

1

tablespoon

fine grain sea salt

1

teaspoon

mirin

1/2

cup

tomato dashi
Tomato Broth Ingredients
4

packs

UMAMI dashi tomato (from On The Umami)

6 1/2

cups

water
Pan-fried Tofu Ingredients
8

ounces

super firm tofu, cut into 1/2-inch thick slices

fine grain sea salt
Roasted Tomato Ingredients
2

kumamoto tomatoes (or other tomato variety of choice), cut in half

1/2

teaspoon

fine grain sea salt
Ramen Ingredients
12

ounces

dried (or 18 ounces fresh) ramen noodles

4

pinches

ground white pepper

1/4

cup

thinly sliced green onions

Kaiware (daikon radish sprouts), a few per bowl

1/4

cup

toasted white sesame seeds

Tomato oil

Shio tare

Tomato broth

Pan-fried tofu

Charred tomatoes
Instructions
Make the tomato oil (make the day before):
Preheat the broiler on high.

Place the tomatoes and garlic on a foil-lined (or silicone mat-lined) rimmed baking sheet.

Roast the tomatoes, turning as needed, until the skins are charred and blistered, about 6 to 8 minutes.

Transfer the tomatoes, garlic, and any juices directly into the bowl of a food processor.

Add the crushed red pepper flakes and a pinch of sea salt, then drizzle the avocado oil over everything.

Pulse the mixture until a chunky puree forms, then allow the tomato oil to sit in the food processor for 60 minutes so that the flavors can infuse the oil.

After 60 minutes, pulse the oil once or twice to mix it slightly. Then taste the oil and add additional sea salt to taste.

Transfer the tomato oil to an airtight container and store it in the refrigerator for up to 10 days.
Make the shio tare (start the day before):
The night before you make the ramen, put the kombu, dried shiitake mushroom, and 1/2 cup water into a lidded glass jar (or other container you can seal), and put it in the refrigerator to steep overnight.

Sometime after putting the jar in the fridge, but before the next step, make the tomato broth.

The next day, pour the contents of the jar into a small saucepan over medium heat. Just as bubbles are starting to break on the surface of the liquid, remove the piece of kombu and shiitake mushroom.

Maintain the heat and bring the liquid to a simmer. Add the salt and stir until it has dissolved, then stir in the mirin.

Remove the saucepan from the heat and stir in 1/2 cup of the tomato dashi you made earlier.
Make the tomato broth:
Pour the water into a pot, then add the UMAMI dashi tomato packs and swirl them around in the water about 5 times.

Bring the water to a boil over medium heat. Reduce the heat slightly and let it simmer for 5 minutes.

Remove the packs, making sure to set 1 aside, squeezing out the excess liquid into the pot. With the pack that you saved, cut it open and add the contents of the pack to the tomato broth in the pot, then stir the broth to combine.
Make the pan-fried tofu:
Pat the slices of tofu lightly with a kitchen towel (or paper towel), then sprinkle each side with a pinch of fine grain sea salt. You could also add any seasoning you like.

Heat a cast iron grill pan (or a regular pan if you don't have one). Brush the pan with a bit of oil. Turn the heat to medium-high, then put the tofu slices in the pan.

Allow the tofu slices to cook on each side until you see that the pieces are getting a light golden color and nice grill lines (if using a grill pan), about 2 -- 3 minutes. Then flip the pieces on the other side and cook until they have the same light golden color and grill lines.

Remove the tofu slices from the pan and set them aside until you are ready to assemble the ramen.
Make the roasted tomatoes:
Preheat the broiler on high.

Place the tomato halves, on a foil-lined (or silicone baking met-lined) rimmed baking sheet.

Sprinkle each tomato half with a bit of sea salt.

Cook the tomatoes in the oven until the edges of the tomatoes start to char slightly, then remove them from the oven and set them aside to cool.
Cook the ramen noodles:
Right before you are ready to assemble a bowl of ramen, cook the noodles according to the package directions, but removing them from the boiling water while they are still al dente to put straight into each bowl.
How to assemble tomato shio ramen:
Reheat the tomato broth until it has come to a simmer and get a pot of water boiling to cook the ramen noodles.

What you will need for 1 bowl of tomato shio ramen:

2 tablespoons shio tare, plus additional shio tare as desired

1 tablespoon tomato oil

Pinch of ground white pepper

1 1/2 cups tomato broth

1/4 of the cooked ramen noodles (or cook 1/4 of the noodles at a time to assemble one bowl at a time)

2 -- 3 slices of pan-fried tofu

1 roasted tomato half

1 tablespoon thinly sliced green onions

A few daikon radish sprouts

1 tablespoon toasted sesame seeds

To assemble 1 bowl of ramen:

-Put 2 tablespoons of shio tare, 1 tablespoon of tomato oil, and a pinch of ground white pepper in a bowl.

-Add 1 1/2 cups of simmering tomato broth. Quickly taste and add additional shio tare as desired.

-Add 1/4 of the cooked ramen noodles to the broth and swirl slightly to coat them in the broth.

-Working quickly, top the ramen with 2 -- 3 slices of the pan-fried tofu, a roasted tomato half, 1 tablespoon of thinly sliced green onions, a few daikon radish sprouts, and 1 tablespoon of toasted sesame seeds.

-Eat immediately!
*Disclosure: This post was written in partnership with On The Umami. They supplied product for this post, and compensated me for my time in doing the recipe development, photography, videography, and writing. All opinions and experiences are my own.