Although I wasn't planning on posting anything new until the technical issues for my "top secret" project were resolved, circumstances arose that have changed my mind.  My maternal grandmother passed away early yesterday morning.  Although the death of a loved one is always a hard thing to experience, I am also grateful for the reminder it gives of what is most important to me in life–those that I love.  Life is so much richer because of friends and family.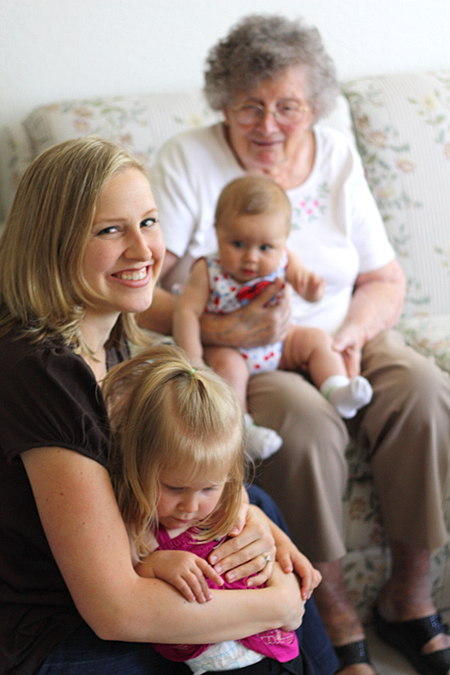 As I was going about my day yesterday I happened to pick up the December issue of Bon Appétit that I had recently gotten in the mail, but hadn't had a chance to look at.  As I flipped through it, I happened to stop on a page that had an article about the Weihnachtsmärkte (Christmas market) in Stuttgart, Germany.  My breath caught in my throat and I think I half cried and giggled at the same time.  Not only was Stuttgart the nearest large city to Pforzheim, the town my grandma grew up in, but nine years ago I went to that very Christmas market with her (my family traveled around Germany with her, seeing some of the sites from her childhood).  What wonderful memories that article brought to mind.  I can close my eyes and clearly remember the cold crisp December air, the lights and sounds of the market, and the smells.  Oh the smells!  It smelled of mulled wine, cinnamon, and all kinds of other wonderful treats.  I remember eating saurkraut and wurst (foods that both my grandma and I share a love for) at several of the Christmas markets we visited on that trip, and the wonderful stollen (one of my personal favorites).  The flavor of anise will forever make me think of my grandma, because my favorite Christmas cookies she always shared were anise meringues that looked like little white buttons.
My grandma traveled to Germany several times a year and often brought back a Lindt milk chocolate bar for me that she would give me when we visited her.  When I was little you couldn't get them in all of the grocery stores like you can now.  It was always the same bar–it had a blue wrapper with a picture of Snow White and the seven dwarves on it.  I would savor that chocolate bar, taking one square at a time and letting it slowly melt on my tongue.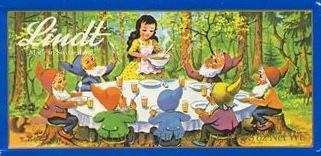 Michael Rosen wrote, in the Introduction of Cooking from the Heart, "The flavors, aromas, colors, and textures of the foods we have shared create impressions more profound than mere gustatory recollection.  Along with recognizing key sensations . . . come so many associated experiences: where you were, who joined in the meal, what you had been doing just before, as though pulling one container from the crowded larder of your memory forced the entire contents of the shelf to spill onto the counter."  I feel so blessed to have my own crowded larder.
My grandma lived a hard life but was a great woman.  She was born in 1926 in Giegen, Germany and grew up in Pforzheim, Germany.  During World War II she was sent to work on a farm about 100 km away from the city by Hitler Youth since all of the male laborers were fighting the war.  On February 23, 1945, the largest raid, and one of the most devastating area bombardments of the war was carried out on Pforzheim.  About one fifth of the town's population, over 17,000 people, were killed in the air raid, and about 83% of the town's buildings were destroyed.  My grandma could see the fire on the horizon and knew it was Pforzheim, but it was several weeks before she knew whether or not her mother and brother were alive.  They were–they actually survived by running down to the river near her home and standing in the freezing cold water where there was still oxygen available.  My grandma left Germany in December 1951 for Paris, and then left Paris in early January 1952 to immigrate to the United States.  She married my grandpa in 1952. They had 5 children in quick succession, ending with my mom.  My grandpa was killed in a farming accident in 1964.  (My mom's the one on the bottom left…isn't she cute?)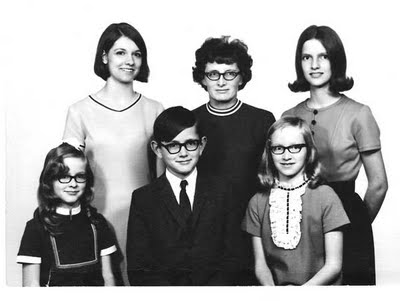 My grandma spent many years of her life as an elementary school teacher.  She taught for 5 or 6 years in Germany before immigrating and then taught for another 33 years in the US.  For 30 of those years she taught her favorite grade–first grade.  In 1983 she was awarded Utah's Teacher of the Year award.  In 1987 she was awarded the very first Utah Reading Teacher of the Year award, an award still being given.  Later, after she had retired, she worked for about 5 years at a German deli in Salt Lake City, called Siegfried's.  She worked behind the counter, slicing meat, dishing up food, ringing up sales, etc.  They made the best German rye bread.  I always looked forward to meals at her house, because I knew she would let me eat as many slices as I wanted.
My grandma's greatest joy in life was her family.  She hosted many a pizza party at her house for all of my cousins when I was in college.  She loved for us to be together.
I am grateful to be part of a family that believes family is important, and for a grandmother whose legacy is that family.  The larder of my memory is filled to bursting because of them.  I love you Grandma.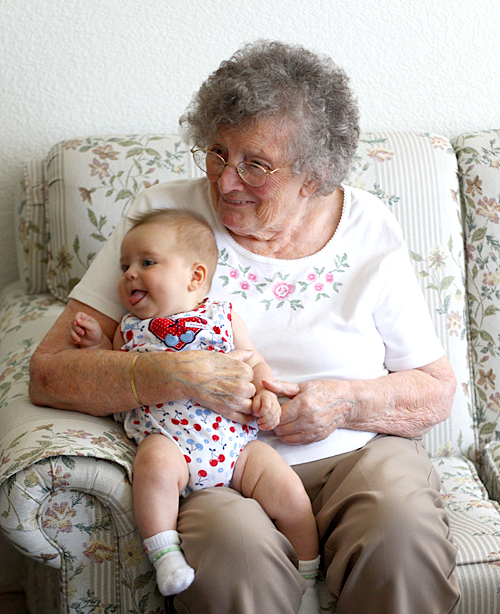 Doreanne Elise Frey Kenison
March 14, 1926 – November 17, 2009