I hope everyone has been enjoying the holiday season!  I know we have.  We had a wonderful Christmas Day.  We woke up at home, opened presents, ate breakfast, and then drove over to my parents' house (about 45 minutes away) for more present opening and general all around fun.  Mr. Fuji surprised us with a Wii and so we took that with us to my parents' house and played for quite a few hours—having tennis, bowling, and boxing tournaments between various family members throughout the day.  My arm and shoulder muscles are still punishing me for my participation!  Today we are driving up to the Salt Lake City, Utah, area to spend New Years with my in-laws.  Squirrel is looking forward to "sliding" (sledding) in the snow.  But on to food related topics . . . . This month's Daring Bakers' challenge was a great one—-to bake and create a gingerbread house from scratch.  It has been years since I have made a gingerbread house, and so I really enjoyed tackling this challenge.
The December 2009 Daring Bakers' challenge was brought to you by Anna of Very Small Anna and Y of Lemonpi. They chose to challenge Daring Bakers' everywhere to bake and assemble a gingerbread house from scratch. They chose recipes from Good Housekeeping and from The Great Scandinavian Baking Book as the challenge recipes.
We were allowed to make our houses as big or as small as we wanted, but we had to meet these requirements:
1. Everything had to be edible – no glue or inner non-food supports allowed.
2. We had to bake the gingerbread ourselves. No graham cracker houses please!
3. We had to use some sort of template and take a picture or link to what we used in our post, but it didn't have to be super technical.
4. The house had to be able to stand on its own.
I finally decided on a Japanese theme and created a little vacation house for the Fuji's to go visit at the foot of Mt. Fuji.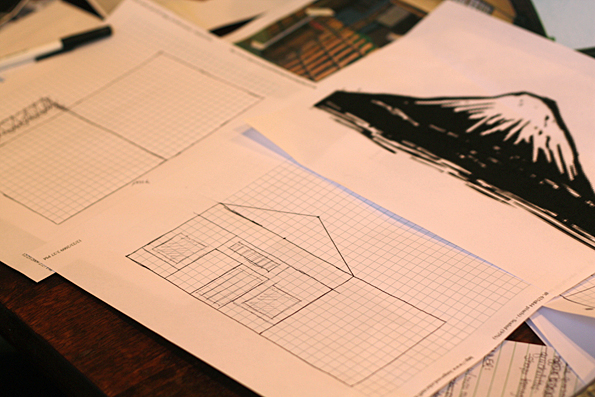 I drew up my own template on some graph paper, checked, double checked, and triple checked my measurements, made the dough, cut and baked the pieces, and then prayed that everything would come together.  I figured that if I totally failed, I could always take a picture of the mess and claim that an earthquake, or Mt. Fuji erupting, destroyed my perfectly built structure. Ha.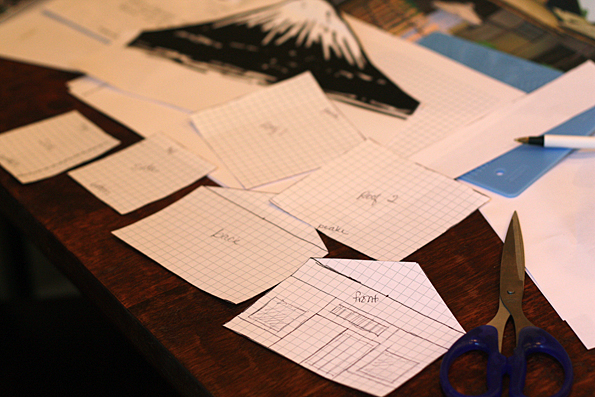 But, I needn't have feared.  Everything came together without incident, and I had a blast in the process.  A friend of mine, the intrepid Missy J, came over to help in the decorating fun, which made everything even more interesting towards the end when we were both beyond tired and laughing at things that I'm sure weren't really funny.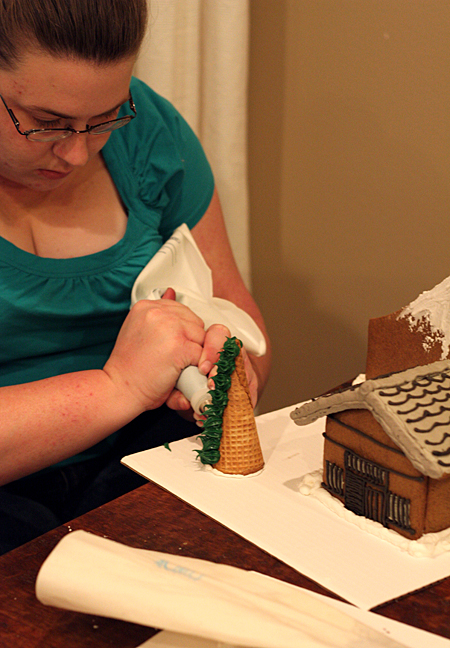 I chose to use the second recipe provided from the Scandinavian cookbook.  I think this recipe is designed more for building houses with than for eating.  The gingerbread was nice and sturdy, making for a great structure to pile lots of royal icing onto, but I have ZERO plans for ever eating any of my little house because the gingerbread isn't very edible.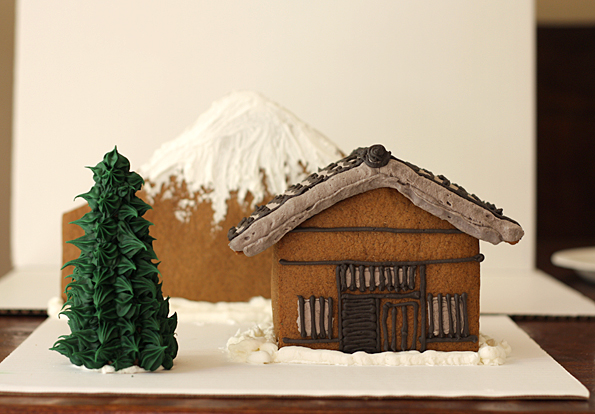 Edible or not, I don't care, because in the end I was totally pleased with my end result.  If I had more time I would have done some things differently, but I love my little gingerbread Japanese house sitting under the watchful eye of my beloved gingerbread Mt. Fuji.  If I use my imagination, I can transport myself there . . . .