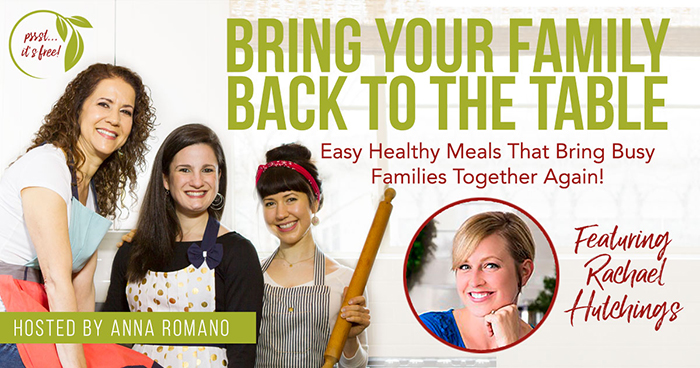 When is the last time your family ate dinner together?  When was the last time you struggled to figure out what to make for dinner?  Or looked at the clock, only to realize it was already 5pm and you had no idea what dinner was going to be?  In this crazy busy world I know that we all lead busy lifestyles that can make it difficult for us to gather around the family table (whatever your family table looks like).  I am super excited to introduce you to one of my friends, Anna Romano, of Healthy Cooking Daily, who is on a mission to help out with that very struggle.  She is a mother who is passionate about healthy cooking and has a lifetime of knowledge and tradition passed down to her as a first-generation Italian.  She grew up in a home where food and family was everything.  Anna believes family meals are an emotional anchor to our day, and unfortunately, a lost art.  She is offering a FREE interview series with 21 cooks, health coaches, nutritionists, moms, and bloggers (including me!), to show you how to meet some of the daily challenges of creating healthy meals and connecting with family.
During this Series, "Bring Your Family Back to The Table: Easy Healthy Meals That Bring Busy Families Together Again," you'll learn how to return to the table and connect while sharing healthy meals. You'll also gain some strategies on how to do all this while living in a crazy, device driven world. My hope for you is to provide some insights, stories, and inspiration that you can easily enrich your family life with.
Here's what's going to be covered in the series:
How to bring mindfulness back into eating
How to save time in the kitchen to get dinner on the table faster
Homesteading tips
Gadget recommendations
How to ensure family meals are both healthy and delicious
How to cook for multiple dietary needs
Learn about using the Slow Cooker/Instant Pot to simplify weeknight meals
Menu Planning tips and suggestions
I have a complimentary ticket for you to attend. You can register using this link. [INSERT AFFILIATE LINK]
Just so you know, you will be able to watch from your home, office, or on the go.
Not only will you walk away with some ideas and strategies, but you will be inspired!  The speaker lineup is amazing!  Also, many of the guests will be offering a free gift!  Register here for the "Bring Your Family Back To The Table" series!