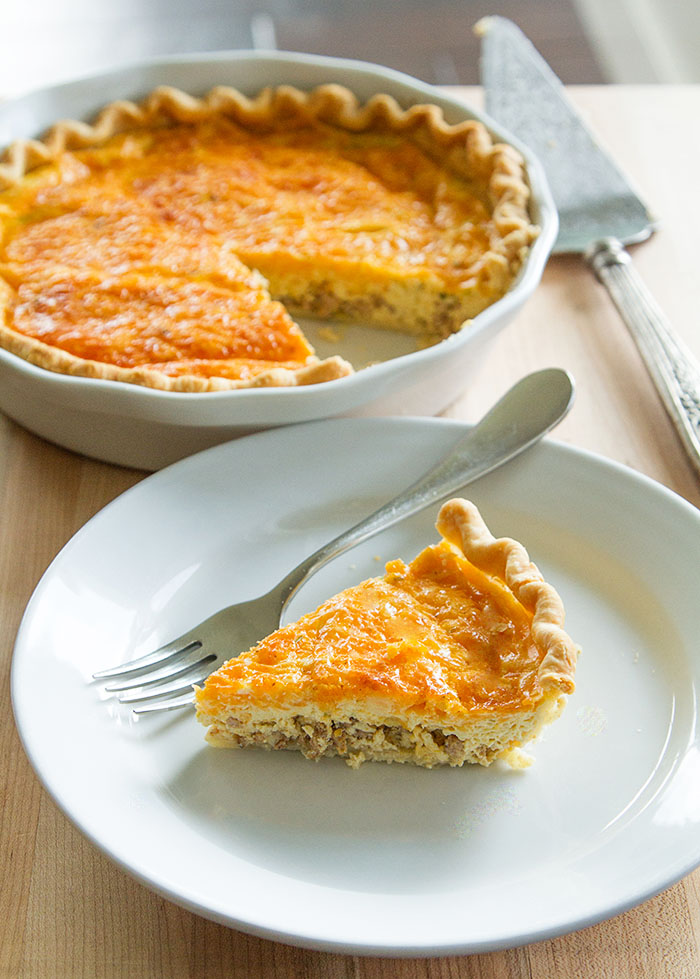 If you can believe it, Christmas morning is only 3 weeks away.  I can't quite believe it myself.  Between now and then we will have school parties, work parties, shopping for presents, making presents, etc.  I absolutely love this time of year and the magic of Christmas morning is hard to beat.  When I was little my parents would have my brothers and I meet in their bedroom until everyone was awake.  Then we would head to the fireplace to see what treats Santa had left for us inside our stockings.  Instead of heading to the Christmas tree at this point to open gifts, my mom would make us sit down at the table for Christmas breakfast.  It was always something delicious, whether it was cinnamon rolls or German puff pancake.  Looking back I am so grateful for my mom forcing us to draw out the morning with this special breakfast and it's a tradition that I have continued with our family.  But what to prepare?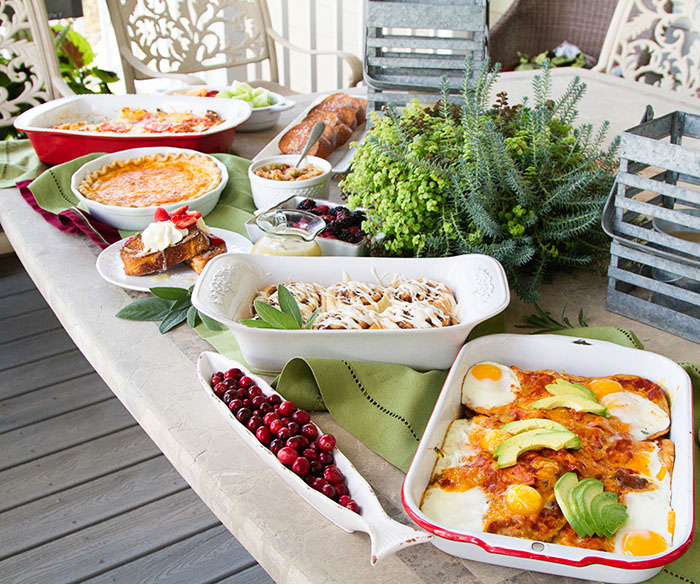 Thankfully this year I'm loaded up with ideas thanks to my incredibly talented fellow Harmons bloggers.  Just like our pie spread for Thanksgiving, we got together to bring you a collection of delicious dishes for you to choose from to make for Christmas morning so that you can spend your time worrying about other things like wrapping gifts and enjoying time with family and friends.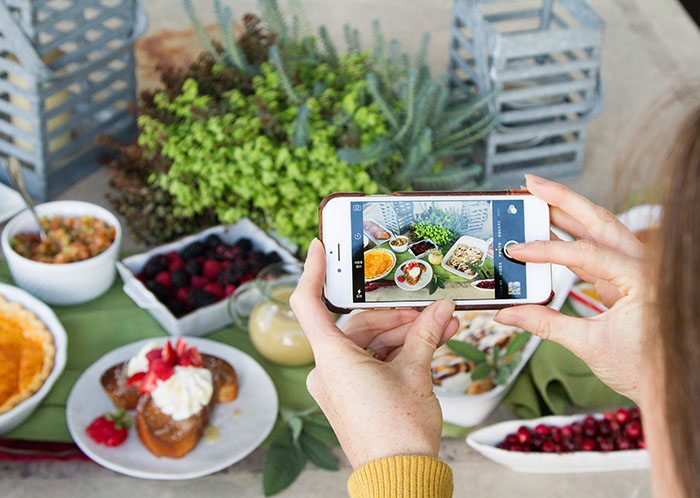 We've got a delectable mix of sweet and savory dishes so that there should be something that will suit your mood!  While you are checking out their recipes make sure and book mark their sites, because they are all incredible!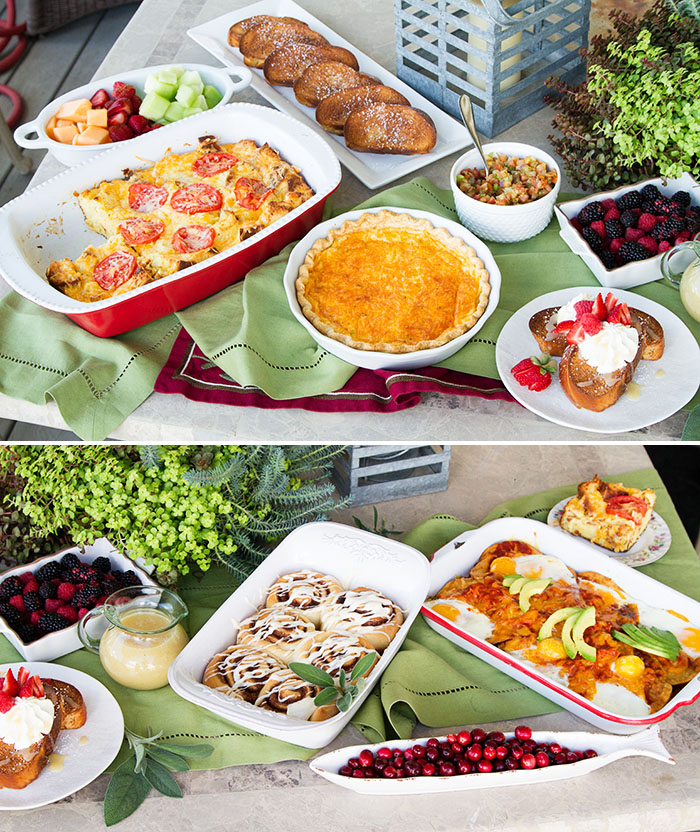 Si (A Bountiful Kitchen) made this beautiful Brioche Tomato Bake—an elegant choice that is totally doable!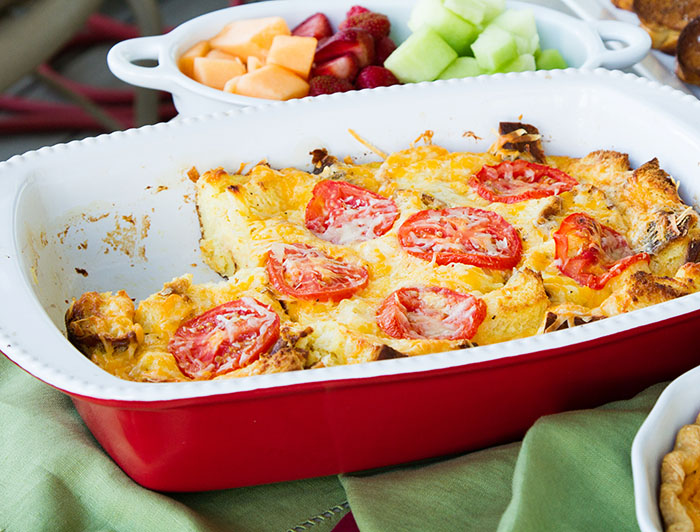 Jesseca (One Sweet Appetite) made these scrumptious Overnight Cinnamon Rolls—a classic that you can prepare ahead of time!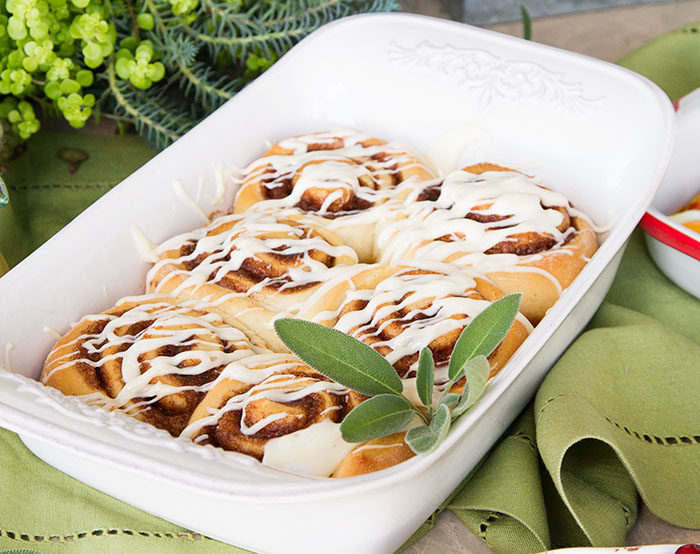 Becky (Vintage Kitchen) made this flavorful Huevos Rancheros Breakfast Casserole—total comfort food!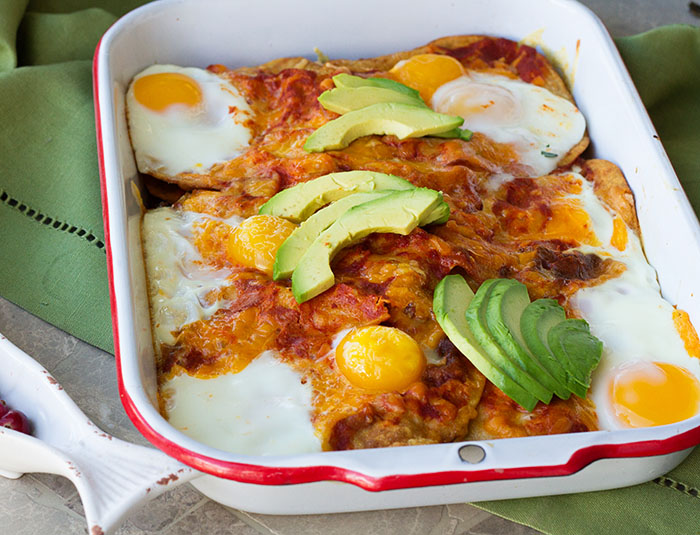 Caroline (Armelle Blog) made this oh-so-tempting Overnight Challah French Toast with Homemade Vanilla Bean Syrup—I dare you not to lick your plate!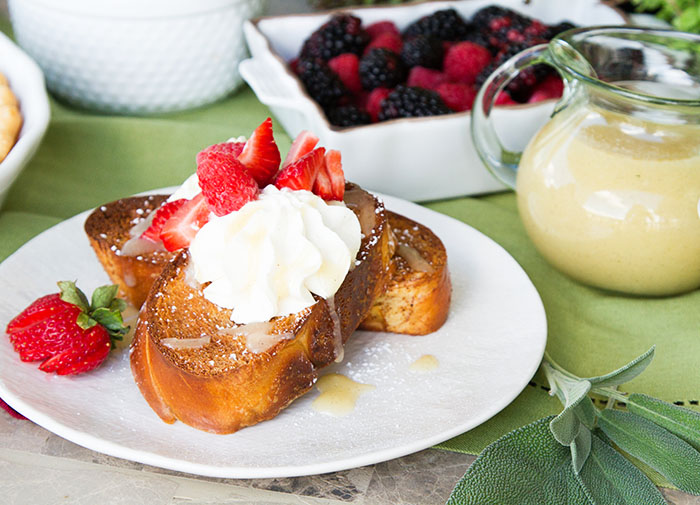 My contribution was…surprise, surprise, a pie of sorts (happy Friday Pie-day!), this Cheese and Sausage Quiche!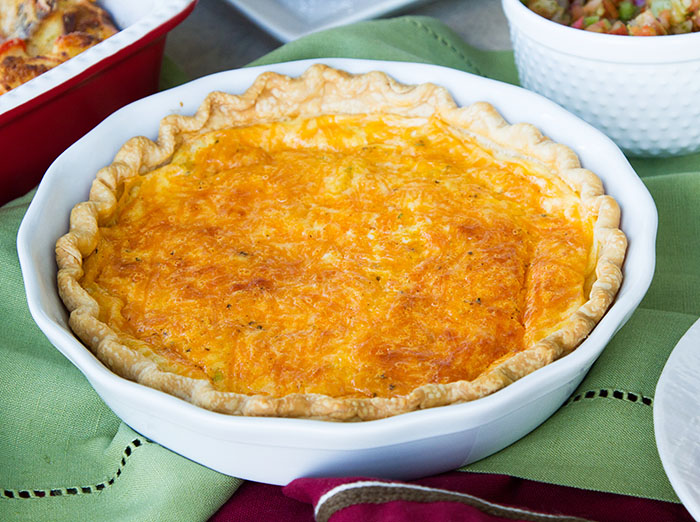 This quiche is so easy to make, but full of delicious flavors of ground pork sausage, cheddar cheese, fresh sage, and spices.  The crust can be prepared the night before.  The filling only takes a few minutes to prepare and then the whole things goes into the oven to bake.  Another option is to  bake the quiche the night before and reheat it in the morning.  It will be just as delicious!  The key to making this quiche especially delicious is to make sure that you use high-quality ingredients.  This is a simple quiche, so the ingredients can either shine or sink the ship!  This is especially true with the ground pork sausage.  I've found that the quality of ground pork sausage has gone down in many grocery stores, looking mushy and unappetizing and tasting much the same way.  I buy mine at Harmons Grocery because it is always freshly ground, isn't mushy, has a nice marbling of fat and meat, and has wonderful flavor—just what you want!  Ok, who's ready for Christmas morning? I am! At least when it comes to what I'm going to make to eat!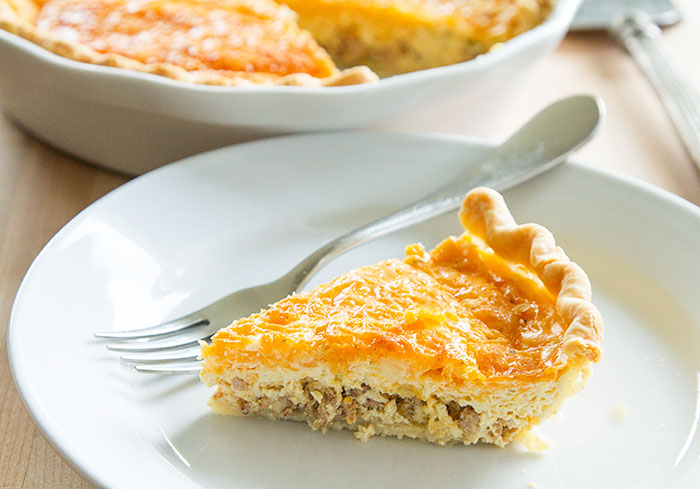 Print This Recipe
Cheddar Pork Quiche
Makes one 9-inch quiche
Ingredients:
1 (9-inch) unbaked pie shell, chilled (from 30 minutes up to overnight if wrapped in plastic wrap or sealed in zip top bag)
1 tablespoon olive oil
6 ounces ground pork sausage
1 tablespoon finely chopped fresh sage, or 1 teaspoon dried sage
1/2 teaspoon fine grain sea salt
1/2 teaspoon ground ancho chili powder
1/4 teaspoon chili powder
1/4 teaspoon freshly ground black pepper
1 scallion, white and light green portion, minced
1 cup finely shredded medium cheddar cheese
4 eggs
1 cup half-and-half cream
Directions:
1. Preheat the oven to 375 degrees Fahrenheit.
2. Heat a skillet over medium heat. Drizzle in the olive oil, then add the ground pork sausage and begin breaking it up as it browns. After 30 seconds of browning, add the sage, 1/4 teaspoon of the salt, the ancho chili powder, chili powder, and black pepper. Continue cooking the pork, breaking it into small pieces as it browns. When it is no longer pink, remove the skillet from the heat and transfer the pork to a bowl or plate to cool slightly.
3. Beat the eggs, half-and-half cream, and remaining salt together in a medium bowl until combined.
4. Sprinkle the pork sausage in an even layer over the bottom of the pie crust. Then add the minced scallion and shredded cheddar in even layers. Pour the egg mixture over the top and use a spoon or spatula to gently press down any cheese that might be sticking out.
5. Place the quiche on a rimmed baking sheet in the preheated oven and bake for 40 to 50 minutes, until the edges are set but the quiche still jiggles a little in the center.  Let the quiche cool for about 10 minutes and then cut into wedges and serve.
—————————————————————————
*Disclosure: I am a blogger ambassador for Harmons Grocery and was compensated for my time and for recipe development for this post. All experiences and opinions are my own!