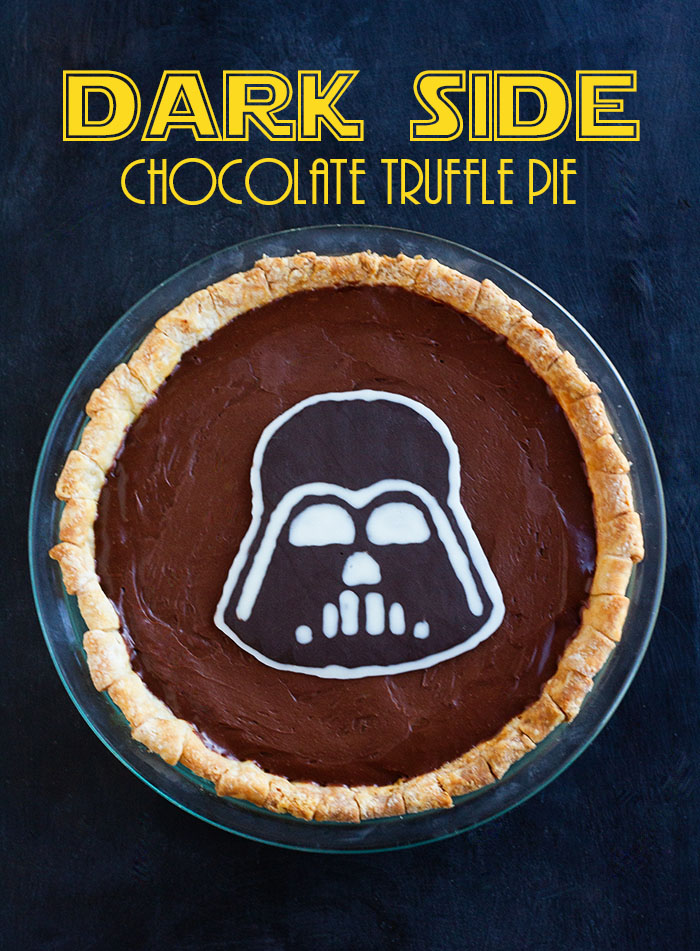 Excitement is running high at our house.  We are huge Star Wars fans at our house and are really looking forward to the new movie coming out next week.  What better way to celebrate than with pie?  So I whipped up a pie inspired by a character we all love to hate: Darth Vader.  I made a classic single pastry crust, but you could also use a graham cracker or chocolate cookie crust!  I filled it with a dark chocolate truffle filling, which couldn't be easier to whip together.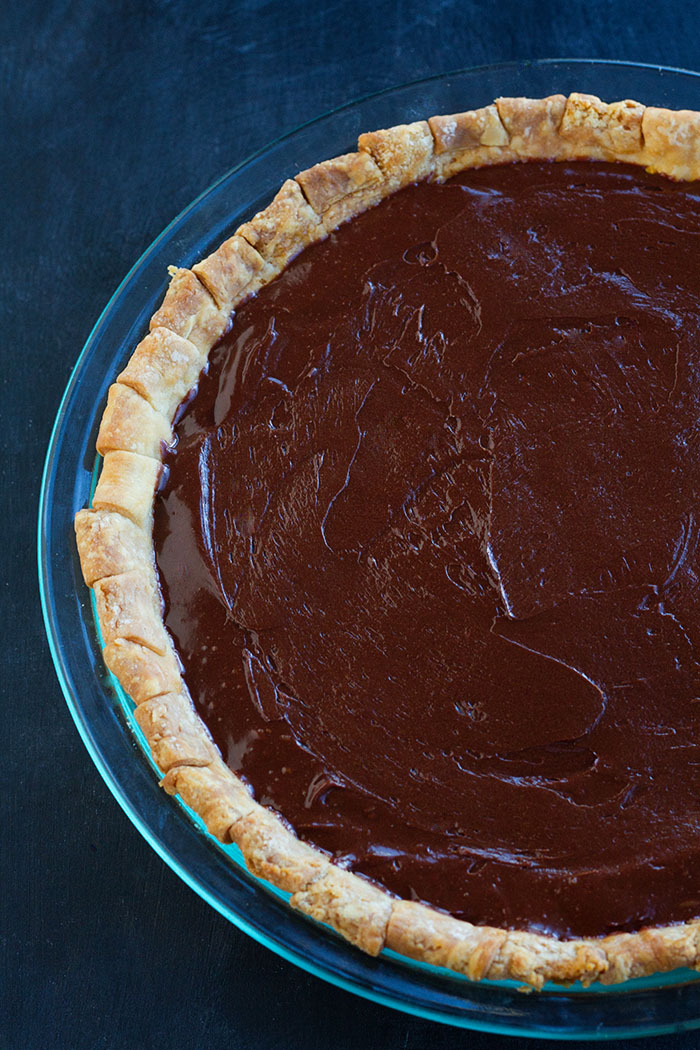 Maybe Vader would have had more success recruiting members to the dark side of the force if he had offered them dark chocolate.  Or is that just my weakness?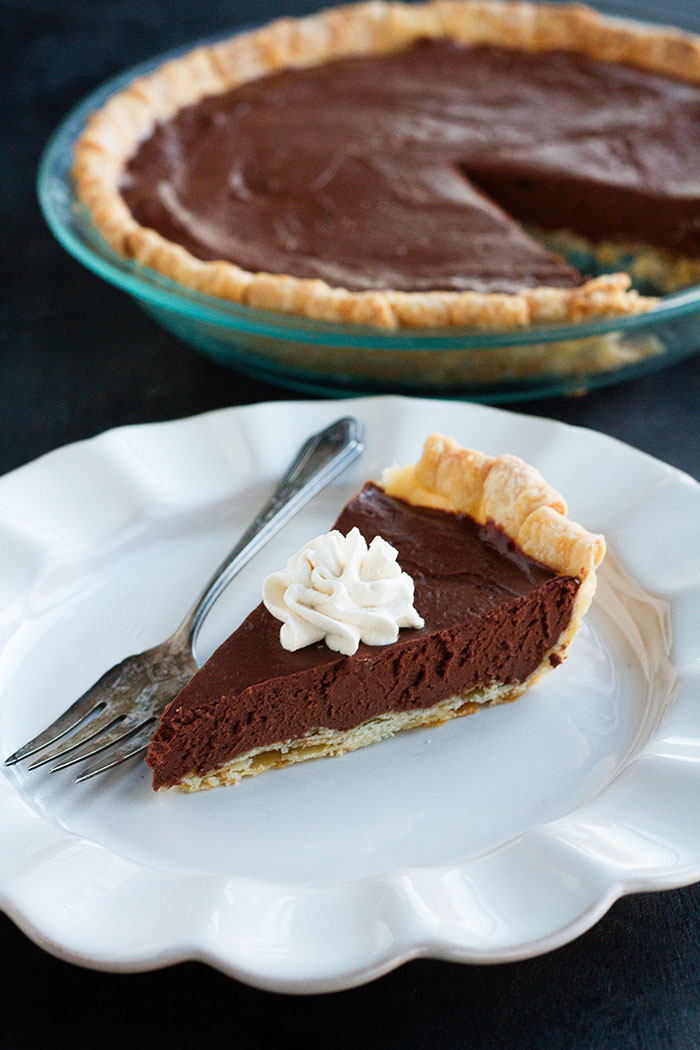 To really get into a celebratory mood and pay homage to our favorite villain, I created a chocolate piece to look like Vader.  It couldn't be simpler.  Just find a simple graphic online, print it out, then tape it down to a flat surface, then cover it with a sheet of wax paper.  For this piece I used dark chocolate and white chocolate.  First I melted white chocolate, which I then transferred to a pastry bag, snipped off the tip, and used the chocolate to outline all of Vader's details.  Then I prepared the dark chocolate the same way and used it to fill in the rest.  Once the chocolate cooled and set completely, I gently peeled off the wax paper and placed the piece on top of the pie with the smooth side facing up.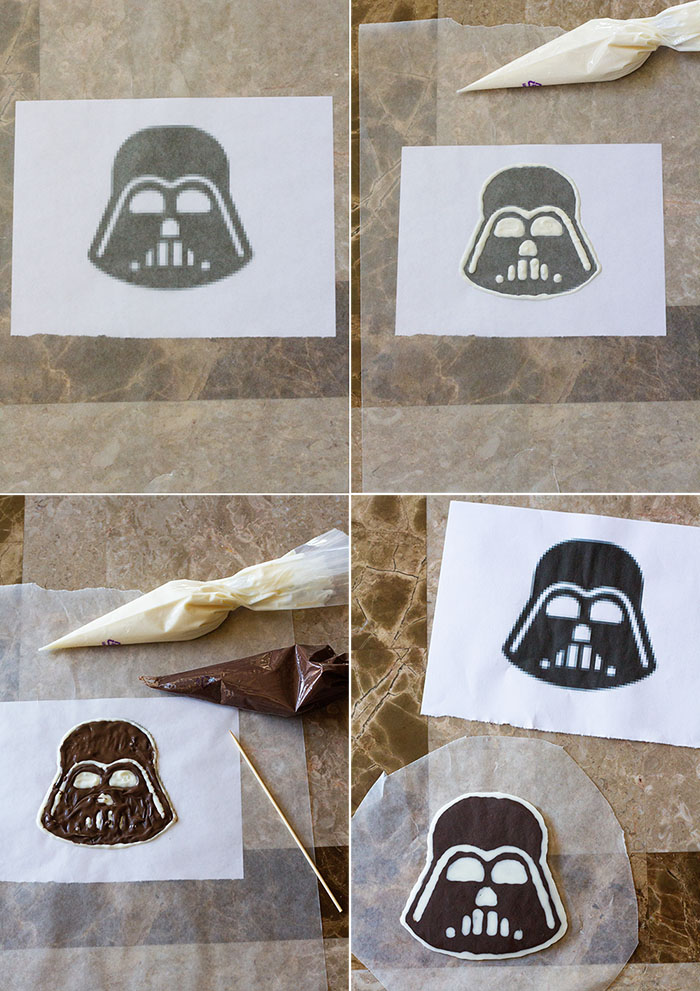 Vader approves and so do our tastebuds.  Resistance is futile.  Give in to the dark side.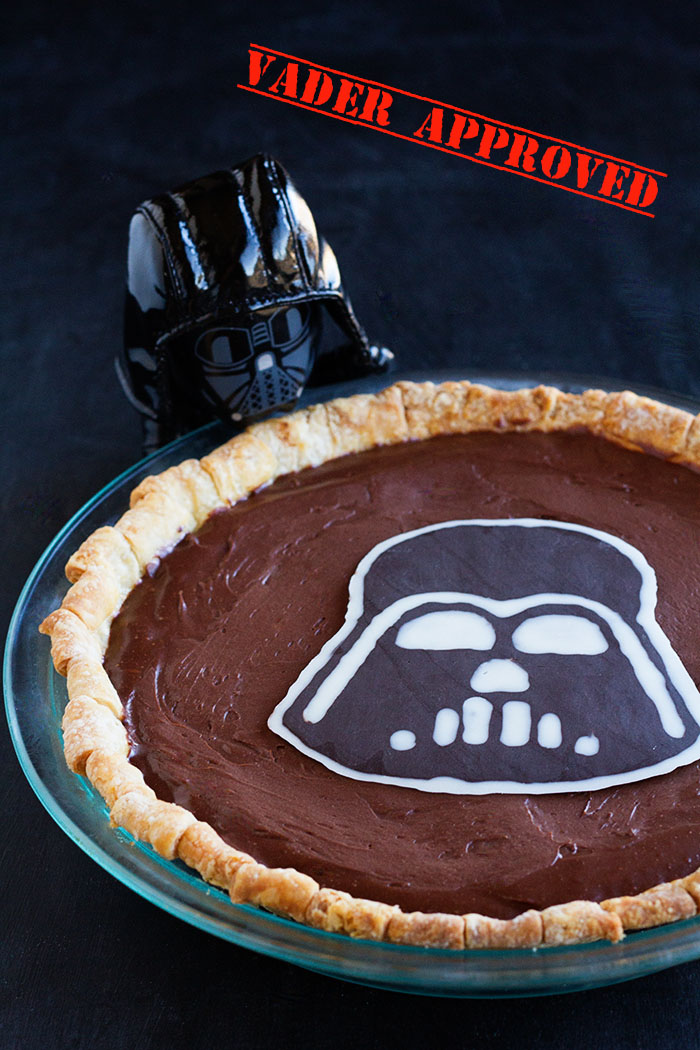 Print This Recipe
Dark Side Chocolate Truffle Pie
Makes one 9-inch pie
Ingredients:
1 cup heavy whipping cream
1/4 cup granulated sugar
2 (4 ounce) bitter sweet chocolate baking bars, broken into pieces
2 tablespoons seedless raspberry jam
1 (9-inch) pre-baked pie shell
Chocolate Darth Vader, to garnish (optional…just don't tell Vader I said that)
Lightly sweetened whipped cream, to garnish (optional)
Fresh raspberries, to garnish (optional)
Directions:
1. Bring the cream and sugar just to a boil, stirring occasionally, in a medium sauce pan over medium heat. Remove from the heat.
2. Stir in the chocolate and jam. Let the mixture sit for 5 minutes, then whisk it until the chocolate is melted and the mixture is smooth.
3. Transfer the mixture to a small mixer bowl, cover, and refrigerate for 45 to 60 minutes, until the mixture is cool and slightly thickened.
4. Beat the filling with an electric mixer until the color lightens slightly. Pour the mixture into the baked pie shell and smooth it out. Refrigerate until completely set (about 3 hours). Garnish with a chocolate Darth Vader piece or whipped cream and raspberries.