Today is Day 5 of the 12 Days of Endive.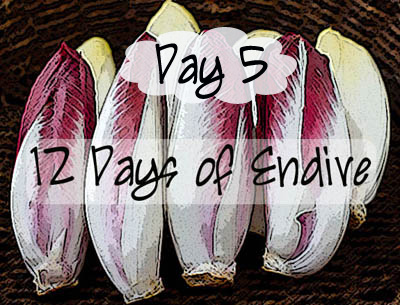 It's Friday, and I don't know about you, but at the end of the day on Friday, my brain starts to shut off.  After a week of go, go, go, my brain says . . . nothing.  The beautiful thing about endive is that it is very accomodating when it comes to Fridays, because endive doesn't need to be washed!  One less step of preparation? Yes please!  The reason that endive doesn't need to be washed before you use it, is that it never touches dirt.  The endive growing process is a very unique two-step process.  The first step consists of planting chicory seeds in a field where they spend about 150 days growing into deep roots.  Then the tops of the leafy part of the plant above the ground are cut off and the roots are dug up.  The roots are then placed into cold storage where they remain dormant until needed.  The second step consists of removing the chicory roots from cold storage and putting them in a dark, cool, humid room for 20 to 28 days where they start to grow white leaves tinged with color until they become beautiful tight little crunchy bundles that we know as endive.  Isn 't that amazing?
* Disclosure: The 12 of Days of Endive is part of my ongoing work as an OnDiva for Discover Endive. As always, all opinions and thoughts are my own!