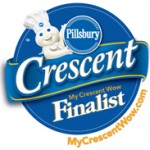 Have you voted yet today? You can vote once every day between now and December 31st! Help me win the title of favorite Crescent Cook and be entered for the chance to win $5,000! (See more voting details at the end of this post.)* Oh, and y'all better be entering our awesome Food Ninja Contest now, ya hear?!?
=============================================
Every Food Ninja needs good weapons in their arsenal.  This isn't to say that a Food Ninja must have EVERY weapon in their arsenal.  Jen, of Tiny Urban Kitchen, demonstrated a while back, that one good weapon can often serve multiple purposes, when she turned an aebleskiver pan into a takoyaki pan.  Now that's a deadly weapon in the hands of Jen, a skilled Food Ninja.  A trained Food Ninja chooses their weapons carefully.  This makes the weapons they do choose to include in their arsenal even more deadly, as those weapons have true purpose and are going to be used a great deal.  When my sister Food Ninjas, Bella Ninja and Salty Ninja, and I went about choosing prizes for the Food Ninja contest, we decided to focus on items that would be smart choices for a Food Ninja's arsenal.  We hand-picked the prizes based on strict criteria.  We've already told you what those prizes are, but let's have a closer look:
1. Zojirushi Zutto Neuro Fuzzy Rice Cooker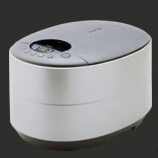 This rice cooker has a sleek ninja look and comes equipped with Neuro Fuzzy logic technology, which results in perfectly cooked rice every time. (See Marc, of No Recipe's awesome post about Neuro Fuzzy logic technology.)  A smart Food Ninja knows a good thing when he/she sees it, and any guarantee of quality like perfectly cooked rice every time is a sure winner.  Anyone who knows me at all knows that I'm a bit of a Zojirushi devotee.  My current Zojirushi rice cooker is named Zo and she and I bond daily.
2. Ergo Chef Guy Fieri Knuckle Sandwich 8-inch Chef's Knife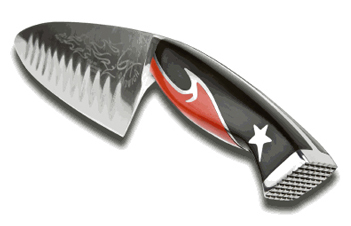 Okay, any knife that comes with this title: "Knuckle Sandwich 8-inch Chef's Knife — 'Big Stick' with CrissCross Crusher" is definitely designed for the Food Ninja arsenal.  Not only does this knife come with a deadly sounding name, but it looks pretty "ninja-ish" too.  The red and black color scheme with the white star screams ninja, and the quality of materials, ergonomic design (to reduce stress on the Food Ninja's wrist and arm), sharp blade, and affordable price make this an obvious choice for the Food Ninja arsenal.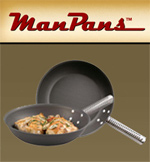 A fry pan is a necessary piece of equipment in any Food Ninja arsenal.  This particular fry pan is an especially awesome choice, because not only is it coated in a special super-hard nonstick coating (metal utensil safe!) that allows you to cook with less oil and makes cleanup easier, and has a cool grip handle that doesn't get hot (even when the pan is smokin'!), but it is eco friendly!  ManPans has worked hard to reduce their carbon footprint by doing things like manufacturing their products completely in one location to save on transportation costs and energy and using water based coatings on their pans that use no PTFE or any other petrochemicals (have no toxic waste and are completely inert).  A true Food Ninja should care about the environment.
4. Marx Foods Dried Hot Chili Sampler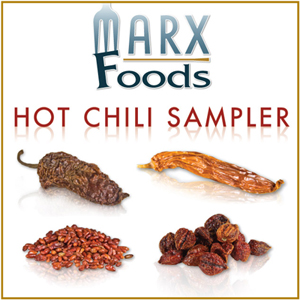 Any Food Ninja should become well-versed in cooking with chilis, as they are used in many of the World's cuisines.  Having a selection of dried chilis in your arsenal will mean that you can add delicious flavor to meals, no matter the season.  This dried chili sampler will give one lucky Food Ninja a head start, helping them learn about different varieties by getting some hands on experience.  But never fear, Food Ninjas are not without resources!  Marx Foods provides plenty of chili help on their blog, including how to cook with the Ghost Chili, the hottest edible pepper in the world!
5. 'The Food Matters Cookbook,' by Mark Bittman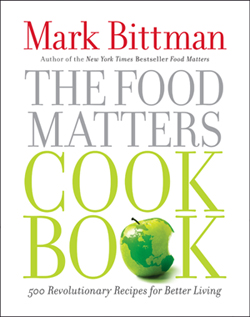 This book is awesome and truly representative of Food Ninja cooking.  If Beet Tartare, Lentil "Caviar," and "Fruitcake You Actually Want to Eat" (hint: no fake neon-colored candied fruit included) don't sound like ninja genius, then I don't know what does!!  Bittman's newest book is all about flipping meat and other animal products from the center piece to the garnish, and increasing intake of vegetables, fruits, and whole grains.  But we're not talking about food that's just "good" for you.  We're talking about food that you can't wait to make and eat!  I'm currently drooling over the sound of "Noodles with Spicy Cabbage and Pork," "Corn and Sweet Potato Chowder with Chipotle," and "Coconut Tart with Chocolate Smear."  Having a few cookbooks filled with tons of useful information are essential to the well-equipped Food Ninja arsenal.
If you are in/near the L.A. area, you can go and hear Mark Bittman (a certifiable Food Ninja Master) speak in person at the Skirball Cultural Center on Tuesday, October 26th!  He'll be talking about his book, simple ways to reduce our carbon footprint and waistlines, and how to buy and eat seasonally, sustainably, and pleasurably.  A book signing and tasting samples will follow the program.  For more information and to buy tickets (they're only $15 a ticket!!), see the Skirball Cultural Center website!
C'mon, let's give a huge THANK YOU to our awesome Food Ninja enablers!
If you haven't entered the Food Ninja contest yet, never fear, you've got until Sunday, October 24th, at 10pm PST to submit your entry!!
The "Notorious" Food Ninja Trio:
==================================================
* Pillsbury Crescent Cook Contest Voting:
To vote for me in the Pillsbury Crescent Cook Contest, you have to fill out the entire form below the pictures and set up an account for your vote to count. After registering the first time, you then have to log in for each subsequent vote (log in area is at the top of the page), hit the vote button, then scroll down and hit the "Enter Now" button. You'll know that your vote has been counted if you then get a screen that starts with, "Thank you for entering the My Crescent Wow Sweepstakes!" Thank you so much for your support!!