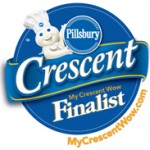 Have you voted yet today? You can vote once every day between now and December 31st! Help me win the title of favorite Crescent Cook and be entered for the chance to win $5,000! (See more voting details at the end of this post.)* Oh, and y'all better be entering our awesome Food Ninja Contest now, ya hear?!?  PLUS, the Food Ninja store is open, so you can go grab your Food Ninja swag and show off how awesome you are!
=============================================
I love fall!  I look forward to the cooler temperatures, the colors, the smells, and the foods that are in season.  It's hard to beat the abundance of harvest time.  So far this fall has been wonderful.  About a week ago we made a yearly pilgrimage to The Live Oak Canyon Pumpkin Patch, a tradition we started in 2008 right after we moved back to the US.  Not only do they have a 12-acre pumpkin patch to enjoy, but a whole bunch of other activities like a petting zoo (Squirrel & Bug could live in there and be completely happy), pony rides, games for the kid, a corn maze, food, a huge shaded picnic area, and wonderful entertainment.  It's a fabulous place to spend a day with family and the bonus is that you can load up on your fall supply of hybrid and heirloom varieties of pumpkin and squash.  If you're in the area it is worth making a special day of it!  The Pumpkin Patch will be open through Halloween Day (October 31st), with a free Trunk-or-Treat on the 31st  from 3pm — 6pm.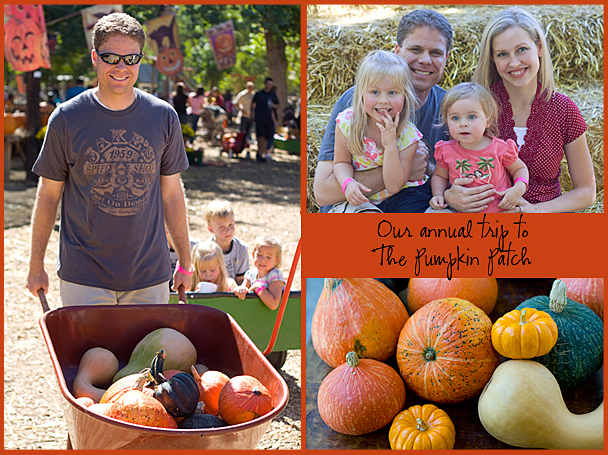 I also just spent a few days in Fresno, CA, attending the POM Wonderful 2010 Harvest Tour.  You'll be hearing more about that soon, but I loved getting to go out and pick my own pomegranates straight off the trees!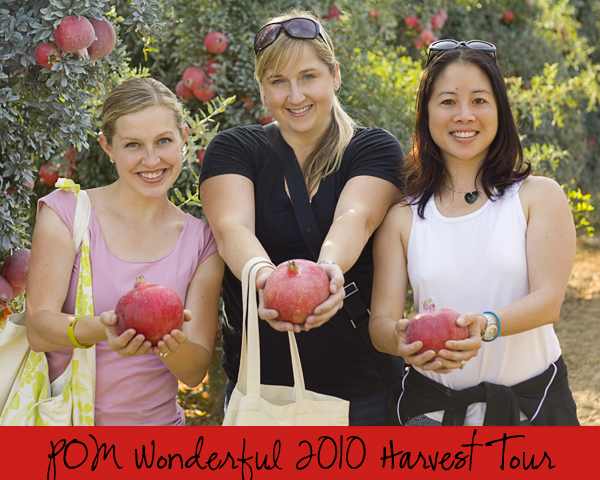 Rachael, Paula (Bell'alimento), Andrea (POM Wonderful)
I definitely take advantage of the fall harvest.  Pumpkin and squash are two of my favorite things on the planet and so during the fall I go a bit crazy, buying up as many different kinds as I can and thinking of new yummy ways to prepare them.  Luckily my family loves pumpkin and squash too, though they are probably very ready for fall to end by the time I'm through!  (Do any longtime LFM readers remember Pumpkin Palooza?)  For me, this means lots of cooking, which also means lots of cutting, chopping, slicing, and dicing!  Good knives are an important consideration.  Cutting a pumpkin open with a dull chef's knife is not only extremely difficult, but dangerous as well.  Back in August when Greg and I hosted the Sushi 101 event, I tested out 3 different knives from Ergo Chef by using them to do all of the prep work for the event, and having the chef's knife available for people to use to slice their makizushi (sushi rolls).  With the harvest season now in full swing, I thought it would be appropriate to tell you a bit about the knives, and how I go about choosing specific knives (such as a paring knife or a filet knife), as the next post in my Knife Series!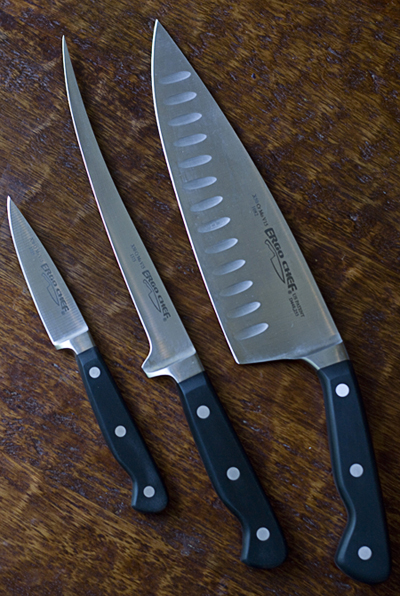 For Sushi 101 I used Ergo Chef's 3.5″ Paring Knife, 7.5″ Flexible Fillet Knife, and 8″ Chef Knife with Hollow Ground Edge.  I was instantly impressed with the knives.  Cutting through vegetables and fish was like cutting through soft butter.  By the end of the night after chopping and slicing the ingredients for a multi-course meal for 21 people, my wrist and arm were no more sore than they would have been after a bit of minimal knife work.  This made sense, as the knives are ergonomically designed—carefully balanced for better control and less fatigue, and have an ergonomically-angled handle that's designed to keep the hand and forearm in a straight line (and thus less strain on the hand, wrist, and forearm).  Working with the knives led me to think about good ways to test out how easy a knife is to use.  I thought about some of the tasks that are more difficult with different knives and then applied them to the Ergo Chef knives.
===============================================
Fuji Mama's Fillet Knife Test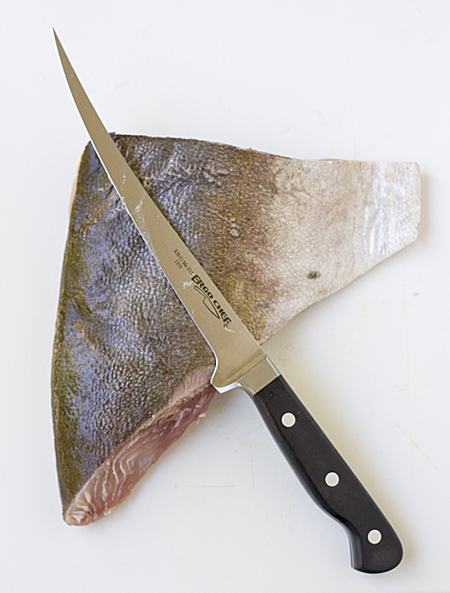 For the fillet knife I removed the skin from a large piece of yellowtail and then cut some salmon into strips and slices.  When you are working with a fillet knife that is dull or hard to handle, it is easy to have waste from not being able to cut only the skin off.  I definitely did not have this problem with the Ergo Chef fillet knife, and the flexibility of the blade made it easy to slip the blade between the skin and flesh and separate them.  Cutting the flesh of a fish into clean and even strips/chunks and thin slices can be difficult, as the raw flesh is slippery and moves around, making it difficult to be accurate.  Using this particular fillet knife made the task easier, as it sliced quickly through the salmon I was cutting with very little pressure, reducing the likelihood of the fish moving around and causing ragged cuts.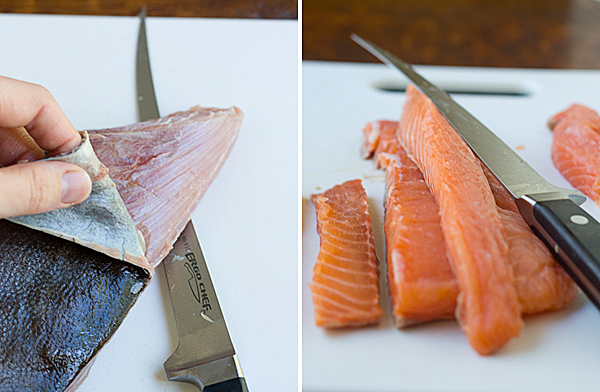 ===============================================
Fuji Mama's Chef's Knife Test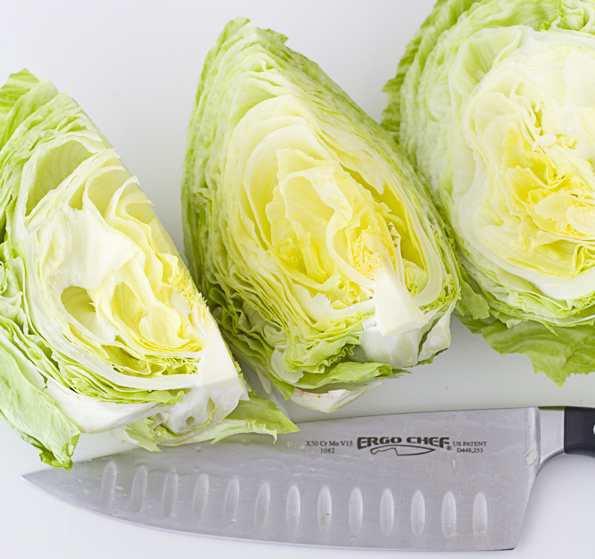 For the chef's knife, I decided to thinly slice some lemongrass.  Lemongrass is very fibrous and is impossible to thinly slice without a good sharp knife.  Not only was I able to get perfect thin lemongrass slices with the Ergo Chef chef knife, but I sliced up the entire stalk of lemongrass so fast that I was surprised when I got to the end!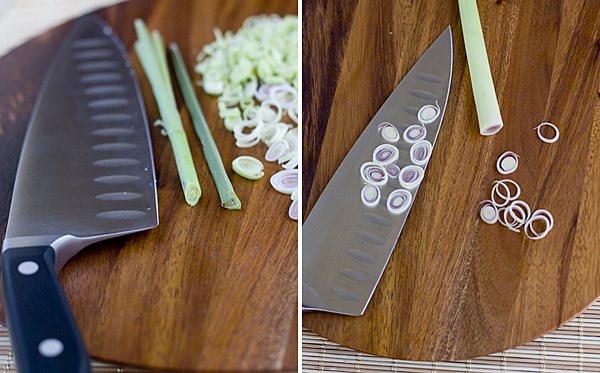 ===============================================
Fuji Mama's Paring Knife Test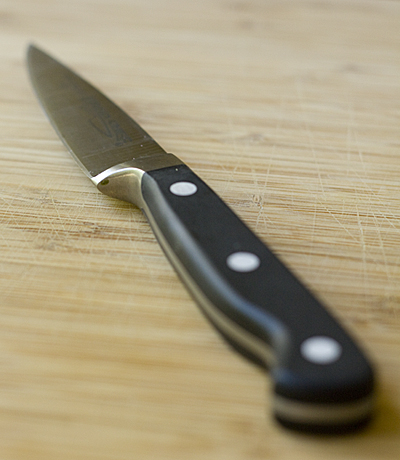 Finally, for the paring knife, I did what I always do when using a new paring knife, to see if it's worth my time and investment.  I made hand-cut carrot blossoms.  With the Ergo Chef paring knife, this was quick and easy, and my blossoms were much cleaner than they often are.  I love making blossoms to use as garnishes on sushi and vegetable platters, or to go in Squirrel's lunchbox (it's amazing how many carrot slices a kid will eat when they are shaped like flowers).  Here's a quick picture tutorial for you if you want to try it out.  You can either hand cut the carrot slices into a pentagon, or cut out a paper template to use (like I do in my picture tutorial).  The step-by-step pictures show how to make a blossom with pointier petals, but you can also use the same technique to make rounder petals, like the second blossom in the last picture below.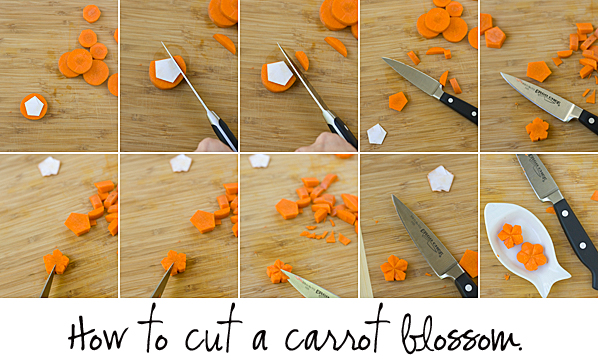 A little harvest treat for LFM readers: From now through October 31st, Ergo Chef is offering 10% off on all purchases at www.ErgoChef.com!  Just enter use this coupon code during checkout to receive your discount: fujimama1010
==================================================
* Pillsbury Crescent Cook Contest Voting:
To vote for me in the Pillsbury Crescent Cook Contest, you have to fill out the entire form below the pictures and set up an account for your vote to count. After registering the first time, you then have to log in for each subsequent vote (log in area is at the top of the page), hit the vote button, then scroll down and hit the "Enter Now" button. You'll know that your vote has been counted if you then get a screen that starts with, "Thank you for entering the My Crescent Wow Sweepstakes!" Thank you so much for your support!!
————————————————————————-
* Disclosure: The knives in this post were provided by Ergo Chef for review.