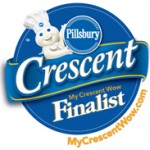 Have you voted yet today? You can vote once every day between now and December 31st! Help me win the title of favorite Crescent Cook and be entered for the chance to win $5,000! (See more voting details at the end of this post.)* Oh, and y'all better be entering our awesome Food Ninja Contest now, ya hear?!? PLUS, the Food Ninja store is open, so you can go grab your Food Ninja swag and show off how awesome you are!
=============================================
I have a treat for all of you Food Ninjas out there!  Today the awesome Sonoma Bento is here to share with you how to make your very own Food Ninja Bento, complete with a Quail Egg Ninja and a Ninja Star Onigiri.  Next week you'll get to see the awesome Food Ninja video that she made all about the bento!  Sonoma Bento is definitely a Food Ninja.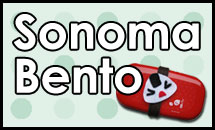 Sonoma Bento lives, works, cooks, and plays in Sonoma County, California. An avid fan of Sonoma County's year-round farmers markets, she designs bento box lunches using fresh, seasonal food. Locavore meets bento!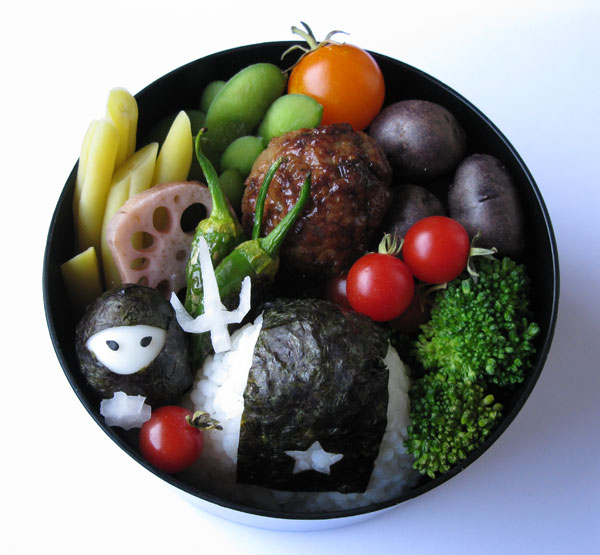 Quail Eggs are a fun addition to bento boxes for their compact protein source, mild flavor, and creative possibilities. I made this Quail Egg Ninja after seeing one designed by the amazingly talented Sheri of Happy Little Bento. Click here to see Sheri's Ninja In The Fruit Bento.
To make a Quail Egg Ninja:
You will need:
Quail eggs
Nori (toasted seaweed sheets)
Black sesame seeds
Water
Scissors
Tweezers
Step One: Hard boil quail eggs by placing eggs in a pot of cold water with about 1 or 2 tablespoons of vinegar. The vinegar makes it easier to peel the shells off. Place the pot on a cold burner, and then turn the burner on to high. Once the water has come to a boil, cover the pot with a lid and remove it from the burner. Let the quail eggs sit for 5 to 7 minutes in the pot. Slowly pour the water off into the sink, while running cold water onto the quail eggs from the tap. Once eggs have cooled, peel them. Save some eggs for later, or make a whole army of Quail Egg Ninjas with the following steps.
Step Two: Fill a small bowl with water. With scissors, cut out two pieces of nori (toasted seaweed) into shapes that resemble those in the photograph.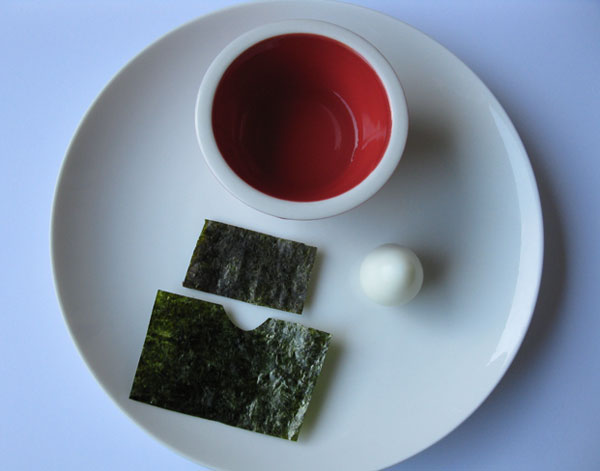 Step Three: Wrap the top piece of nori around the top of the quail egg, using your finger moistened with a bit of water to help coax the nori into shape and around the top of the egg.
Step Four: Wrap the second piece of nori around the lower half of the egg, so that there is an area for your Ninja to peek out from his costume. Use water to make the nori fit and wrap around the egg. If there is too much nori, use scissors to gently cut it away.
Step Five: Use tweezers to place black sesame seed eyes on the face of the Ninja.
Step Six: Be afraid, be very afraid!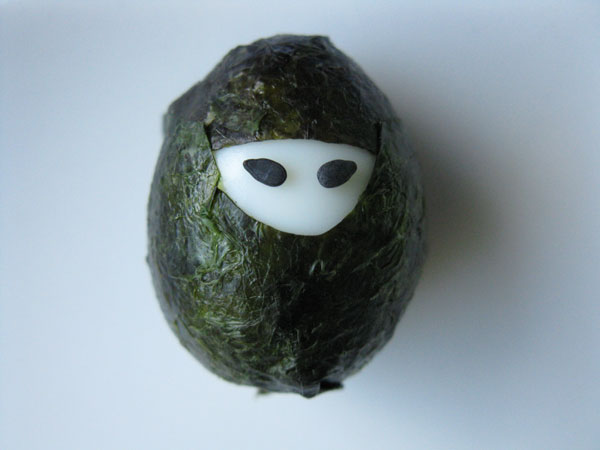 Feel free to accessorize your Quail Egg Ninja with throwing stars and swords. I used radish to make my ninja's weapons, but cucumber would work as well.
Onigiri are Japanese rice balls. They are a great way to pack carbs into a bento and can be filled with bits of meat or bean paste, or really whatever non-saucy ingredient you like. And by saucy—I mean food in a sauce, not saucy as in smarty-pants. Onigiri are also fun and easy to decorate.
To make a Star (or other shape) Onigiri:
You will need:
Cooked white sushi rice or other sticky rice
Plastic Wrap
Nori (toasted seaweed sheets)
Craft punch
Step One: Tear a piece of plastic wrap large enough to generously cover your palm. Spoon warm cooked rice into the plastic wrap in a ball.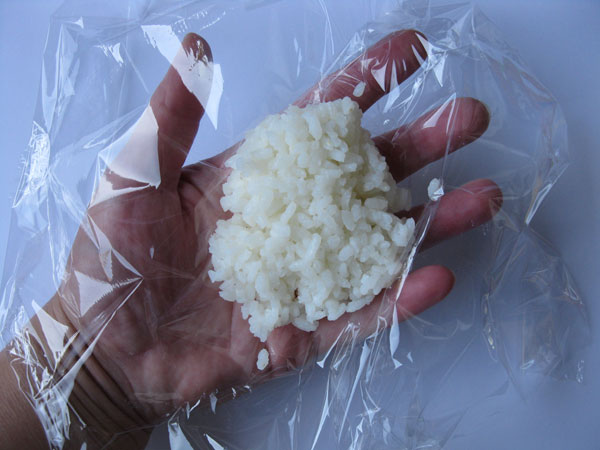 Step Two: Mold the rice into a ball shape with the plastic wrap. At this point you can insert a small bit of meat or other ingredient into the center of the onigiri before you mold it into a triangle shape, covering the filling with more rice.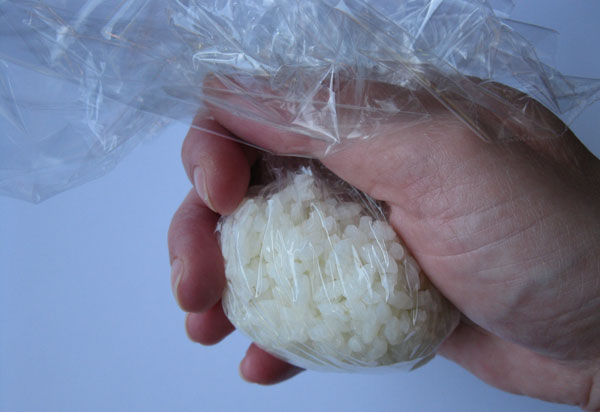 Step Three: Use your hands to form the rice into a flattish triangle shape.  At this point, I like to put the onigiri in the fridge to cool down while I fix the rest of my bento ingredients.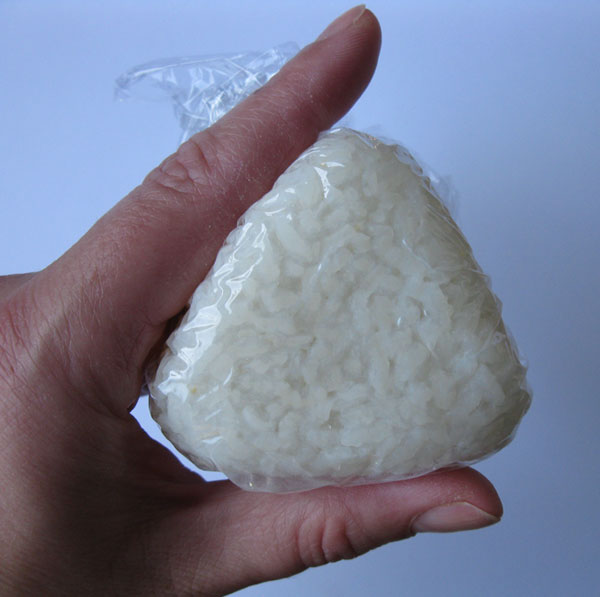 Step Four: Cut a strip of nori (toasted seaweed) to fit about half way around the onigiri. Just eyeball it, no need to get out the protractor.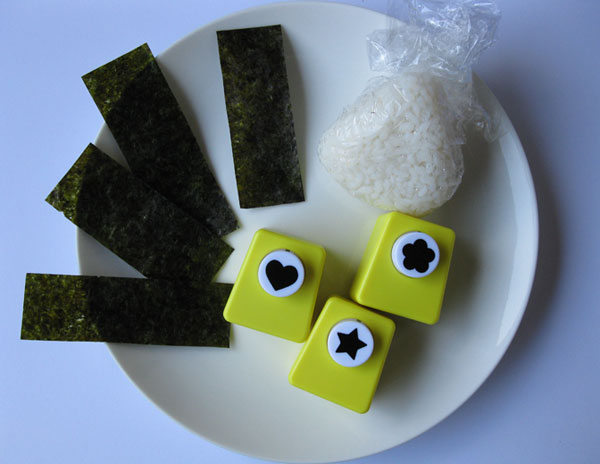 Step Five: Align the nori strip into a craft punch and punch out your desired shape (a star in this case).  You can use the star shape that you punched out to decorate something else in your bento box.
Step Six: Unwrap the onigiri rice ball from the plastic wrap, then place the nori strip onto the center of the rice ball, then gently fold the nori strip over the top of the triangle to the opposite side.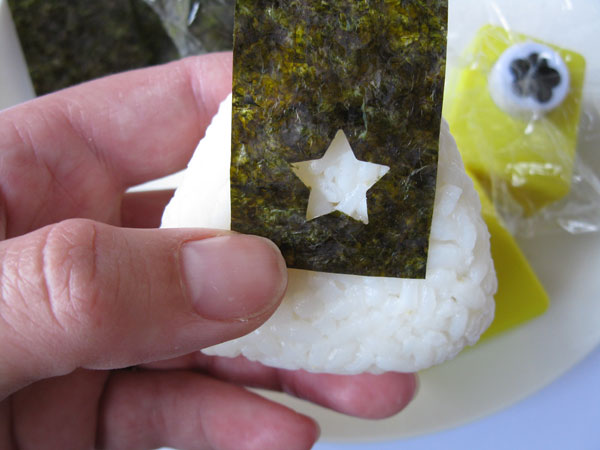 Step Seven: Rewrap the onigiri with the plastic wrap to help mold the nori to the rice ball.  Once the nori has stuck to the rice ball, you can unwrap the onigiri and place it in your bento box.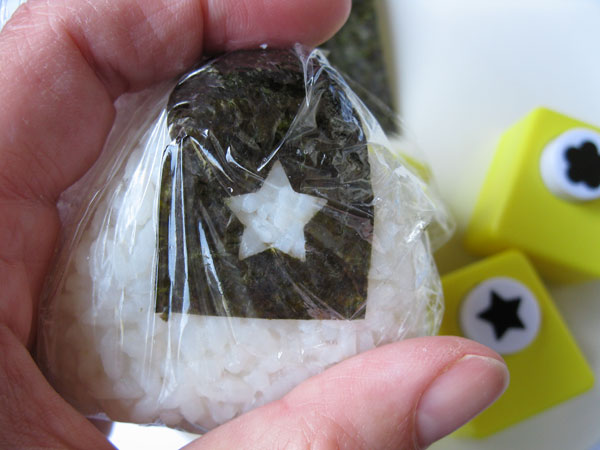 Feel free to try any kind of shape you want, and don't shy away from fun, detailed craft punches.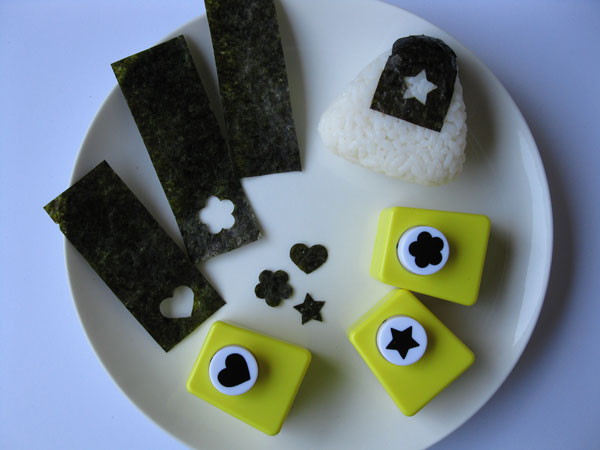 ==================================================
* Pillsbury Crescent Cook Contest Voting:
To vote for me in the Pillsbury Crescent Cook Contest, you have to fill out the entire form below the pictures and set up an account for your vote to count. After registering the first time, you then have to log in for each subsequent vote (log in area is at the top of the page), hit the vote button, then scroll down and hit the "Enter Now" button. You'll know that your vote has been counted if you then get a screen that starts with, "Thank you for entering the My Crescent Wow Sweepstakes!" Thank you so much for your support!!