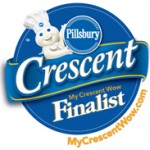 Have you voted yet today?
You can vote once every day
between now and December 31st!
Help me win the title of favorite Crescent Cook
and be entered for the chance to win $5,000! (See more voting details at the end of this post.)
*
Oh, and y'all better be entering our awesome
Food Ninja Contest
now, ya hear?!? PLUS, the
Food Ninja store is open
, so you can go grab your Food Ninja swag and show off how awesome you are!
=============================================
I was totally inspired by the POM Wonderful 2010 Harvest Tour last week.  You'll be hearing a lot more about it, but I have so many pictures and video that I took, that it is taking a bit longer than I expected to pull everything together into cohesive posts!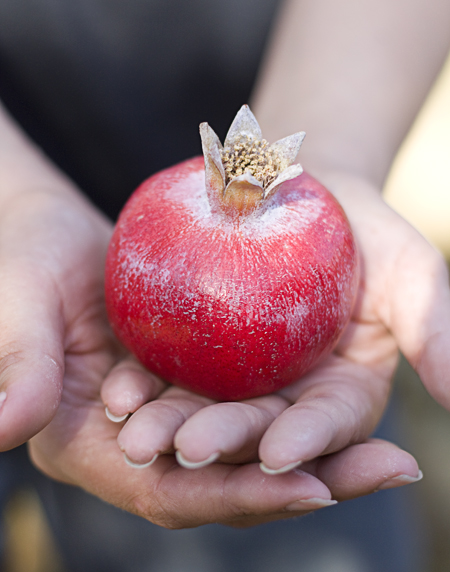 My head has been filled with ideas on how I want to use pomegranate juice and arils.  Today I made one of those ideas a reality—roasted squash with a pomegranate reduction and a sprinkling of pistachios and pomegranate arils.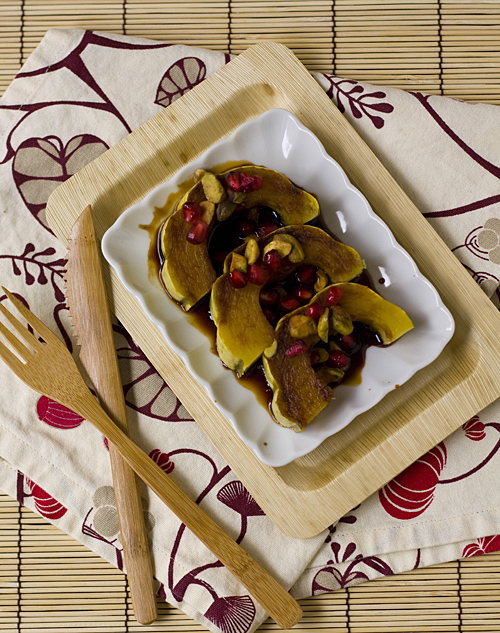 A few weeks ago Shauna (Gluten Free Girl and the Chef) tweeted about Delicata squash.  I tweeted that I had never tried it and she gave me a fall homework assignment of seeking it out and trying it.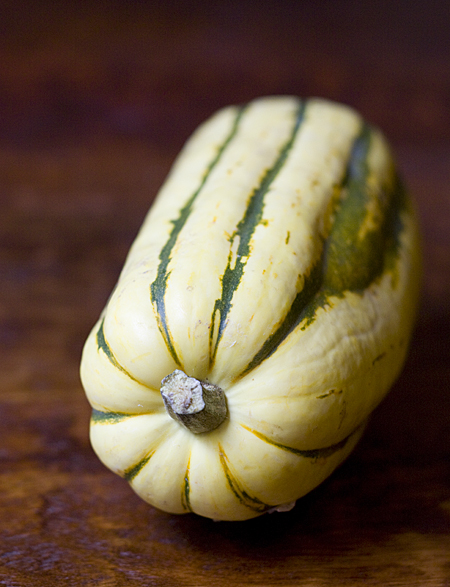 She told me that her favorite way to eat it was simply to roast it and sprinkle it with salt.  I've been on the lookout ever since and finally spotted it a couple of days ago at our Farmer's Market.  I cut the squash in half, scooped out the seeds, and set it in a baking pan with a bit of water.  Then I covered the pan with tinfoil and put it in the oven to roast until it was fork tender.  While it was cooking I used some POM Wonderful pomegranate juice to make a pomegranate reduction.
I cut the squash into slices, drizzled them with the reduction and then sprinkled them with dry roasted and salted pistachio nuts and fresh pomegranate arils.  The creamy squash was delicious with the sweet and tangy pomegranate reduction.  The pistachios added a wonderful crunch and the saltiness balanced well with the sweetness of the squash.  The pomegranate arils gave a refreshing burst of juice every time I bit into one.  This dish really celebrates the harvest season. Delicata squash, pomegranates, and pistachios are all in season right now.  Not only does it celebrate the harvest, but it is gluten-free, inspired by my friend Shauna.  The dish is the perfect side to a roasted chicken.  You could also roast some sliced apples with the squash, or add some crumbled goat cheese for tangy creaminess.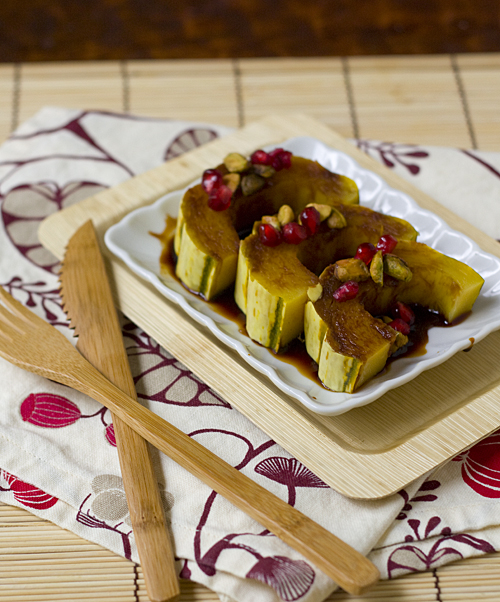 Print This Recipe
Roasted Squash With a Pomegranate Reduction, Pistachios, & Pomegranate Arils
Makes 3 — 4 servings
9-inch Delicata Squash
8 ounces pomegranate juice
1 tablespoon honey
1/8 teaspoon table salt
4 teaspoons dry roasted and salted pistachio nuts
4 teaspoons fresh pomegranate arils
1. Prepare the squash: Preheat the oven to 375 degrees Fahrenheit.  Wash the outside of the squash, then cut it in half lengthwise.  Scoop out the seeds.  Place the squash cut side down in a baking dish with 1/2-inch of water.  Cover the baking dish with tin foil and bake in the oven for 30 to 40 minutes, or until the squash is fork tender.
2. Prepare the pomegranate reduction: Bring the pomegranate juice, honey, and salt to a boil in a 2-quart saucepan over medium-high heat.  Reduce the heat to medium-low and simmer the mixture until has reduced by half, about 20 to 30 minutes.
3. Assemble the dish: Cut the squash into slices and place on a plate.  Drizzle with the pomegranate reduction, then sprinkle with pistachios and pomegranate arils.  Serve.
Recipe Variations:
* Add a sliced apple to the baking dish with the squash.
* Add crumbled goat cheese before serving.
==================================================
* Pillsbury Crescent Cook Contest Voting:
To vote for me in the Pillsbury Crescent Cook Contest, you have to fill out the entire form below the pictures and set up an account for your vote to count. After registering the first time, you then have to log in for each subsequent vote (log in area is at the top of the page), hit the vote button, then scroll down and hit the "Enter Now" button. You'll know that your vote has been counted if you then get a screen that starts with, "Thank you for entering the My Crescent Wow Sweepstakes!" Thank you so much for your support!!