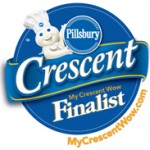 Have you voted yet today? You can vote once every day between now and December 31st! Help me win the title of favorite Crescent Cook and be entered for the chance to win $5,000! (See more voting details at the end of this post.)* Oh, and y'all better be entering our awesome Food Ninja Contest now, ya hear?!? PLUS, the Food Ninja store is open, so you can go grab your Food Ninja swag and show off how awesome you are!
=============================================
Last week I flew up to Fresno, CA for the POM Wonderful 2010 Harvest Tour.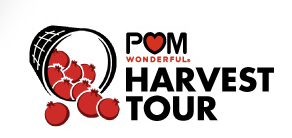 Not only was my time spent in Fresno fun, delicious, and educational, but I had the treat of spending the days with a group of amazing people.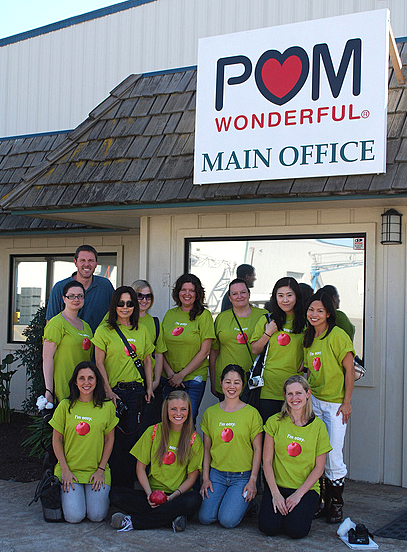 Blogging is often a solitary activity, but with a little bit of effort and attending events such as this one, you can find yourself enveloped in a wonderful community of talented people who love food as much as you do. It's also nice not to be the only person taking pictures of their food!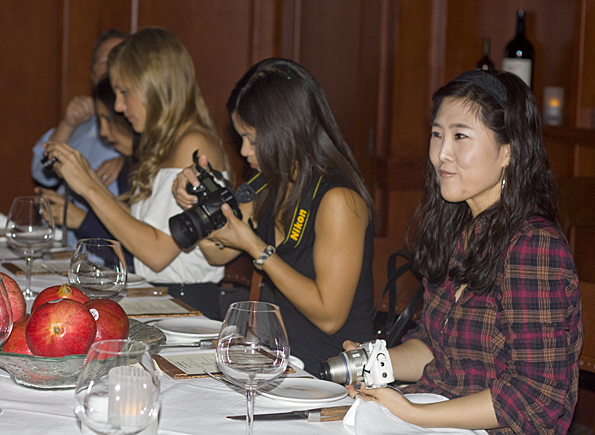 I was lucky to spend several days with these amazing bloggers, as well as Andrea and Mike from POM Wonderful:
The POM Wonderful 2010 Harvest Tour started with dinner on Thursday, October 14th and ended with lunch on Saturday, October 15th.  The time in between was crammed full of socializing, eating, and, of course, pomegranates!  Pomegranate season started a little over a week ago and so we enjoyed getting to celebrate the harvest season.  On Friday we toured the POM Plant.  This is where millions of pomegranates are delivered, sorted, juiced, and bottled.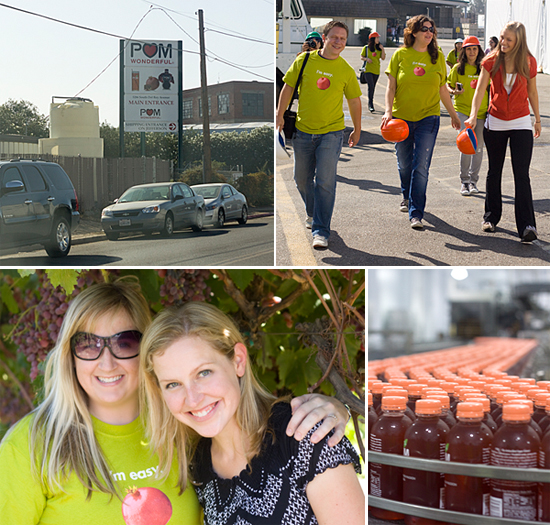 Not only did we get to see the whole process, but we got to feast on tons of treats, including the soon to be released LITE POM juice!!  The pomegranate dragon fruit flavor was definitely my favorite.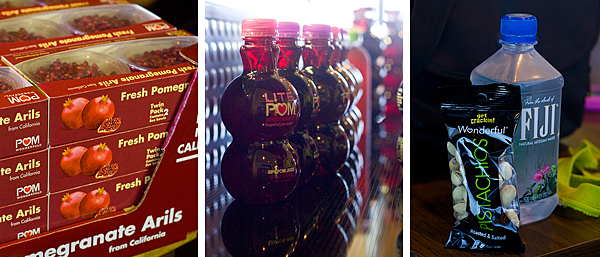 I'll be telling you all about how pomegranates go from blossom to bottle in an upcoming post.  It's a fascinating process!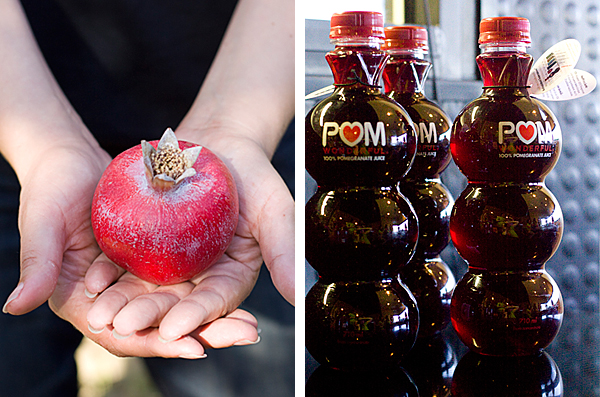 That evening we were treated to a meal, created just for our group, at Fleming's Steakhouse.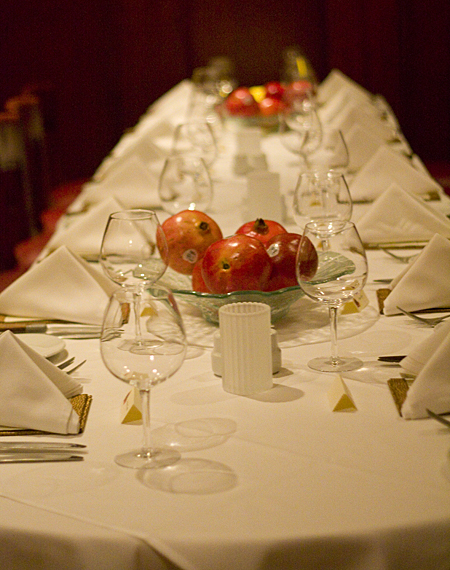 We were spoiled with a warm spinach salad topped with goat cheese, pancetta, and fresh pomegranate arils.  For our main course we were given 3 options.  I chose to have the petite filet topped with bleu cheese and drizzled with a pomegranate reduction.  With the main dish we had three different sides—creamed spinach, potatoes baked with cream, jalapenos, and cheddar cheese, and sauteed mushrooms with garlic.  We ended the meal with a pomegranate infused creme brulee topped with fresh pomegranate arils.  They also brought out some chocolate lava cakes with ice cream.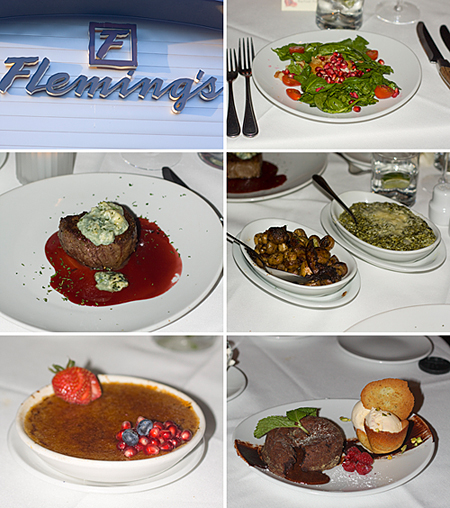 On Saturday we took two small planes and flew out to POM's 18,000 acres of pomegranate orchards, near Bakersfield, CA.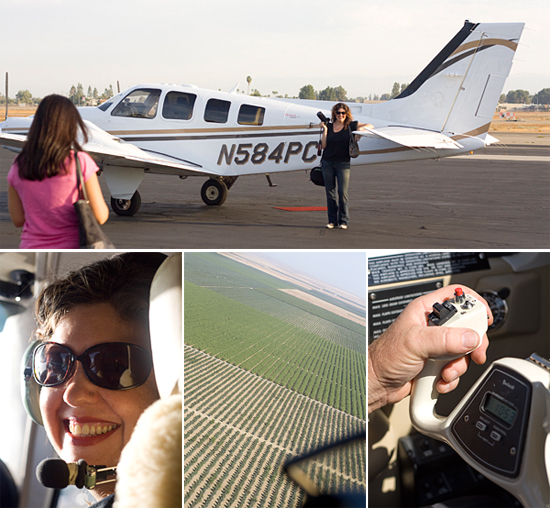 We spent the morning admiring the gorgeous trees, bowed down with their heavy ruby colored globes, learning about the growing and harvesting process, picking as many ripe pomegranates that our bags could hold, and even getting to pick ripe almonds!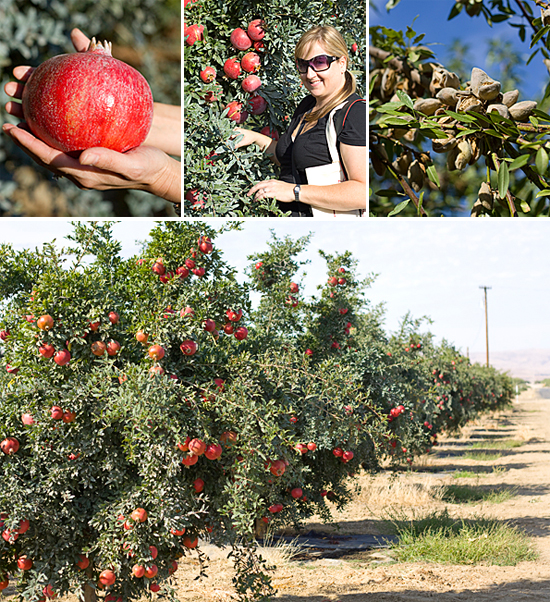 After the orchard tour, most of the group left.  My friend Jen (Devour the World) drove up from L.A. and joined those of us still in town (Nicole, Olga, and Paula) for an evening of sushi, socializing, and Paula's first taste of an In-N-Out hamburger.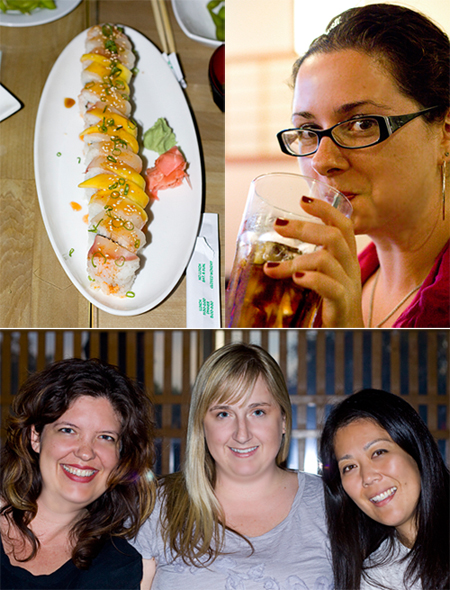 The trip was wonderful.  I came away feeling refreshed, inspired, and with a new respect for the pomegranate.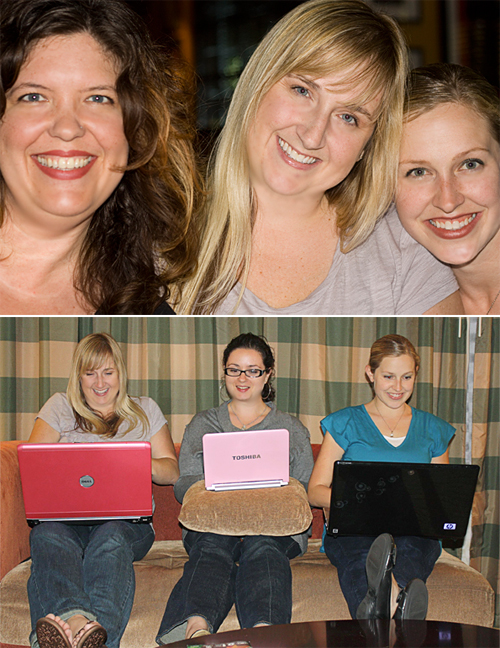 I also came away with a severe addiction to pomegranate arils mixed with Nutella. This is ALL Paula's fault. She brought "pocket Nutella" to the event and discovered that mixing the arils into it was divine.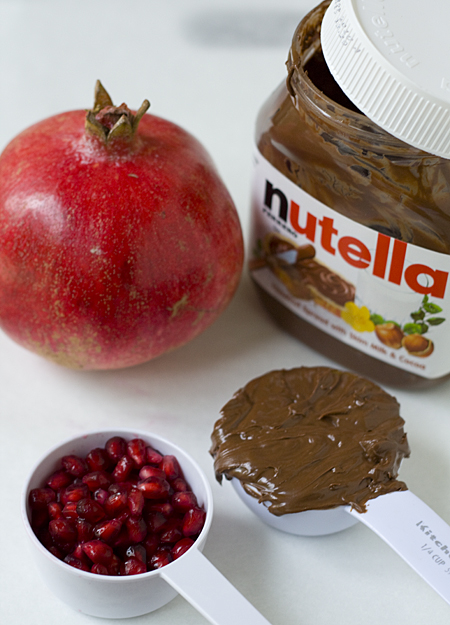 I'll play this post out with a little video of some Food Ninja moments from the trip.  See, if I can make an embarrassing Food Ninja video, so can you!
==================================================
* Pillsbury Crescent Cook Contest Voting:
To vote for me in the Pillsbury Crescent Cook Contest, you have to fill out the entire form below the pictures and set up an account for your vote to count. After registering the first time, you then have to log in for each subsequent vote (log in area is at the top of the page), hit the vote button, then scroll down and hit the "Enter Now" button. You'll know that your vote has been counted if you then get a screen that starts with, "Thank you for entering the My Crescent Wow Sweepstakes!" Thank you so much for your support!!