I recently told you about Pam Anderson's newest book,
Perfect One-Dish Dinners and how much I love it
.  A few days after my post, I received an email from Maggy, Pam's daughter, and one of the
Three Many Cooks
.  Maggy explained that she was organizing a kind of virtual book tour and asked if I would be willing to participate.  I already knew that I loved the book, and so my obvious answer was
of course
!  She challenged the participants to have a Sunday Supper and make a recipe or an entire menu from the book to share with friends or loved ones, then write about the experience.  It has been a crazy couple of weeks at our house, and so the timing was perfect.  We definitely needed some special family time.  I mentioned a few different main dish choices to Mr. Fuji, and he immediately perked up when he heard the words "Chicken Biryani."  So I made the biryani, along with the accompanying menu recipes for a baby spinach salad with mango, red onion, and cilantro, and a recipe for apricot-date-pistachio bars.  Every time I make something from this book I love it even more, and this menu lineup was no exception.  The biryani was a snap to make and full of flavor.  The salad was refreshing and beautiful.  But really?  The best part was getting to sit down with my sweet little family and enjoy our time together around the table.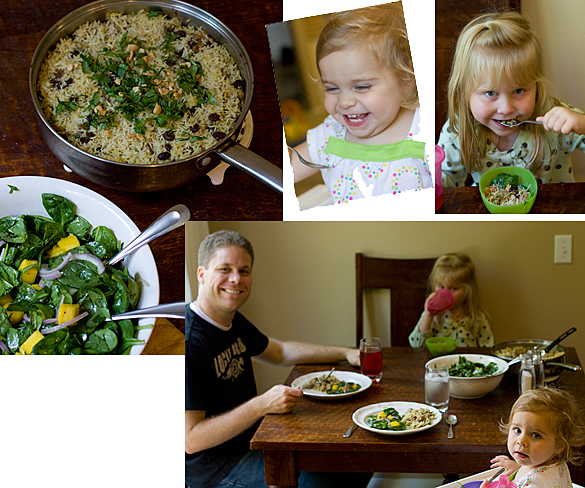 Time spent around the dinner table as a family is so valuable, though at times it requires a lot of effort and coordination to pull it off.  It makes me grateful for the time and effort my own mother put into making sure we always had dinner together as a family.  I have such fond memories of those meals, and know that we were closer then and are closer now because of that effort.
Not only did we get some special family time, but Squirrel and I had some special baking time too!  Squirrel joined me in the kitchen to make the cookie bars.  When I did my grocery shopping for the meal I was sure that I had cardamom and dates.  Then when Squirrel and I went to make the bars I couldn't find the dates and realized that my cardamom spice jar was empty.  Sigh.  Instead of running to the grocery store I decided to "Fuji-fy" the bars a bit and use some items we already had on hand.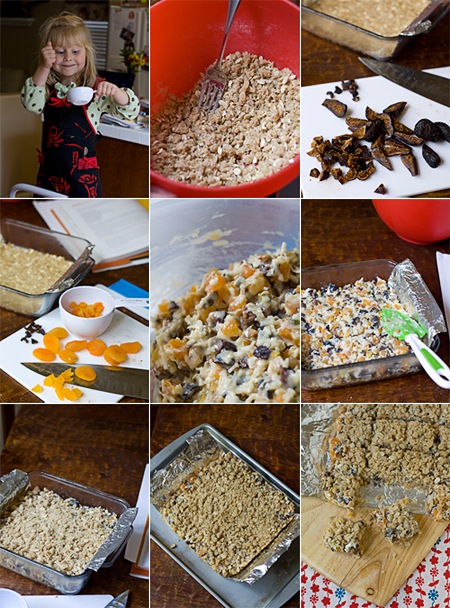 I replaced the dates with some dried Black Mission figs that I still had on hand from the California Fig Advisory BoardBlack Miss (remember Fig Week? Yum!) and used allspice in place of the cardamom.  I'm sure the recipe as it was originally written is delicious, but after making them the Fuji-fied way, I'm not sure my family would be happy if I changed anything!  These bars are bursting with dried fruit, nuts, and coconut and use one of my all-time favorite ingredients (sweetened condensed milk)!  The bars were delicious, moist, chewy, and rich—entirely addicting.  The various dishes we made were a huge success and definitely made for a perfect dinner.  If you don't already have a copy of the book, you need one!  If you're not convinced, visit some of the other book tour participants (links after the recipe)!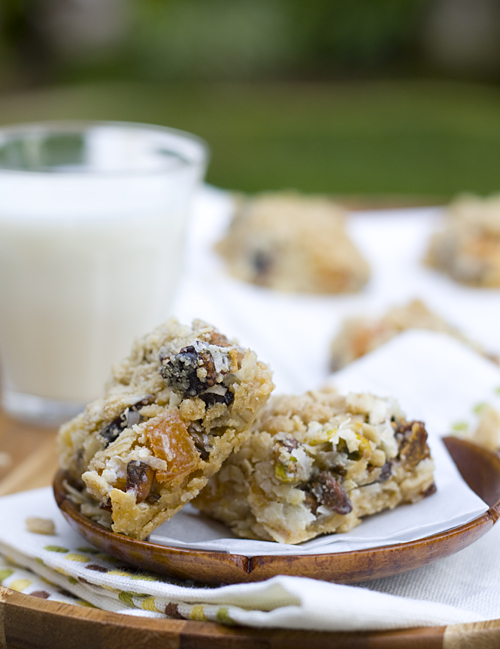 Print This Recipe
Apricot-Fig-Pistachio Bars
Adapted from Perfect One-Dish Dinners, by Pam Anderson

Makes 16 bars
1/2 cup bleached all-purpose flour
1/2 cup old-fashioned oatmeal
6 tablespoons packed light brown sugar
1/2 stick (4 tablespoons) unsalted butter, melted
3/4 cup sweetened condensed milk
1/2 teaspoon ground allspice
1 cup sweetened flaked coconut
1 cup shelled roasted and salted pistachios
1 cup chopped dried figs
1 cup chopped dried apricots
1. Adjust oven rack to the lower-middle position and preheat the oven to 325 degrees Fahrenheit.  Spray an 8-inch square metal baking pan with vegetable-oil cooking spray.  Fold a 16-inch length of heavy-duty foil to 7 1/2 inches wide and lay it across the pan bottom and up two of its sides so the foil overhangs to remove the bars from the pan.  Spray the foil with the vegetable-oil cooking spray.
2. Mix the flour, oatmeal, and sugar in a medium bowl.  Stir in the butter with a fork until it is well mixed and clumps form.  Spread 3/4 cup of the oatmeal mixture into the prepared pan, pressing it down to form a thin crust on the bottom.
3. Meanwhile, heat the condensed milk and allspice to a simmer in a small saucepan over low heat to blend the flavors.  Mix the coconut, pistachios, figs, and apricots in a medium bowl.  Add the milk mixture and stir to combine.  Pour over the oatmeal crust in the pan, using a rubber sptaiula to press the mixture into place.  Sprinkle the remaining oatmel mixture over the filling.
4. Bake the bars until they are lightly golden, about 30 minutes.  Set on a wire rack and cool for 5 minutes.  Using the foil handles, gently lift the bars from the pan and cool to room temperature (the bars will continue to set as they cool).  Cut into squares and serve.
Check out the other delicious stops on the Perfect One-Dish Dinners book tour!