Food Ninjas can be a skittish bunch.  They keep to the shadows, dress in disguise, and bide their time until their skills are needed.  The cry for Food Ninjas to emerge and join forces in a merry band of culinary assassins was given and some of our fellow Food Ninjas were brave enough to venture out into the light and proudly display their skills for all of you to see.
The time has come.  Today we are unveiling the amazing entries in the Food Ninja Contest.  Be afraid.  Be very afraid!  The humor, talent, and skill that has gone into each of these entries is amazing.  I hope you enjoy them as much as Bella Ninja, Salty Ninja, and I have.  I am listing each entry for each category below.  Please look at the entries in each category and then vote on the entry that you think most embodies the "Food Ninja Spirit" in that category!  Due to some technical difficulties, we weren't able to get voting launched when we had originally planned, so we will extend voting until the end of this week.  The polls will close this Saturday, October 30th, 2010, at 10pm PST, and the winners will be announced on Monday, November 1st, 2010!  So get out and VOTE!
Food Ninja Blog Posts
1. Andrea (Berlin, Germany), Die Hohle der haarigen Biester, breaks out her Food Ninja skills to teach us how to turn a small cheese (Babybel) into a Ninja! Baby-Ninja
2. Christine Wendland (Brown Mills, NJ), Food For Life, tells a fearsome tale of "pumpkin whacking" that resulted in a delicious pumpkin soup recipe: The Good, the Bad, and the Ugly…Pumpkin.
3. Debra (outside Seattle), Hapabento, tutors us in the Food Ninja art of making awesome edible leaves that are perfect for an autumn bento: Leaf Impressions For Your Bento
4. Denise, Wasabi Prime, introduces us to her quest to become a Food Ninja in comic book form, then tells us the tail of a missing ingredient: Mixed Plate: Heading the Primal War Cry of FOOD NINJA
5. Erin Carstens, Pieholes & Plyos, delves into the Food Ninja science of how pleasure works: Pieholes: This Is How Pleasure Works
6. Giulia, aka Flaming Food Ninja (Tuscany, Italy), Juls Kitchen, introduces us to Flaming Food Ninja, "a girl who, when it comes to food and sweets, burns with joy and sets on fire with her enthusiasm whoever is around," shows off her weapon and creates a masterpiece: I'm a Food Ninja! Coffee and Cardamom Creme Brulee
7. Jacqui, Everyday Cook, tells the story of honing her Food Ninja skills by attempting to make Quay's ambitious snow Egg from Masterchef.
8. Janis (New England), Bite Me New England, has pint-sized Parker as a guest on her blog to present a very convincing case for why his Grammy is a Food Ninja. It's hard to argue with someone as cute as Parker.  You've been warned! My Grammy is a Food Ninja
9. Jen, aka Hana Ninja (L.A., CA), Devour The World, explains why her status as a Traveling Food Ninja should have all of you VERY frightened in her post Hana Ninja: I'm a Food Ninja
10. John Goddard (Portland), JohnJGoddard.com shares a blog post teaching us how to make Frittata with Fresh Salsiccia and Penne–a dish any Food Ninja should master! Frittata with Fresh Salsiccia and Penne
11. Lara Alexander (Seattle), Food. Soil. Thread., frightens us into submission with her Food Ninja knife skills and teaches us how to chiffonade some greens in the process: Mad Knife Skills – How to Chiffonade Greens
12. Laurie Iseman (Mashpee, Cape Cod, MA), Fishtails and Pearls, writes about how life's real lessons are taught and learned in the kitchen in her post, Cooking can be a life changing event.
13. Marisa, A Few Rotten Vegetables & a Piece of Moldy Cheese, shows how a Food Ninja approaches her final test in culinary school by bringing death to the dining room: Do you think your Wu-Tang sword can defeat me?
14. Mindy (Toronto), A Balanced Kitchen, tells the tail of a Food Ninja in training who decides to prove her skills by attempting to replicate one of the all-time greatest Food Ninjas, Susur Lee: Food Ninja and Susur Lee
15. Olga (D.C.), Mango & Tomato, shows us how a real Food Ninja wields knives in the kitchen with her post on Ninja knife skills: My Knife Skills Class for 5 DC Bloggers (and friends)
16. Paola Thomas (Seattle), mirrormirror, does death-defying things with red hot peppers in her post, Food Ninja — Peperoncini e Melanzane Sott'olio
17. Quirks (Cynthia) and Smirks (Sarah) (Florida), Quirks and Smirks, share a Food Ninja tale of tomatoes, peppers, and cheese and how they all joined to become a soup: Roasted Tomato Soup
18. The Bankrupt Gourmet (Marietta, CA), The Bankrupt Gourmet, shares some insider Food Ninja information about a low-cost Vietnamese fish: Swai? – New Low $$$ Fish
19. The Country Cook (California), Delightful Country Cookin', takes a trip to Morocco without leaving her home. Now that takes Food Ninja Skill! moroccan bastilla
[poll id="2″]
=========================================================
Food Ninja Photos
1. Baking Barrister, The Baking Barrister, gives us a scary visual definition of what a "tort(e) ninja" is: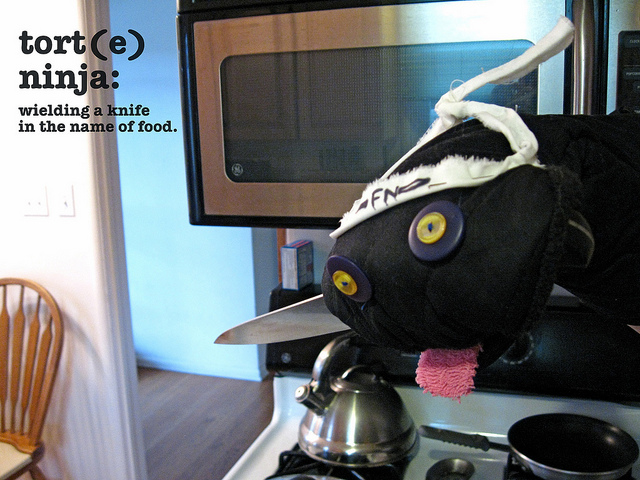 2. Joan, Foodalogue, Joan's family has food fights, battled a la Iron Chef, which are published on her son's blog, Our Family Food Fight, and her own blog, Foodalogue. She explains that they're part of a very food-centric family and the 3 of them have been doing these challenges for a few years.  She says that it's a great way to spend the day together—and you get to eat at the end!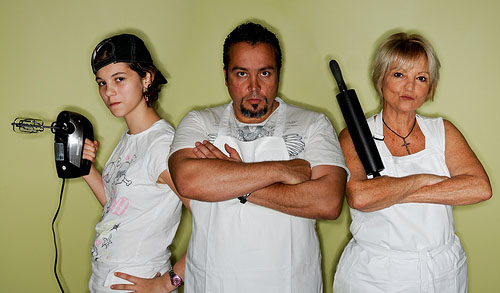 3. John Goddard (Portland), JohnJGoddard.com makes our taste buds water with this Food Ninja photo of a juicy ribeye steak: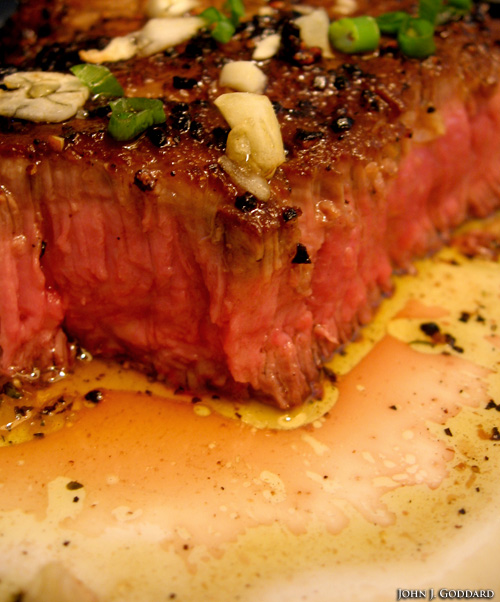 4. Patio Daddio (Boise, Idaho), Patio Daddio BBQ, tortures us with a photo of delicious looking Chipotle Lime Steak: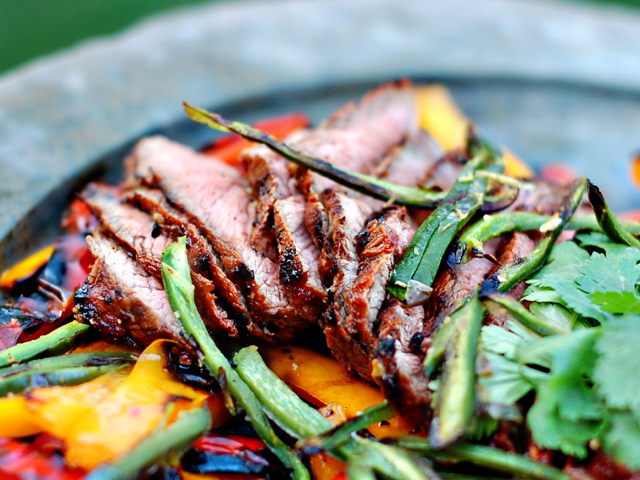 5. Sherimiya (San Francisco Bay Area), Happy Little Bento, shows how she posts a Food Ninja guard in her child's bento box to make sure that no one attempts to steal any fruit.  A very dangerous looking little guy! Ninja In The Fruit Bento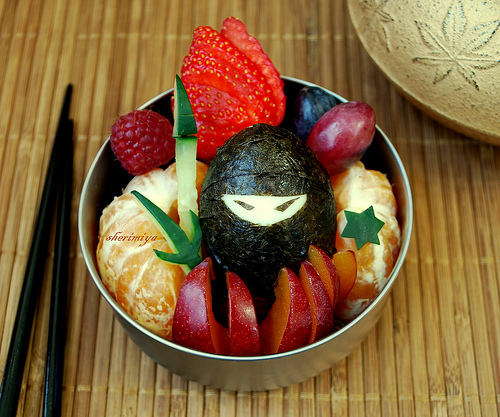 6. The Bankrupt Gourmet (Marietta, CA), The Bankrupt Gourmet, reveals the craziest thing she has ever done in a cooking contest: grilling pickles.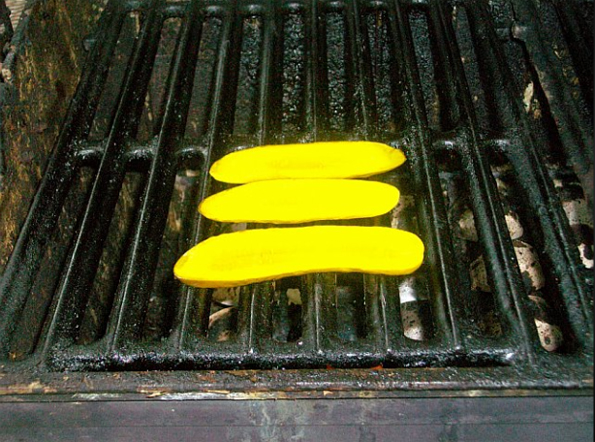 7. The Country Cook (California), Delightful Country Cookin', tantalizes our tastebuds with this photo of pico de gallo: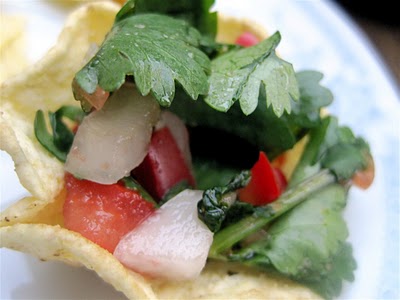 [poll id="3″]
=========================================================
Food Ninja Recipes
1. Barbara (Utah), Barbara Bakes, shows she has the Food Ninja skills necessary to save cookies from the brink of disaster and shares the resulting delicious recipe for Maple Pecan Cookie Bars.
2. Jacqui, Everyday Cook, temps our Food Ninja tastebuds with a recipe for Spaghetti with Asparagus, Zucchini, Lemon Zest and Parmesan Cheese.
3. John Goddard (Portland), JohnJGoddard.com, tests our will-power with a recipe for delectable Zucchini Fritters.
4. Kathy Gori (Sonoma, CA), The Colors of Indian Cooking, shares her Chile Verde recipe for "True Ninjas" as she cooked under the threat of the knife and blogged on painkillers: Cooking When You're Going To Be Unconscious
5. Cathy Shambley (SoCal), Show Food Chef, shares a Food Ninja-worthy recipe for Ninja Energy Bites (aka, homemade tootsie rolls).  So go exercise your Food Ninja knife skills, work out your agression by punching and kneading the dough, and then power up with these little chocolaty bites of Ninja energy!  Homemade Tootsie Rolls — Ninja Energy Bites
6. Mindy (Kentucky), Mindy's Mouthful, does what any Food Ninja would do and takes an unexpected ingredient and turns it into a delicious recipe for Radish Leaf Soup.
7. Quirks (Cynthia) and Smirks (Sarah) (Florida), Quirks and Smirks, pull a sneak attack on the unsuspecting falafel eater with a recipe for cheese stuffed falafel: Stuffed falafel
9. The Bankrupt Gourmet (Marietta, CA), The Bankrupt Gourmet, gives us a Food Ninja way to eat our veggies with this recipe for Trio's Spinach Dip:
TRIO'S SPINACH DIP
1-10 ounce package frozen, chopped spinach (thawed and squeezed dry)
2 cups grated Monterrey Jack cheese
1-8 ounce package cream cheese, softened
2 small onions, diced
2 tablespoons chopped, pickled jalapenos
1/2 cup half-and-half
2 cups canned, diced tomatoes-drained (fire-roasted tomatoes very tasty)
Preheat oven to 350 degrees. In a large mixing bowl, thoroughly blend the spinach, cheese, cream cheese, onions, jalapenos and half-and-half. Fold in the tomatoes. Place the mixture in a 9×13 inch casserole dish and bake for about 20 minutes or until hot and bubbly.
10. Yoshi (Illinois), dazzles us with this delicious sounding recipe for Asian Grilled Steak Lettuce Wraps:
Asian Grilled Steak Lettuce Wraps
2 pounds flank steak
2 tablespoons ginger, peeled and minced
5 cloves garlic, minced
4 scallions, minced
3 tablespoons brown sugar
1/2 teaspoon chili garlic paste
1/2 cup soy sauce
4 tablespoons lime juice
3 tablespoons sesame oil
20 leaves Bibb lettuce
1/4 cup toasted sesame seeds
2 pears, diced
In a bowl, prepare the marinade by mixing 1 tablespoon ginger, 4 cloves garlic, 2 scallions, 2 tablespoons brown sugar, 1/4 teaspoon chili garlic garlic paste, 1/4 cup soy sauce, 2 tablespoons lime juice, and 2 tablespoons sesame oil.
Place the flank steak in a large resealable bag and add the marinade.  Seal tightly and marinate in the refrigerator for at least two hours (or overnight).
In a separate bowl, prepare dipping sauce by mixing 1 tablespoon ginger, 1 clove garlic, 2 scallions, 1 tablespoon brown sugar, 1/4 teaspoon chili garlic paste, 1/4 cup soy sauce, 2 tablespoons lime juice, and 1 tablespoon sesame oil.  Set aside.
Heat grill to medium high heat.  Remove the flank steak from the marinade.  Grill the steak about 4 — 6 minutes per side, for medium rare.  Cook until prefer doneness.  Remove steak from grill and allow to rest for 8 — 10 minutes before slicing.   Slice the steak very thingly across the grain.
To serve, place some steak in each cup of lettuce.  Top with toasted sesame seeds and diced pear.  Serve with dipping sauce.
11. WenLin Soh, a.k.a. Going With My Gut (London), Going With My Gut, explains that if you're a food ninja, this means that you are a very busy person and need to keep eating well to keep up with your own dizzying pace.  So she is sharing a recipe that takes care of your carbs, vitamins, sea minerals and fish oils.  She explains that it's tasty, vegetarian friendly, oh so easy to make and super fast!  It takes less than 10 minutes, depending on how long it takes for your pot of water to boil! Super Fast Noodle Salad — Udon Tossed with Samphire, Wakame and Tobiko
[poll id="4″]
=========================================================
Food Ninja Videos
1. Chef John (San Francisco), Food Wishes, shows how Ninja chicken wing de-boning is done, and gives a bonus explanation of why he can't work at Hooters: Making the World a Better Place, One Chicken Wing at a Time
2. John Goddard (Portland), JohnJGoddard.com, reveals the secrets to cooking risotto in this video: Cooking Risotto in a Courtyard in Croatia
3. Sippity Sup (Hollywood, CA), Sippity Sup, shares the harrowing tale of brussel sprouts who go Food Ninja and get their revenge (just in time for Halloween!).  If you didn't think vegetables could be Food Ninjas, think again: Revenge of the Brussels Sprouts
4. Sonoma Bento (Sonoma County, CA), Sonoma Bento, You've already been introduced to her frightening ninja egg and ninja star onigiri, but now see this Food Ninja in action in her Food Ninja Bento Video:
[poll id="5″]
=========================================================
Food Ninja Wild Card
1. @Jeters (Location: um. The shadows? Where else would a ninja be…), FoodBat, tells the tale of a Ninja Baker in this short comic strip:
2. John Goddard (Portland), JohnJGoddard.com, gives us a culinary professional's opinion on the issue of TV and food obsession in Man v. Food Television.
3. Kirk Brewer (Plano, Texas), pulled out his poetic Food Ninja skills (Food Ninja poetry is held in high esteem in the Ninja world) to dazzle us with a set of Food Ninja haikus:
Ninja blogger posts
Bring October morning smiles,
and warm fall dinners
Food Ninja contest
Draws to a close, but we hope
The spirit lives on
4. KitchenMage (even Tinier Town, at the confluence of the Columbia River & the Pacific Ocean), KitchenMage, gives us Homemade Caviar — Are you brave enough? Homemade caviar

5. Matt Crawford (Framingham, MA), @wickedrandom, tells about Ninja Tacos: If spaghetti tacos can be a meme, certainly there must be a ninja version. Here is my take.
The most difficult part here really is the "taco" shell. To make these I took rice paper soaked it until pliable. Quickly dredge the paper in rice wine vinegar to add a little flavor and color. Carefully drape the paper over a rib rack or other set of sturdy separated wires. Bake the paper in the oven at 350F for 10 minutes. Remove an place on a plate for filling.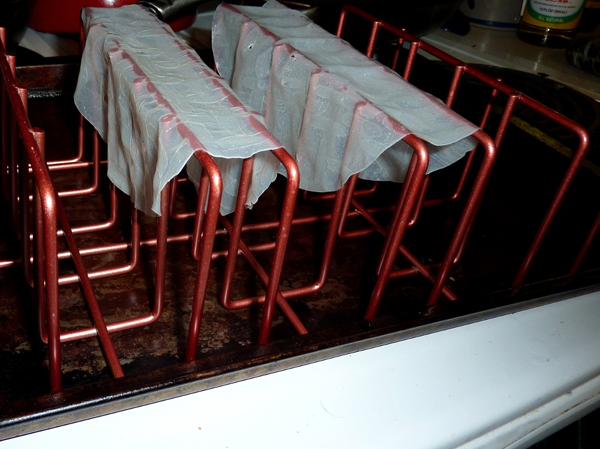 Inside the taco just about any ingredient will do. In these I used a layer of seasoned sushi rice followed by a layer of kale sauteed in sesame oil. On top of this I placed some teriyaki salmon and for the "cheese" I used some silken tofu. Soy sauce, chili oil, avocado, sashimi would all be great additions or replacements in this dish.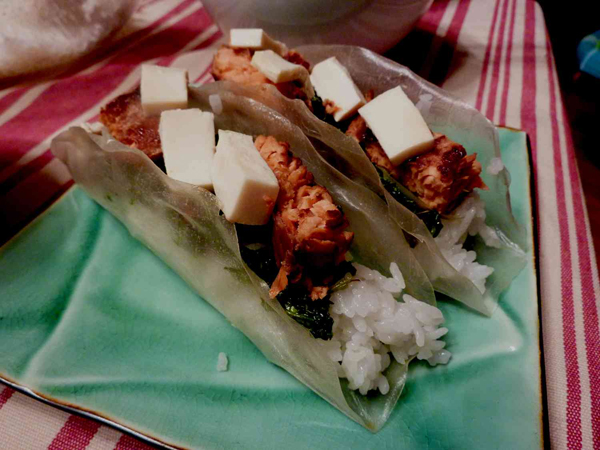 6. The Bankrupt Gourmet (Marietta, CA), The Bankrupt Gourmet, shares a Food Ninja Kitchen Tip: I couldn't stand it when my paper, coffee filter collapsed, and grounds got in my coffee pot. Now, after I put my paper filter in the holder, I swirl a little water around. It makes the paper adhere to the sides. No more grounds in my coffee!
[poll id="6″]