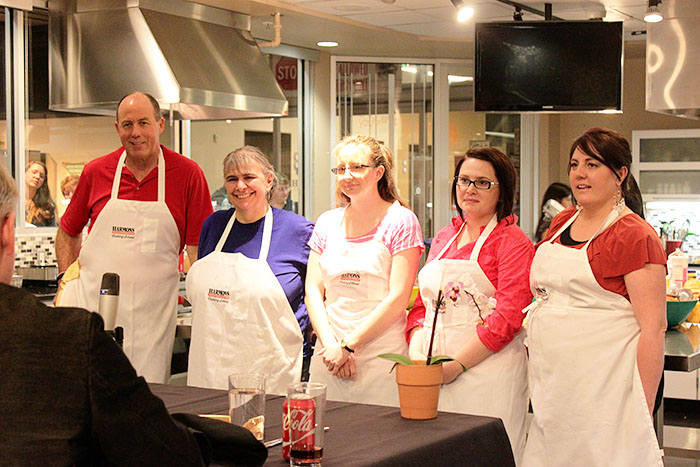 Five cooks given a mystery box of four ingredients that they must use to make a specified course and two and half hours to prep, cook, and present their creations, with judges walking around watching and asking them questions, all in hopes of winning the round for the chance to compete in the finale.  Does it start to sound a bit like an episode of Chopped?  Almost, but in my opinion, even better.  This is Sliced, a 3-day cooking competition hosted by Harmons Grocery that brings 15 home cooks head-to-head to compete for the title of Harmons Sliced Champion and the $500 grand prize (as well as a guest appearance on a local news segment) and a People's Choice Award for $500 cash.  I'm giving away 2 tickets to the finale dinner, so read on for information on how to enter!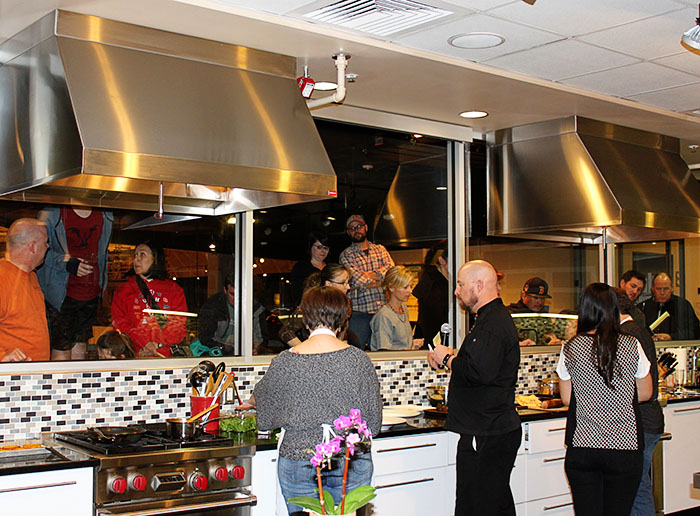 Over one hundred home cooks from around Utah submitted applications in hopes of being chosen.  Chef Aaron Ballard personally went through each entry with a fine tooth comb to pick out the best 15.  These 15 were separated into 3 groups.  The first group made an appetizer, the second group made an entree, and the third group made a dessert.  The winners from each round have been chosen and will now go on to compete in the finale, on March 14th!  What I love is that between now and the finale they will be working one on one with Chef Aaron to perfect the dish they made in their individual rounds.  This is what they will be cooking for the finale.
For the Appetizer round the mystery box ingredients were celery root, Marcona almonds, shrimp, and artisan pasta.  The winner was Jamie Gregory (from Lehi, Utah where I currently live! Woot!).  She made a minestra della pasta with crescentina (aka, pasta soup with fried bread).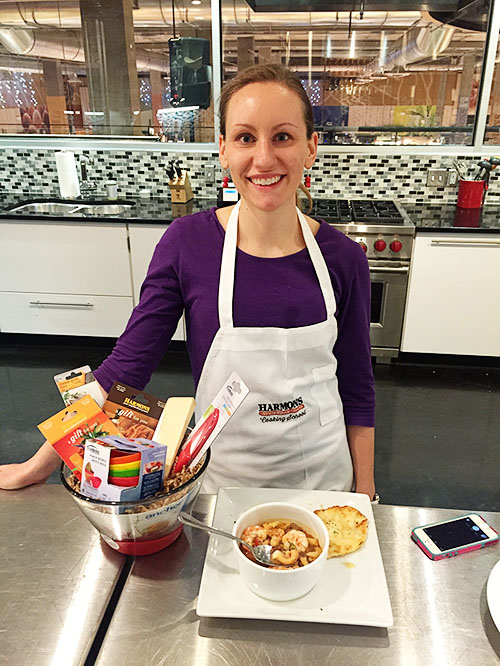 For the Entree round the mystery box ingredients were blue cheese, pork tenderloin, cream soda, and polenta.  The winner was Annie Hall (from Herriman, Utah).  Annie made a sous vide pork tenderloin with citrus gastrique, polen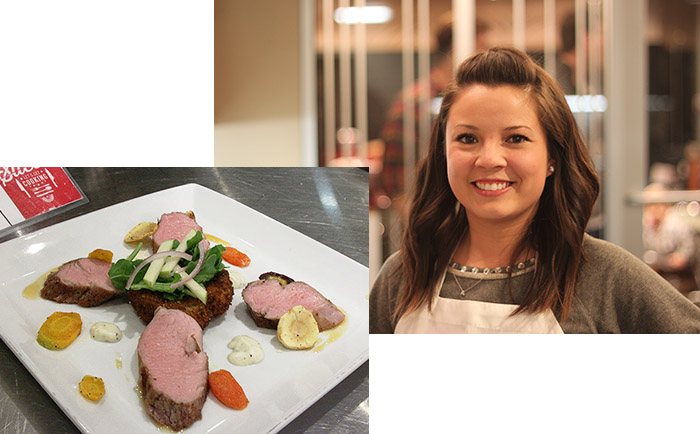 For the Dessert round the mystery box ingredients were snicker doodle cookies, hard butterscotch candies, fresh papaya, and fresh thyme.  This was the round that I got to judge, along with Jesseca Hallows and Chef Bryan Woolley, and let me tell you, we were impressed!  All five contestants made an incredible showing, with creative ideas and beautiful execution.  We were given a wide range of desserts to judge, from a habanero ice cream using the papaya and thyme to a butterscotch bandito, a pavlova with a papaya whipped cream, a chocolate pot de creme with an herb simple syrup, and a cream puff filled with a papaya puree, pastry cream and white chocolate butterscotch whipped cream.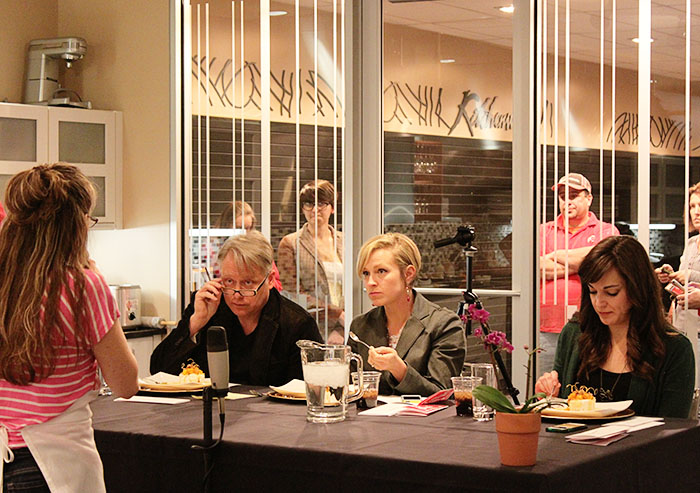 The winner was JaNell Wood (all the way from Cedar City, Utah!).  JaNell made an ile flottante ("floating island")—light-as-air meringue on top of a creme anglaise lightly seasoned with a bit of lime zest and drizzled with a butterscotch syrup.  The meringue was topped with fresh papaya, some thinly sliced kumquats, and fresh thyme, then topped with a snickerdoodle cookie, coconut, macadamia nut crumble and some beautiful spun sugar.  In short, it was incredible and not what you'd expect from a home cook without any professional training.  She made each of the four mystery box ingredients work together and her finished dish was not only beautiful, but full of flavor and different textures.  I am totally going to use her idea for the cookie, coconut, macadamia nut crumble!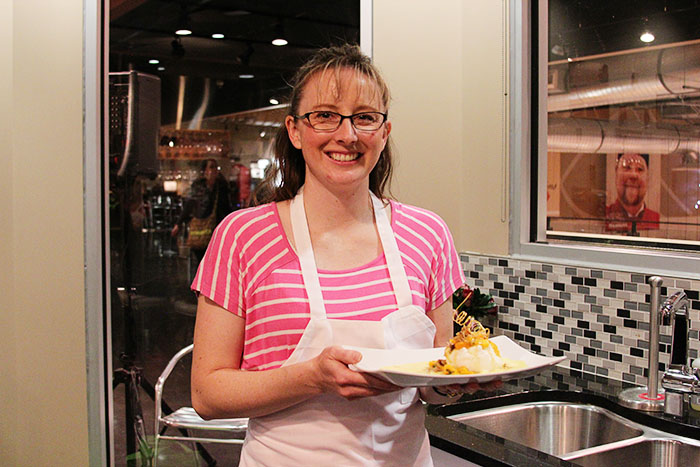 I will be one of the judges for the finale and I cannot wait to see what happens with the winning dishes between now and then.  From what we have seen so far, it is going to be spectacular!  The best part is that the finale is open to the public. The judges will pick the Harmons Sliced Champion, but the contestant awarded the most points by the guests will become the People's Choice Sliced Champion! Grab your tickets quick (or enter below to win 2 free tickets!) because seats are going fast (27 left out of 55 last time I checked)! Don't miss out because it's going to be delicious!
Harmons Sliced Dinner Finale Information:
When: March 14, 2015, 7:00 pm — 9:00 pm
Where: City Creek Harmons, 135 East 100 South, Salt Lake City, UT 84111
Menu:
Appetizer: Minestra Della Pasta with Crescentina
Entrée: Sous Vide Pork Tenderloin with Citrus Gastrique, Polenta Cake and Apple Slaw
Dessert: Ile Flottante
Harmons Sliced Dinner Finale Giveaway!
I have 2 tickets to give away to the Sliced Finale Dinner! Enter below for your chance to win!