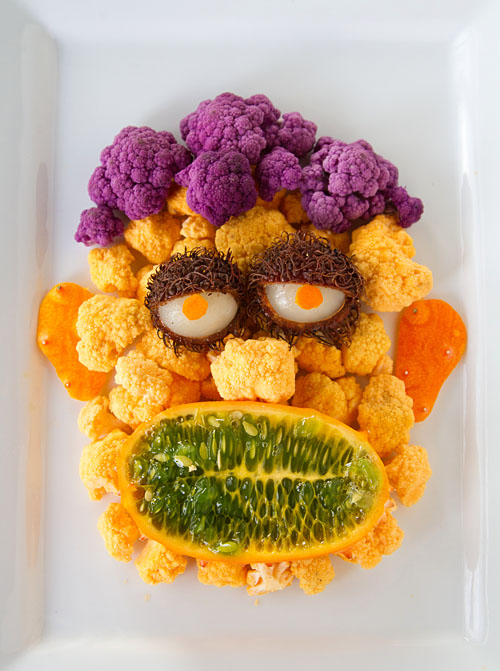 Happy Halloween from the Fuji family!  What have you got planned today?  Both of the Fujilings have parties at school, so I was up early this morning picking up unfrosted cupcakes from the bakery (no homemade allowed) for Squirrel's cupcake decorating activity.  I'm looking forward to trick-or-treating tonight!  We've been having all kinds of goofy fun around here, including playing with our food.  My friends at Frieda's Produce sent me a box of fun fruits and vegetables to play with this month, so Bug and I got to work creating a monster.  I find that by letting loose and playing with you food you may just inspire your little ones to eat some fruits and vegetables they might not eat otherwise.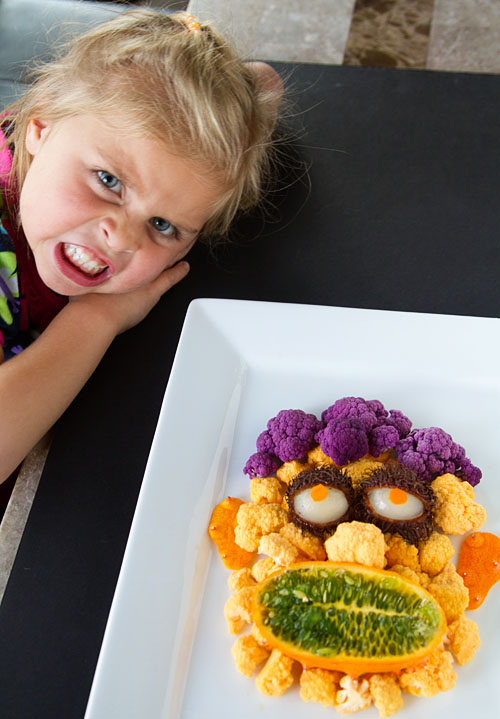 By the time we were done she was begging to eat the eyeballs.  Luckily we had extra "eyeballs" (aka, rambutan) for her to feast on.  The face was made out of orange cauliflower, the hair out of purple cauliflower, the mouth was made out of a half of a kiwano, and the iris of the eyes and the ears were made from the skin of a kiwano.  Bug does a mean monster imitation, don't you think?  (Frieda's products are widely available in grocery stores across America, so you can make your own monster!)  I hope you all have a wonderful All Hallows' Eve with lots of treats and not too many tricks!!
*Disclosure: Frieda's Produce sent me a box of produce to use in my kitchen at no cost to me.  I was not compensated for writing this post, nor was I required to do so.  All thoughts and opinions are my own!