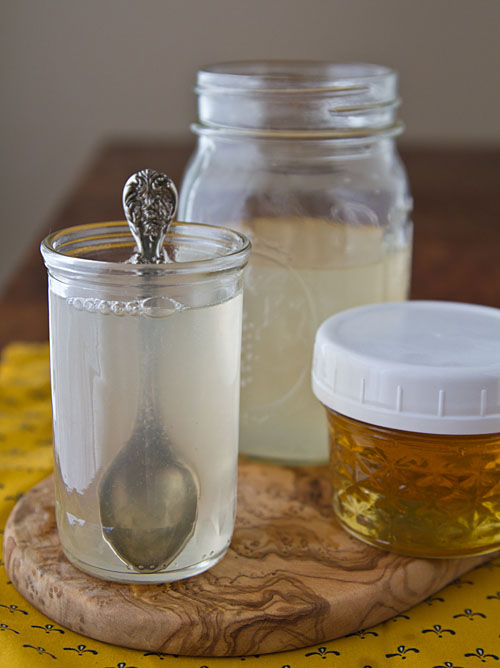 Honey ginger lemon tea is one of my favorite home remedies when I'm starting to feel under the weather, or one my kids starts to sound a bit sniffly.  It tastes delicious and does wonders for body and soul.  The honey and ginger help soothe a scratchy throat, and the ginger and lemon help clear out the sinuses.  I made a big batch of tea this morning, after I woke up listening to my girls sniffling, and feeling a bit stuffy myself.  As I added the honey to the tea, I reflected on this past weekend, which I spent up in the mountains at Camp Blogaway.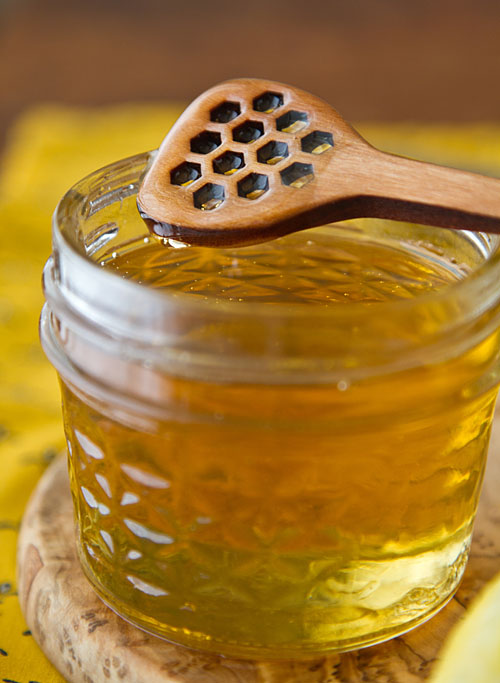 This year, the National Honey Board was one of the sponsors.  They provided some really fun goodies for all of the camp attendees, as well as a wealth of information, during a special session dedicated to educating us about honey.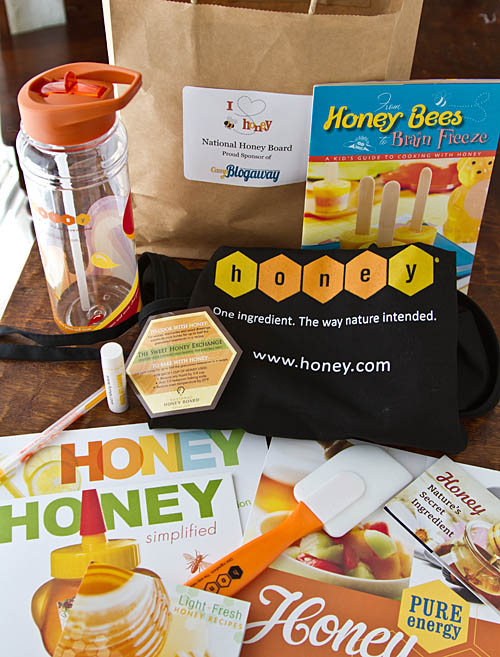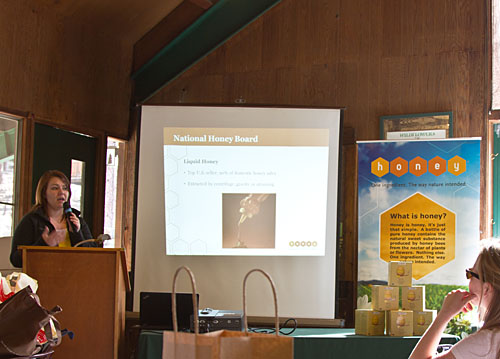 I have always loved honey and bees.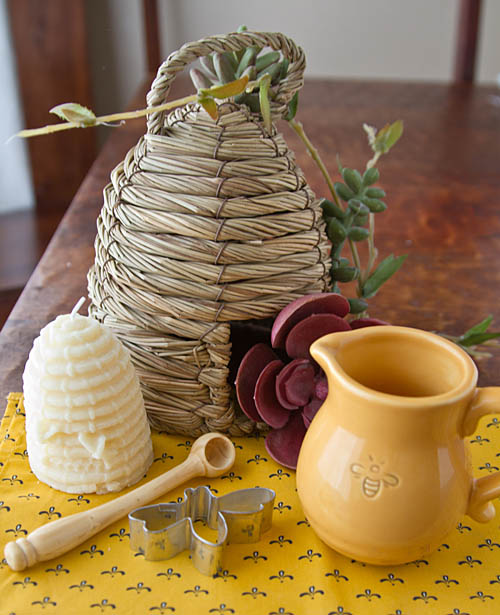 Maybe it's due to the fact that I was born in Utah, nicknamed "The Beehive State" (and whose official state insect is the honeybee!), before moving to California as a baby.  Or maybe it's because I've always loved the color yellow (now only eclipsed by my love for red), and you can't think about bees or honey without having the color yellow involved. Growing up, my favorite item to pack in my school lunch was a "butter 'n honey" sandwich.  That combination is still one of my favorites.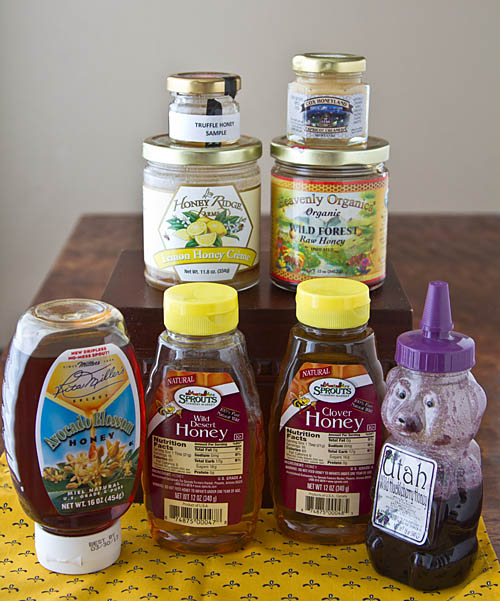 Not only is honey delicious, but having it represented as a main ingredient at Camp Blogaway this year was particularly appropriate.  Honey is a sweet thick syrup produced by honeybees from the nectar of plants.  Honeybees are social insects.  They create hives—elaborate nests made up of thousands of individual bees that work together in a highly structured society.  The bees all carry out different tasks needed to maintain and operate the hive.  Honey is the product of this society.  The flavors and color of honey varies, depending on where the bees foraged for their nectar.  Going to Camp Blogaway is a bit like being a honeybee.  The camp environment provides a place for us to congregate, share and participate in community, and create.  We each go out in search of inspiration, like the honeybees search for their nectar, then bring our finds back to the hive, to share, inspire, and create.  The product of Camp Blogaway, for me, is as sweet and unique as a variety of honey.  Each year is different, unique, and special.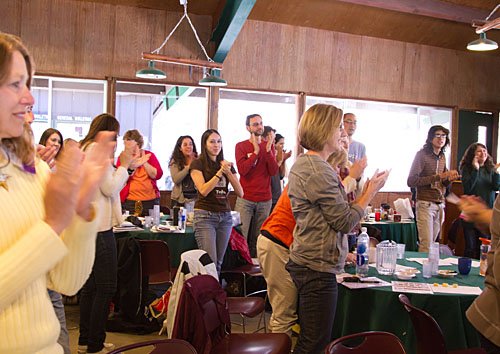 This year was no exception.  It was particularly special for me.  In addition to meeting lots of new people, I was surrounded by some of my closest friends, and spent the weekend being inspired by some of the people I admire most.  Krista (Budget Gourmet Mom), who I've known since I was 10 years old, came to camp this year.
Two of my fellow OnDivas were there, Carolyn (All Day I Dream About Food) and Dara (Cookin' Canuck), as well as my amazing podcasting partner, Allison (Sushi Day).  We got to hear Rene Lynch, writer for the Los Angeles Times, speak about the process of how a story comes together for the paper.  Rene is not only a talented writer, but one of the nicest people I have the privilege of knowing.  Nancie McDermott, one of my favorite cookbook authors (she wrote my all-time-favorite pie cookbook, Southern Pies), shared her knowledge, along with Sandy Hu (representing Kerrygold), about recipe writing, tossing in her contagious smile, Southern charm, and zest for life.
My friend, and one of my heroes, Jean Layton (Gluten Free Doctor Recipes), made everyone around her smile, and dispensed medical aid as the on-sight Camp doctor.  Wouldn't you want her to be your doctor?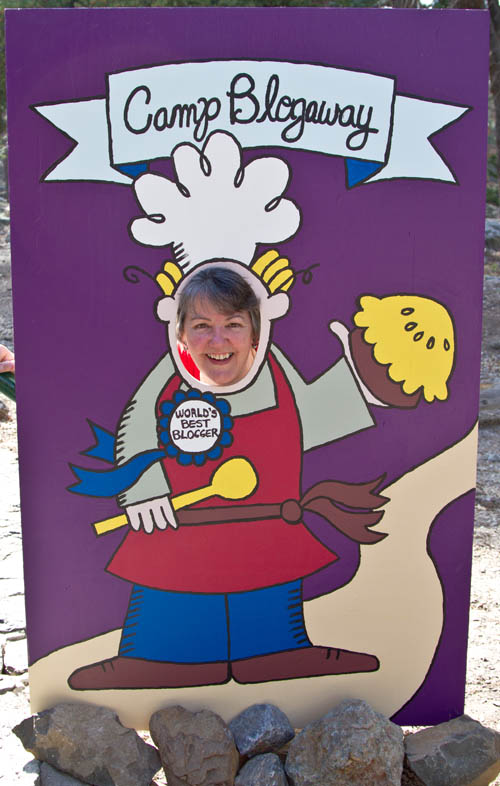 My sweet friend, Mimi Avocado, delighted everyone with her bubbly personality, winning the Golden Pinecone Award.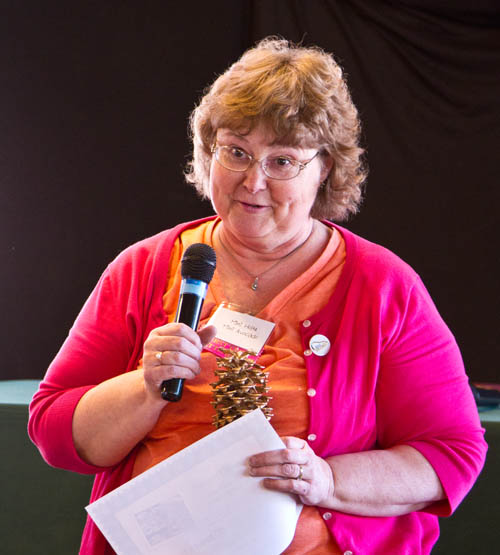 Each person at Camp had something unique to add.  I was inspired by the amount of expertise and knowledge that came together under the Camp Blogaway roof. I came away from camp feeling edified and excited.  I'm bursting with ideas and information to share with you.   I am so grateful to be part of such an amazing food community, and grateful for Patti Londres (Worth the Whisk), for providing a place for all us honeybees to gather for the weekend.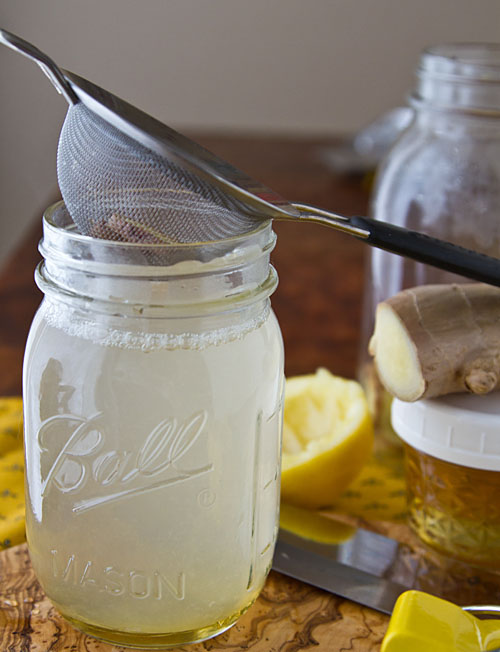 Print This Recipe
Honey Ginger Lemon Tea
Makes 12 ounces, about 2 servings
2 inches fresh ginger, sliced into thin coins
12 ounces boiling water
2 tablespoons fresh squeezed lemon juice
1 tablespoon honey
1. Put the fresh ginger in a glass jar or pitcher. Pour the boiling water over it and let it steep for 5 minutes.
2. While the ginger is steeping, divide the lemon juice and honey between two mugs.
3. Strain the ginger tea into the mugs and stir to dissolve the honey. Taste and add more honey if desired.