*Disclosure: This post contains Amazon affiliate links that earn me a small commission, at no additional cost to you. I only recommend products I personally use and love, or think my readers will find useful.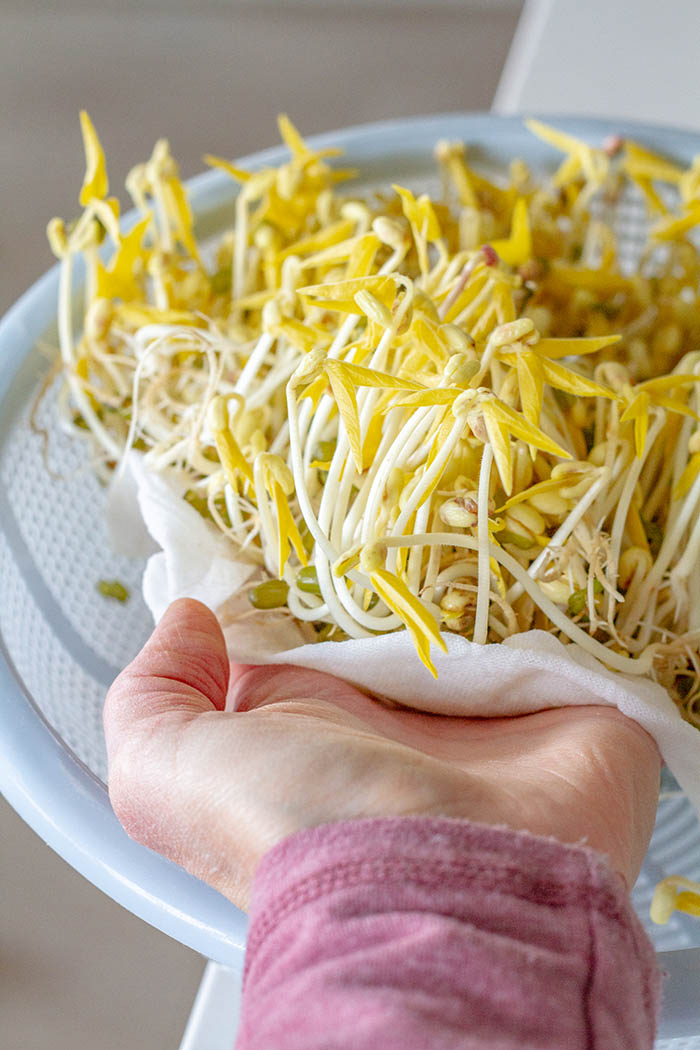 Need a project to start this week? I've got a great one for you, or your kids, or both! Grow your own mung bean sprouts indoors–it's super easy to do, inexpensive, and a fun way to add some extra nutrition to your plate (they're a good source of protein, potassium, magnesium, fiber, folate, iron, antioxidants, and minerals). They are very popular in Asian cuisine. They make a wonderful addition to a salad, soup, sandwich, or stir-fry. They also make a delicious crunchy snack. I love them, but it's not always easy to find good fresh ones. Half the time the ones I see at the grocery store are already getting slimy, or become slimy within 24 hours of me purchasing them. If you grow your own, you have a much larger window in which to use them!
How to Grow Mung Bean Sprouts
Supplies you will need:
To start out you will need some whole dried mung beans and something to grow them in, as well as a piece of cloth or some paper towels, and a piece of dark cloth that light doesn't get through easily, like a dark dish towel or a pillow case. For growing containers, get creative. I bet you have something at your house that will work! I have tried 3 different containers for growing and really liked two of them. I tried growing them in a flower pot, but the holes at the bottom were too big and the sprouts didn't seem to grow as well in this setup. It is still doable though, if this is your only option!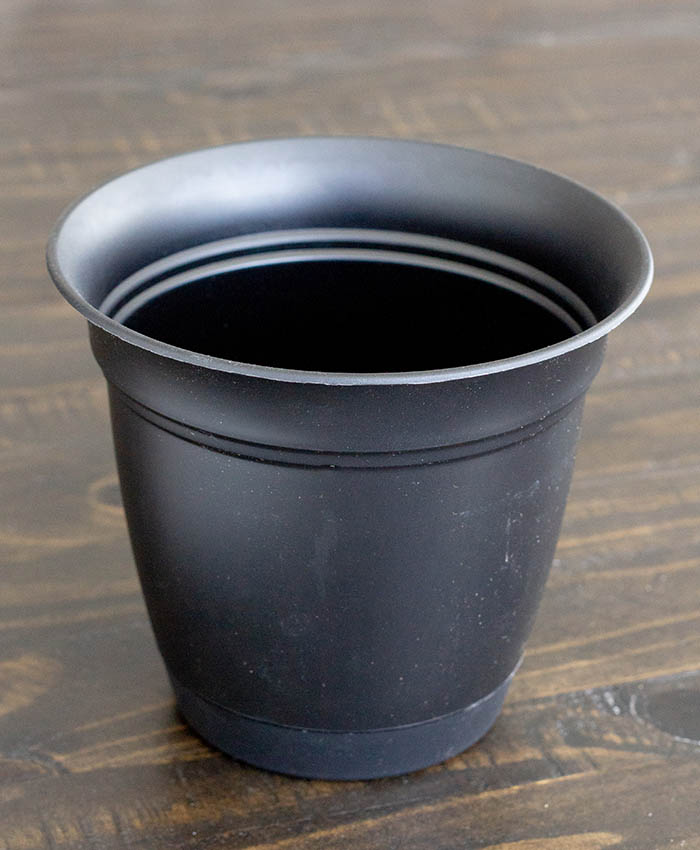 The first setup I liked was a 2 liter juice bottle that I rinsed out and cut the top off of (where the bottle started to curve in). I then poked drainage holes in the bottom of a bottle. I used a flour sack dish towel that I cut into pieces and used to line the bottoms of my growing containers, but you could also use a paper towel that you fold up. (I use these dish towels for EVERYTHING–they are worth having around! You can find them in many grocery stores in the cooking supply section, or in places like Walmart, Target, etc.) I have some silicone covers for food storage containers that my mom gave me for Christmas a year ago that I used as a cap for this container to help keep the sprout environment moist, but you could just as easily use a piece of plastic wrap. Again, use what you have at home! I use an old cookie sheet to set the bottle on, to allow for drainage…you wouldn't want the extra water just running all over the place!\
The second setup I liked was a strainer/washing bowl set I bought at an Asian market years ago (there are lots of options, like this one). Monkey has actually been using it as a bath toy until this project, haha! I was brainstorming different setups and it caught my eye, so it got a thorough washing/sanitizing and was put to use. I put some bottle caps in the washing bowl so that there could be space between the colander and the bottom of the bowl to allow for better drainage. I used another piece of the flour sack dish towel to line the bottom and a piece to set over the top of the sprouts, to help keep them moist.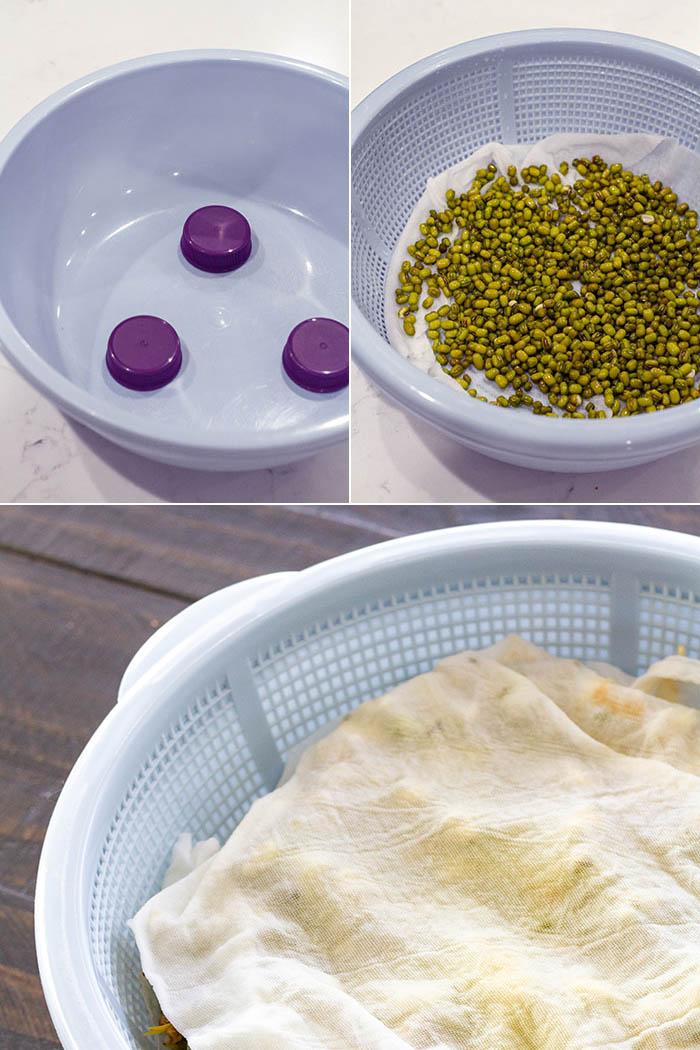 Steps for growing mung bean sprouts: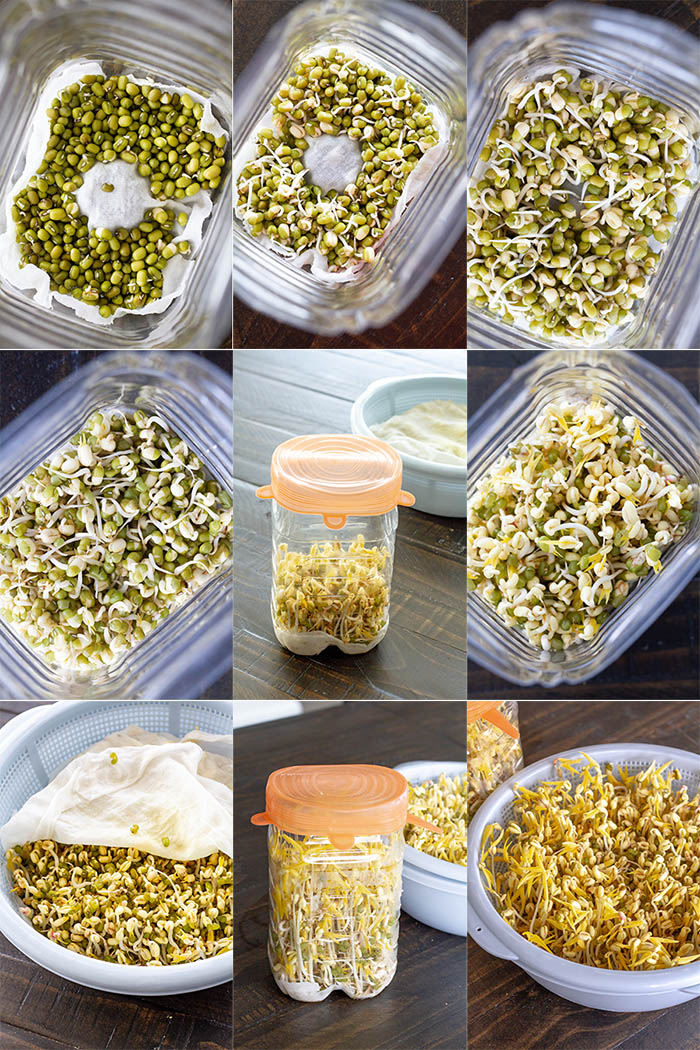 After gathering your supplies, measure out 1 cup of dried mung beans. This may not sound like a lot, but let me tell you, you will end up with a ton of sprouts! I recommend starting with this amount. You can always grow more for your next batch! Put the sprouts in a medium-size bowl and cover with clean, non-chlorinated drinking water (the beans should be covered by several inches), and set them aside to soak for 6 to 10 hours. I either start soaking them in the morning so that I can set them up in their growing container later in the afternoon, or I start soaking them at night, so I can set them up in the morning. Whatever works best for you!
After soaking, rinse the beans in clean, cool water. Get your growing container ready by lining the bottom with a piece of cloth or several layers of paper towels. Spread the rinsed beans over the top of the cloth/paper towel. If you are topping the beans with another piece of cloth, add that now. Then rinse the beans under cool running water for about a minute (you will be getting the second layer of cloth wet in the process, if you are using this method). Allow the water to drain away, then cover the container if you aren't using a second layer of cloth, and then cover the entire container with a dark cloth, to prevent light from getting in. Place the container in a dark spot.
Twice a day (every morning and every evening), repeat the rinsing process as detailed in step 2. The sprouts will be ready in about 5 days. They will have sprouted delicate yellow leaves and be quite long!
When you are ready to harvest them, remove them from the container and gently separate them from the cloth/paper towels. The roots will have grown through the cloth/paper towel and through the bottom of the growing container!
Rinse them thoroughly in cool water, then spread them out to dry on a clean dish towel. Once they have dried, break them off where the roots start. (You don't have to do this, but the sprouts will have a less bitter taste if you do so.)
To store them, line a gallon-size ziploc bag or airtight container with a clean dish towel or several layers of paper towels, then add the sprouts. Do not press out all of the air. They will keep fresh in the refrigerator for a good week!