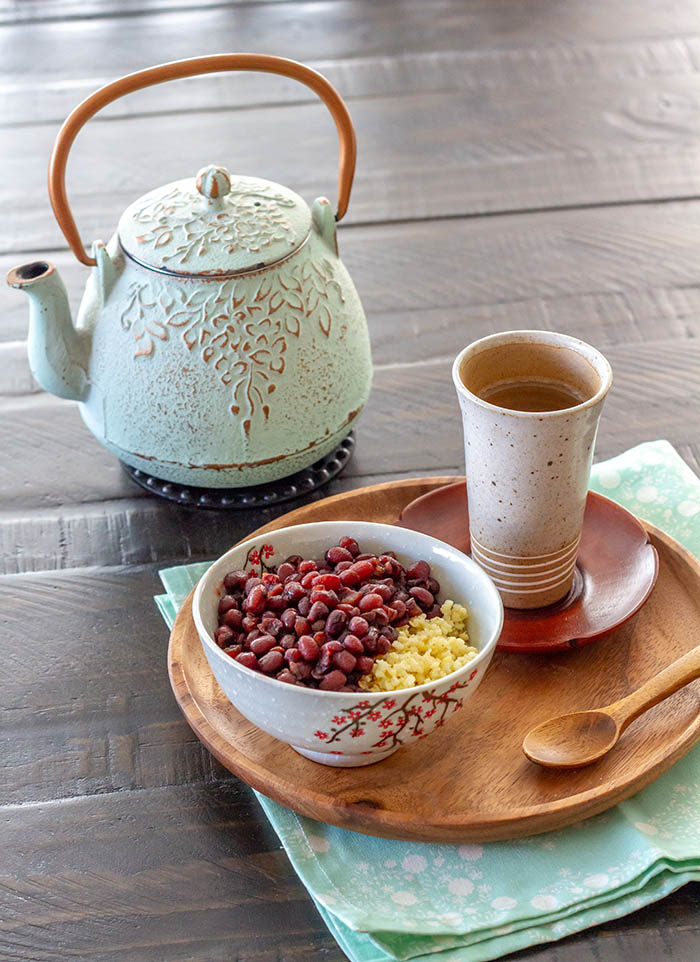 Ozenzai (おぜんざい), a sweet red bean soup, is a very popular, traditional Japanese dessert. It is made with adzuki beans and can be served over toasted mochi, shiratama dango, or a cooked grain, like millet. It's one of my (many) favorite desserts and it really made my week this week.
My mom recently shared an article with me written by Mitch Albom, titled "In coronavirus crisis, our humanity saves us." Albom writes about Knox, an 8-year-old boy from Haiti, who has been traveling to the US, from the orphanage where he lives in Port au Prince (run by Albom), every 3 months for physical therapy. He was in the US on one of those visits when Covid-19 turned the world topsy-turvy and was unable to return home. He has been living with Albom and his wife every since. Albom writes about coming to the realization that Knox was helping to fill his life with light, helping him to feel gratitude in the midst of chaos.
He writes, "In the middle of a big war, you go searching for a small idea. One thing to cherish or believe in. One thing that brings you comfort. We are in a big war now. We don't know how bad it will get, or how long it will last. We don't even know what the enemy looks like, except it often looks like us. In such a war, fear can be as deadly as any virus. People turn on one another . . . We cannot sink to the worst version of ourselves. We must stay above the human water line, keep our character and our dignity intact, until normal life can resume . . . Our humanity will be what saves us in this pandemic. Small acts . . . One thing. Find it. The one positive. The one joy you'd forgotten about. The one part of the day that brings you peace. And cling to it, the way I cling to little Knox every morning when he greets me with a hug, or every evening when he gets to watch one hour of a cartoon movie, and he lies in my lap on a pillow. Human touch matters. Human kindness matters more. It is our way out of this madness. And our way back to ourselves."
The article really touched me and I've been thinking about the small things that help me return to myself in the midst of uncertainty and anxiety. The things that remind me that there is goodness in the world and so much goodness in my own life. The things that fill me with gratitude. One of the things that immediately came to mind was my best friend Noriko.
A couple of weeks ago Noriko texted me, "Can we do something fun together? You pick a recipe for me and I'll pick one for you to make." Noriko and I met at a work dinner in Japan with our husbands, many years ago. I actually wrote a post about the meal that night. We both went home that night at told our husbands how much we had liked each other and how we thought the other person would be a great friend.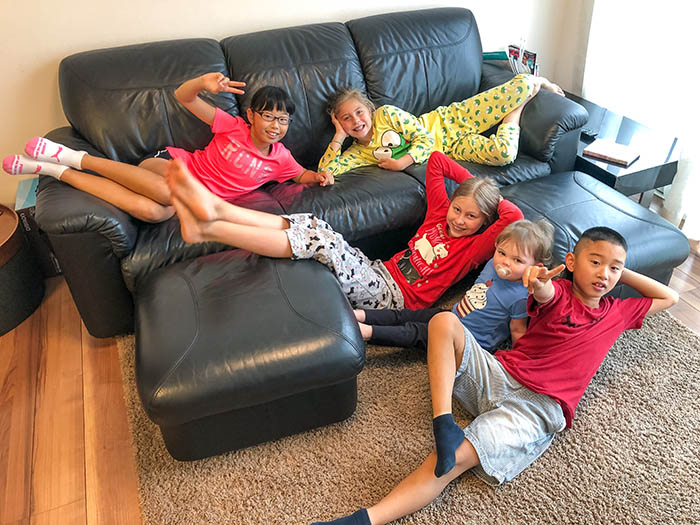 Although I no longer live in Japan, over the years we have become closer and closer, as have our kids, and now I don't know how I would make it through life without her. (This is our kids together in July last summer during our most recent visit to Japan.) Noriko was joking recently that we have been practicing social distancing for most of our friendship, but not by choice. We send each other random texts, laugh over the funny things our kids do and say, and share our fears and heartaches.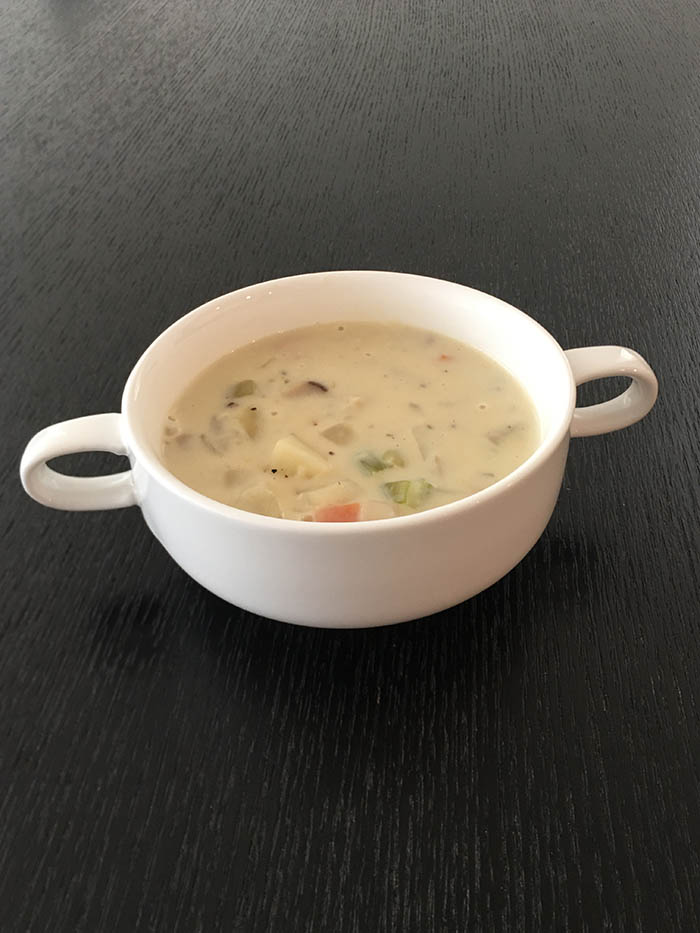 When Noriko texted me about switching recipes I thought, "Leave it to Noriko to think up a way for us to be in each other's kitchens and comfort each other, despite the ocean between us." About a week ago I sent her a recipe that I've been working on for vegan clam chowder and she sent me her recipe for ozenzai.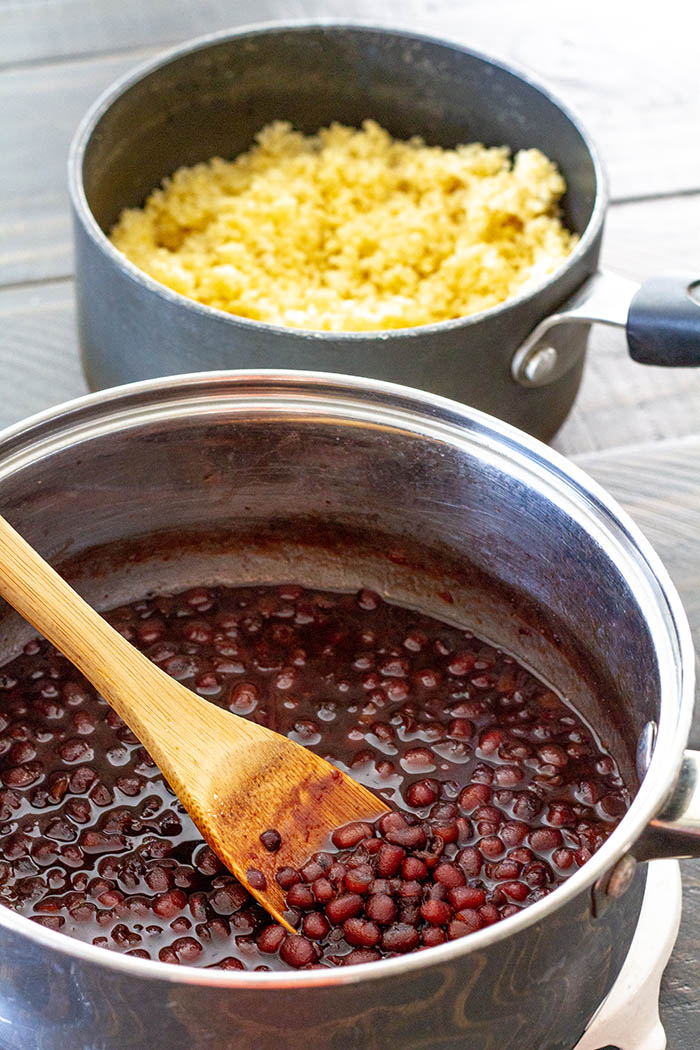 And so this past Sunday afternoon I weighed out adzuki beans and followed Noriko's instructions, imagining her doing the same in her kitchen as I did so. I also cooked a batch of millet to serve the zenzai over (this version is called awa-zenzai). Eating each other's dishes and texting each other about it made it seem like my friend wasn't so far away. It's the little things.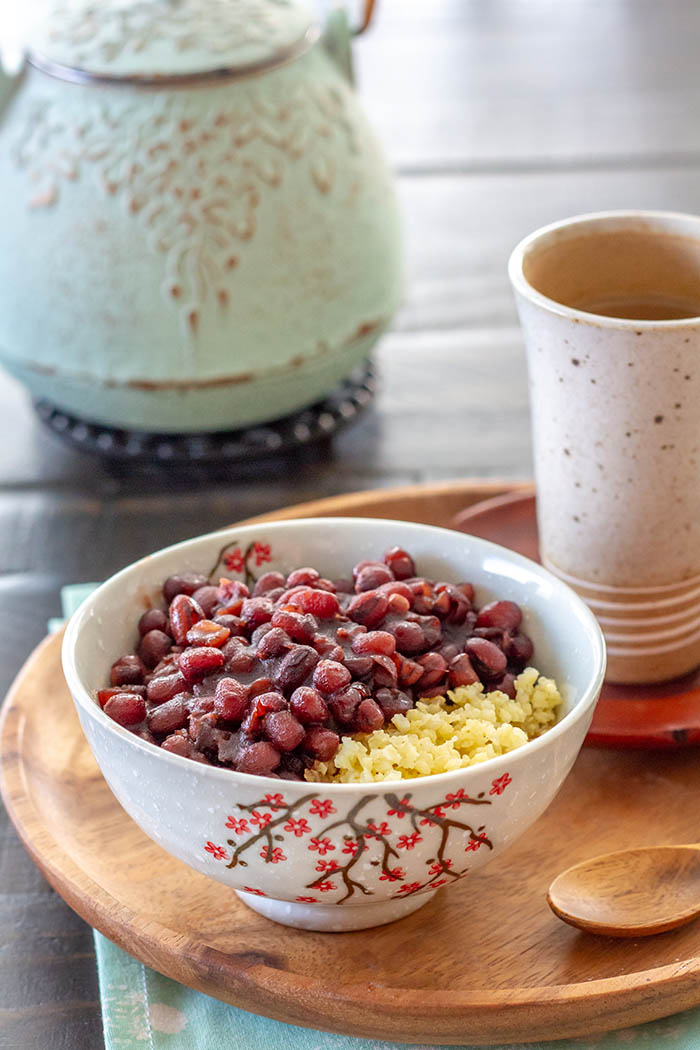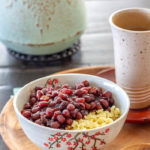 Noriko's Ozenzai -- Sweet Red Bean Soup (おぜんざい)
Ozenzai, sweet red bean soup, is a very popular, traditional Japanese dessert. It is made with adzuki beans and can be served over toasted mochi, shiratama dango, or a cooked grain, like millet. You can make it as thick or thin and as sweet as you like. I happen to like mine thick! If you want a thinner soup, use more water. If you want it thicker, like I do, use less!
Ingredients
8.8

ounces

(250 grams) dried adzuki beans

5 1/2 -- 6 1/3

cups

(1.3 -- 1.5 liters) water

8.8

ounces

(250 grams) granulated sugar

pinch of fine grain sea salt
Instructions
Rinse the adzuki beans in a colander and drain.

Pour boiling water over the beans in the colander.

The put the beans in a pot with 5 1/2 -- 6 1/3 cups water and heat over high heat. Once the beans come to a boil, lower the heat and simmer for about an hour, skimming any scum off the surface as it accumulates, until the beans are creamy and soft enough that you can squish them in between your fingers.

Add the sugar in 3 parts, letting the beans cook for about 3 minutes after each addition.

Add a pinch of fine grain sea salt and serve over toasted mochi, a cooked grain like millet, or over shiratama dango.