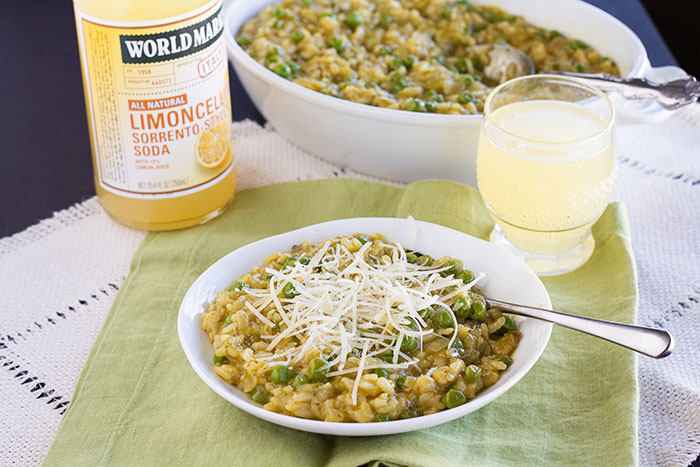 Today I am teaming up with World Market (I'm a World Market ambassador) and The Chew to celebrate all things Italy because of a Gourmet Getaway Sweepstakes that they just launched! (Details on how to enter are after the recipe.)  I am sharing one of my favorite Italian dishes—risi e bisi, Italian style rice and peas, using Italian ingredients I found at World Market.  It may not sound glamorous, but let me tell you, you want this in your life!
When I was seventeen I went on my first trip to Europe during the summer before my senior year of high school.  I went with a group from a local college to travel all over Europe performing classical music.  Italy was one of the countries on our itinerary.  We spent one day in Venice just having fun, taking gondola tours of the city, standing in awe in Saint Mark's square, visiting the Murano glass factory, etc.  For lunch we stopped at a little restaurant recommended to us by one of the guides traveling with our group.  I have always been an adventurous eater, so I asked our guide if there was anything on the menu that foreigners usually wouldn't be game to try, because that's what I wanted to order.  He smiled and quickly ordered for me and I eagerly waited.  Our food came out and a shallow bowl was placed in front of me containing what looked like risotto dotted with fresh green peas.  I dug in, expecting to be surprised by something fun like squid tentacles, all the while savoring the creamy texture of the rice and freshness of the peas.  At one point I looked at our guide and he was laughing.  It turned out that he had just played a little joke on me, wanting to see what I would do.  It turns out though, that this dish really was one often overlooked by the typical tourist, who was usually looking for stereotypical Italian classics.  What our guide had ordered for me was a simple Venetian dish called risi e bisi, rice and peas, a classic Venetian dish and a total treat.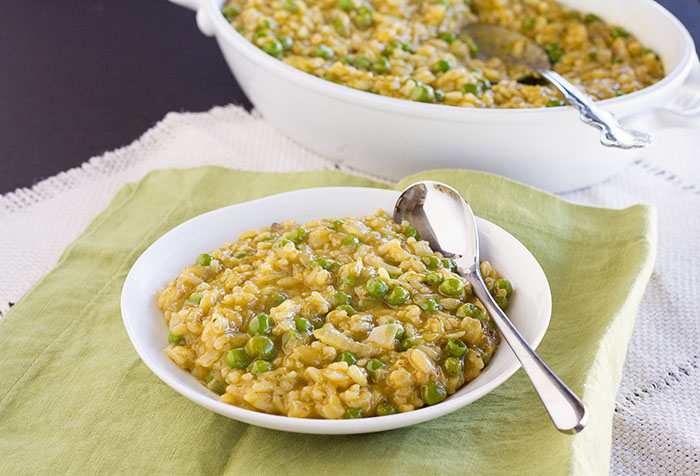 Risi e bisi is comfort food.  It is reminiscent of a risotto, but a bit more soupy and not as rich.  It's also probably not going to show up on the menu of any fine dining establishments.  There are many variations on this recipe.  Some add all of the liquid and once, stir, then put a lid on it and let it cook, while others add the liquid one ladle at a time.  Some use pancetta while others do not.  Some use a lot more liquid than others.  But one thing is true about all of the recipes: using good quality ingredients makes all the difference in this humble dish!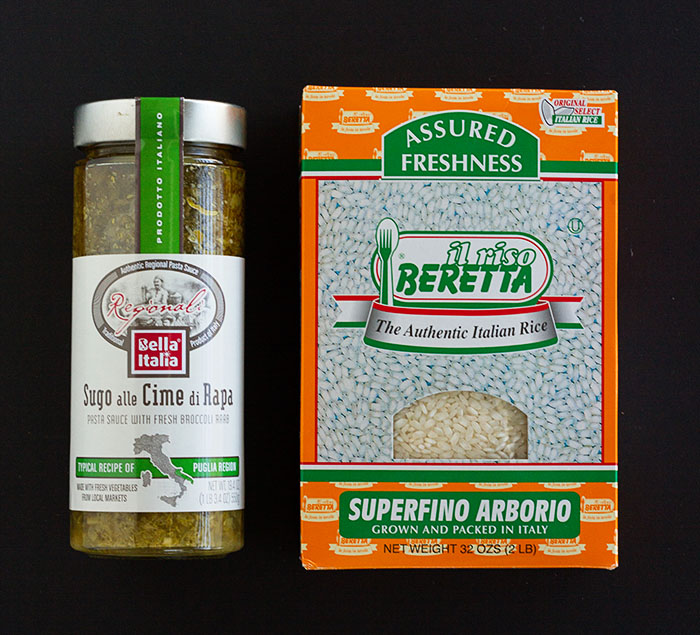 I took a different tangent on the recipes and instead of using pancetta and butter or olive oil, I used Bella Italia's Broccoli Rabe Sauce.  The sauce has an olive oil base and includes broccoli rabe, anchovies, and spices.  It's divine.  The olive oil provides the fat needed for sauteeing, and the anchovies provide the meaty saltiness that you would get using something like pancetta.  I also used Beretta Arborio Rice, which is a wonderful Italian rice.  I went with the stirring method in my recipe, because I love the creaminess that comes from this technique.  I also chose not to stir my Parmesan cheese into the dish to finish it, but instead opted to add it as a garnish.  This was to accommodate anyone who might have trouble with dairy, like some members of our household.  The result is a risi e bisi that is full of flavor.  While you take a little trip to Italy via your kitchen with this dish, hop on over to check out the other Italian recipes using ingredients from World Market's international food section being shared today:
Wild Mushroom Risotto from Pink Heels Pink Truck
Cacio e Pepe from Mom Favorites
Creamy Pumpkin Pasta from The Happier Homemaker
One Pot Pasta with Pork Ragu Sauce from Katie's Cucina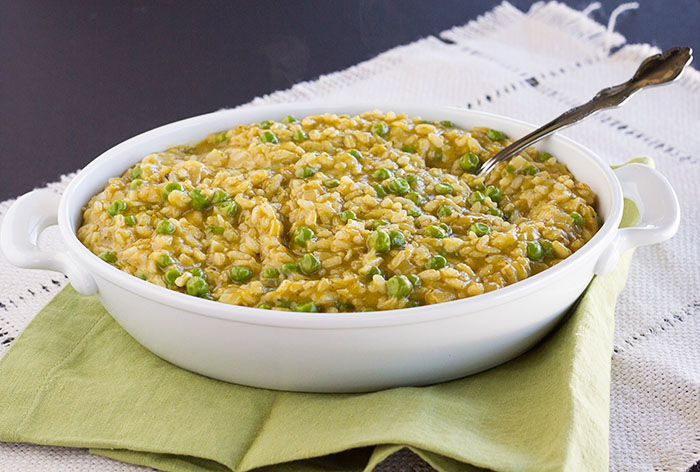 Print This Recipe
Italian Style Rice & Peas (Risi e Bisi)
Makes 4 servings
Ingredients:
1 cup Beretta Arborio rice
1 cup Bella Italia Broccoli Rabe sauce, divided
1 large onion, finely chopped
8 cups chicken broth, very hot
1 1/2 cups frozen peas (unless you have delicious fresh peas to use!)
Salt and Pepper
Grated Parmesan cheese, to garnish
Directions:
1. Place 3/4 cup of the Broccoli Rabe sauce in a 12 to 14-inch saute pan over medium heat. When the oil in the sauce starts to shimmer, add the onion and cook until the onion starts to turn translucent, about 8 to 10 minutes. Add the rice and saute until the rice becomes almost opaque, about 3 to 4 minutes.
2. Start adding the hot chicken stock one ladle at a time, stirring constantly until the stock is absorbed by the rice, then add another ladle of stock and repeat.
3. Taste the rice after 15 minutes—it should still be hard. Add the peas and continuing cooking and adding stock one ladle at a time, until the rice is soft and creamy, but not mushy. The rice should still be quite wet, much wetter than a risotto, but not swimming in liquid. Remove the saute pan from the heat and stir in the remaining 1/4 cup of the Broccoli Rabe sauce. Add salt and pepper to taste, then serve immediately, garnished with grated Parmesan cheese, if desired.
*Recipe notes: If you don't have access to a World Market, you can substitute butter or olive oil for the Broccoli Rabe sauce.  Use 4 tablespoons of butter in step 1, then 2 tablespoons of butter in step 3.  You can use your favorite arborio rice in place of the Beretta Arborio rice.  If you want to add more green to get a similar effect, add 1/4 cup of finely chopped broccoli rabe to the saute pan with the onion in step 1.
—————————————————————————–
Gourmet Getaway Sweepstakes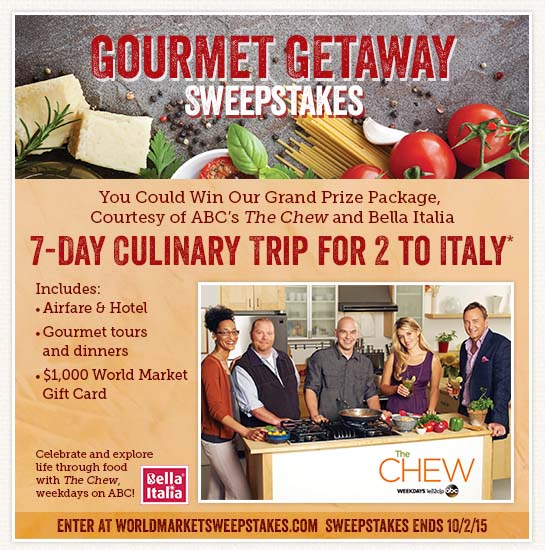 Enter for a chance to win a trip for 2 to Italy!  You can enter online at worldmarketsweepstakes.com.
The grand prize is a culinary trip for 2 to Italy, including:
Airfare & Accomodations
Cities: Sorrento, Milan, Capri
Italian cooking class
City and market excursions
Chefs Tasting dinners
$1,000 World Market gift card
Celebrating and exploring life through food, "The Chew," is an innovative and groundbreaking daytime series co-hosted by a dynamic group of engaging, fun, relatable experts in food, lifestyle, and entertaining. Produced by Gordon Elliott's Chew Productions for the ABC Television Network, "The Chew" serves up everything food — from cooking and home entertaining to food trends, restaurants, holidays and more — all aimed at making life better, fuller and more fun. Featuring celebrity chefs Mario Batali, Michael Symon, and Carla Hall, entertaining expert Clinton Kelly and health and wellness enthusiast Daphne Oz, "The Chew" is a leap forward into a delicious new kind of lifestyle series.
—————————————————————————
*Disclosure: I was compensated by World Market for my time developing this recipe and writing this post. All opinions and experiences are my own!