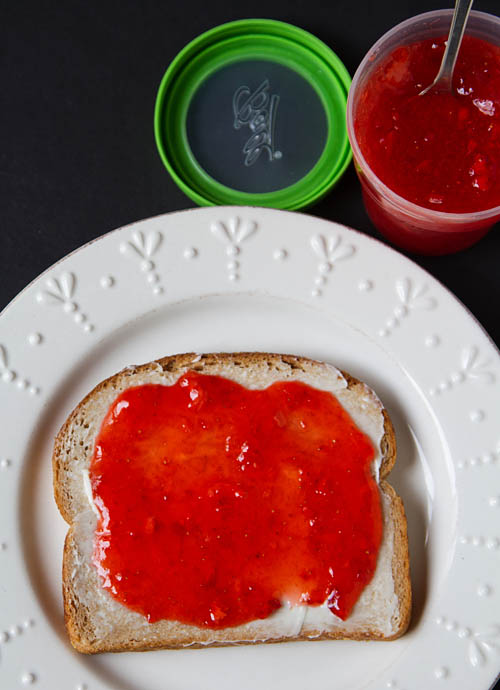 When I was in the fourth grade, my family moved into a new house across town.  The house had a steep slope that started at the far edge of the backyard and dropped down to another street.  Dirt trails switched back and forth across the hill, making it possible to reach different sections of the steep terrain.  The hill was home to a variety of fruit trees—peach, apricot, and apple, along with an old pecan tree.  The summer after we moved in, my mom cleared a section of the hill and planted a sizable patch of strawberry plants.  Once those plants started bearing fruit, someone would be assigned to hike down the hill with a big plastic bowl to pick the ripe strawberries.  The strawberries were always ready to be picked on the hottest days of summer, and my clothing would be stuck to me with sweat after crouching in the scorching sunlight while I picked berries.  I remember hoping each time she asked someone to go pick strawberries that it would be one of my brothers, and not me.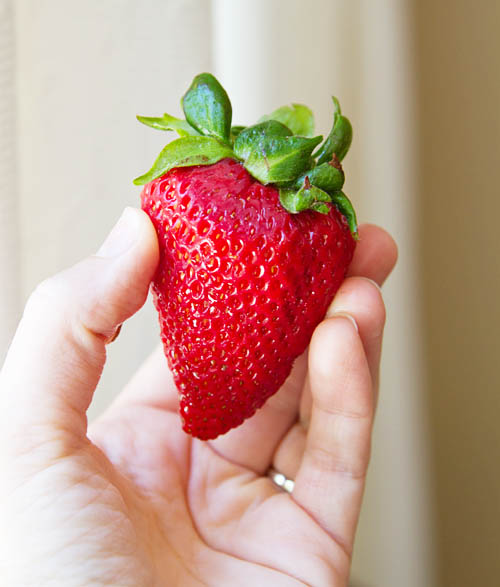 My mom would then rinse off the berries, cut them into chunks, and toss them in a bit of sugar.  Sometimes she'd make shortcakes and we'd slice the cakes in half and pile the juicy berries inside, with spoonfuls of whipped cream.  Other times we'd gorge ourselves on the fresh berries, still warm from the summer sun.  One thing my mom always made each summer was strawberry freezer jam.  She would make enough to last us for the coming year, stocking a second freezer in the garage with little plastic containers filled with the bright red jam.  I remember reluctantly helping with the process.  I can see the bright yellow box of pectin that she always used and I can close my eyes and remember the smell of the berries.  I have a vivid memory of her explaining how I needed to watch the crushed berries in the pot that was sitting on the stove, and when the jam lost it's grainy look and was a clearer red, it was ready.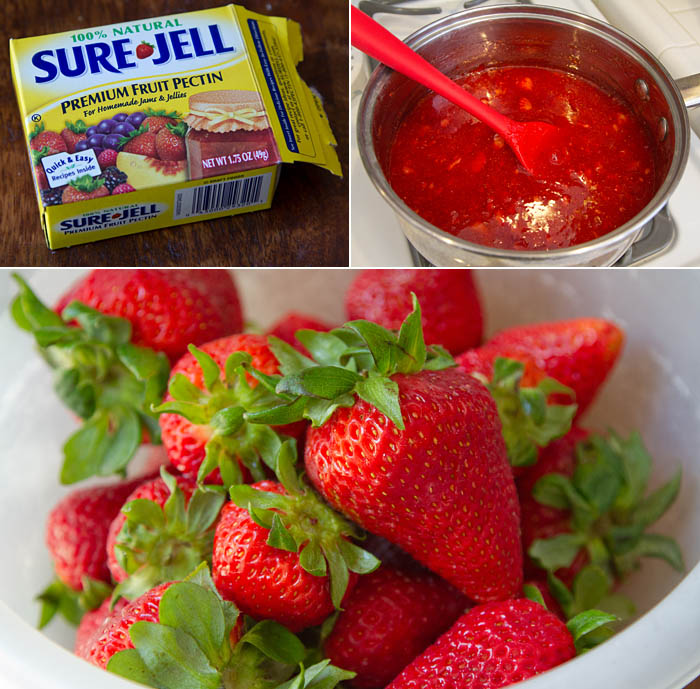 Once summer fled and the school routine returned, that same freezer jam would make an almost daily appearance in my sack lunches.  My all-time favorite sandwich was freezer strawberry jam and butter on bread.  I could eat it every day without tiring of it.  As the months passed by, the number of plastic containers in the freezer would slowly dwindle, and by the time summer rolled around again, it would be time to replenish our supply of strawberry freezer jam.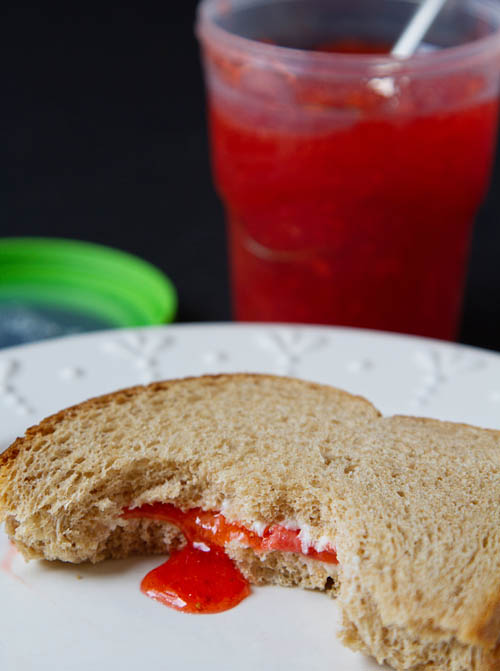 In the years since moving away from home, my mom has continued making jam each summer, always making sure to give me a container or two when I visited.  One day, three years ago, I was walking through the grocery store and passed a display of strawberries that were on sale, and I decided that it was time for me to start the strawberry freezer jam tradition with my own children.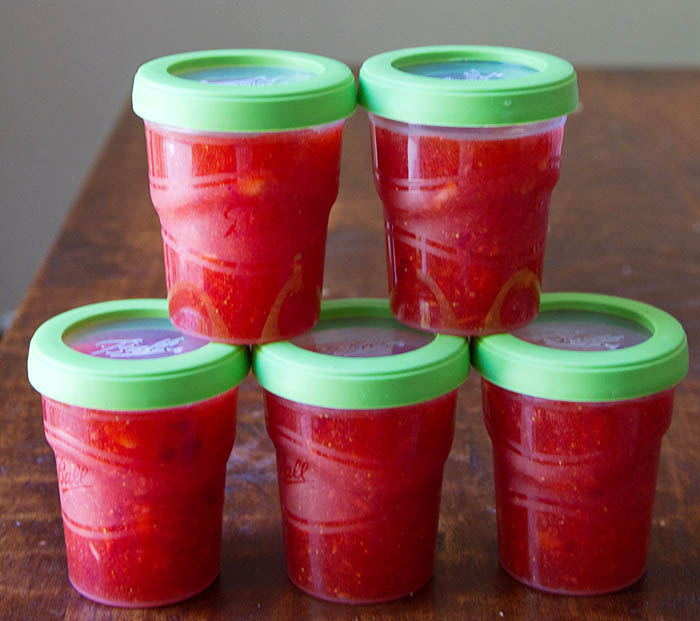 A few weeks ago I made a batch of jam for the coming months, inviting the girls to help.  They were more interested in eating strawberries, than helping me turn them into jam, but I remembered my mom's patience with my own lack of interest in the jam making process, and I smiled.  I realized that sometimes our children are getting more from the things we do for them than we realize.  Despite my lack of interest and patience, I have somehow retained powerful memories of those jam sessions years ago in my mother's kitchen.  Even now, as I stir the sugar into the berries, I am transported back to her side.  The fragrance of strawberry freezer jam is the fragrance of memory.
And oh the taste!  Strawberry freezer jam tastes like my mother's love and hot summer sunshine.  It is a tangible form of memory that I can spread on a slice of bread, savoring each bite.  I don't doubt that my mother loves me.  I am reminded with each bite of my favorite strawberry jam and butter sandwich of those days spent in the kitchen making freezer jam for the coming year, and of those sandwiches in my sack lunch each day of school.  Now, with each jar of jam that I pack away into our freezer, I tuck away special memories from my childhood, pulling them out again to remember as each jar of jam is eaten.  In savoring each drop of sweet jam, I taste proof that my mom loved me enough to teach me to love making jam, the value of hard work and making something delicious for the future, and the importance of time spent with your children.  Sometimes the realization of lessons learned comes many years later.  Thank you Mom, I love you.  Happy Mother's Day.