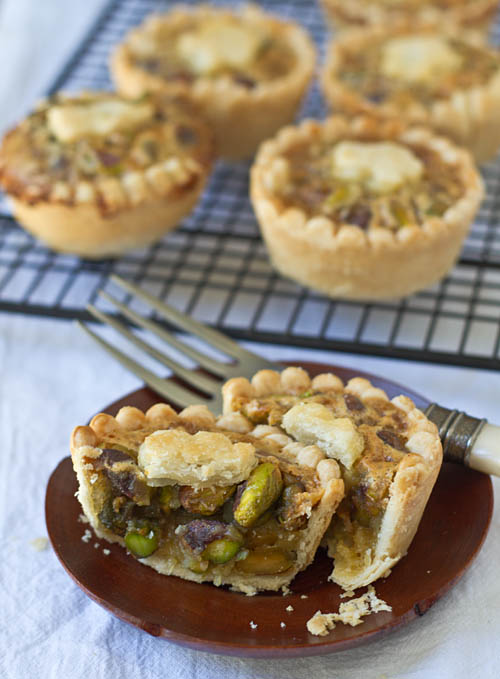 Happy National Pi(e) Day! π, or pi, is an irrational number, which means it continues infinitely without repeating.  However it is approximately equal to 3.14.  Since today is March 14th, or 3.14, it's Pi Day!  Because pi's homophone is "pie," today is also National Pi(e) Day, making pie the logical choice in celebration food.  Making pie an even more perfect choice is the fact that the mirror image of 3.14 spells out pie.  I know, awesome right?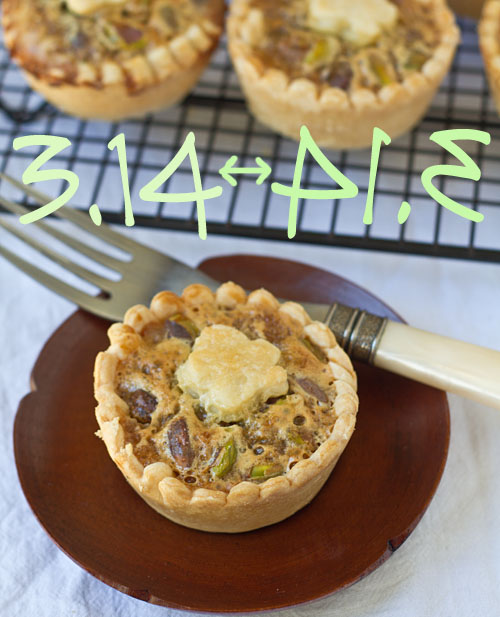 Seeing that St. Patrick's Day is also almost upon us, I thought I'd give a shoutout to both days by making some mini honey pistachio pies.  Pie in honor of Pi(e) Day, and lovely green pistachios in honor of the upcoming Irish holiday.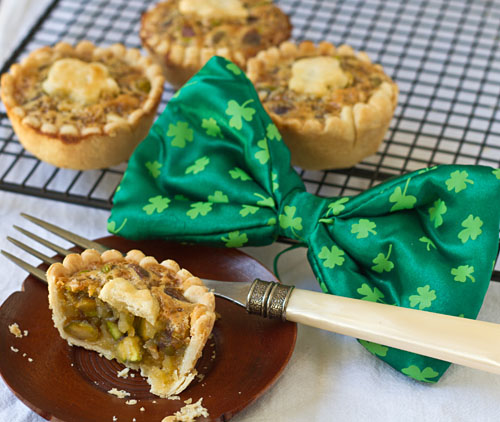 These mini pies are fabulously easy to make.  You make these little lovelies in a muffin tin.  I used a 4-inch-diameter tart mold to cut out my pie crusts, but any 4-inch-diameter circular cutter will work.  You'll need enough pie dough to make one 9-inch single crust pie, some additional ingredients, and a bit 'o time!  You shape the crusts into the muffin tins, whip up a simple honey syrup, then assemble and bake!
The end result is a fun twist on pecan pie, and the perfect way to celebrate any good day, but especially Pi(e) Day!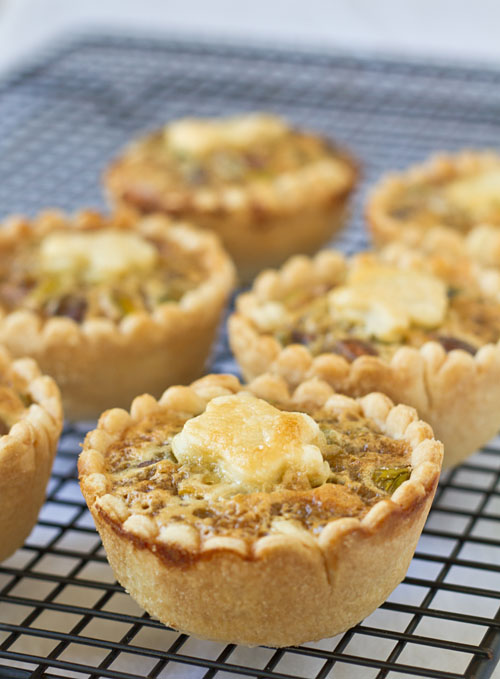 Print This Recipe
Mini Honey Pistachio Pies
Makes 6 mini pies
For the Honey Syrup:
2 tablespoons granulated sugar, plus extra for sprinkling
2 tablespoons honey
1/2 teaspoon salt
3 tablespoons butter, cut into 1/4-inch pieces
2 tablespoons heavy whipping cream
1 large egg
pie dough (enough for one 9-inch pie crust, "single pie crust")
1 cup raw pistachios
2 tablespoons soy milk
1. Preheat the oven to 325 degrees Fahrenheit. Generously grease a 6-cup muffin tin.
2. Make the honey syrup: Combine the sugar, honey, and salt in a small saucepan over medium heat. Bring to a boil, stirring constantly, until sugar is completely dissolved. Add the butter gradually, stirring until combined. Remove the saucepan from the heat and allow to cool for 30 minutes.  Whisk the cream and egg together in a bowl.  Slowly pour the cream mixture into the honey mixture, whisking until well combined.
3. Prepare the pie crusts: Roll out the pie crust on a well-floured surface to about 1/4-inch thick. Using a 4-inch-diameter round cutter, cut out 6 crusts. Carefully shape the crusts into the wells of the muffin tin. Cut out 6 shapes with a mini-cookie cutter to use as pie toppers with the remaining pie dough.
4. Assemble the pies: Spoon 1 1/2 tablespoons of pistachios into each pie, then add 1 tablespoon of the honey syrup. Add another tablespoon of nuts, then 1/2 tablespoon of honey syrup. Top each pie with one of the cut dough shapes. Lightly brush the crust of each pie with soy milk, then sprinkle a bit of granulated sugar over each.
5. Bake for 35 minutes, or until the crusts are golden brown. Allow to cool in the muffin tin for a few minutes, then carefully remove the pies from the pan and place them on a wire rack to finish cooling.
6. Serve, or store in an airtight container for up to 2 days.