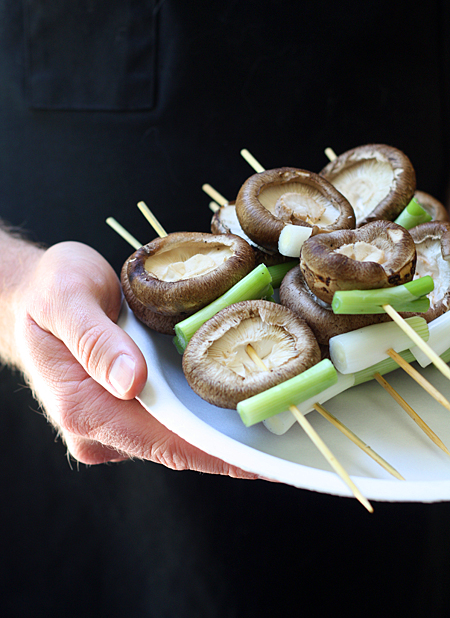 This month I want you to do yourself a favor and get your mushroom on.  As you may already know, October is Breast Cancer Awareness Month.  This month I am teaming up with the Mushroom Council in their support of City of Hope's research surrounding cancer.  You already know about my love of mushrooms, so you can understand my excitement in using them to get out the word and "cook against cancer."  City of Hope is a leading research, treatment and education center for cancer, diabetes, and a list of other life-threatening diseases.
Since 2002, the Mushroom Council has invested more than $750,000 in grants to City of Hope for research on the relationship between mushrooms and cancer.  This fall, the Council will provide an additional $50,000 to continue funding this research.  As part of this, from September 15th through November 15th, select retailers nationwide will sell mushrooms in pink containers in recognition of breast cancer research and National Breast Cancer Awareness Month.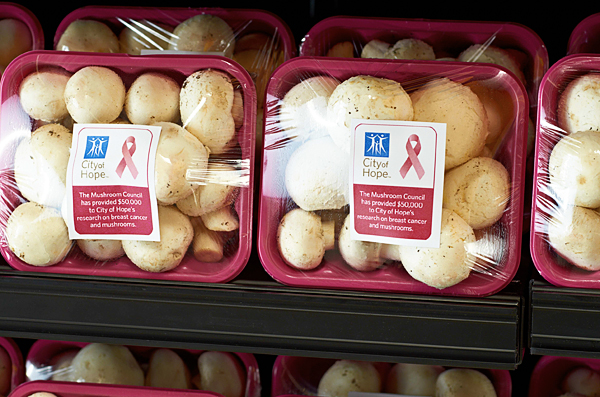 Mushrooms are low in sodium and calories and are fat and cholesterol-free.  An added bonus is that because of the umami present in mushrooms, less salt can be used in a dish without losing out on flavor.  Mushrooms are bursting with all kinds of nutrients, like B vitamins, potassium, and antioxidants.  They also contain vitamin D, making mushrooms the only item in the produce aisle that provides vitamin D. Growers also have the ability to increase vitamin D levels by exposing mushrooms to ultraviolet light.  How cool is that?  Maintaining a healthy lifestyle is an important part of cancer prevention, and mushrooms are a fantastic addition to a healthy diet.  But on top of that, research shows additional exciting possibilities for mushrooms in cancer treatment.  It's no wonder the Mushroom Council is so excited!
Want to join the excitement and explore the world of mushrooms with me?  I've got 3 ways to get you started!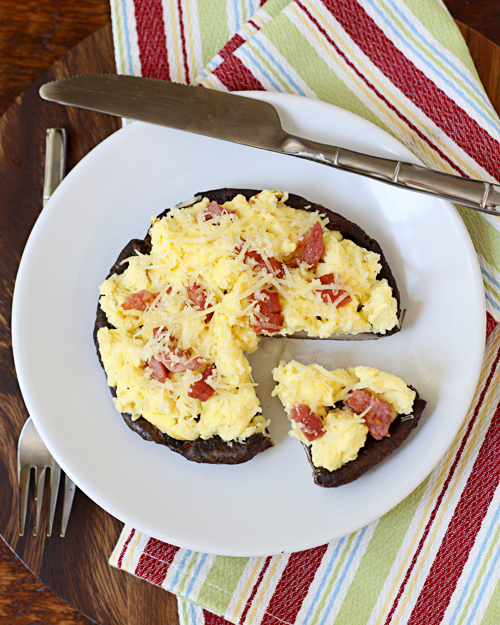 1.  How about trying mushrooms in a new dish this month?  Here are some ideas to get you going:
2. If you are on Twitter, join me and the Mushroom Council, along with a few other awesome panelists as we discuss health, wellness, and breast cancer awareness.  The chat is tomorrow night, Tuesday, October 4th, from 9 to 11pm EST.  All of the details  on the Girl's Night Out Twitter party can be found on  MOM IT FORWARD. (Mom It Forward is also doing a mushroom giveaway, so head over and enter for a chance to win!)
3. To help you continue cooking with mushrooms, the Mushroom Council is sponsoring a giveaway! One lucky winner will be receiving the following items  (ARV: $100) for healthy cooking in the kitchen:
-Mushroom slicer
-Cuisinart Chef's Classic Stainless Saute Pan with Cover (5 Quart)
-Book: "MyPlate for Moms, How to Feed Yourself & Your Family Better"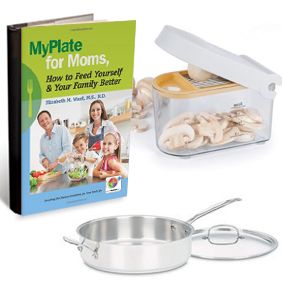 The Mushroom Council Giveaway:
Update: This contest is closed and the winning comment number picked! Congrats to Kristi—we hope you enjoy your goodies!!
The contest is open until Friday, October 7th, at midnight EST.  The contest is open to US addresses only.  One winner will be drawn using a random number generator.  The winner has 48 hours to claim their prize, or an alternate winner will be drawn.
To enter:
1. Leave a comment answering the question: How do you support National Breast Cancer Awareness Month?
Additional entries:
2. Follow @MushroomChannel on Twitter. Leave a separate comment on this post telling me you follow them on Twitter.
3. Like the Mushroom Channel on Facebook: Mushroom Channel Facebook Page Leave a separate comment on this post telling me you like them on Facebook.
Disclaimer: This post and giveaway is sponsored by the Mushroom Council. As always, all opinions are my own!