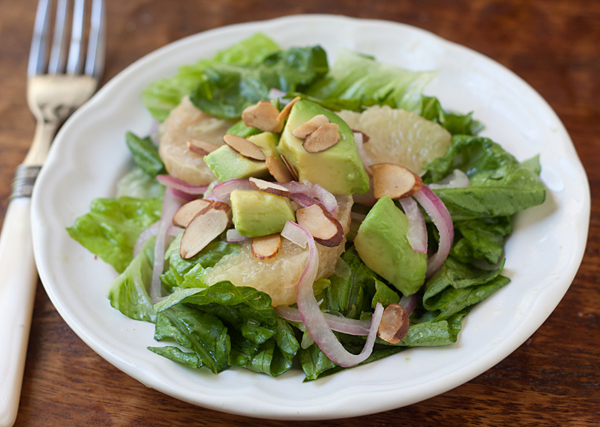 I believe that the onion is one of the most underappreciated vegetables in the produce section of our grocery stores.  There's a lot more to them than we often give them credit for.  For example: have you ever stopped to think about the fact that you can find onions year round in the produce section of any grocery store? It's not because onions are being shipped half way around the world during their off season.  It's because onions are smart little suckers and have two seasons!  Spring/summer onions and fall/winter onions.  Just like their seasons, the onions have different characteristics.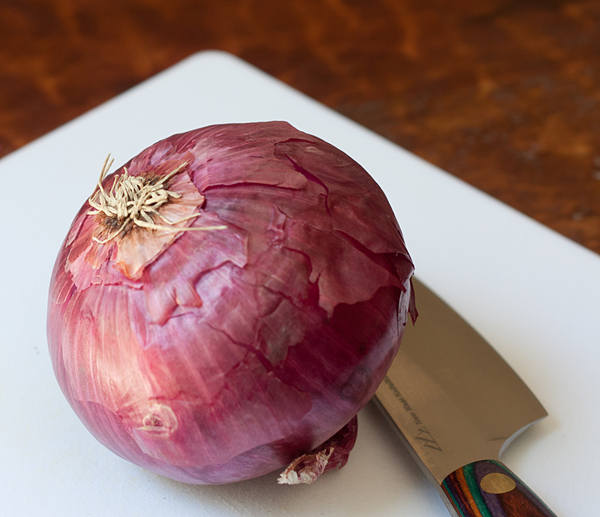 Spring/summer onions (available March through August) have thinner skins and higher moisture content, whereas as fall/winter onions (available August through May) have thicker skins and lower moisture content.  Because of these traits, fall/winter onions have a long shelf-life and are also called storage onions.  On top of their convenient year-round availability, onions are good for you too!  They are high in vitamin C, a good source of fiber, and will only knock you back 45 calories per serving.  Onions are sodium, fat, and cholesterol free, and provide a number of other key nutrients.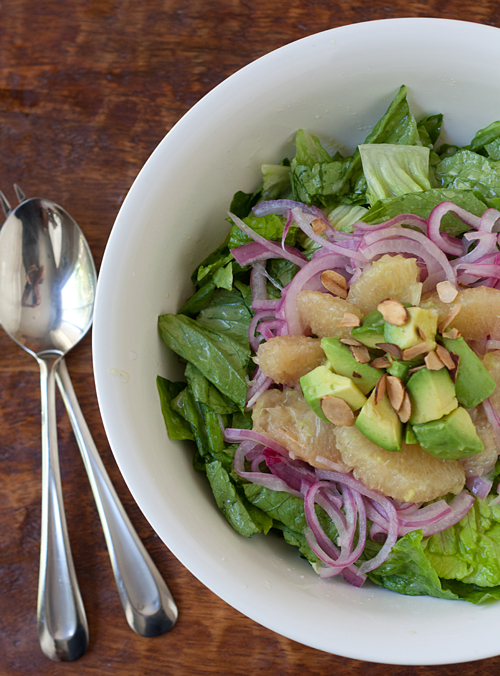 Okay, okay, so why am I extolling the virtues of the onion? Because this month I'm hosting the salad course of a Progressive Party sponsored by The National Onion Association (NOA) on Kitchen Play.  NOA is the official organization that represents growers, shippers, brokers, and commercial representatives of the U.S. onion industry.  I was asked to use fall/winter onions (aka, storage onions) to create a salad recipe.  I came up with a simple green salad that features crisp romaine lettuce, thin slices of red onion that have been lightly pickled, turning them a pink hue, sections of tart grapefruit, and chunks of creamy avocado.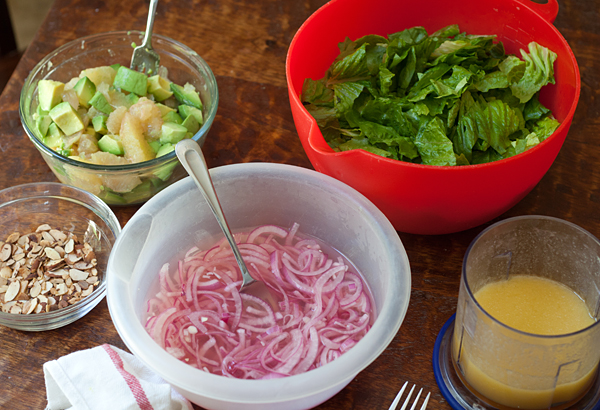 The salad is tossed with a sweet creamy onion dressing (reminiscent of a poppyseed dressing, but with a bit more bite) then sprinkled with some toasted almonds for crunch.  The combination of tangy, sweet, and savory flavors will play light and bright on your tongue, while the different textures keeps this salad from being boring.  The salad dressing and pickled red onions can be made ahead and stored in the refrigerator, making this salad a great choice for a dinner party when you have lots of other dishes to worry about and coordinate.  The best part for me? Squirrel, who normally doesn't care for onions, ate 2 big helpings of this salad, onions and all.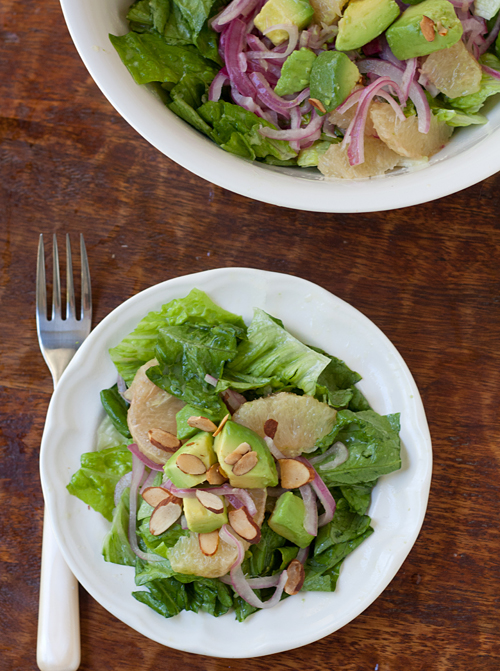 Print This Recipe
Avocado Grapefruit Onion Salad with Creamy Onion Dressing
Makes about 6 servings
For the pickled red onions:
1/2 red onion, thinly sliced
1/2 cup rice wine vinegar
1/2 cup warm water, plus more as needed to cover the onions
1 tablespoon honey
2 tablespoons kosher salt
For the sweet creamy onion dressing:
1/3 cup honey
1 1/2 teaspoons ground mustard
1/4 teaspoon salt
2 tablespoons rice wine vinegar
1 tablespoon white onion, chopped
1/2 cup vegetable oil
1/4 cup thinly sliced almonds
1 head romaine lettuce, chopped
2 large grapefruit, sectioned
2 avocados, peeled, pitted, and diced
1. Make the pickled red onions: Whisk together the rice wine vinegar, warm water, kosher salt, and honey in a small bowl. Add the sliced onions, and stir to submerge. Add additional warm water if needed, to cover the onions completely. Let the onions sit and pickle for at least one hour.
2. Make the creamy onion dressing: Combine all of the ingredients in a food processor and process until smooth and creamy. Store the dressing in the refrigerator until the salad is ready to be served.
3. Make the toasted almonds: Place the sliced almonds in a skillet over medium heat. Stir them frequently, making sure they don't burn, until they are golden brown and fragrant. Immediately remove them to a clean plate to cool.
4. Assemble the salad: Toss the lettuce with half of the sweet onion dressing. Add additional dressing if needed. Place in a large salad bowl. Drain the pickled red onions and arrange them on top of the lettuce. Arrange the grapefruit and avocado on top, then sprinkle with the toasted almonds. Serve immediately.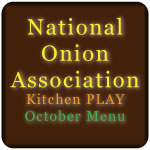 I wrote this post and created this recipe as part of a partnership between Kitchen Play and The National Onion Association. They have compensated me for my time and cooking expenses but my opinions and tastes are my own.