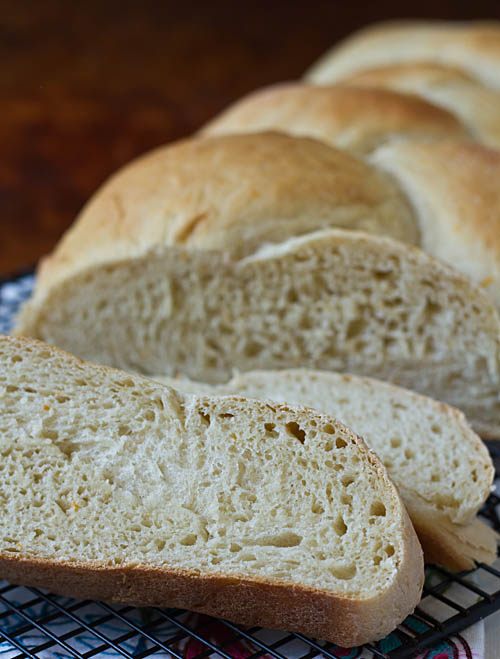 I have a list of things that never fail to bring a smile to my face and make my heart happy.  During the past week, a few of the things on my list converged, lifting my spirits after a particularly difficult couple of months.  Homemade bread is one of the big winners—the process of making it, the smell of it baking, and the pure joy of eating a slice of it, still warm, slathered in buttered, can do wonders for the soul.  Orange cardamom bread was the recent product of my girls suggesting that we make some bread, and me wanting switch things up a bit.  It was also the perfect conclusion to a week that included an inspiring get-together with friends and bloggers to celebrate the release of KitchenAid's new 7-quart stand mixer and 13-cup food processor.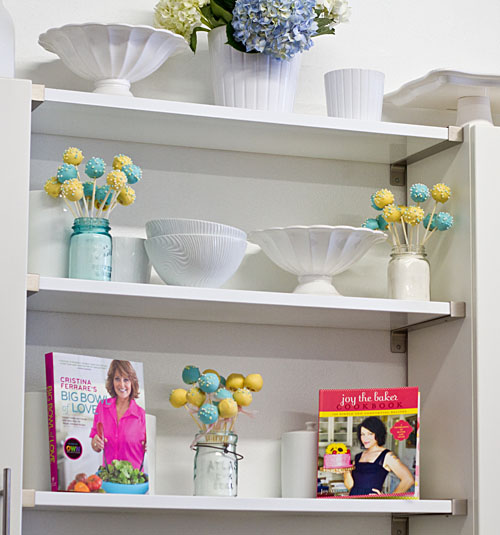 Last week I joined a group of fellow bloggers at Todd and Diane's (White On Rice Couple) studio for 5 hours of eating, talking about photography, cooking demos, decorating cupcakes, and spending time with new and old friends.
Todd and Diane shared their philosophy on photography with a slide show, inspiring us all to worry a bit less about perfection, and focus more on capturing moments in time that only happen once.  Cristina Ferrare demoed her recipe for smoked salmon-topped potato "plates" from her new book, Big Bowl of Love, using KitchenAid's new 13-cup food processor.  Her daughter, Alex, demoed a recipe for Zucchini and Cucumber Carpaccio, also using the new food processor.
Then Joy the Baker made the most heavenly Swiss meringue (in her new book, Joy the Baker Cookbook) in the new 7-quart stand mixer (aka, "The Red Goddess"), making me giggle when she called it "marshmallow glue."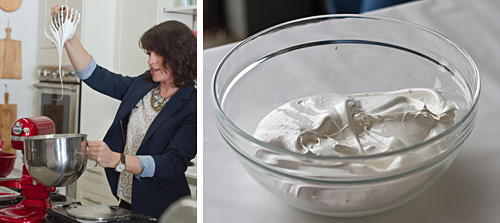 Even though it was a day filled with fun activities and good food, the best part was the people.  It's a powerful thing to be in a room full of warm-hearted, creative, talented people.  And hey, if I get to bond over food, then it's all the better.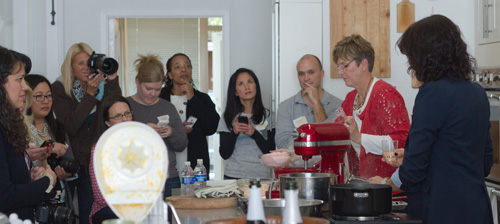 A few days later I found myself, once again, standing around a KitchenAid 7-quart stand mixer having some bonding time, but this time it was in my own kitchen with my two little girls and my 7-quart stand mixer (her name is Lulu).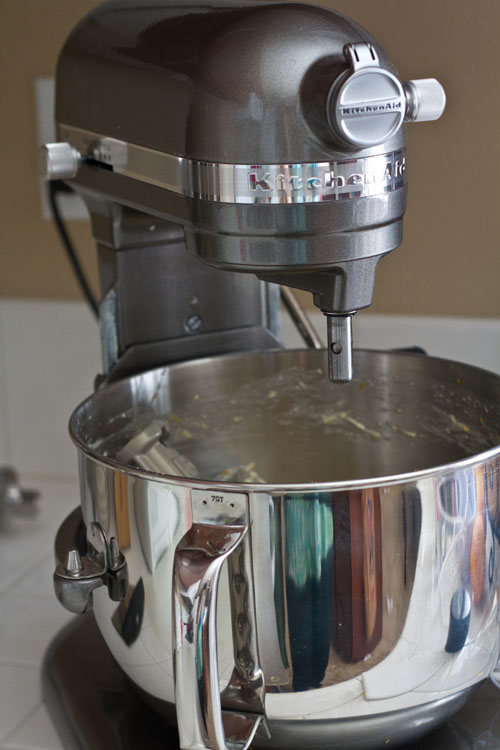 My first KitchenAid stand mixer was one of the smaller models with a tilting head that Mr. Fuji and I received as a wedding present ten years ago.  That mixer witnessed a lot of history—several international moves, law school, the arrival of two little girls, and all of life that happened in between.  And then one day a couple of years ago it started to smoke.  I fried the motor because I made too many batches of bread dough in it.  The 7-quart mixer now stands in its place, and I'm grateful for the change.  I'm still making bread, which this mixer is more than capable of handling, with its 1.3 HP motor, and now those two little girls are eager to help in the kitchen, and getting to help with the mixer is one of their favorite things.  So having a heavier duty mixer around is a wonderful thing, because it is getting a lot of abuse love.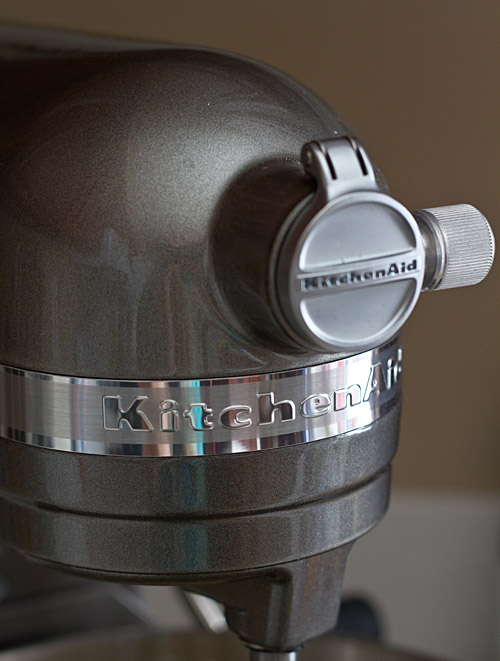 Watching the Fujilings as they eagerly dumped cups of flour into the mixing bowl, giggling when someone got flour on their nose, felt like getting a great big bear hug.  It was a perfect happy moment.  One of those rare moments in motherhood where no one is crying or whining.  It feels poetically perfect to spend time creating in the kitchen with my two most precious creations, and I feel so lucky to be able to spend this time with them.  I thought of Todd and Diane as I pulled out my camera and tried to capture a bit of that happiness.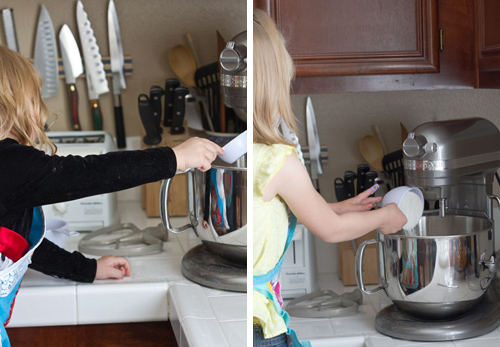 Once we got all of the ingredients into the mixing bowl, Squirrel was very eager for me to attach the "anchor", as she calls it, so we could get the mixing started.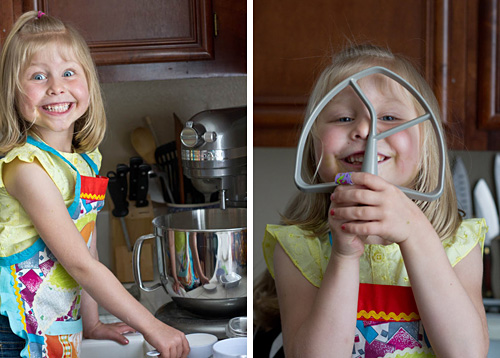 When I added the orange zest, the girls both eagerly sniffed the air, enjoying the fragrance.  When the dough was finally ready, we divided it into three relatively equal balls of dough, which we shaped into long ropes, and then braided together.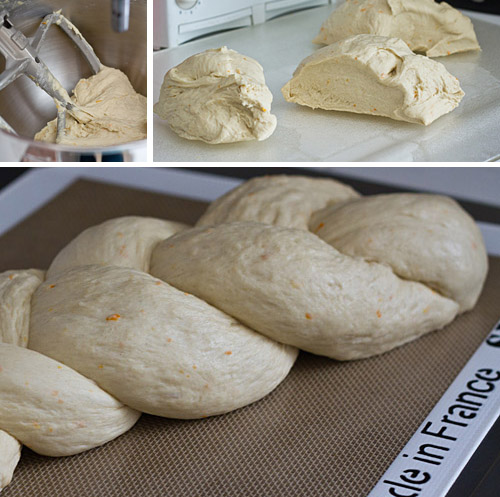 After rising, the braid went into the oven, and we enjoyed a bit of entertainment from Bug, who donned her cowgirl boots to complete her already creative outfit, and gave us an animated dance performance.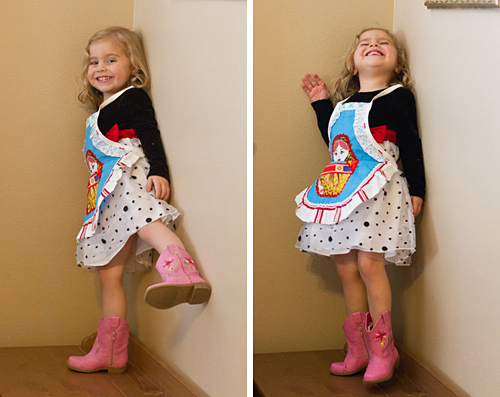 After what seemed like forever (according to the Fujilings), the bread was done baking and cooling, and I started cutting it into slices, which went directly into eagerly waiting hands, then quickly disappearing into little tummies.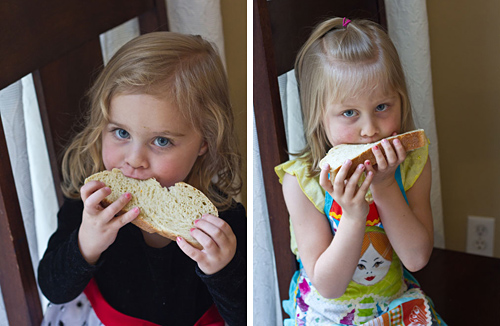 Fresh homemade bread is better than candy, just ask my girls.  If you're looking for something comforting to make for Springtime or Easter, I suggest you whip up some of this bread.  The flavors of orange and cardamom taste like the warmth of spring sunshine and new blossoms.  Just make sure you share it with someone you love.  The extra boost is worth it, I promise.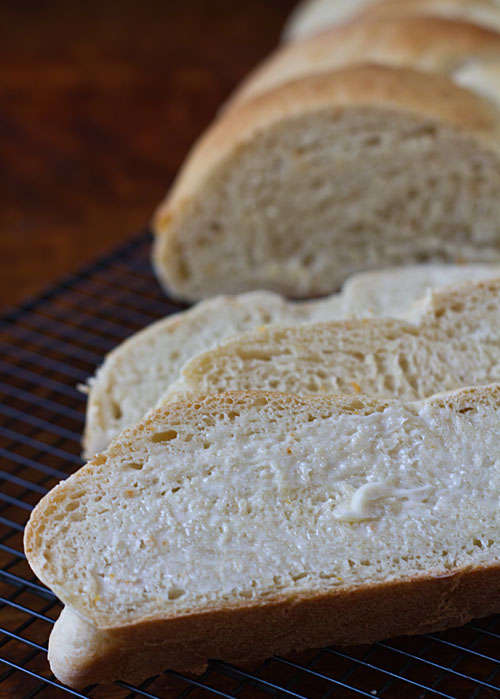 Print This Recipe
Orange Cardamom Bread
Makes 1 large loaf, or 2 regular size loaves
5 1/4 cups white bread flour
1/4 cup granulated sugar
1 1/2 teaspoons salt
1 1/2 tablespoons, rounded, instant yeast (my favorite is SAF Instant Yeast)
1 teaspoon ground cardamom
1 3/4 cups warm water (120 to 130 degrees Fahrenheit)
1/4 cup fresh orange juice
1 1/2 tablespoons oil
2 tablespoons finely shredded orange zest
1. Preheat the oven to 350 degrees Fahrenheit.
2. Whisk the flour, sugar, salt, yeast, and cardamom together in the mixing bowl of an electric mixer. Add the water, orange juice, oil, and orange zest and mix for 1 minute at medium-high speed, then check the consistency of the dough. The dough should be quite sticky. If it is too dry, add a couple tablespoons more water.
3. Mix for 5 minutes at medium speed. (Do not add any additional flour after the dough has finished mixing.)
4. Spray a smooth kneading surface with cooking spray and turn the dough out on to the surface. Divide the dough into three equal portions. Knead each portion briefly until it has a smooth even consistency (this will only take several turns of the dough to accomplish), and then roll the pieces out into three strands of the same length and braid them together. Place the braid on a greased baking sheet, cover with a large dish towel, and let rise for 25 minutes.
5. Bake the braid in the preheated oven for 25 minutes, or until golden brown. Remove from the oven and place on a wire rack to cool before slicing.