American English is filled with idioms relating to pie, such as, "as American as apple pie," and "eat humble pie," or "cow pie."  I guess we love our pies!  Although the historians trace the origins of pie loosely back to the galettes (free form pies) cooked over hot coals made by the ancient Egyptians during the Neolithic Period (New Stone Age, beginning around 9500 BC), Americans have embraced pie as their own, making it an integral part of the traditional Thanksgiving menu, and other occasions.  As I confessed in my post yesterday, I love pie.  While there are several types of cake that I adore, pie has my heart.  There's something about the combination of crust and filling that makes me happy.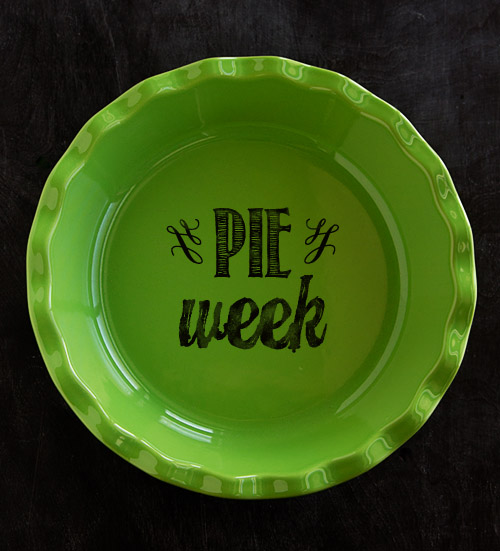 National Pie Day is January 23rd (not to be confused with National Pi(e) Day on March 14th), which also happens to be my birthday.  I've known of this for several years, and keep thinking I should do something to celebrate.  Well this year I'm finally celebrating!  Starting today I am celebrating all things pie, and I hope you'll join me.
I got started a bit early, in order to do some planning.  While we were in California for Christmas I made pie with my mom—her recipe for white chocolate, orange, and raspberry pie, plus my recipe for Fudge & Banana Custard Pie—which we enjoyed on Christmas day.  The day after Christmas, my cousin and her family visited and brought an amazing berry pie to share, so we broke out the remains of the other two pies and had a pie feast.  It doesn't get much better than that!
Gesine Bullock -Prado, in her book Pie it Forward, writes, "Someone's hankering for pie: you can see the pie-longing in their eyes.  They want a delicious flaky crust, something with buttery overtones.  They want fresh fruit—not a vague whisper of berry in a buttercream, but overt chunks of apple, discernible bites of berry.  But it's just not done.  You don't serve pie at special events like fiftieth birthdays, dinner parties, silver anniversaries, or, God forbid, at a wedding.  To which I reply, 'Bullpuckies.'"  Can I get an amen?  When I turn 50 I shall eat pie!  Katherine Dunn, in an article in the most recent issue of Mingle magazine, wrote: "[P]ie has a certain nostalgia that seems to conjure up memories for people, leading to stories shared one bite at a time ."  I hope this week, as I revel in pie and all its glory, you will be ins-PIE-red (sorry, couldn't help myself) to head to your kitchen and whip up your favorite pie, and maybe bake an extra and share it with a friend.  Pie is meant to be shared.
What is your favorite pie?