I love to read.  It can be anything from science fiction, to the classics, or from a good murder mystery to a biography.  I love it all and everything in between.  I especially love to read cookbooks.  Yep, when I find a good one, I read it cover to cover.  I realized last night, as I started in on the stack of cookbooks that I keep by my bed, that I cook from cookbooks much less than I read them.  So much of my cooking time is spent working on new recipes for clients or for this site, that when it comes right down to it, I don't have a lot of time to spend on cooking other people's recipes.  But every year there are a few that capture me and force me into the kitchen, despite whatever else I might have going on.  I thought I'd share some of the books that grabbed me last year.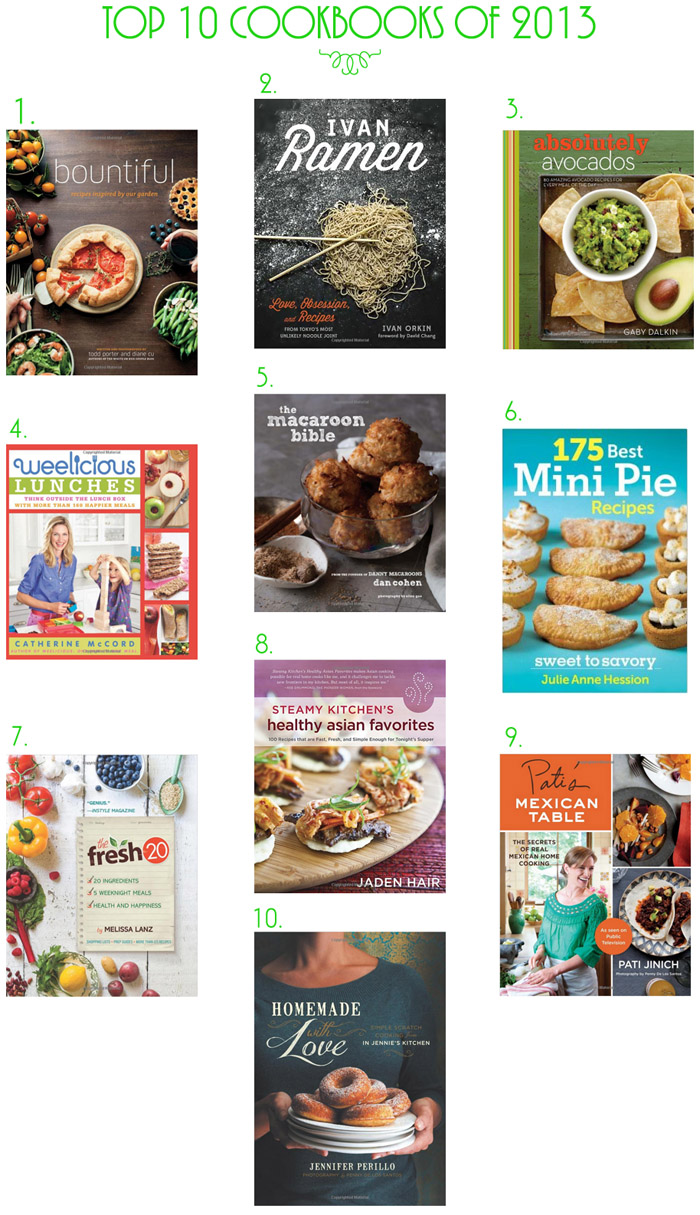 1. Bountiful by Diane Cu and Todd Porter:  I was so excited when this book finally came out, because the authors are two of my favorite people on the planet.  This cookbook captures the heart and soul of the incredibly talented photographers and bloggers, Diane Cu and Todd Porter.  It is inspired by their love of cooking the things they have grown in their garden, and their food is influenced by their unique stories—Todd, who spent his childhood on a ranch in Oregon, and Diane,who fled Vietnam with her family when she was a little girl and eventually found her way to America.  The beautiful photography and recipes will have you craving freshly picked produce and wishing for an afternoon in their garden.  I especially love the recipes for roasted cherry tomato and goat cheese dip, Vietnamese napa cabbage chicken salad, and blood orange bars with a brown butter crust.
2. Ivan Ramen, by Ivan Orkin: In July of 2011 Mr. Fuji and I ventured out to a little ramen shop in Tokyo called Ivan Ramen, and had an amazing lunch that left me craving more.  Imagine my delight when I learned that Ivan Orkin, the owner of Ivan Ramen was writing a book to tell his story and share his ramen point of view!  Not only does the book tell about Ivan's unlikely rise to become a ramen shop owner and chef in Japan, but it also shared the complete recipe and method for making his shio ramen, a recipe which takes up thirty-five pages of the 211 page book.  It also shares the recipe for some of the other side dishes he serves in his restaurant that we loved, like Pork and Tomato Meshi and a Lemon Sherbet that will knock your socks off.
3. Absolutely Avocados, by Gaby Dalkin: If you love avocados even half as much as I do, then you would love this book.  Author, Gaby Dalkin, is just as obsessed with avocados as I am, and shares her love in the 80 recipes in this book.  If you still think avocados are just for guacamole, this book will change your mind lickity-split.  Try Gaby's avocado & chorizo breakfast hash, avocado super food smoothie, avocado caesar dressing, parmesan-panko avocado fries, grilled flank steak with avocado chimichurri, mediterranean avocado pizza, or her avocado chocolate chip cookies—you won't be disappointed!
4. Weelicious Lunches, by Catherine McCord: I reviewed this book a few months ago, and it's still my favorite book about making lunch for kids.  The Fujilings highly recommend the turkey blta wraps and the chocolate-hazelnut spread!
5. The Macaroon Bible, by Dan Cohen: Dan Cohen has a business, called Danny Macaroons, in New York City that makes gourmet, handmade coconut macaroons.  Dan's recipe for coconut macaroons with a bittersweet chocolate drizzle was published in the December 2011 issue of Food & Wine magazine, which I promptly tore and made, and was instantly in love.  I love a good coconut macaroon, and these were legit.  Dan just published his book, filled with variations on the classic coconut macaroon, that had me running for the kitchen a second time.  Double-chocolate & almond macaroon, salted caramel macaroons, eggnog macaroons, red velvet macaroons, and STOOPID macaroons (inspired by Christina Tosi's compost cookies)? Yes please!  Thank you Dan for making this world a better place.  Now I just need to get myself to New York City so that I can taste a macaroon actually made by Danny Macaroons.  Put it on the "To Do" list Mr. Fuji!
6. 175 Best Mini Pie Recipes, by Julie Anne Hession: I have a thing for pie.  I also have a thing for books about pie.  And I have zero self control when it comes to either, evidenced by the entire shelf in my office dedicated to pie cookbooks.  This summer we stopped in Las Vegas on the way home to California from visiting family in Utah, and I met up with blogging friends, Julie (who writes the blog Peanut Butter & Julie), and Shanna (who writes the blog Pineapple & Coconut), for breakfast.  Julie brought us copies of her new book 175 Best Mini Pie Recipes, and further added to my pie issues.  If you even sort of like pie, you will love this book.  Goat Cheese and Mixed Berry Hand Pies, Southern Banana Pudding Pies, Cinna-Monkey Pie Pops, and Chicken, Brie and Apple Turnovers are all sure to delight.  Plus, there isn't as much guilt when you're eating a mini pie, right?
7. The Fresh 20, by Melissa Lanz: Melissa is someone who I have great admiration and respect for, and she's also just darn nice! (Don't you hate it when someone has it all?)  She runs a business called, The Fresh 20,  which is a meal planning service, which provide simple, healthy, homemade lunches and dinners using just 20 fresh, seasonal ingredients per week.  Melissa dreamed up the business as a way to help busy families and singles to eat fresh, healthy meals, and save time and money.  Her new book is an extension of that dream, and is filled with 4 weeks of menu plans for spring, summer, fall, and winter that make cooking and getting food on the table easy and make mealtime delicious.  The recipes for Greek-Style Lamb Tacos with Cucumber Yogurt Sauce and Salad, Chile Pork Kebabs with Pesto Corn and Watermelon, Chicken Tamale Spoon Bread, and Pork Verde with Parsley Quinoa went over especially well with my family.
8. Steamy Kitchen's Healthy Asian Favorites, by Jaden Hair: It seems like yesterday that Jaden's first cookbook, The Steamy Kitchen Cookbook, came out, but here we are again and her second go is even better than her first!  This book celebrates healthful Asian eating with recipes that won't leave you feeling like you ate a ball of grease, but also don't skimp on flavor.  We especially love the recipes for Thai Tom Yum soup, Cucumber-Apple Kimchi, Korean Beef Bites, Vietnamese Summer Rolls with Roast Pork, Chinese-style Parchment Fish, and Sparkling Vietnamese Limeade.
9. Pati's Mexican Table, by Patricia Jinich: Pati is one of the sweetest people I know.  She's also an expert when it comes to Mexican cooking, of which I am forever grateful, because through her, I have learned to make some of my favorites, like salsa verde.  Her book demystifies the world of moles, tantalizes the tastebuds with recipes like Chilaquiles in Red Salsa and and Shredded Pork in Ancho-Orange Sauce, and gets back to basics with recipes such as Frijoles de Olla (Simple Beans from the Pot) and homemade corn tortillas.  Take a trip to Mexico via your tastebuds with Pati, you won't be sorry.
10. Homemade with Love, by Jennifer Perillo: I wrote about Jennie's book when it first came out, and I still love it as much as I did then.  One thing that many of the books on this list have in common, is that they tell the story of their authors through the stories behind the recipes, and the pictures on the page.  This book is no exception, telling the story of Jennie's love for home, family, and a good homemade meal cooked from scratch.  We fell in love with her recipes for Clementine & Pistachio Crumb Muffins, Slow-Roasted Tomato & Fresh Mozzarella Panzanella, Beef Spezzatino, and Chocolate Tres Leches Cake.  Any recipe from this book will have you wishing you could eat your next meal at Jennie's table.
What are your favorite cookbook reads from 2013?