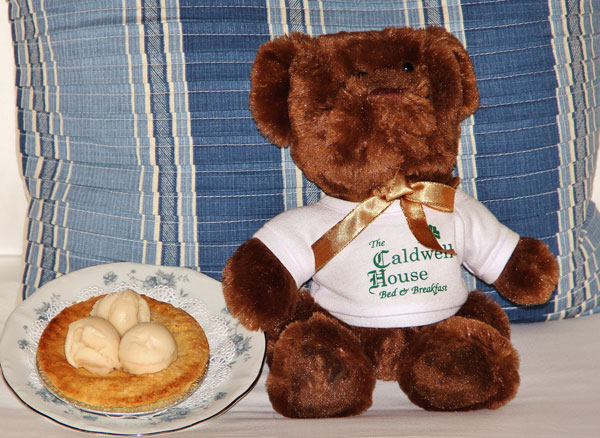 It's Friday Pie-Day!  Friday is turning into my favorite day of the week because, well, pie!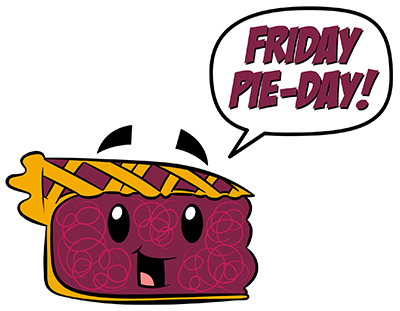 Today's pie isn't actually a pie I have tasted, but it's on my wish list.  This idea is out of Salisbury Mills, NY from Caldwell House Bed and Breakfast where they have taken the traditional chocolate mint on the pillow with turndown service and turned it on its head.  Yep, they have stepped it up big time with miniature pies placed on pillows as part of the inn's nightly "Pie on Pillow" turndown service.  Are you swooning yet?
The pies are made by Mrs. Finneran, a culinary artist, using seasonal fruits from nearby farms, making this a farm to pillow experience.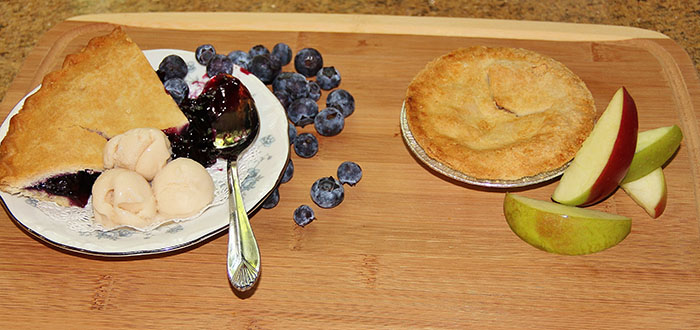 Dena Finneran, who co-owns the bed and breakfast with her husband, John, says "Anyone can do a chocolate mint or a store-bought pie but we wanted to offer something surprising and exclusive to our region during the fall, when pie season is in full swing."
The inn has put together a two-month "Pie on Pillow" Calendar for September and October 2015, but if you are a guest you can call ahead and request your favorite pie!  Please tell me that one of you is planning a trip to Upstate New York and wants to go and experience this and report back?  I'm about ready to book a trip myself!  All in the name of Pie Tourism.  (It's a thing, I promise.)  Whether or not you're able to make it to Upstate New York, I want to hear about your Pie-scapades, so share in the comments!
*Mini pies subject to change based on availability/seasonality of ingredients
The Caldwell House Bed and Breakfast is a 14 room multi-award winning member of the prestigious Select Registry and Diamond Collection groups of Inns. Located in the heart of the Hudson Valley– close to the United States Military Academy at West Point, the Storm King Arts Center, Brotherhood Winery (and many of the Shawangunk Wine Trail Wineries), and the Woodbury Premium Outlet Mall. Some of the Hudson Valley's most beautiful hiking/biking trails are within walking or easy driving distance. Built in 1802, this historic inn is full of many original features, antiques and original paintings, as well as modern amenities. Each guest room includes its own private full bath (several with Jacuzzi tub for two), smart TVs with Netflix/Hulu, free Wi-Fi Internet access, individual room temperature controls, iPads and more. The property sits on approximately 8 immaculately manicured acres.
The Caldwell House Bed and Breakfast is located at 25 Orrs Mills Road, Salisbury Mills, NY 12577. To make a reservation call 1-800-210-5565 or visit www.caldwellhouse.com. Also at:facebook.com/CaldwellHouseBandB