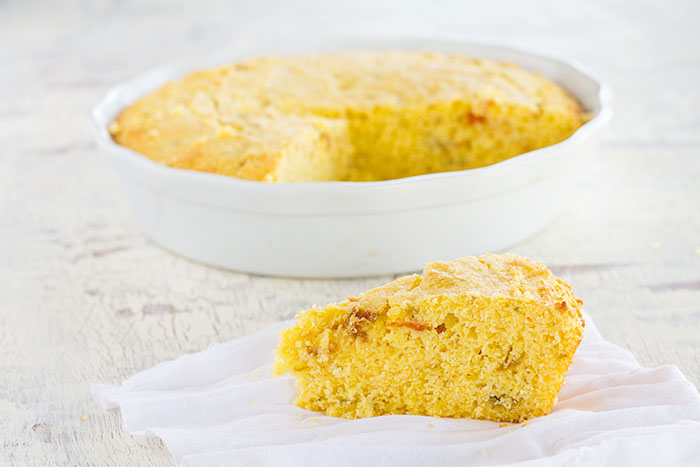 I've recently had friends that live in New Mexico, Arizona, and Texas, rubbing in my face the fact that they've got Hatch chile roastings all over the place where they live.  Not fair!  Thankfully I was alerted to the fact that I was not out of luck.  Harmons Grocery, a local grocery chain here that I love and am a blogger for, sent me an email letting me know that they would be celebrating chile season and would be roasting fresh Hatch chiles over the course of several weeks and asked if I'd be interested in covering the celebration.  I didn't have to think twice.  So last Saturday Bug and I drove to our Harmons for the soft launch of the celebration.  (I put a short video of our visit on Instagram if you're interested!)
Bug was fascinated by the pallet piled high with bushels of fresh Hatch chiles.  We both watched as the fresh chiles went into the roaster and emerged blistered and blackened.  Not only was it fun to watch the process, but the smell was incredible.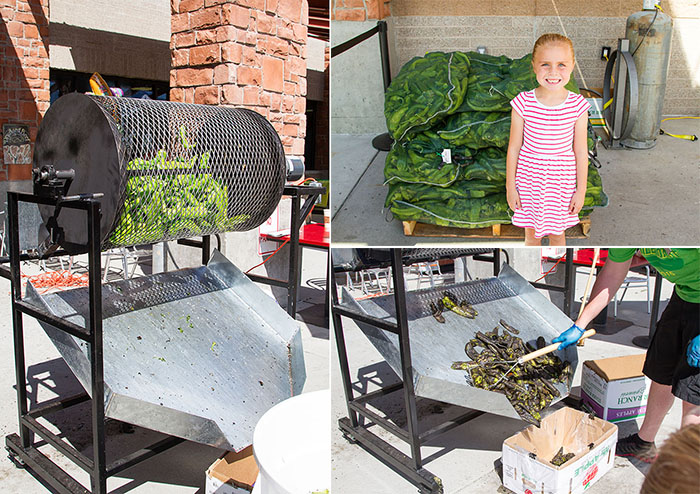 They also had a food area set up where they were serving up a variety of chile dishes made by Harmons chefs.  Bug and I bought a variety of things to try.  We started with a fresh grape chile salsa with freshly made chips.  Then we moved on to a beautiful green bean and pepper salad, pork chile verde, and a stuffed Hatch chile.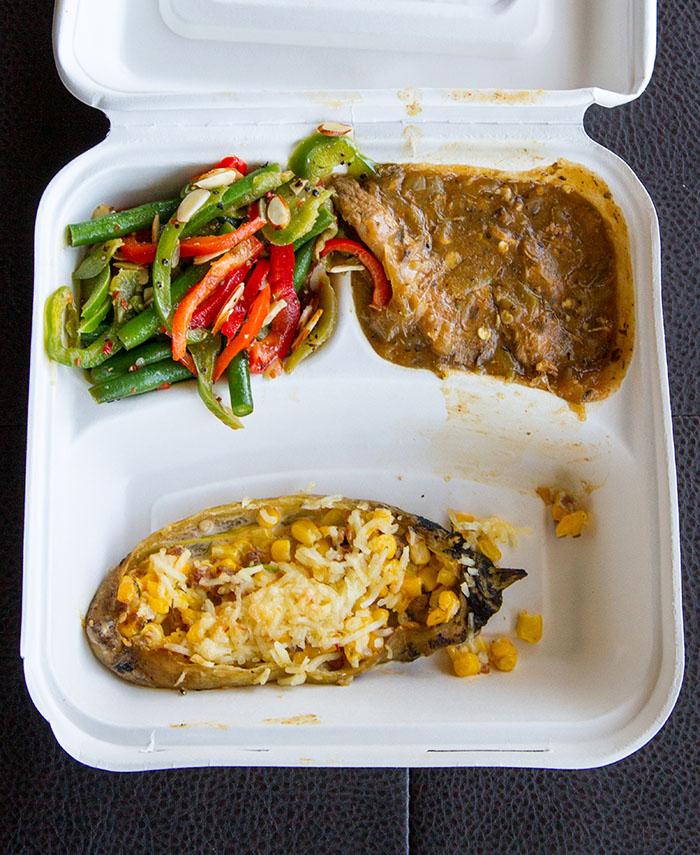 Before we left we bought a bushel of roasted medium-heat chiles to bring home and cook with.  When we got home we separated the chiles into groups of about 8 and put them into large ziploc bags and then put them in the freezer so that we'll be able to enjoy them over the coming year.  We saved a few though and removed the blackened skin and the membranes and seeds inside, then finely chopped them.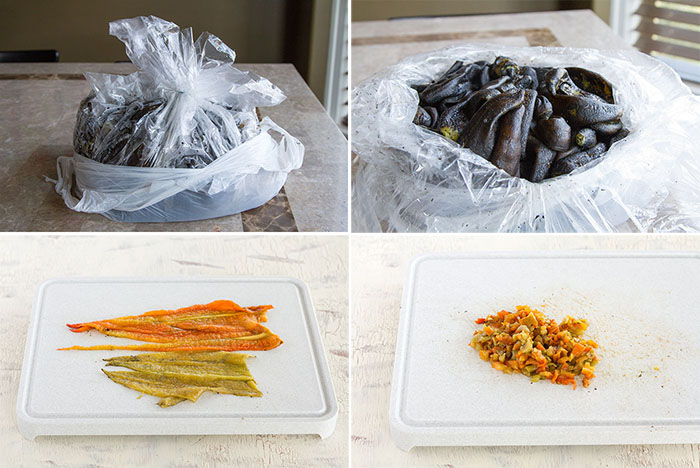 Then I whipped up a batch of cornbread batter (adapting our favorite cornbread recipe from the Betty Crocker Big Red Cookbook) and folded the chopped chiles into the batter and put it into the oven.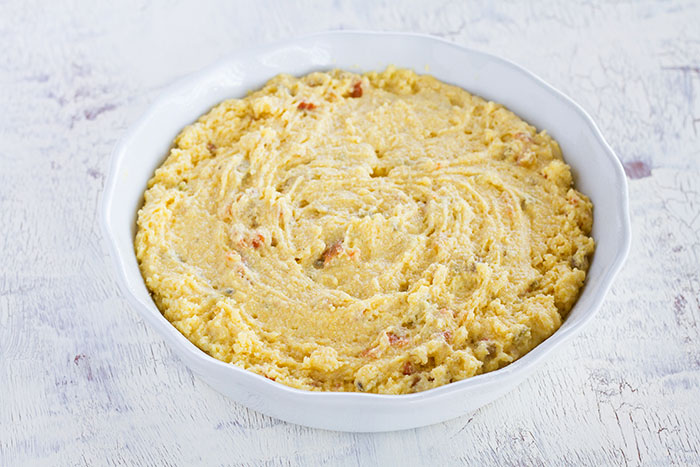 Growing up I always loved really sweet cornbread that was really more of a corncake because the sugar content was so high.  When we moved to Memphis I was introduced to the concept of savory cornbread.  Sometimes I went over to the main cafeteria on the University of Memphis campus, escaping the law school to study and grab a bite to eat.  Not only could I study and eat without being bothered, but the cafeteria served the most incredible cornbread.  It had a fantastic crispy exterior with a crumbly moist interior and had kernels of whole corn dotted throughout which gave the cornbread a touch of sweetness.  That exposure totally broadened my vision of what cornbread could be and this cornbread is a nice mixture of both worlds.  It's moist and crumbly with a nice balance of sweetness and smoky heat from the chiles.
If you're in Utah like I am, head to Harmons on one of their roasting dates (see their chile roast post for dates!) and grab some chiles so you can enjoy the special flavor that Hatch chiles get from New Mexico's environment (high altitude, long seasons of heat and sunlight, hot days and cold nights).  We are heading back this weekend so we can taste the new creations that the chefs will be sharing.  (The menu changes each week!)  After you've grabbed some chiles, go home and make some cornbread!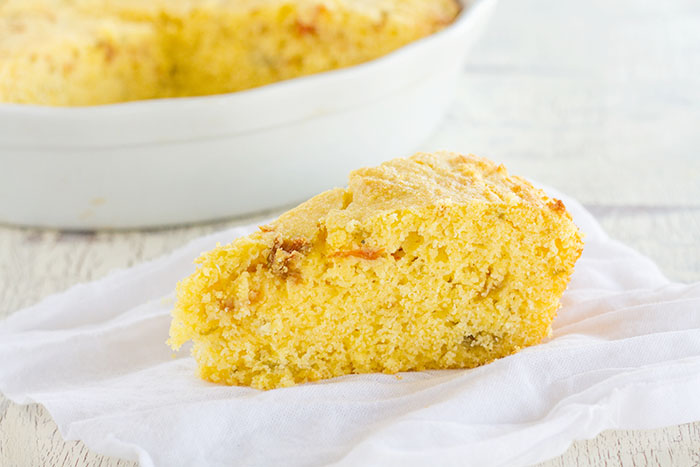 Print This Recipe
Roasted Hatch Chile Cornbread
Adapted from Betty Crocker Big Red Cookbook
Makes 12 servings
Ingredients:
1 cup buttermilk
1/4 cup butter, melted
1 large egg
1 1/4 cups yellow cornmeal
2/3 cup granulated sugar
1 tablespoon baking powder
1/2 teaspoon fine grain sea salt
2 roasted medium-heat Hatch chilies, peeled, membranes and seeds removed, and finely chopped
Directions:
1. Preheat the oven to 400 degrees Fahrenheit. Grease the bottom and sides of a 9-inch pie plate.
2. Beat the buttermilk, butter and egg together in a large bowl with a whisk. There will be little bits of butter in the mixture. (Don't worry, it's supposed to be like that!)
3. In a separate bowl, whisk together the cornmeal, sugar, baking powder, and salt, then add this mixture to the buttermilk mixture all at once. Stir everything together until the flour is just moistened (the batter will still be lumpy). Fold in the chopped chilies.
4. Pour the batter into the pie plate and spread it out so that it fills the pie plate evenly.
5. Bake the cornbread for 20 to 25 minutes, or until it is golden brown and a toothpick inserted in the center comes out complete.
6. Let the cornbread cool slightly before cutting it into wedges and serving. It's also delicious eaten at room temperature!
———————————————————-
*Disclosure: I am a blogger ambassador for Harmons Grocery and was compensated for my time and for recipe development for this post. All experiences and opinions are my own!